CvC: How Shawn Michaels vs. Undertaker Became the Greatest Rivalry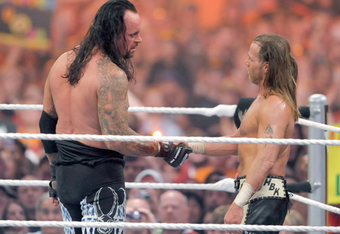 The ultimate show of respect

Disclaimer: This disclaimer is here for no reason at all other than being of cosmetic value and a reading exercise for those who don't get off their ass to exercise often. Onward!
Sifting through the timeless classics and the treasured rivalries of days past, we must ask ourselves the following questions: Why the hell is there a disclaimer and more importantly, what makes a great rivalry?
The level of competitiveness, the five star matches, the compelling promos and perhaps most important of all, the intangible charge that flows through one's being when watching the warriors embroiled in a ferocious contention finally come head-to-head.
What about the greatest rivalry of all time?
How should one define that? Is it by the length of the rivalry or the amount of highlights it provides or is it a mixture of both?
It is the spirit of competition that birthed rivalries; it is the very essence of why we watch pro wrestling.
The Undertaker and Shawn Michaels.
Two names synonymous with any wrestling fan and each, in their own right, a legendary performer.
But their rivalry did not start simply out of competitiveness or mutual respect. Rarely, if ever, do you now see two combatants shake hands prior to their matches.
Both men were cast from the fires that burn bright to this day; both men were thrown into the same fires and one showed dominance, the other, an endless reserve of resilience.
Their bad blood would let loose hell on earth as Shawn's actions had directly resulted in the birth of the Hell in a Cell, a structure created from the very same fire that both men were cast from.
It was still not enough; their rivalry continued as the cell failed to encase both men and bring about one decisive victor.
Promising to entomb Michaels forever in a casket, the Undertaker arrived at the Royal Rumble and although fate would not grant him what he considered his ultimate victory, it did give him a consolation prize.
Michaels had been injured beyond repair. The hard-fought contests that Shawn would be in later, such as Wrestlemania where he lost his precious title, that exacerbated his wounds, but it was the power of the Deadman that gave rise to Shawn's decisive demise.
Yes, it seems a tad extreme that a ruined chance at the world title was compounded by a brutal, career-ending injury, but it would be events such as these that reignited the fires in both men when they met again almost 10 years later at the very same event that might have ended the career of The Heartbreak Kid.
The record showed that Shawn had twice defeated the Undertaker in singles competition, but it was the Phenom that stood victorious that night.
Fast-forward to 2009 and the two stood face to face in the ring, with Shawn hell-bent on breaking the undefeated streak of his opponent and the Undertaker, with the chance to finally shut Shawn up for good by defeating him at the grandest spectacle of them all.
There they stood, after 12 years, ready once again to do battle. Michaels was once again risking life and limb and ready to take on any force in the world.
As soon as the bell rang, you could feel it. Whether you were in the stands or at home, you felt IT flow through you. You knew something special was going to happen that night.
The stoic Michaels, with the desire not only to end the streak but to break the myth of the Undertaker; to prove that he was nothing more than flesh and blood, and that any man can be defeated
With every blow exchanged, with every maneuver countered, you could see it in Shawn's eyes that he could feel his spine tingling as if it had sensed Taker's presence.
With every kick averted, with every submission hold, you could feel the unending resilience of Michaels burning a hole in Taker's psyche, driving him crazy with rage and awakening inside him a vicious, more evil side of himself—one that had not been seen in many years.
Fate tipped the scales and Taker left Wrestlemania victorious. But what fate dictated next would be nothing less than a genuine bolt from the blue as The Undertaker became the man to once again end the career of Michaels.
Michaels found in Taker, his ultimate foe, one man who could not be conquered and Taker sought in Michaels, the very resilience that made his boyhood dream come true and then some.
And even though it would be Taker's hand that would be raised in victory at both events, the scorecard showed 2-2. While it may seem that, yes, the Undertaker ended the career of a future Hall-of-Famer, who ultimately won?
Shawn fought, and fought defiantly to the end, even earning the respect of the Deadman. But as they shook hands in Phoenix, you could see an admission of defeat in the face of the phenom.
What is breaking the streak? Some would argue that it is merely a statistic, but in his quest to end the long standing record, in his journey to gain vengeance on the man that had taken away his livelihood, both men transcended the mere statistic.
It has become something more than a record because Shawn had already done it once when announcer J.R. said in disbelief after HBK kicked out: "I just had an out-of-body experience."
And he did it again at Wrestlemania 26 when the Undertaker took pity on Michaels, even going as far as contemplating to spare him by telling him to stay down.
In the end, Shawn did not break the streak. He accomplished something of an even greater value.
He broke the myth of the Undertaker.
He made him seem human.
Even in defeat, he remained victorious.
That is the hallmark of a true and great rivalry; one that transcends mere win-loss record, one that challenges the very constitution of the opponent.
One…that never ends
This article is
What is the duplicate article?
Why is this article offensive?
Where is this article plagiarized from?
Why is this article poorly edited?