Urban Meyer's Resignation and Nine Other Sudden Sports Exits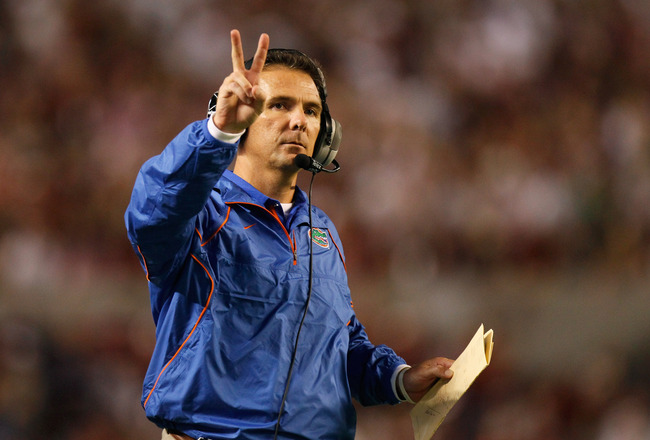 For the second time in a calender year, Urban Meyer walks away from Gator Nation
Kevin C. Cox/Getty Images
The decision of Florida Gators Coach Urban Meyer to resign and spend more time with his family is respectable and speaks volumes for the family man Meyer wants to become.
Meyer has been married for 25 years and is the father of three children. It has been during those 25 years that Meyer has worked his way through the ranks, becoming arguably the most successful head coach in college football today.
To be a great head coach in any sport many long hours are needed and many stories have been told by current and former NFL and college head coaches of never seeing their families during the season.
Sleeping on the couch in the office during the season is very commonplace for many successful coaches at both levels.
Meyer's career began coaching defensive backs for a local Cincinnati high school team in 1985. He would move onto become an assistant for three different universities in the next 13 years, including the University Notre Dame.
In 2001 Meyer would become the head coach at Bowling Green University, continuing his upward rise Meyer moved on to Utah. It was there that Meyer's spread offense would explode, leading Utah to an undefeated season in 2004 and catapulting Meyer onto the National scene.
Meyer would become the Head Coach for the Florida Gators in 2005.
Meyer dominated the state of Florida and the SEC. The Gators's were 64-15 during Meyer's tenure, winning two National Championships. Florida won a school record 22 straight games and re-established its dominance over their three biggest rivals.
The Gators were 16-2 over Tennessee, Georgia and Florida State. Many speculated that his dominance over the Volunteers and Seminoles were factors in the departures of both schools coaching legends. Bobby Bowden and Phil Fullmore would see their tenures come to an end with Meyer at Florida.
Many people in the Florida college football scene speculated that Bowden couldn't recruit with Meyer in Gainesville.
Meyer has never experienced a losing season as head coach in Division one college football, compiling a ten year coaching record of 103-23.
Hours of long work, film study and recruiting as well as coaching in arguably the most competitive conference in the country caught up with Urban Meyer's health last December.
Following the Gator's loss in last year's SEC Championship game to Alabama, Meyer was admitted into a Gainesville hospital with chest pains.
Meyer would step down on December 26th, citing health concerns. The very next day he rescinded his leaving saying he would instead take a leave of absence, take better care of his health and return to coach the Gator's this season.
Urban Meyer never seemed to fully come back from his December 26th announcement.
I live in Florida and follow the Gator's very closely, it was evident following every Gator loss Meyer wasn't the same coach this season. The intensity never showed through and it was reflected on the field as the Gator's would finish 7-5, their worst season since 2004. The year before Meyer arrived in Gainesville.
Yesterday, Meyer announced his resignation, effective following his teams last game, The Gator Bowl on New Year's Day.
There is a bit of irony in this game, standing across the field on the other sideline coaching against Meyer in his last game will be the winningest coach in college football (FBS) history, Joe Paterno.
Paterno has been patrolling the sidelines of Penn State since 1950 and has been their head coach since 1966.
I wonder if there will be any media attention paid to the tenure of Joe Pa compared to Meyer's relatively short career. Paterno will turn 84 on December 21st. Meyer is 46.
I commend Urban Meyer for wanting to be with his family. Meyer's success is an obvious indication of how much time he has spent away from his family.
I'm sure it's every college or NFL's coach's dream to spend more time with their family
Meyer's is considered one of the innovators of the spread offense. It is one of the most copied offenses in college football.
If only Meyer could have figured out a way to win all of those games while being able to eat dinner with his family, attend his children's school activities and sleep in his own bed every night. That system would have become more copied than any offense or defense in the history of college or professional football.
Meyer's decision to step aside is hardly a surprise, after all he tried to do it last year.Here are nine surprising retirements in recent sports history and how these athletes went out of the games they loved, or did not love, anymore.
Tiki Barber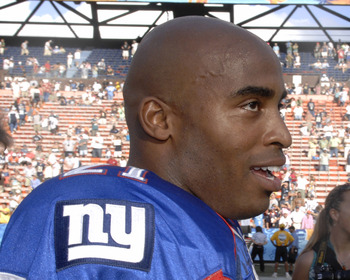 Tiki Barner announced mid season of his intention to quit
A. Messerschmidt/Getty Images
Wanting to pursue a career in broadcasting, Tiki Barber announced ten games into the 2006 season that he would hang up the cleats after the year was over.
Tiki would say upon retiring, "I used to think my career was defined by not winning a Super Bowl. But I think looking back on my career, they'll see someone who was a competitor, someone who always played hard and never gave up.
While surprised about his retirement, how much the Giants missed Barber is debatable. The very next season they went on to beat the undefeated New England Patriots in the Super Bowl, in what many called the biggest upset in NFL history.
Barber did have a good career. He amassed 15,632 total yards in 154 regular season games making three Pro Bowl appearances.
Tiki went on to join NBC's Football Night In America and NBC's the Today Show. His contract with the Today Show was not renewed in May.
The Giants would go 8-8 in Tiki's last season. In his last game, Tiki would rush for 137 yards in a Wild Card playoff loss to the Philadelphia Eagles.
Robert Smith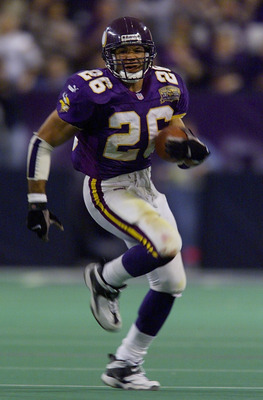 Robert Smith
Brian Bahr/Getty Images
Robert smith could have quite possibly been the smartest man to ever play in the NFL.
Smith was a running back for the Minnesota Vikings from 1993-2000. At just 28 years of age and after becoming the Vikings all time leading rusher surpassing Chuck Foreman, abruptly retired following the 2000 season.
Smith sat out his sophomore season at Ohio State to concentrate on his studies.
Completing his initial contract with the Vikings, Smith was a free agent at the completion of the 00 season and could have been in line for a 40 million dollar pay day.
Playing in every game for the first time in his career, Smith just completed his best season rushing for 1521 yards and 7 touchdowns. The 1521 yards were the fourth straight season he had rushed for over 1000 yards.
Smith loved playing in the NFL but wasn't in love with its routine. In a 2004 SI interview Smith was quoted as saying, "It definitely wore on me,'' "When I thought about playing another year and sitting in that locker room again, or in meetings, I'd think, 'Man, I could be really doing something right now. I could be going out and seeing the world or doing some charity work. It seemed almost a waste of time spending my week preparing to play a game. Mentally, I didn't need all week to get ready for the game. Some people do.''
Smith was very outspoken about leaving with his health intact.
The Vikings lost the 2000 NFC Conference Championship game 41-0 to the New York Giants. Smith would only rush for 44 yards in his final NFL game.
The Vikings wouldn't return to the playoffs for three more season following Smith's surprising retirement.
Rocky Marciano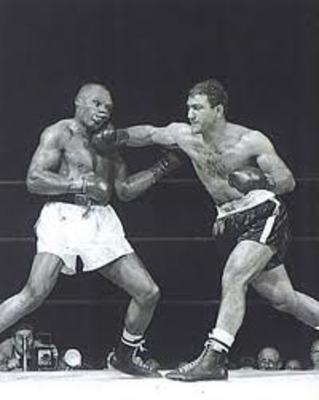 Marciano retired an undefeated 49-0
Rocky Marciano shocked the boxing world when on April 26th,1957 he was retiring from boxing.
Marciano would retire with a record of 49-0. 43 of Marciano's 49 fights ended by of knockout, including his last match, a ninth round KO of Archie Moore.
Marciano defeated some of the greatest all time fighters in the history of boxing. The list includes names like Jersey Joe Walcoot, Joe Louis and Ezzard Charles.
Marciano would say in a New York Times interview upon retiring"I thought it was a mistake when Joe Louis tried a comeback,"

"No man can say what he will do in the future, but barring poverty, the ring has seen the last of me. I am comfortably fixed, and I am not afraid of the future."
Marciano also stated he wanted to spend more time with his family and there were whispers that Marciano was upset that he had to split his purses with his manager fifty-fifty.
Marciano contemplated a comeback in 1959 but decided against it.
Marciano was once given a try-out by the Chicago Cubs in 1947 as a catcher. He had always dreamed of playing baseball professionally. Due to an old army injury he could not complete the throw to second base and his hopes were dashed.
Marciano was killed one day shy of his 46th birthday in a private plane crash outside of Des Moines, Iowa.
John Madden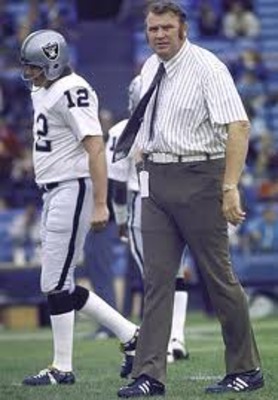 John Madden and Ken Stabler
Most of you reading this have no memory of John Madden walking a sideline in the NFL. Those of you that do, only have ten years of those memories.
John Madden would become the youngest coach in the history of the NFL when Al Davis made him the Raiders head coach in 1969
Madden was the youngest head coach at that time to win 100 regular season games with one team.
He compiled a record of 103-32-7 in ten short NFL seasons. His .763 winning percentage ranks second all time amongst NFL head coaches.
Like Urban Meyer, Madden never had a losing season but ultimate success wouldn't come as quickly for Madden as it did for Meyer. Madden's Raiders would lose five AFC Championship games in seven years.
Finally in 1976, Madden would lead the Raiders to a 13-1 record and a convincing 32-14 victory over the Minnesota Vikings in the Super Bowl XI.
Madden would begin to experience serious burnout and stomach ulcers during the 1977 season
Contributing to Madden's stress was his fear of flying, Madden only flew when he absolutely had to.
At 42 years of age and suffering medical issues from stress, Madden retired. He did so following the 1978 season after failing to make the playoffs. He vowed to never return to coaching again and he didn't.
Madden would enter the broadcast booth and become a household name.
Madden's way of analyzing NFL games was unique, using verbs like boom and pow to describe hits and exciting plays, Madden was new, fresh,loud and boisterous in the booth. Madden parlayed his booth success into endorsement opportunities and a video game sponsored by the NFL. A first of it's kind business venture. The Madden NFL Video game is the number one selling video game all-time.
Madden, after suffering physically and mentally as a head coach would find happiness in the game he loved, while not having to stand on a sideline to do it.
Prior to the start of 2009 season, Madden would retire for good from anything having to do with football.
Barry Sanders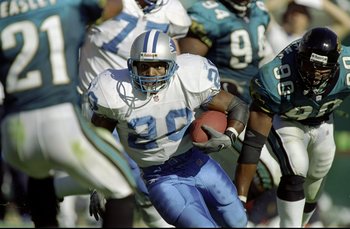 Barry Sanders
Eliot J. Schechter/Getty Images
Being from Baltimore I have been very fortunate and blessed to be a part of some great sports moments. Some you know are coming but most you don't. December 27th, 1998 turned out to be one moment nobody saw coming.
Waking up that morning and thinking about going to see the Ravens play the Lions on a 20 degree day didn't sit to well with me. I'm a die hard Ravens fan but this was asking a lot on this day.
Both teams were coming into the game with matching 5-10 records and surely someone who had yet to go to see the Ravens play in their new stadium would want these tickets. Wouldn't they?
There were no takers for the tickets. I ended up sitting through the whole miserable affair and watched as my Ravens would hold Barry Sanders to just 41 yards on 19 carries on the way to beating the Lions 19-10.
It would hit me like a ton of bricks that summer when Barry Sanders faxed his retirement letter to his hometown newspaper, The Wichita Eagle.
I immediately knew I had seen his last game in the NFL. I always kept my ticket stubs and programs from every sporting event I went to and this was no different.
Sanders would shockingly retire with 15,269 yards just 1457 yards shy of Walter Payton's all time career rushing record. A record Sanders would have probably eclipsed late the following season.
He would be named to ten Pro Bowls and earn six first team all-pro awards. He won the MVP in 1997 and would be named to the all 90's decade team.
Other than winning a Super Bowl, Sanders won or accomplished every major award a running back can accomplish during his NFL tenure
Sanders would never come out and say that losing and no hope of winning a championship played a key role in his decision to retire, right away.
He did admit several years later that indeed the losing culture of Detroit took its toll, robbing him of his competitive spirit.
Sanders quit just two years after signing a contract extension and was ordered to pay back 5.5 of a 7.3 million dollar signing bonus.
Barry Sanders was inducted into the Pro-Football Hall of Fame in 2004.
Bill Russell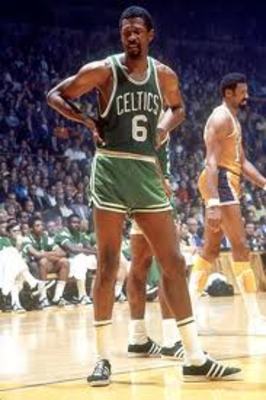 Bill Russell
Although Bill Russell would play 13 years and win 11 NBA championships his abrupt retirement following the 1969 finals win over the Lakers shocked and angered many in Boston, including Red Auerbach.
Russell was a five time MVP winner and became the first black head coach in NBA history. He became a player-coach after succeeding the legendary Red Auerbach for the 1966-67 NBA season.
Russell became very frustrated with the politics and social landscape of the mid to late 60's.
Russell took a very public stand during the American Civil Rights Movement and wasn't happy with the fans in Boston on some occasions. Russell once described Boston as a "flea market of racism".
As underdogs in 1969, Russell would lead Boston to an improbable win in the NBA finals v. Jerry West and the Lakers.
Russell had begun to admit privately that he was beginning to tire and wear down from exhaustion.
Russell never attended the championship rally with the fans to celebrate the 69 finals win and shortly thereafter sold his retirement story to Sports Illustrated for $10,000.
On the cover of the August 4th, 1969 Sports Illustrated Russell proclaimed, while sitting in a golf cart, "I'm Through with Basketball". The article written by Russell himself announces his retirement and his reason for doing so.
Russell never made a public announcement on his retirement and wasn't present for the ceremony when Boston retired his jersey in 1972 or for his hall of fame induction in 1975.
he history of professional sports. His 11 championships tie him with Henri Richard of the Montreal Canadians as having won the most titles by an athlete in a North American Sports league.
He is one of only four players to have won an NCAA basketball Championship and NBA championship in back to back seasons. Russell was also a member of the gold wining medal 1956 USA Basketball team.
Russell has since come out of his shell and has been seen more and more in recent years and even had the NBA Final trophy named after him.
Sandy Koufax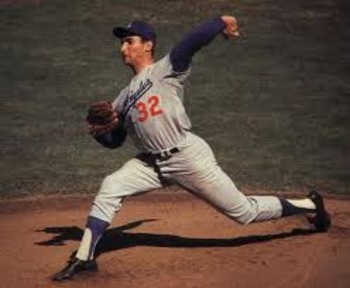 Sandy Koufax
Sandy Koufax retired from baseball at the ripe old age of 30 and following two consecutive CY Young winning seasons.
Koufax's accomplishments in his eleven year career are remarkable. 40 career shutouts, four no hitters, one perfect game, five consecutive E.R.A titles and 3 CY Young awards.
He would also win the 1963 National League MVP award, unprecedented for a pitcher during that time.
Koufax dominated his era and is arguably one of the greatest pitchers of all time. He ranks in my mind as the greatest left handed pitcher to ever take the mound.
Koufax would average one strikeout per inning for his entire major league career, striking out 2396 regular season batters. He would average a remarkable 13 complete games pitched per season. Three times pitching 300 plus innings.
Koufax's arm endured a lot of wear and tear and finally giving into the pain retired. Koufax once woke up to find that his entire arm was black and blue as his arm had hemorrhaged from the abuse.
In Koufax's final game he was beaten in the 1966 World Series by the Baltimore Orioles. Pitching in game two Koufax gave up six hits and four runs, only one earned.
The Orioles won the game 6-0, swept the Dodgers four games to none and sent Koufax into retirement.
Koufax would go onto work for NBC in the Saturday Game of the week for six years and was inducted into the hall of fame in 1972
Jim Brown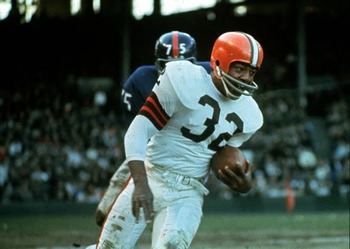 Jim Brown
"No veteran Browns" player has been granted or will be given permission to report late to our training camp at Hiram College- and this includes Jim Brown. Should Jim fail to report to Hiram at check-in time deadline, which is Sunday, July 17, then I will have no alternative but to suspend him without pay."
Browns owner Art Modell issued the above demands in a letter issued to Brown and the Cleveland press in hopes Brown would report to training camp.
Brown was in London working on The Dirty Dozen when he received Modell's request to be in training camp.
The movie was behind in production and Brown was going to finish filming before reporting to camp. After receiving Modell's demands Brown responded with a letter of his own, informing Modell he would not return and instead be announcing his retirement in the coming days.
Below is the first paragraph of Brown's response to Modell.
"I am writing to inform you that in the next few days I will be announcing my retirement from Football. This decision is final and is made only because of the future that I desire for myself, my family, and if not to sound corney my race. I am very sorry that I did not have the information to give you at some earlier date, for one of my great concerns was to try in every way to work things out so that I could play an additional year".
Just like that, the legendary career of Jim Brown was over. Brown would retire the all time leading rusher in the NFL and to this day is still considered the greatest running back of all time.
Brown, at the time of his retirement was the only player to have ever rushed for 100 touchdowns, Brown was voted to the Pro-Bowl in every season he played.
Brown still holds the NFL record of having scored four touchdowns in a game six different times.
Brown was inducted into the Pro-Football Hall of Fame in 1971 and has made every NFL anniversary team as the starting running back.
Brown's acting career was modest at best, he has remained in the spotlight. Brown was sentenced to six months in jail for failing to go to counseling after vandalizing his wife's car back in 1999.
The Browns won one NFL title with Brown as their running back. In 1964 they beat the Baltimore Colts. They returned in 1965 but lost to the Packers. Modell never fully recovered from Brown's unexpected retirement and eventually relocated his franchise to Baltimore in 1995
Pat Tillman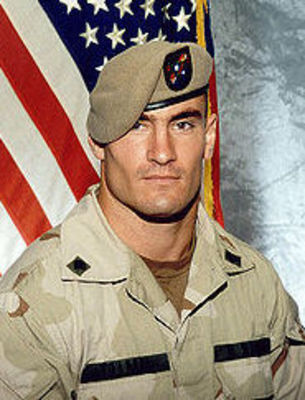 Pat Tillman
If you have made it this far then you have just read about eight other coaches and athletes and their selfish, medical or personal reasons to retire from their respective sports as suddenly as each did.
Not one of them, not even Urban Meyer walked away for a belief so powerful that it cost them their life.
The attacks of September 11th, 2001 caused every American to ask the question, what can I do for my country? Everyone wanted to help. Many did by enlisting in the different branches of our military and heading overseas to fight the war on terror.
While I commend every American home and abroad for the sacrifice that has and is being made, Pat Tillman's sacrifice and price was ultimate.
Tillman was a hard nosed, hardworking good old fashioned blue collar football player that gave his all on every play. Drafted by the Arizona Cardinals in the seventh round, Tillman worked his way onto the roster and was forever loyal and grateful to the Cardinals for giving him his shot.
During his first eligible free agency period Tillman turned down a five year 8.7 million dollar contract offer from the St, Louis Rams to stay in Arizona.
Tillman played four seasons before the 9/11 attacks and recorded 238 tackles and 3 interceptions. Tillman was voted an all-pro in 2000.
Turning down a contract offer of 3.6 million dollars over three years, Tillman enlisted to fight the war on terror in June of 2002, Tillman enlisted with his brother Kevin who also was giving up an opportunity to play professional baseball to join the fight with him.
After the initial invasion they both returned and entered Army Ranger School, after completing Ranger School both were redeployed to Afghanistan and on April 22, 2004 Tillman was killed in the line of duty. Leaving behind his wife and a promising NFL career.
I'm not going to get in to the controversies and cover-ups surrounding Tillman's death, for this article it's not pertinent. Enemy fire or friendly fire all that matters is that Pat Tillman walked away from a promising NFL career and did it to make the ultimate sacrifice.
Tillman's jersey, number 40 was retired by the Arizona Cardinals as he was also inducted into their ring of honor, his college team the Arizona State Sun Devils also retired his jersey, and he wore number 42 in college. The Cardinals have named the Plaza surrounding the stadium, Pat Tillman Freedom Plaza.
A bronze statue of Tillman was unveiled during a game against the Dallas Cowboys on November 12th, 2006.Tillman was posthumously promoted to Corporal and received the Silver Star and Purple Heart.Tillman was 27 when he was killed in action.
Keep Reading