MLB: 10 Pitchers That Can Help The New York Yankees Bullpen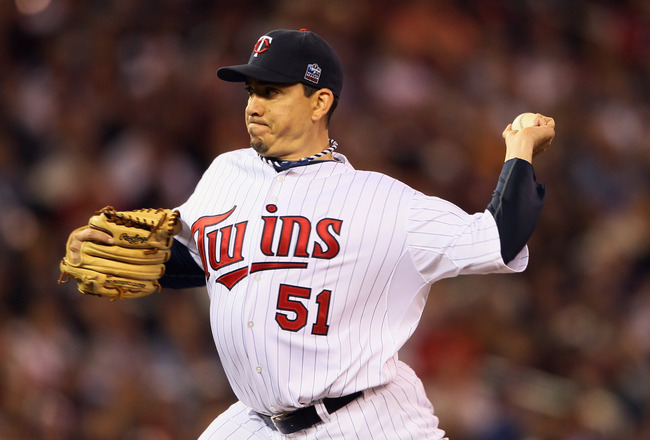 Elsa/Getty Images
The New York Yankees have everything: money, a great stadium, a dynasty, great past history, big bats, speed, and defense. Well, maybe not everything.
They don't have what the San Diego Padres have the best of: pitching.
In starting pitching, the Yankees need to depend on C.C. Sabathia and 18 game winner Phil Hughes. General Manager Brian Cashman has been going after starting pitcher Cliff Lee to solidify the rotation.
But anything about upgrading the weakest part of the club, the bullpen, has not been mentioned.
All they did last year was sign Chan-Ho Park, and we all know how that turned out.
Instead, we acquired Kerry Wood who was terrific, and now a free agent.
Here are 10 free agent arms that can help the Yankees bullpen.
J.J. Putz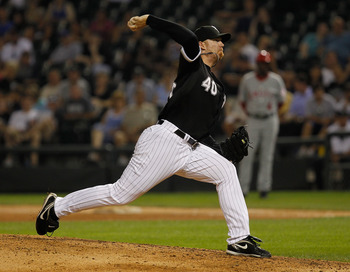 Jonathan Daniel/Getty Images
After a couple of great seasons in a Seattle Mariners uniform, J.J. Putz signed with the New York Mets before the 2009 season in order to help their bullpen.
But what if he moved to the other part of New York this offseason? Perhaps in the Bronx?
Putz rebounded this year as a Chicago White Sox, with an ERA of 2.83.
So you can see, it was in a Mets uniform he struggled in, right? So others might think he just can't take the pressure in New York.
But there's something else that contradicts this: Putz has been an All-Star caliber reliever in the American League.
Looks like he's one of the few who pitch better in the American League.
New York has the cash, so bring him in.
Kevin Gregg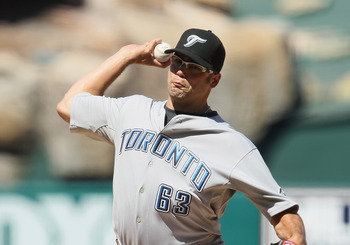 Jeff Gross/Getty Images
Surprised? Don't be.
Even though Kevin Gregg is not an all-star pitcher, he is dependable.
He saved 37 games for the Toronto Blue Jays last season, with his ERA of 3.51.
Gregg was certainly a little news maker last year, as he is underrated. It might be the same again this year, hopefully with the Bronx Bombers.
Brian Fuentes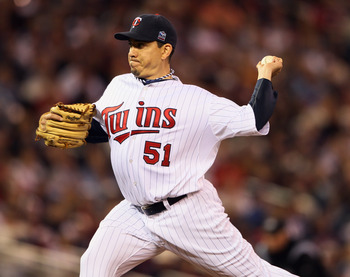 Elsa/Getty Images
Brian Fuentes wasn't top notch at his closer job with the Los Angeles Angles. After, he was traded to the contending Minnesota Twins.
Before being traded, he was already okay, with an ERA of 3.52.
But with the Twins, he appeared in 9 games with no runs allowed as a set-up guy. Looks like he still has the closer stuff.
He can join the Boone Logan as the second lefty who is actually dependable at Yankee Stadium.
Grant Balfour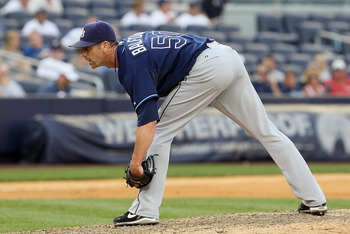 Jim McIsaac/Getty Images
The Tampa Bay Rays were rich in relievers, but they plenty of the arms are now in free agency.
One of them includes Grant Balfour, someone who isn't mentioned much.
Well his numbers should be.
He had an ERA of 1.54 in the breakout 2008 season for the Rays, and posted a 2.28 ERA this year.
He would certainly be an upgrade over the current bullpen in New York.
Kerry Wood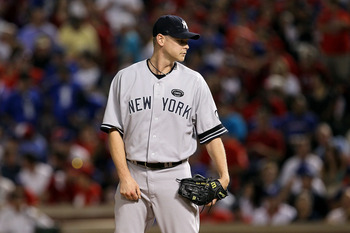 Stephen Dunn/Getty Images
We all know about Kerry Wood.
He came up with the Chicago Cubs as a starting with a blazing fastball. Then, he became a closer and signed a deal with the Cleveland Indians. Finally, he was traded to the New York Yankees, and became the only above average pitcher next to Mariano Rivera and Boone Logan.
Basically, Kerry Wood saved the Yankees from having a minor league level bullpen.
Bringing back Wood should be Cashman's number one priority this offseason next to Carl Crawford or Cliff Lee.
C'mon, you don't want to let go of a guy that didn't crack in New York, posted a 0.69 ERA down the stretch and helped the Yankees reach the playoffs significantly. Do you?
Scott Downs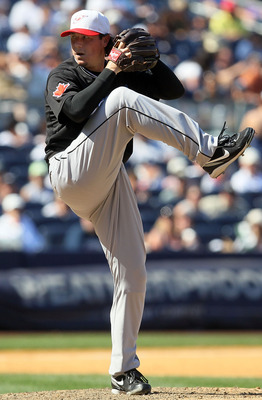 Jim McIsaac/Getty Images
You were waiting for him, weren't you?
It's no surprise Downs is one of the best relievers in the market this year, and that Yankees General Manager Brian Cashman has been going after him.
His ERA says it: 2.64.
But ERAs are sometimes not the best stat to look at.
So let's look at his whip: 0.995. It's under 1.
Anything more to say why he should land in the Bronx?
Koji Uehara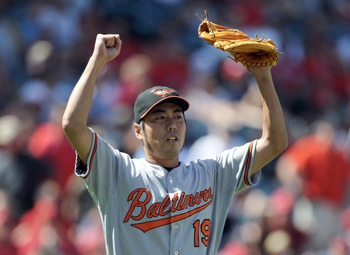 Harry How/Getty Images
He was the only one who was reliable for closing out games for the Baltimore Orioles.
Koji Uehara might be 35 years old in 2011, but there aren't relievers who sign for long term contracts. So that should not be a problem.
Uehara also has shown he can pitch in the American League East, one of the scarest divisions for pitchers. Brian Cashman should consider calling this guy. Maybe because he pitched five scoreless innings against you in his debut.
In 2010, he had an ERA of 2.86 in 43 games.
Rafael Soriano
Ronald Martinez/Getty Images
Another Tampa Bay Ray that is awesome at being a reliever.
Can he be expensive?
Yes, he probably will be especially with Joaquin Beniot's $16 million deal.
But the New York Yankees have the cash and influence.
It'll be worth it to bring Soriano in, after his excellent year last year. He saved a league leading 45 games, with his 1.73 ERA.
The only problem might be he wants to close, but really, who doesn't want to come to the city that never sleeps?
Takashi Saito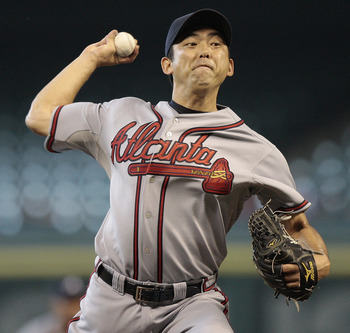 Bob Levey/Getty Images
Takashi Saito was released earlier this year by the Atlanta Braves. He had an ERA of 2.83 in 54 innings, so there were many questions on why he became a free agent.
But the answer is plain simple, he was aging and expensive.
Now that Saito probably sees that, he won't be valued highly.
Cashman, jump in.
Saito is an all-star reliever, and you can save money for another pitcher. Don't miss out.
Matt Guerrier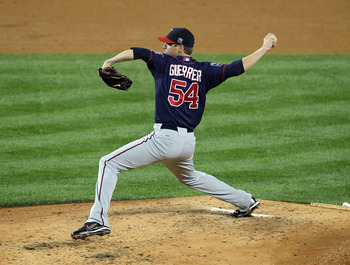 Chris McGrath/Getty Images
Matt Guerrier is another name not mentioned very much. Well he should be.
He lead the league in appearing games in 2008 and 2009, with 76 and 79 respectively. In 2010, he pitched in 74 games.
This just shows he is durable, and the Yankees need that kind of players.
Even with pitching many games, he maintained a low ERA around 3 for the last two years.
Note the fact that he is still only 32 years old, younger than others on this list.
Keep Reading

New York Yankees: Like this team?