Oakland Raiders Need To Beat Just One Opponent: Themselves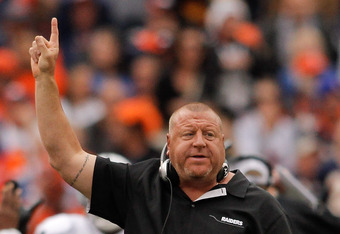 Tom Cable knows the only way is up
Justin Edmonds/Getty Images
Following anemic losses to the Pittsburgh Steelers and Miami Dolphins, the perceived wisdom of many was that the 2010 Oakland Raiders had been tried and found wanting. Yes, they may have picked up some wins against divisional rivals in the AFC West, and yes, they may have some good players. But put a decent opponent in front of the Raiders, and they just are not ready enough to challenge.
This type of analysis flies in the face of reality, and to believe this is to completely misunderstand the complex nature of Tom Cable's Raiders.
On January 25, 2003, Barret Robbins left the Oakland Raiders' hotel on the eve of the Super Bowl and began his sorry tale of struggle to find his identity. It has been a tragedy on many levels. Here was an aggressive, All-Pro center that had anchored the Raiders all season and had become the dominant player at his position, but he fell victim to bipolar disorder, depression and substance abuse.
But Robbins was a complex character who had become overwhelmed by insecurity. He was wracked with doubt and felt unable to compete. Since that day, his life story has been a sad tale as he has sought to find his true identity.
The story of Oakland Raiders has in many ways mirrored this sorry tale. For some of the time, they feel insecure and lost, unsure of who they are and not confident enough to compete in the NFL. Whilst at other times, they are able to play at a dominant level and destroy opponents.
Donald Miralle/Getty Images
So just who are the Raiders and when will we know their true identity?
Tom Cable firmly believes the true Raiders are the team that destroyed San Diego on Sunday. He described the match as "getting back to our identity." It is not clear to those outside of the organization if this is their true self, and if it is, where they have been hiding these past three weeks. Marcel Reece seems unconcerned, saying that it "don't matter" and adding "we found them and that's all that matters."
This sounds plausible. The team has gone on a journey, suffered some highs and lows but has eventually found their inner spirit. The only caveat is that we have been here before. During the offseason we were told of a completely different vibe during training camp, only for Oakland to start the season 1-4. Then it all clicked into place, the Raiders went 3-0 and suddenly the playoffs were on the agenda. Then this went up in smoke against the Steelers and Dolphins.
Has Oakland finally found the winning formula or is this another big high, just to be followed by a big low in the near future?
Taking a closer look at the season to date gives us more of a clue as to what makes up the 2010 Raiders. The overriding theme with the results so far this season is that the opposition does not matter. This may sound crazy on the surface, but these Raiders have reached such highs and such lows that the result has been more to do with the play of the Silver and Black than who is on the opposite sideline.
Jeff Gross/Getty Images
Against teams with a .500 or better record, the Raiders are an impressive 5-2 in 2010, whereas against teams with a losing record, the Raiders are a paltry 1-4. This is not a new phenomenon, as last season Oakland went 1-3 against teams with a losing record, whilst posting impressive wins against the Bengals (10-6) and the Eagles (11-5).
Digging deeper into their wins, we find that in the vast majority of the Raiders' recent wins, the games have not been close. The opponents have been battered, bruised, knocked around and the game has been won long before time expired. The Broncos, Seahawks and now the Chargers were not just beaten, but they were destroyed.
These were not just lucky wins that resulted from a fortuitous bounce of the ball; these were lessons handed out by a superior team. How has it been possible to achieve this level of dominance one week and surrender meekly the following week?
The Raiders have become a true Jekyll-and-Hyde team. One week they put on their finest Dr. Jekyll mask and lay out the welcome mat for the Miami Dolphins, entertaining them and sending them home happy. The following week they throw this persona aside, became Mr. Hyde and savaged the San Diego Chargers, leaving them battered and bruised.
It's almost as if the Raiders are playing the part of the old TV character, Dr. David Banner: polite, likable, insular and avoiding confrontation at all costs. But get him riled and he starts turning green, the Incredible Hulk emerges and the violence begins, destroying everything in sight.
Justin Edmonds/Getty Images
This is the true nature of the Oakland Raiders; they are either one thing or the other. There is no middle ground. There is no going through the gears, or being slightly on or off color. They are either meek-and-mild or monsters.
The key is violence. It has been in the past for Oakland and it is again now. If they can reach the right level of violence, they can destroy whoever is placed in front of them. Penalties are usually a bad sign of a team out of control. With this set of players, penalties are a barometer as to how enraged the team is.
The violent streak runs throughout the spine of the team. From Richard Seymour to Rolando McClain, Tyvon Branch and Mike Mitchell, the Oakland defense wants to deal in pain. They want to intimidate and rattle some cages.
This violent streak is not restricted to the defensive side of the ball. Hue Jackson has talked about "building a bully." Against the Chargers, we saw Michael Bush and Darren McFadden lowering their pads and running straight at defenders and carrying them on their backs downfield. The Raiders had come with a simple game plan; we're going to smash you in the mouth and keep doing it until you lie down. It worked, San Diego had no answer.
So can Oakland bring this level of violence to each game? Only they know. Do they know how to reach this level of intensity on a consistent basis? The evidence to date is a resounding "no."
Can Oakland bring this level of violence to their remaining 4 games?
Sneak into the game under the radar, downplay your chances, talk up Tom Cable's men point out your own injuries and poor form, and Oakland may very well put on their very best Dr. Banner or Dr. Hyde performance. This was very much in evidence against the 49ers and the Dolphins, where the Raiders were just not playing aggressively at all.
But if the opposition gets the Raiders angry, the media says Oakland has no chance and the Raiders' buttons are pushed, then it's time to hold on to your hats, because you know the opposing team are in for a beating, both physically and on the scoreboard. Oakland can destroy any team in the league when it gets angry.
Looking forward, if the Raiders manage to understand themselves, harness and control that violence and turn it on when they need it, then we are going to have a serious team in Oakland, one that can not only dominate in the AFC West, but one that can go on to win the Super Bowl.
This article is
What is the duplicate article?
Why is this article offensive?
Where is this article plagiarized from?
Why is this article poorly edited?

Oakland Raiders: Like this team?