Amir Khan vs. Marcos Maidana: 10 Reasons Khan Might Crush Him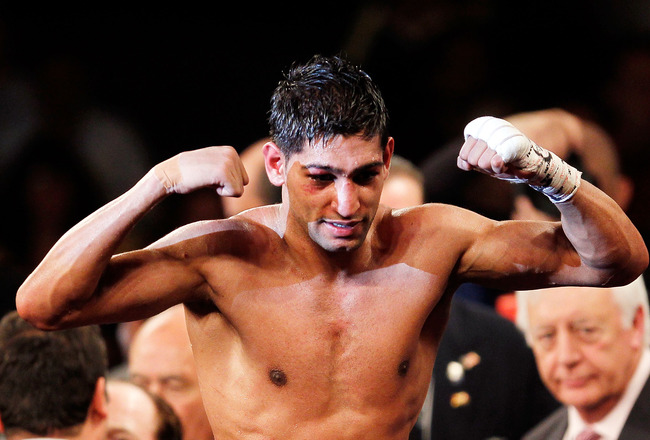 Chris Trotman/Getty Images
As we look forward to the match-up between Amir Khan and Marcos Maidana for the Super Lightweight WBA Title this weekend from The Mandalay Bay Hotel in Las Vegas, here are 10 reasons why Khan could emerge from the battle victorious.
Both fighters bring qualities to the ring that make this an intriguing match-up. Will it be the superior speed and skill of Khan or the ferocious power punching of Maidana that decides the outcome? Boxing fans could be in for an early Christmas gift as there are sure to be fireworks from each fighter.
But now we begin the look at Amir Khan and the advantages he brings to the ring this Saturday.
1. Speed Kills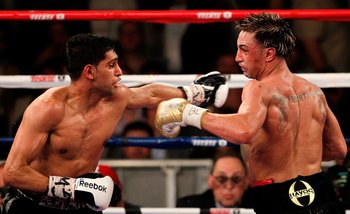 Khan made the normally speedy Malignaggi look slow
Chris Trotman/Getty Images
Khan has superior hand speed which you can bet that he will most certainly use to his advantage but it's the difference in foot speed that may also tell the tale of the fight.
Maidana applies pressure well and cuts off the ring to place himself in position to land his power shots. However, whether Khan wants to use angles or stay in the pocket and do his own damage remains to be seen but most people including myself would be shocked if Khan willingly ended up with his back against the ropes.
Khan wants to keep this fight in the middle of the ring with his hand and foot speed where he should enjoy a significant advantage.
2. Olympic Pedigree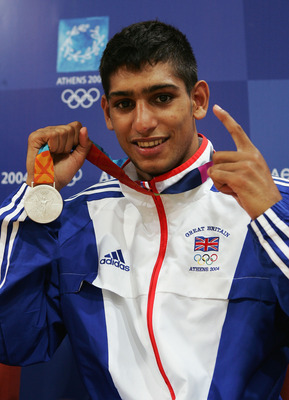 Getty Images/Getty Images
Being an Olympic boxer does not translate into doing well in the professional ranks, however some of the best boxers we've ever known have been Olympians.
Khan took home the Silver Medal in the 2004 Olympic Games in Athens when he was 17 years old. Maidana missed the Olympics in 2004 when he was defeated by Rock Allen.
Khan started his professional career on a big stage coming off of his success in the Olympics and with the experience of fighting the best in the world.
3. Victor Ortiz Didn't Want a Rough Fight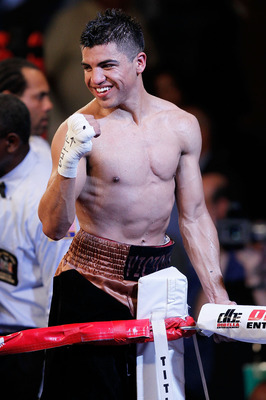 Ortiz wasn't this happy after his fight with Maidana
Chris Trotman/Getty Images
And you can bet that Amir Khan doesn't want to be beaten up either.
Khan owes Ortiz a favor for his fight with Maidana. The fight put Maidana on the map showed just about everything that Maidana is capable of. It was a great fight but without this fight, Khan might've ended up with the same fate as Ortiz.
Maidana made Victor Ortiz quit but it wasn't without incident. Maidana had been knocked down twice in the first round and once in the second round. While he showed tremendous grit and ability to get up off of the canvas and return to knock his opponent out, this showed that Maidana may not have the best chin either.
There have been examples in the past of guys that get dropped easily but aren't necessarily hurt such as Felix Trinidad and Yuriorkis Gamboa. They were both dropped numerous times by numerous opponents and came back and knocked their opponent out. Maidana showed this ability once but we don't know if he's cut of the same cloth as these fighters.
Khan will look to test the chin of Maidana but he'll also be on the lookout for heavy return fire if he appears to have him in trouble.
4. Breidis Prescott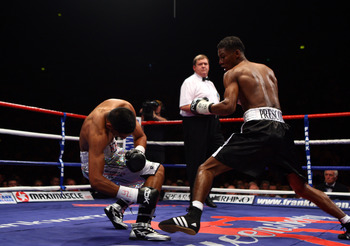 John Gichigi/Getty Images
There's an adage in boxing that says "You should never match your young undefeated prospect with a South American power puncher." Amir Khan's promoter (Frank Warren at the time) failed him and boxing logic miserably by matching him with the young Colombian Breidis Prescott.
At the time, Prescott was 19-0 with 17 knockouts. This was a fight with high risk and little reward on paper and it was even worse once they got in the ring. Prescott wobbled Khan with the first jab that landed cleanly. Again, he wobbled him with the first jab that landed. Can you ever remember that happening in a fight?
It wasn't long after the jab before the undefeated Khan was knocked down onto the seat of his trunks, wondering where he placed his wits.
Much like Victor Ortiz continues to be defined by his knockout loss to Maidana. Many people still associate Khan with his knockout loss to Prescott and believe that Khan has the epitome of what could be considered a glass chin.
I suspect that Khan had probably been knocked down in sparring at least a few times but nothing opens your eyes more than being knocked out in front of thousands of people. He's since won five fights in a row and he moved up in weight to 140 lbs where he picked up the WBA title and it appears like he's put the loss behind him. One thing is for sure, he's not going to leave his chin hanging out for Maidana to hit or he'll end up like he did against Prescott.
5. Maidana Believes Khan Will Easily Crumble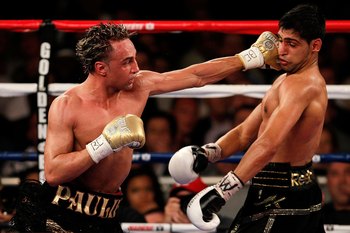 Chris Trotman/Getty Images
Sometimes fighters put too much stock into other fighters past performances, especially if they lost.
Maidana is walking into this fight with a confidence like there is literally no way that Khan will still be standing at the final bell. It remains to be seen if he keeps plugging away if they get into the championship rounds and Khan is sticking to a good game plan and he's still firing quick and accurate shots or if it's Maidana that folds.
Khan has talked about this going to be a great fight but if he's not the one doing the crushing, he could be the one that gets crushed. He needs to stick with his game plan as long as it's working. Stay away from Maidana and fight smart.
6. Freddie Roach and Manny Pacquiao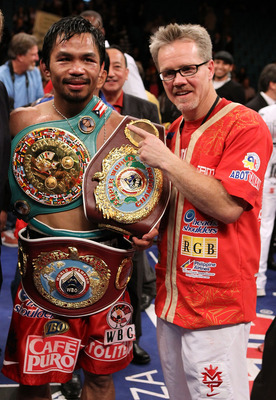 Al Bello/Getty Images
What better way to have a good game plan and fight smart than to have one of the best trainers in the world? The famed trainer has trained multiple former World Champions with mixed success however his work with Pacquiao has propelled him to as much fame as you can have as a trainer.
Khan has shown fundamental improvement and he probably couldn't have otherwise walked into this fight with Maidana without a great trainer by his side.
And while most fighters have sparring partners that you have never heard of, Khan has served as a sparring partner for Manny Pacquiao but there's no question that they've helped each other. Khan is the only fighter that can come close to matching Pacquiao's speed that's available as a sparring partner and vice versa but Khan also has the added benefit of training with someone that has excellent punching power as well.
It's much different sparring in the gym than being in the main event in a fight in Las Vegas but the gains in experience, technique and preparation definitely help Khan.
7. Andreas Kotelnik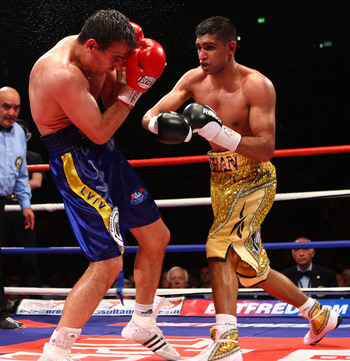 John Gichigi/Getty Images
Kotelnik is the common opponent that might give us a hint as to what to expect for this weekends fight.
Kotelnik handed Maidana his first loss in 2009 when he won a narrow split decision victory that he and his camp still believe they won however Khan beat Kotelnik by a wide margin. There is often too much stock put in to a common opponent because styles make fights. Kotelnik has a good chin and he absorbed everything Maidana threw whereas Khan may not have that luxury.
If the fights show us anything on paper however, it would appear that Khan definitely has the ability to box Maidana's ears off.
An interesting side note is that Kotelnik also fought one of the other titleholders in his last fight, Devon Alexander. Alexander had been impressive in his fights leading up to his big home debut against Kotelnik but he struggled. Kotelnik gave him all he could handle but lost 112-116. Some people have felt like Alexander was given a hometown decision but if Alexander can beat Timothy Bradley on January 29th, the winner of this fight and Alexander would also have a common opponent in Kotelnik.
8. Maidana Is Forgetting About Khan's Power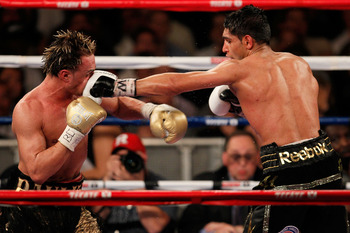 Chris Trotman/Getty Images
Khan may not boast a 90 percent knockout percentage like Maidana does but he still has a very respectable 70 percent knockout ratio. Khan has also faced the better opposition including fighters that are more difficult to knockout which has to be considered as well.
Khan will definitely use his lightning quick jab to set up his other punches and it's worth noting that Maidana was dropped while throwing punches against Ortiz. Unless Maidana has improved his technique considerably, he'll be there to be countered. With Khan's blinding speed, he likely won't see those punches coming which only helps Khan land a punch that will be harder for Maidana to take.
9. The Big Stage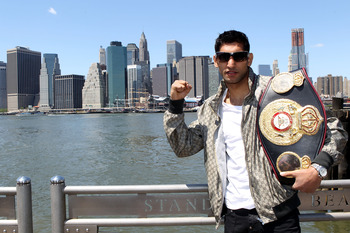 John Gichigi/Getty Images
You wouldn't think that supreme athletes that keep their cool under fire would be bothered by fighting in front of a large crowd but it's a reality in boxing.
Khan began his professional career with a recognizable name because of the Olympics and he had a huge fan following in England by the time he was knocked out by Prescott. He was also named as ESPN's 2007 Prospect of the year.
Most people didn't know about Maidana until his fight with Ortiz. It's easier to come in as the underdog on the big stage and steal a fight from a prospect than it is to be the headliner. Khan is still the headliner going into the fight this weekend but no one is overlooking Maidana anymore. The pressure is on him too. If he loses, people aren't going to be eager to fight a dangerous puncher with little fan base that doesn't bring much to the table financially.
10. Khan Is Fighting to Get Back What He Lost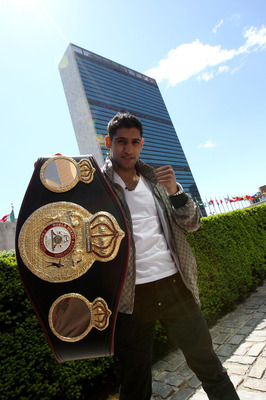 John Gichigi/Getty Images
My home was broken in to earlier in the year and among other things, the thieves stole my brand new laptop that was a gift from my father. My wife and I couldn't afford to replace it but we were fortunate enough to get another laptop from a friend. It still serves its purpose but it's older and much slower than the one we used to have.
I've often thought about what might happen if I saw someone walking around with my laptop in my neighborhood. To say that I would fight to get it back is an understatement.
Khan is going through something similar with his career. To think about where he'd be in terms of fame and finance had he not been knocked out by Prescott is staggering for such a young fighter and I can't imagine that he doesn't think about it.
If I caught someone breaking into my place trying to steal my laptop now… I don't even want to think about what may happen to the poor guy. If Amir Khan is anything like me, there will be hell to pay for Maidana as he tries to take Khan's title away on Saturday night.
Keep Reading