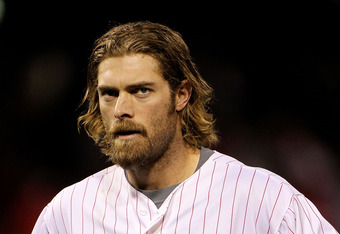 Doug Pensinger/Getty Images
The truth. You can't handle the truth. Unless of course, you're the Washington Nationals. Or the Philadelphia Phillies.
When middle-aged rightfielder Jayson Werth signed his seven year, 126 million dollar contract with the Nationals on Saturday, both teams got exactly what they wanted. For the Nationals, they got someone they can market, who can replace departed first baseman Adam Dunn, and who also provides an all around presence to the order.
Toward the end of last season, the Nationals ran into a problem. First, it became evident that fan favorite Dunn would not be re-signing with the team, as he had rejected previous extensions during the season. Also, the team had just placed phenom Steven Strasburg on the disabled list, and watched horrifically as he set himself back almost two years from pitching in the major leagues.
With 2010 top pick Bryce Harper at least one year away from the major leagues, the Nationals needed someone who could fill the gap.
Enter in Jayson Werth, gap filler A.
Much like Ivan Rodriguez did in signing with the Detroit Tigers, the Nationals hope they can now lure a few other free agents to the nation's capital to speed up the rebuilding process. However, don't let this move fool you for one minute.
This was about keeping whatever fan base Washington had intact. This was also about Werth using the one chance in his major league career to cash in, and cash in big.
Although Washington will undoubtedly pay for this when Werth reaches his mid-thirties, the short term potential was worth the risk. What if they now go out and sign a second level pitcher such as Carl Pavano, and maybe a closer like Rafael Soriano. Both are needs, and the Nationals have the money to spend. They have had the money for years, but were always waiting for the one player to get the ball rolling.
Now that free agents know the team is serious, and are also willing to fork over serious amounts of cash, don't be surprised if the floodgates open, which is exactly what the Nationals ownership wants, considering they now operate with a very happy, newly wealthy superstar to campaign for them.
The Phillies now get to play the part of bitter ex-girlfriend. Not only did the team give Werth his first chance as an everyday player, but they saw him develop into a prime time talent right before their eyes. However, in today's game loyalty is fleeting, and he left Philadelphia for her younger, and much less experienced sister just a few hours south.
For the Fightins' this is a move that actually will help the team long term. The Phillies biggest hurdle is age. With everyone in the starting lineup at least 30-years-old, this team has to get younger at some point. Signing a 31-year-old Jayson Werth does not fit the mold, and giving a multiyear contract to a Jeff Franceour or Bill Hall makes no sense either.
Although this move may anger many, the Phillies now can try and trade/sign for a younger outfielder to platoon with top prospect Dominic Brown. If Brown keeps up his Winter performance however (he is riding the pine in the Dominican) he may be destined for triple A this year.
If the Phillies can nab a Carlos Quentin type however, they can platoon him with Brown which actually may help the team in 2012 if both players prove worthy. If Brown and another solid young outfielder are ready when Raul Ibanez and his contract expire at the end of this year, the Phillies are now younger and better at two corner outfield positions.
If a younger player is out of reach the Phillies could also decided to play Brown and sign a solid veteran as insurance. Josh Willingham played well for the Nationals this year, and is a potential solution Matt Diaz is another potential fit.
Both players have played in the division for a few years and would come cheap. A player like this will take the pressure off Brown, but most importantly will give the Phillies a chance to try and get younger in the starting lineup while still have financial flexibility.
Think the Phillies are not looking this far down the road? Think again. GM Ruben Amaro knows this may be the last season the Phillies have a shot to win it all. Jimmy Rollins can leave after this year. Roy Halladay will be on the wrong side of 30. Cole Hamels will need a raise. Chase Utley has been declining in production for the last two seasons.
So although the Phillies can go into the season with a younger outfield, the offensive drop-off may just have to be dealt with in an attempt to get a promising young player some level of experience for the future.
Secondly, the Phillies avoided hamstringing themselves to another huge contract. The Ibanez deal serves as the biggest example of why it's best to avoid free agent outfielders above the age of 30. Same goes when you look at the Jason Bay, Alfonso Soriano and even way back to Baltimore's signing of Albert Belle. It's very risky, and usually is just a short term solution.
For the Nationals that will work just fine. For the Phillies, fans may not like it, but sacrificing short a short term player for financial flexibility may just be a risk Werth taking.
This article is
What is the duplicate article?
Why is this article offensive?
Where is this article plagiarized from?
Why is this article poorly edited?