Adrian Gonzalez Traded to Boston Red Sox: A Look at Who Boston Gave Up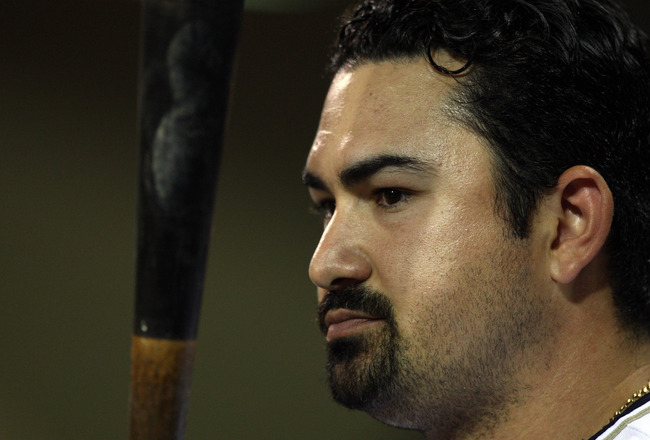 Donald Miralle/Getty Images
The Boston Red Sox finally got the slugger they've been coveting for over a year today, completing a blockbuster trade with the San Diego Padres for first basemen Adrian Gonzalez.
Going to San Diego will be a collection of top Boston prospects, including Casey Kelly, Anthony Rizzo, Reymond Fuentes, and a player to be named later.
The trade gives the Red Sox one of the premier hitters in all of baseball. Gonzalez, 28, finished fourth in MVP voting last year after sporting a .904 OPS with 31 home runs and 33 doubles. The left-handed slugger is a Gold Glove first basemen and excels at driving the ball to the opposite field, which makes him perfectly suited for playing in Fenway Park.
Kevin Youkilis is now expected to move to third base and vacate the first base slot for Gonzalez, who softens the blow of losing both Victor Martinez and Adrian Beltre to free agency.
But nothing's free these days and Padres GM Jed Hoyer received a major haul of prospects for San Diego's hometown hero. Who did the Red Sox give up and how might these players figure into the Padres plans in the future?
Read on to find out.
P Casey Kelly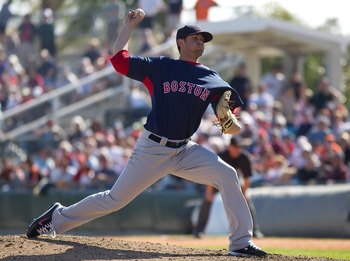 J. Meric/Getty Images
Kelly, a first-round pick in 2008, is undoubtedly the centerpiece prospect in this deal and the one most likely to make Theo Epstein regret letting him go.
The 6'3", 200-pound starting pitcher out of Sarasota HS came into the draft as a dual shortstop and pitcher. He was also a highly-touted quarterback who turned down a scholarship from the University of Tennessee to become a professional baseball player.
Blessed with tremendous athleticism, Kelly spent his first pro season alternating between pitching and hitting at the A level. Though he was a productive shortstop, batting .344 in limited action for low A Lowell, Red Sox scouts always envisioned him becoming a full-time pitcher.
Kelly did so in 2009, pitching in nine games for Greenville with a 6-1 record and a 1.12 ERA. He struck out 39 batters in 48.1 innings and walked only nine, dominating opposing hitters with an impressive array of pitches (a low 90s fastball, a 12-6 curveball and a potentially devastating change-up).
In 2010, Kelly was promoted to AA Portland and struggled against a higher level of competition. In 21 starts his ERA was 5.31 and he was knocked around a bit, giving up 118 hits in 95 innings while only recording 81 strikeouts.
Still only 21, Kelly has the potential to become a front-line pitcher. He may need another year of seasoning before he's ready for the big leagues, but he was the second youngest pitcher in AA and is miles ahead of where other pitchers are at his age (Jon Lester had a 4.28 ERA for High-A Sarasota when he was 20).
By 2012 he should be a fixture in the Padres rotation, joining Clayton Richard (26) and Mat Latos (22) to form a terrific threesome of young ace-caliber starting pitchers. Just look at what the world champion Giants accomplished with Tim Lincecum (26), Matt Cain (25), Jonathan Sanchez (27) and eventually Madison Bumgarner (20) to see what elite starting pitching can do.
If Kelly fills out, and all indications suggest that he will, he could make Padres fans forget all about former ace Jake Peavy and establish himself as one of the best pitchers in all of baseball.
1B Anthony Rizzo
Rizzo is another elite prospect in the Red Sox farm system, but without the same fanfare as Kelly.
The 6'3", 220-pound slugger was a sixth round draft pick in 2007 out of Stoneman Douglas HS in Florida. Now 21, Rizzo has emerged as one of the best prospects in all of baseball.
The left-hander got off to a red hot start in 2008 for Single-A Greenville, batting .373 with an .848 OPS in 21 games. But Rizzo was diagnosed with Hodgkin's Lymphoma early on the season and had to quit baseball to undergo chemotherapy treatments.
By November of that year, Rizzo was declared cancer-free and ready to mount a dramatic and inspiring comeback to the world of baseball.
In 2009, Rizzo split time between Greenville and Salem, batting a combined .297 with an .828 OPS, 12 home runs, and 37 doubles.
He followed up that performance in 2010 by being promoted as high as AA Portland and batting a combined .260 with an .814 OPS. Rizzo's power was on full display last season as he crushed 25 home runs and 40 doubles.
Rizzo is an outstanding hitter with plus power to all fields and a polished approach at the plate. His strike zone discipline (132 strikeouts in 2010) could use some improvement, but his bat speed and timing suggest that it's only a matter of experience. He's also an excellent defender and is said to be a leader on the field and in the clubhouse.
MLB comparisons to Todd Helton should have Padres fans salivating as Rizzo appears destined to be Gonzalez's replacement at first. San Diego does have Kyle Blanks (23) as an option, but the towering, right-handed slugger struggled in 33 games last season, batting only .157 and striking out (46) far more times than he recorded a hit (16).
But the Padres also need a left fielder with the departure of Scott Hairston, and Blanks figures to be the answer there. Look for San Diego to find a short-term solution at first base (Lyle Overbay, Carlos Pena?) and hand the job over to Rizzo full-time in 2012.
OF Reymond Fuentes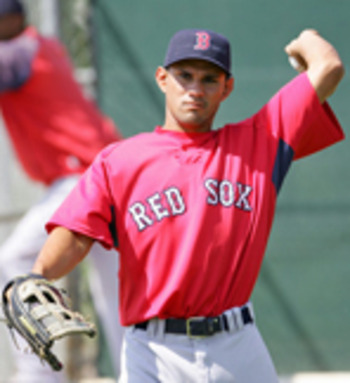 Fuentes, 19, was Boston's first round pick in 2009 out of Fernando Callejo HS in Puerto Rico.
Although raw, Fuentes has the sort of talent that could see him one day develop into a five-tool player at the major league level. He's one of the fastest players in the Red Sox system (think Jacoby Ellsbury), and also one of the best defenders. He's primarily a line drive hitter right now but has a smooth, easy swing that could one day translate into plus gap power.
Fuentes saw limited action upon being drafted but was a full-time player at Single-A Greenville in 2010. In 104 games he batted .270 with a .705 OPS and 42 steals (caught only five times). He hit 15 doubles, five home runs and five triples, in addition to recording 25 walks.
The left-handed center fielder is still several years away from making an impact at the major league level. But at only 19 years of age he's a tremendous prospect who by 2013 or 2014 could turn into a productive everyday player.
Fuentes is more of a long-term project than the other players involved in this deal, but if he develops into the player scouts think he will be then the Padres could potentially have netted three future All-Stars.
Keep Reading

Boston Red Sox: Like this team?