Top Five WWE Superstars Deserving of Main Event Status and a Major Title Reign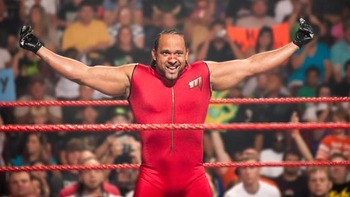 MVP, photo copyright to WWE.com
Hello, Bleachers, and welcome to yet another slideshow courtesy of yours truly!
This particular article is one that came to my mind a couple of months ago and that I feel extremely passionate about. Oddly, it took me some time to finally write it, but here it is.
As you can see, this is a list of five WWE superstars I feel are deserving of main event status and a major championship reign (or five).
I will list each of these wrestlers in the order I believe they should appear, and I hope someone with any sort of stroke in the back in the WWE sees this, takes it to heart and speaks up on behalf of these guys!
Without further delay, here we go...
5. Sheamus
Sheamus, photo copyright to WWE.com
OK, I know what you all are thinking: Why does she have Sheamus on this list when he's already been WWE champion twice?
Please, hear me out. Yes, the Celtic Warrior has been at the top and had two title reigns thus far. However, since losing the WWE title to Randy Orton at Night of Champions, he has pretty much been floundering.
Since October, we have seen Sheamus semi-feuding with Santino, of all people. Each time he seemed on the verge of attacking the comic relief (I hate calling Santino that, but let's face it, it's what he's used for), John Morrison made the save. It's a strange means to go about building a feud between the Celtic Warrior and the Guru of Greatness, but that's the WWE for you.
I would like to see Sheamus back in the main event, and eventually enjoying yet another WWE Championship run. He is charismatic, has a great move-set and deserves a chance at being a convincing champion—something the WWE didn't give him during his previous two reigns.
4. Kofi Kingston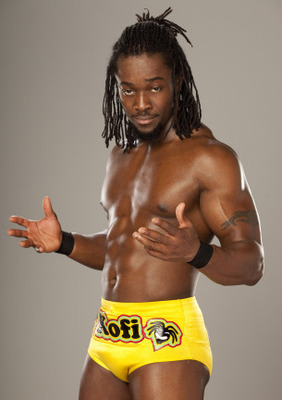 Kofi Kingston, photo copyright to WWE.com
This amazing high-flyer was seemingly heading toward main event status when he was feuding with Randy Orton for a month or more earlier this year. Kofi destroyed a race car with Orton's likeness on it that was meant for the Viper, and got the better of him in a brawl in the stands, topping it off with a boom drop.
There were rumors that the sudden halt in his push stemmed from him not selling a move properly, or selling Orton's Legacy counterpart, Ted DiBiase's, move more than RKO's own (I can't recall the exact details). Shortly thereafter, Kofi vs. Orton came to an end, and Kingston was drafted over to SmackDown.
I think the move to the blue brand was a good one. However, Kofi should be moving way up from midcard status and challenging for the Intercontinental Championship. He should be competing alongside the main eventers for the World Heavyweight title.
He's got the goods to hang in the division. He's an awesome wrestler with an endless arsenal of moves, and he can cut a good promo and has loads of charisma. Yes, he's smaller and is a high-flyer, but so is Rey Mysterio.
Push him, WWE!
3. John Morrison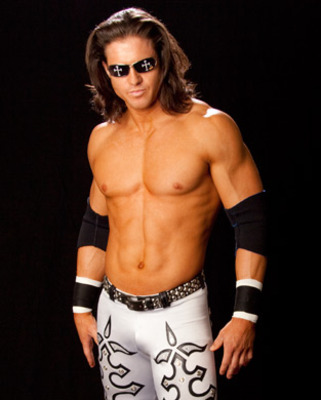 John Morrison, photo copyright to WWE.com
John Morrison is another amazingly talented high-flyer, who started out by winning Tough Enough 3.
Originally known as Johnny Nitro, he started in the WWE by appearing alongside real-life girlfriend Melina and tag team partner Joey Mercury in the trio better known as MNM on SmackDown.
The team dazzled the fans with their impressive aerial maneuvers and unmatched athleticism, until eventually splitting up as all teams do.
Nitro and Melina stuck together and moved to RAW, where he enjoyed a strong position in the upper midcard and reigned as Intercontinental champion. Eventually, they went their separate ways when he moved to ECW and changed his name to John Morrison.
Morrison became ECW champion, but it seemed as though this was merely a consolation prize, because since going to SmackDown after the dissolution of that brand, he was never given a proper push.
Since the latest draft on April 26th, he is back on RAW and might just finally be getting the push he so richly deserves. He is feuding with Sheamus and scored a win against him at Survivor Series. However, it remains to be seen that this is the case, as the Celtic Warrior himself has been struggling as of late.
Morrison may not have the strongest mic skills, but he's certainly better than a lot of other superstars in the speaking department. He's incredibly gifted and is a natural in the ring. Now that former tag team partner, the Miz, is WWE champion, is this his chance?
Let's hope so.
2. MVP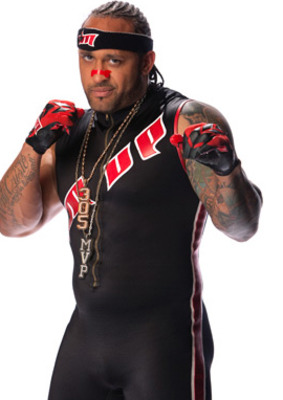 MVP, photo copyright to WWE.com
Montel Vontavious Porter...
The name totally rings of high-class, greatness and of a champion!
MVP is easily one of the most talented superstars the WWE has, both in the ring and on the mic. He is both technical and innovative, and he has all the elements necessary to make a good World champion.
Yet, to this day, the company still has him going after midcard gold.
When MVP won a triple-threat match a few weeks back to become the No. 1 contender for the Intercontinental title, I was pretty surprised. To be honest, I didn't see him winning, and it wasn't because he deserves more. More aptly, it was because the WWE don't seem to know what to do with him and usually don't push him.
Then, when he faced Dolph Ziggler for the championship a mere week later, I groaned, because I just knew he would lose. What is the point of even giving him the shot—and a measly week after he wins the contendership, at that—only to have him lose? I was outraged!
Any time I have discussions with people on the Internet about MVP, and why he isn't getting the main event push he deserves, they all have the same response: It's because of his criminal past.
Honestly, I don't buy it. Booker T had a criminal past, and he became World Heavyweight champion in the WWE. I just don't get it.
What I do get is that MVP should have been in the main event ages ago, and he deserves to be World champion. End of story.
1. Christian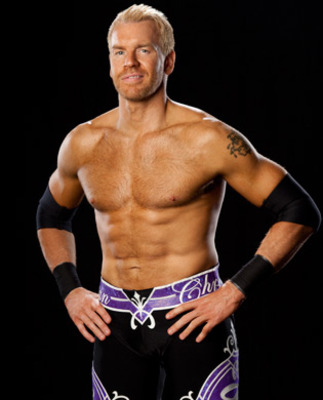 Christian, photo copyright to WWE.com
Finally, none other than Christian tops my list at No. 1!
Captain Charisma is currently out with a pectoral injury, but he will be back in a few months.
Strangely, Christian is suffering from the same injury his real-life best friend and former longtime tag team partner, Edge, has dealt with twice.
Speaking of Edge, why is it that he has had so many title reigns and finally made it to the main event in the WWE in 2006, but Christian hasn't? Not to take anything away from Edge, of course, and he is my favorite wrestler.
However, Christian has seen and done just about exactly as much as the Rated R Superstar. He has tasted major gold before, but that was in TNA, where he jumped ship to after leaving the WWE in late 2005 due to frustration with the company.
People have often compared him to Matt Hardy, but the only similarity the two have is that they have never been given the opportunity to reach the ultimate pinnacle in the WWE—main event status and a major championship reign.
Just like John Morrison, Christian has been ECW champion. However, the question still remains of whether he will ever be WWE or World champion.
For some reason, Vince McMahon doesn't like Captain Charisma. I couldn't even begin to imagine why, but I hope someone else with power (Stephanie McMahon?) in the WWE does, because he is too talented not to enjoy at least one World Championship run.
That ends this slideshow. I hope everyone enjoyed it!
Keep Reading