Don't Tread on This: A Look At the Future of the US Men's National Soccer Team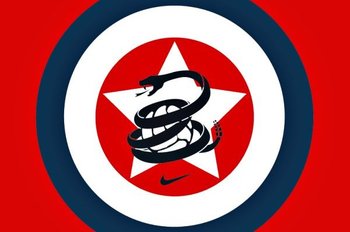 For all intents and purposes, the year 2010 is over for international soccer. That means that now is just as good a time as any to take a step back and look at where the United States Men's National Soccer Team goes from here. After winning their World Cup group for the first time in the nation's history, becoming known for playing with grit and honesty and having a penchant for cardiac performances throughout the tournament, the Americans ended their World Cup in the Round of 16 against Ghana. However, in the latter half of 2010, a new crop of Americans has begun to rise through the youth ranks with perhaps one of the most promising crops in recent memory.
Members of the Don't Tread On This supporters group Matt Bick and Sean Monaghan will look through what the future of the MNT holds. Matt Bick has been writing for the Bleacher Report since the end of the 2010 World Cup and has written several articles examining American youth prospects and their potential on the international stage. Sean Monaghan is a long time fan of the US Men's National Team and a former blogger about the Yanks. He is seeking to find a way to become the next Yank to make his name overseas. This gives him the perfect insight on what to expect from the next generation of American talent.
Now that we've gone through the introductions, let's take a look at what may be in store for the Yanks in 2011.
Generation Next: Who Will Be The Next to Become Regular Yanks?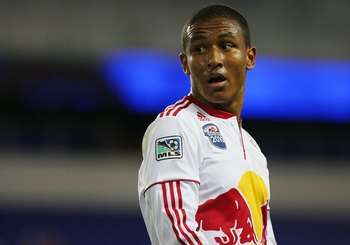 Agudelo Made a Splash En Route to His First Cap in November 2010
Mike Stobe/Getty Images
First off, let's take a look at who MNT fans can expect to see break into the full national side in the next year or so. At this point in time in the last World Cup cycle, we saw Bob Bradley introduce a ton of new faces, especially in his first January camp, who eventually took the field in South Africa. Who do you see as that next generation?
Sean Monaghan: I think young talents plying their trade abroad will be the ones to really keep an eye out for in the future. I think the ones that will be getting their first international cap will be guys who can help us out in positions where we haven't been at our strongest in the last year – left back and forward.
I certainly think that 21 year old Chivas Guadalajara left back Miguel Angel Ponce would be a great shout for the next U.S left back, but he won't be able to play for Chivas if he decides to play with the U.S so it's a tough choice for him – he's in a similar situation to Omar Salgado. For the fowards, I look at young guys such as Conor Doyle, Salgado and Adrian Ruelas to have bright futures.
Matt Bick: For me, I'm hoping to see Edson Buddle get more of a run out alongside Jozy Altidore this summer. I'd love to see guys like Salgado, Ruelas, and Juan Agudelo at least get into camp with the team. I think Agudelo is particularly interesting there because he's shown some good creativity and might be able to partner well with a more physical guy like Jozy. Salgado's combination of size and speed definitely make him someone to watch out for.
On defense, the two outside back spots are going to be very difficult to call. You have to assume that Eric Lichaj has one of them locked down, but the question is how long Steve Cherundolo stays in the picture. If Dolo keeps playing at a high level for the next few years, we may see Lichaj moved over to the other wing. We might also see some current MLSers vying for time, Kevin Alston at New England in particular. He probably would've had a shot at making it to the World Cup this past summer had injuries not kept him out for an extended period of time.
Starting From The Back: Who Will Comprise The Rebuilt American Defense?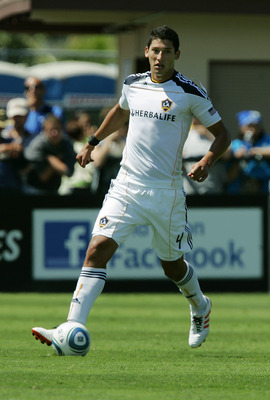 Omar Gonzalez Had A Solid Debut Against The Always Dangerous Selecao of Brazil
Brian Bahr/Getty Images
Perhaps the biggest change that we'll see over the next few years will be on the backline. We've seen just recently the introduction of Omar Gonzalez, Tim Ream, Eric Lichaj, and Gale Agbossoumonde to the senior side. Who of those four, or of any other young players, should we look to see in the Stars and Strikes soon?
SM: I think all four of those players have a future with the national team. Lichaj has given a great account of himself so far and looks like he will be our long term right back. Omar Gonzalez had another solid season with L.A, so his stock is only going up. I think Ream will turn out to be a good back-up for the national team, I really like his calmness out the back. I think Ike Opara and Gale Agbossoumonde will be the two guys fighting for that center back spot with Omar Gonzalez down the line though. I'm sure Opara would have been on the South Africa friendly squad, but he's been injured.
MB: Definitely agree with you on Lichaj. His play against South Africa was excellent. Established himself early but was able to play his game despite that yellow he picked up. Again, we run into a bunch of questions here about who will and won't still be around for 2014. Oguchi Onyewu is in all likelihood the only player who still has a shot at being around for Brazil. If he stays, then you have a lot of young talented guys fighting for one CB spot. If I had to pick one, I'd go with Gonzalez. He showed well against Brazil, and has the height you need from a center back. Agbossoumonde is right up there too, assuming he can find a club fairly soon. Very aggressive defender and looks like a real leader coming out of the back, having captained the Milk Cup winning team this summer.
International Flavor: Yanks Becoming Melting Pot of Styles on Pitch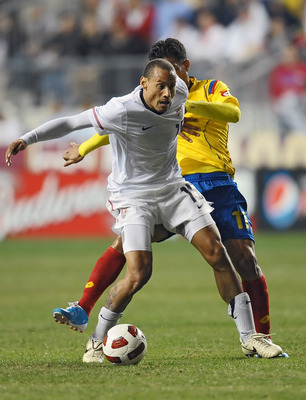 Jermaine Jones Leads the Way In Bringing a New Flavor to the Senior US Squad
Drew Hallowell/Getty Images
Obviously this is one of the few times in recent history that the US has had such depth in the youth ranks. But this is by far the first time that the US has had so many different styles of play represented. How do you see that contributing to the MNT's style of play in this next World Cup cycle?
SM: I think the mixture of the youth players is something that can only benefit us. The styles of the different leagues will have an effect on how they play and I think that getting experience at that age in a professional environment for kids these ages is only beneficial. I think in eight years no one will know how to describe the usual "American Soccer player" because of so many kids are going abroad and playing with flare and creativity on the ball.
MB: I think the best part of having that mix is that there will likely be someone on the squad who is fairly expert at any style on the planet. At this point, we have guys both young and old in just about every major league in Europe, so there'll always be somebody around who has experience at countering a variety of attacking styles. There are only two things for me that I really need to see in a player for the MNT; they have to go all out for from the opening kick to the last whistle and they absolutely cannot dive. I think it's that workmanship that's attracted some of the international switches we've seen – this is a team that fights like one unit, and keeping that mentality is critical.
Stars and Strikes: A Welcome New Crop Rising To The Challenge Up Top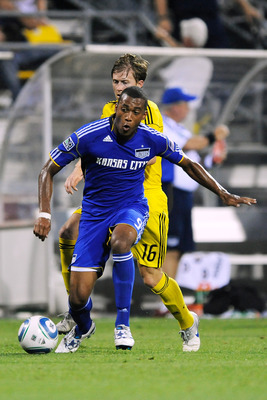 Minnesotan Teal Bunbury's Brings Physicality and Skill on the Ball to the MNT's Future
Jamie Sabau/Getty Images
Almost instantly after the United States' defeat against Ghana in South Africa, questions were raised about the Yanks' depth at striker with Charlie Davies still having a good deal of recovery ahead of him and Jozy Altidore having not been able to find the net. But, just as happened in the most recent cycle, new faces like Juan Agudelo and Teal Bunbury have begun to emerge. How will we see those very young players mesh with the just plain young players up top like Altidore, etc.?
SM: I think that guys like Teal Bunbury and Juan Agudodelo both have futures with the national team. However, I think people need to look at the big picture and realize both these kids are still just that...kids. I want to see both players have good seasons in MLS before people are asking these guys to start over proven strikers like Jozy Altidore and Edson Buddle. I think the main key is not to throw these guys into the team before they're ready, wait until they have a good season in MLS and gain some valuable experience.
MB: I definitely agree. I think the better route to bringing along these young guys is having them partner the experienced guys like Altidore. Having Altidore and an Agudelo or a Salgado on the pitch would be a handful for just about any defense. The bigger benefit there though is that it allows Bob Bradley to bring these guys into the fold without putting the weight of the entire attack on one guy's shoulders – I think that was part of the reason that we didn't see Jozy score this past summer. He often times found himself with little support from his partnering striker, and playing the lone striker is just not his game. Keeping guys like Agudelo and Salgado in MLS for a season or two I think would be a great benefit to their development. It gives them time to mature without having the brightest lights on them so early in their careers.
Coming To America: The MNT Is Attracting Young Dual-Citizens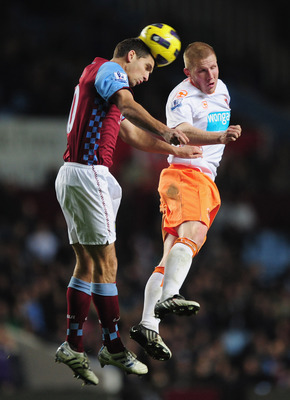 Eric Lichaj Has Polish And American Citizenship, But Has Chosen To Represent the Yanks
Shaun Botterill/Getty Images
The US has been the beneficiary recently of several nationality switches by players with a good deal of talent. Do you think this is a trend that we'll continue to see? How do you see these guys fitting into the overall national system? Will they face much or any difficulty in gelling with players who have grown up playing together, or will they integrate fairly quickly?
SM: I think this a trend that will continue to see. With young Americans such as Agudelo and Bunbury already showing how easy it is to fit into the American system, I don't see a reason why other guys won't be able to do the same thing. I also think a player like Jermaine Jones fits the style of our team well, his calmness on the ball and aggressive nature especially are characteristics that I think we've been lacking in the midfield. Also, recently, Fabian Hurzeler has decided to play for the US. He was born in Houston but has lived Germany almost his entire life. He's a center midfielder playing for Bayern Munich and is somebody to look out for in the future.
MB: Like I said previously, I think the only thing that these international switches need to do in order to fit right into the US setup is to work hard and play the game right. Jones certainly demonstrated that capacity in the two friendlies against Poland and Colombia. I think it's even better that a lot of these international switches are coming from guys at a young age who will begin to get accustomed to the MNT and their eventual teammates a lot quicker. I think one of the most unique characteristics about the US squad as opposed to any other national team is that all of these guys seem so close. You see them all the time jawing back and forth on Twitter, taking each other on in FIFA and you can't help but get the impression that these guys really are a family. Having guys start in the family from the youth ranks on forward can only be a good thing.
Middle Management: What To Do About The Crowded American Midfield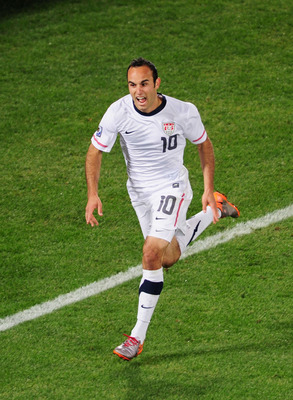 Will Landon Donovan Be In Brazil in 2014?
Stuart Franklin/Getty Images
The midfield is without a doubt the biggest logjam that the US has at the moment. Which mids would you put into your Starting XI for this summer's Gold Cup? And with the age of some of our top mids, specifically Donovan, Dempsey, and Jones, who do you think will still be around for 2014?
SM: I wouldn't be surprised to see Donovan and Dempsey on the wings, with Jermaine Jones and Maurice Edu in the middle. Edu has really picked it up this year with Rangers and in my opinion has done enough to deserve a start over Bradley in the midfield alongside Jones. I think all three players will still be around in 2014, however their roles will have changed. People will say Jones has no shot at 2014, but Claudio Reyna was 33 when he played in the 2006 World Cup.
MB: I think the top guys would have to be Donovan, Dempsey, Jones, and Bradley/Edu. Bradley has always been a player I've liked, but Edu is pushing him hard. Stuart Holden, too, can't very easily be ignored. I think that what we'll see is Bradley being that last guy in the midfield with Edu being the first one off the bench in the normal 4-4-2 that Bob Bradley has used for the last four years. Or, if we wind up operating in a 4-5-1 or 4-3-3, two formations Bradley has experimented with, we'll see Donovan and Dempsey on the top wings and Bradley, Jones, and Edu in the midfield.
New Faces In The Middle of The Park: The New Yank Up-and-Comers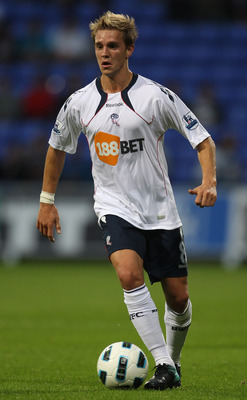 Stuart Holden Has Turned In Excellent Results for Bolton in the Premier League
Alex Livesey/Getty Images
Following up on that last one, who are the first youngsters into the squad assuming there are vacancies?
SM: I think more will be on the shoulders of the younger guys stepping into the team in 2014. Potentially in place of Landon and Clint on the wings, I think you'd have to look at guys such as Alex Zahavi, Joseph Gyau or Luis Gil. Zahavi recently decided to play for the U.S and came out of two of the best youth academies in the world (Barcelona and Arsenal). Also, Gil and Gyau both have shown promise with the youth national team. If Jones isn't starting in 2014, I think the center midfield spot is up for grabs. Without picking the obvious candidates like Bradley, Edu, and Torres I'd say guys like Fabian Hurzeler, Mix Diskerud, Sebastian Lletget and Lester Dewee will be looking for that spot in 2014.
MB: I think that it's definitely possible that we still have Donovan, Dempsey, and Jones still playing at a high level in 2014. A lot of that will depend on how well they manage themselves over the next few seasons. I'm most worried about Donovan – he can't keep shuttling between MLS and the Premier League. It's just too much wear and tear to put on a guy during a year's time. If he and the other two are careful, they might find themselves in the squad again in 2014. If young guys have to step up, though, the first guy that comes to mind on the wing is Holden, followed closely by Alejandro Bedoya. Holden has been playing very well for Bolton this season, and Bedoya was a constant threat in the South Africa friendly. Zahavi, Lletget, and Diskerud would be the next guys in my mind. There are just so many young Yank midfielders who are playing abroad that it's difficult to say "that's the guy" right now.
Keep Reading

United States (National Football): Like this team?