NASCAR Sprint Cup Series Live Race Blog: Ford 400 from Homestead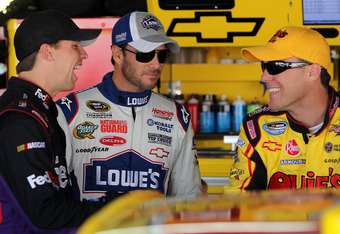 One of these three men will hoist the Sprint Cup Championship trophy.
Nick Laham/Getty Images
The anticipation for this weekend's events began once the checkered flag fell at Phoenix.
What began as an opportunity to seal the championship has become a sprint to the finish.
Three drivers enter the Homestead-Miami Speedway with a chance to win the 2010 Sprint Cup championship.
In the lead is Denny Hamlin, the driver who said after his win last year in this very race, "This team will win a championship in the next couple years."
Hamlin didn't wait long to put himself in that position as he enters today's race in the points lead.
However, he entered with the slimmest point lead ever in the Chase. After his fuel strategy last week went awry, Hamlin holds just a 15-point advantage on the competition.
It is a very vulnerable position for Hamlin to be in because there's only two ways he can guarantee a championship outright. Hamlin must either win the race or lead the most laps and finish second.
With as hard as the competition has been in recent weeks, it is going to be a tough assignment to pull off. Especially considering the guys he's trying to hold off.
Sitting in second is the driver looking to write another chapter is his own record books. Jimmie Johnson finds himself, for the first time since 2006, entering Homestead without the points lead.
In the years past, Johnson never had to "race" Homestead because the championship was pretty well locked up. However, this year it is not the case.
Johnson and team start near the front today. But the question is can he and the No. 48 crew pull off an unprecedented fifth consecutive title.
And then there's Kevin Harvick, who is 44 points back and in possibly the best position of all three contenders. Harvick only needs to worry about himself, and let the cards fall as they may.
He's finally embracing the legacy of Earnhardt by his own admission, and is buying into the hype that he is now accepted by those fans. A small No. 3 is still on the sides of his Shell/Pennzoil Chevrolet, and is a constant reminder of who's car he took over.
All that Harvick needs to do is focus on him, and it could mean he has the best position of them all.
Will it get him a title? There's a strong possibility.
Even with all the hype of the championship, there is still a race to be run. Who is going to win the Ford 400?
Could it be one of the Roush-Fenway Fords that has come on strong all year? Or could it be someone that is unexpected to take a checkered flag?
It will all be decided this afternoon. Someone is taking the final checkered flag of the season.
But more importantly, someone will be holding the Sprint Cup trophy as the 2010 champion.
Coverage begins at Noon ET on ESPN2 with NASCAR Countdown. Race coverage moves over to ESPN at 1 p.m., with the green flag slated to wave around 1:15.
CHECKERED FLAG
Carl Edwards wins the Ford 400 at Homestead. But, Jimmie Johnson is the 2010 NASCAR Sprint Cup Champion.
One for the thumb...and he had to earn it.
2 to go
Lead is 1.5 seconds for Edwards, but the talk is the car in second.
3 to go
It's all but over now for everyone.
5 to go
Title talk begins for the 48 team.
6 to go
Edwards comfortably in front, Johnson comfortably in second.
8 to go
As it sits, Harvick is 41 points back, Hamlin 42 back as Johnson leads the standings.
11 to go
Gap between Johnson and Harvick is two seconds. The championship is in the No. 48's hands.
13 to go
Johnson in second, Harvick in third. Hamlin trying to gain ground as he's up to 19th.
15 to go
Harvick loses ground to Johnson. Hamlin falls back to 21st, and it appears all but over for him at this point.
17 to go
RESTART: Edwards and Johnson bring the field to green.
Harvick will restart right behind Johnson. Hamlin will be 18th.
22 to go
Hamlin is a lap down and will probably take the wave around to get his lap back. This is going to come down to the final corner.
23 to go
Kyle Busch's car is on fire. He's hot...literally.
25 to go
CAUTION: Kevin Harvick went for a run on Kyle Busch and gets into the back of the car. Heavy damage to the No. 18.
27 to go
Edwards now in along with Kenseth and many others.
28 to go
Johnson now exits pit road along with Kyle Busch.
29 to go
Harvick, Hamlin and Stewart pitting.
33 to go
Fact-no driver has lost the Chase after leading with one race remaining. But, that may change as we are closing in on the checkered flag.
46 to go
Edwards clinches most laps led award. Johnson is now in second, and with Hamlin running ninth, the points separation is 22 points.
A caution is needed to get caught up.
53 to go
Brad Keselowski takes a spot from Denny Hamlin. This title is a toss up.
57 to go
Johnson in a tight battle for third with Kyle Busch and Tony Stewart. Hamlin is in a battle with Harvick and David Ragan for eighth.
60 to go
LEAD CHANGE-Kenseth is out front now.
62 to go
RESTART: Edwards gets a great jump again, and the points contenders are side-by-side.
Hamlin missed the call to pit, but it seems like most cars are going to be short on fuel.
If history is any indication, there will be one more caution before the race is over.
67 to go
CAUTION: Jeff Gordon, after losing a cylinder earlier, finally blows up on the front stretch.
This article is
What is the duplicate article?
Why is this article offensive?
Where is this article plagiarized from?
Why is this article poorly edited?