Green Bay Packers: In Order to Win The NFC North, They Must Show Us More.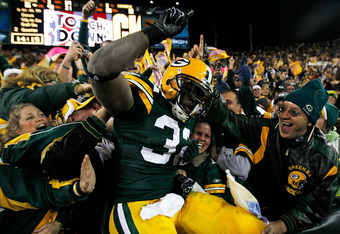 Jonathan Daniel/Getty Images
This is the time of the year when the NFL starts kicking it up a notch or two.
The weather is growing colder, and the hits start feeling a little bit harder.
The good teams start to distinguish themselves, and the bad teams give up on the little playoff hope they had, and start looking towards the future.
Most of all though the games start meaning more, as if they ever could mean less right?
I've heard it said that Thanksgiving is the pivotal time in a football season when you can look at your team, and determine where you are at.
This season I think that theory really holds true.
I can't recall a total NFL product that has been so mediocre. Usually there is one team that is leaps and bounds ahead of the league, and is usually trotting into December undefeated.
This year: not so much.
Atlanta, New England, and the New York Jets all sit at the top of the league with a 7-2 record, which is anything but leaps and bounds ahead of the rest of the league. There is a plethora of 6-3 teams right behind them, nine to be exact, six 5-4 teams, and a whole slew of bad teams that round out the rest.
Who is the best team in the NFL today?
The Green Bay Packers are smack dab in the middle of the cluster known as the 6-3 teams.
At this point of the season I don't think they are quite good enough to be mentioned with the top three teams, but they are not mediocre by any stretch of the imagination. They are a very good football team, and are all but deserving of their 6-3 record.
At this point its time to start looking ahead to the immediate future, and assessing what your team needs to do from here on.
I truly believe that if everything had gone according to plan for the first part of this season, the Packers and their fans could be eagerly anticipating elusive football terminology such as first round bye's, home field advantage, and Super Bowl contention. Unfortunately due to some very inopportune injuries to some very opportune players, the hopes of Packer nation rests on a slightly lesser but equally as important goal: The Division.
It's plain and simple: Win the Division.
I don't think anybody is looking at the NFC North with an anxious feeling in the pit of their stomach, scared out of their minds about the potential of playing one of the North's juggernauts.
Frankly the NFC North is borderline underwhelming.
The Lions seem to find a different way to break the hearts of their fans and lose a game every week. The Vikings have shown signs of life, but Favre could literally die any time he takes the field, and Percy Harvin would than be forced to pop a few Excedrin and drag him off.
The Bears in all of their futility and drama somehow seem to keep winning. As I'm writing they just beat the Dolphins on Thursday Night Football, but I have an incredibly hard time having any faith in a team led by Jay Cutler.
Turning my attention onto the Packers; as much as I would like to say that they are the hands down best team in the Division, I still need to see more from them. The defense has stepped up time and time again, and they can easily be mentioned as one of the NFL's top defenses. The offense has left much to be desired from me though.
The last time we saw the Packers offense play was in the 45-7 Sunday Night Football spanking they put on the Cowboys. As beautiful as it was to watch as a Packer fan, as an analyst it really brought nothing to the table. It's very hard for me to look at that game and find any substance from it. The Cowboys were a team walking around without a soul, and the Packers just so happened to be the lucky sons of gun's that got the privilege of taking them out back behind the shed.
In order for me to feel comfortable saying the Packers can win the NFC North I'm still going to have to see more.
I still want to see more from Aaron Rodgers:
There has been times that has shown flashes of the MVP quarterback that we were expecting him to be, but far too often he has played down to the level of his opponent. He has been uncharacteristically inaccurate compared to last season. He already has thrown 9 interceptions compared to the 7 that he threw all of 2009. If the Packers have any hope of winning the Division, Rodgers is going to have to be the key to their success.
Jonathan Daniel/Getty Images
I still want to see more from the running game:
They took an incredible blow when they lost Ryan Grant at the beginning of the season, but as we all know by now Green Bay still has the ability to be a high level team, so there are no excuses.
Brandon Jackson and John Kuhn have been adequate replacements, but come on do you really think anybody in the league takes them seriously?
I know that Kuhn has become a fan favorite, and his three yards and a cloud of dust technique does come in handy. I also know that Jackson has stepped up beyond many of our expectations, and is quite effective in the screen and draw game. But, like I said come' on people!
I guarantee you part of the reason that Rodgers' numbers have dropped is because of the lack of a solid running game. The Packers offense works the best when they can utilize the play action pass and get Rodgers mobile and out of the pocket. Because of the lack of any real running threat teams have been able to put more men in the box, and then force the Packers to be one dimensional.
Defenses have been able to look pass, send pressure, and that is why we have seen Rodgers' interceptions go up this season. If the Packers have any hope of winning the Division, the running game is going to have to start producing more.
Jim Prisching/Getty Images
I still want to see more from Greg Jennings:
I know that this one is a little bit out of the box considering that Jennings is easily the best receiver on the team, and probably one of the best in the NFC.
That being said, I think he has the potential to be even better. Greg Jennings has the speed, hands, and explosiveness to be mentioned among the likes of Andre Johnson, DeShaun Jackson, and the other top tier wide receivers in the league. Jennings has the potential to be a star, and at times he has been a star, but more times than not it seems like he is leaning towards mediocrity.
This year he has a team high six touchdown catches so far, and has been Aaron Rodger's go to guy for big plays. I would like to see him elevate his game a little bit more though, and really start playing at a super star level. How about a two or three touchdown game here or there? He has the potential; he just needs to unleash it.
If the Packers have any hope of winning the Division, I want to see Greg Jennings step up even more.
The Packers can take a big step towards success this week against the Vikings. Minnesota's season is in disarray, and you never know what team you're going to get week to week.
Any time you play Brett Favre you are going to have to be careful though, and you better believe that Favre is going to get up to play his old team.
If the Packers hope to win this Sunday than they are going to need to get exceptional play out of Aaron Rodgers, Greg Jennings, and the running game. We all know that the defense is going to show up and make plays, so now it's up to the offense and those key players to really step up and start playing consistent winning football.
The Packers need to focus on one thing right now: Winning the Division.
Let's start this Sunday.
This article is
What is the duplicate article?
Why is this article offensive?
Where is this article plagiarized from?
Why is this article poorly edited?

Green Bay Packers: Like this team?