UFC 123: 10 Storylines Entering Fight Night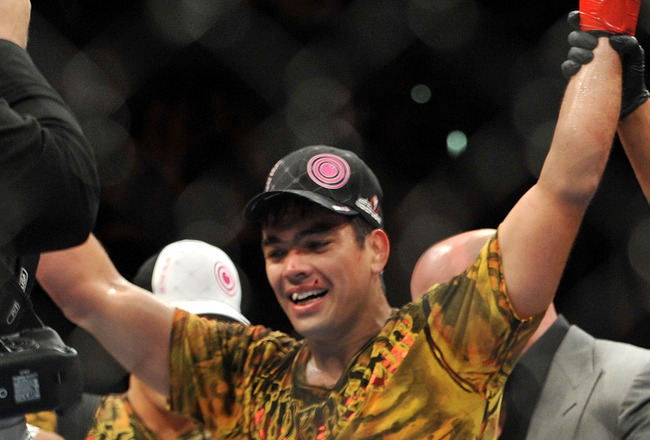 Jon Kopaloff/Getty Images
UFC 123 takes place this upcoming Saturday night at the Palace of Auburn Hills in Detroit, Michigan and is set to answer a ton of questions. The night features stars, fighters battling irrelevancy, young hungry up and comers, and even a revitalized contender. So what exactly are we going to find out this Saturday? Let's find out.
10. Is Edson Barboza For Real?

Edson Barboza vs. Mercelo Giudici

Edson Barboza enters the cage on Saturday as one of the most hyped prospects on mixed martial websites like Sherdog.com. Barboza is a former muay thai competitor who went 22-2 before switching over to mixed martial arts. He has thunderous leg kicks, similar to Thiago Alves, and lightning quick hands. He is already being hailed as a future title contender within the lightweight division. Can Barboza live up to the hype? Will he be the second Brazilian lightweight to break through this year following Charles Oliviera? A dominating stand-up performance on Saturday would go a long way to confirming the hype.
9. Is Tyson Griffin UFC Material?
Tasos Katopodis/Getty Images
Tyson Griffin was looking like an eventual threat to the strap within the 155 pound division following a knockout of Hermes Franca and decision victories over Rafael Dos Anjos, Gleison Tibau, and Clay Guida. A former wrestler, Griffin had developed some sound stand-up while training at Xtreme Couture. And then came Takanori Gomi and Evan Dunham. Dunham imposed his will on Griffin, clinging to back control for the majority of the second round as Griffin fought off multiple rear-naked choke attempts. Gomi blasted Griffin and produced one of the most brutal knockouts of 2010 so far. How far has Griffin fallen? Will he pick himself up? He opens the night of fights against Nik Lentz and a loss may send him packing.
8. Will Aaron Simpson Follow In Cain Velasquez' Footsteps?
Aaron Simpson was a wrestling coach at Arizona State University when the terrible trio of Cain Velasquez, Ryan Bader, and C.B. Dollaway wrecked havoc on collegiate wrestling. Simpson is now training with Bader and Dollaway out in Arizona and attempting to work his way through the middleweight division. He looked stellar prior to his TKO loss to Chris Leben at The Ultimate Fighter Finale 11. He showed awesome wrestling with some polished stand-up. Obviously the loss to Leben hurt, but a wrestler of his caliber with his heart can make it a long way in the UFC. His fight with Mark Munoz, broadcast live on the Spike TV Prelims will go a long way in determining how far Simpson can go. I expect big things out of Simpson, who only has age going against him. The time is ticking for the 36-year old.
7. Does George Sotiropoulos Deserve a Title Shot?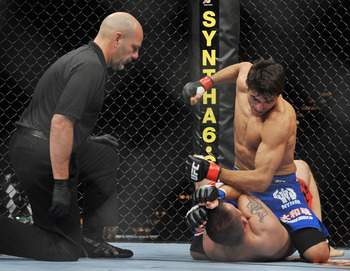 Jon Kopaloff/Getty Images
After a rousing victory over Joe Stevenson in his homeland of Australia and an equally impressive performance against Kurt Pellegrino at UFC 116 in July many expected the Wizard of Oz to get a serious step-up in competition. And then the fight with Joe Lauzon was announced. A serious step-sideways, maybe even step-back, for the Australian following two impressive victories. He already has a six fight win-streak within the promotion, and usually streaks of that length do not go without a title shot, unless of course your name is Jon Fitch. Sotiropoulos has always been exciting with his skillful grappling and crisp stand-up and he has quickly become a fan favorite, so none of that is standing in his way. If he wins convincingly on Saturday against Lauzon expect to see him in either a title match or a title eliminator match. It's only fair for everyone's favorite fighter from down under.
6. Just How Good Is Phil "Mr. Wonderful" Davis?
The former collegiate wrestling star from Penn State enters the Octagon for the fourth time on Saturday, against arguably his sternest test to date. After dominating veteran Brian Stann for three rounds in his UFC debut, Davis showed off some of his new found skills against fellow prospect Alexander Gustafsson. Once he was able to get the Swede down to the mat he displayed text book Brazilian jiu jitsu and ended the fight with a beautiful anaconda choke. Unlike most, Davis is committing himself to learning not only grappling but submissions as well. Too often we see wrestlers who can get the fight to the mat and obtain dominate positions but then end up having no idea what to do. Davis does not have that problem. With a win over the always tough, always durable Tim Boetsch Davis launches himself from prospect to fringe contender.
5. Does Matt Hughes Have Another Title Run in Him?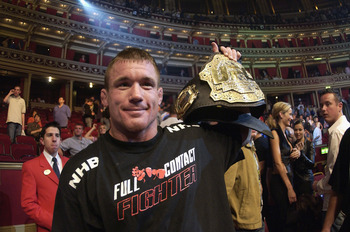 John Gichigi/Getty Images
Looking back at a two fight skid against Georges St. Pierre and Thiago Alves, it would have seen almost senile to claim that Matt Hughes could be in the title picture again. Now after three straight wins over Matt Serra, Renzo Gracie, and Ricardo Almeida those thoughts aren't that far-fetched. A win over B.J. Penn puts Matt Hughes in what would almost surely be a fight for title contendership. The wrestling legend has recommitted himself to training, stating that he has begun to enjoy what he does. He is no longer concerned over title runs, championships, and lasting legacies. He is just loving life. So can the 37-year old Hughes get another title shot? Let's see how he does against the Prodigy first.
4. Has Karo Parisyan Really Put The Demons Behind Him?
Karo "The Heat" Parisyan is one of the most talented judo practitioners to ever step foot into mixed martial arts. He tore the UFC up in the beginning, beating Nick Diaz, Chris Lytle, and Matt Serra and earning himself a title shot in the process. Unfortunately Pariysan had to pull out of that title fight and never got his shot. The Armenian subsequently tested positive for pain killers against Dong Hyun Kim and continued to pull out of multiple fights before getting released by the UFC after pulling out of a fight a mere days prior. He traveled to Australia and fought Ben Mortimer after pleading with promoters to move his fight up due to anxiety issues. If Parisyan has gotten his past pain killer addiction, anxiety, and other problems squared away he could once again become a top talent within the welterweight talent. We will find out come Saturday.
3. Does Quinton "Rampage" Jackson Care Any More?
Jon Kopaloff/Getty Images
"Rampage" Jackson was a devastating fighter back in his prime in Japan. He struck fear in his opponents with his powerful hands and devastating slams. Questions arose of his dedication when he pulled out of his scheduled fight with Rashad Evans after coaching against him on The Ultimate Fighter to focus on acting in "The A-Team." Then he appeared out of shape in multiple photos leading up to his eventual fight with Evans at UFC 114. Since then Jackson has made multiple comments about his desire for fights against opponents who are "exciting." He wants to only fight guys who will stand and bang, which obviously isn't a good sign if he ever wants to be a champion again. He is tired of dealing with wrestlers and guys who run away the whole fight (Lyoto Machida style). Jackson has come off as someone who isn't quite interested in fighting anymore. He understands that this is how he is going to get paid so he is sticking with it, but it hardly seems as if his heart is still in this.
2. How Will Lyoto Machida React to His First Loss?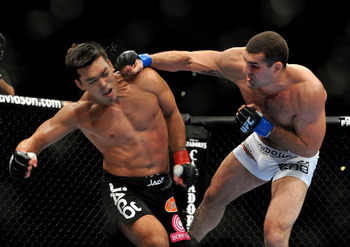 Jon Kopaloff/Getty Images
Everyone recovers from their first loss differently. Lyoto Machida never had to worry about that until Mauricio Rua knocked his head into the third row of their title bout at UFC 113. Come Saturday Machida will enter the cage for the first time since that loss and it's a mystery as to what man comes to fight. Will Machida revert back to his karate-style, where he constantly kept backing away from opponents forcing them to engage and countering when it presented? Will he come out guns-a-blaze trying to prove something? Will he be gun-shy and timid? I think we obviously see the old Machida, the elusive runner who kept people chasing all fight. But no one truly knows how he handled that loss or what his emotions will be like come fight time.
1. Is B.J. Penn Done Fighting?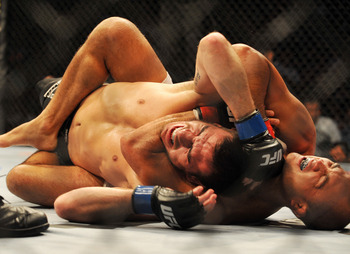 Jon Kopaloff/Getty Images
It wasn't the fact that Penn got beat by Frankie Edgar at both UFC 112 (controversial decision not withstanding) and UFC 118, it was the apathetic look that Penn had throughout the fights. It was clear at 118 that Edgar was dominating Penn, yet B.J. had no urgency in his game. He seemed complacent to lose to Edgar a second time. Motivation has often been a problem with Baby Jay as evident by the "burrito" fat he added on to fight Georges St. Pierre at welterweight. It seems as if maybe Penn has finally given up on the fight game. He doesn't need the money, his family was well off before he got famous. He lives in Hawaii. I can't even imagine how hard it would be to get up and train daily waking up to beautiful sunny skies and blue waves. Maybe it all has finally got to the Prodigy. Win or lose come Saturday, it will tell a lot about B.J. Penn. If he at least looks motivated, determined, and hungry than the loss could be justified by the drastic weight difference he will face. If he looks flat, uninspired, and just lazy than maybe it's best for Penn to walk away. Whatever it may be, I look forward to finding out on Saturday.
Keep Reading