The 50 Greatest Quotes in Sports Movie History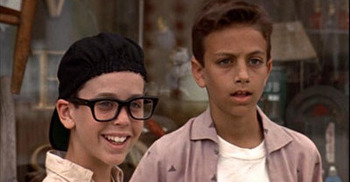 One of the greatest joys about movies are the quotes, and sports movies are no exception. We love to quote our favorite movies—sad lines, funny lines, poignant lines and everything in between.
From classics like Major League and Caddyshack to modern favorites like Dodgeball and Talladega Nights, sports movies are loaded to the gills with lines to quote, monologues to memorize and one-liners to laugh at.
These 50 quotes are the greatest in sports cinema history. Who will come out on top? Let's find out.
50. You Play Like a Girl!
The single greatest insult you could deliver as a 12-year-old.
49. Feel the Rhythm
I still use this one on occasion. After all, how can you not quote the greatest film about bobsledders ever made?
48. White Men Can't Jump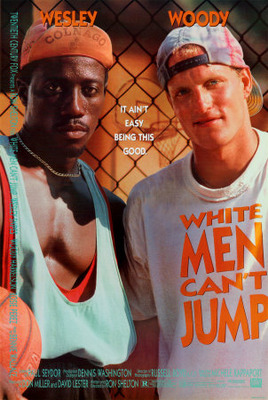 Sidney Deane (Wesley Snipes): Billy, listen to me. White men can't jump.
Words that ring true to this day.
47. Save Me Tom Cruise!
Save me with your witchcraft and put the fire out!
Thank Tom Cruise for NASCAR.
46. Kill All the Golfers?
There has to be a Carl Spackler quote on this list. It's a federal law.
45. Goldberg Doesn't Get It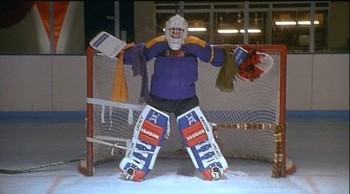 From The Mighty Ducks:
Goldberg: Be careful man, it almost hit me that time!
Charlie Conway: Goldberg, you're the goalie. It's supposed to hit you.
Goldberg: Does that sound stupid to anyone else?
44. Fore!
It's always funny...when it happens to someone else.
43. Look in the Mirror, Tell Me What You See
"I see power! I see pride! I see a bad ass mother, who don't take no crap off nobody!"
"You really see that?"
42. Blitz All Night!
You make sure that they REMEMBER FOREVER the night they played the Titans. Except you, Turkleton. You go pout on the sidelines.
41. Gene Hackman Inspires His Team
That is the most inspirational slow clap of all time.
40. Charlie Sheen Misses the Plate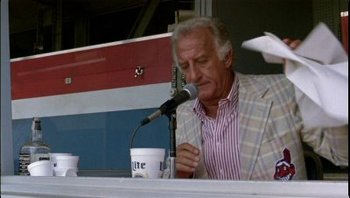 It's not on YouTube, but you can see the clip here. One of the most memorable lines in movie history.
39. I'm Listening to the Song!
Slapshot might be the greatest hockey movie of all time, and the Hansons are a big reason why.
38. Don't Get Caught Watchin' the Paint Dry
Gotta love Shooter. And Hoosiers in general, for that matter.
37. Ray Kinsella's Dad Doesn't Know Geography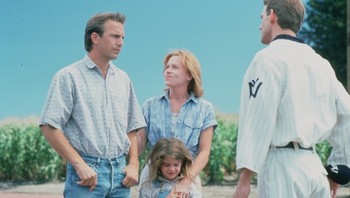 John Kinsella: Is this heaven?
Ray Kinsella: No! It's Iowa!
This line cracks me up every time I watch the movie.
36. Say It Ain't So
One of the more poignant moments of Eight Men Out. That, and when the sports writers are threatened with losing their bar privileges.
35. Mr. T Pities the Fool
Ah, Rocky III. I miss Mr. T, and he was at the height of his powers in this one.
He never plays a role, he's just Mr. T, as evidenced by this clip.
34. Show Me the Money!
The underrated part of this clip? Cuba Gooding Jr. makes Tom Cruise scream, "I love black people!!!" at the top of his lungs.
33. Rudy Gets Inspired
One of the best inspirational speeches given by a janitor of all time.
32. Well, at Least That Wasn't Awkward
Nobody makes me bleed my own blood. Nobody!
31. You Have a Monkey?
Take a one-handed bowler, add in an Amish farm boy and a sexy con artist, and you get box-office gold.
The quote is at the 0:40 mark.
30. Ricky Bobby, Pitchman Extraordinaire
Now you see why Ricky Bobby was such a hot commodity in NASCAR.
29. Happy Gilmore vs. Bob Barker
Apparently, the price was right after all.
28. The Civil War Speech
If you don't get chills during this scene, you might want to have your nervous system checked out.
27. You Suck!
This is the best way to heckle someone. Ever.
26. Shake N' Bake
"What is that? A catch phrase or epilepsy?"
25. Keanu Reeves Is Intense
After the game, Reeves hopped in his time-traveling phone booth and battled the machines.
24. This Game Is Fun!
Let's have some fun out here!
23. Words of Wisdom from Mickey
This is a classic scene and a classic line.
22. Blue Chips: Shaq and the SAT
"He scored a 520 out of a possible 1600."
"520? You get 400 for just spelling your name correctly."
"That's it, he messed up on his name."
The quote is at about the 3:50 mark of this one.
21. BASEketball's Narrator
This is hilarious. Best line? "The Jazz moved to Utah, where music was banned."
20. Lance Armstrong Teaches Peter LaFleur About Quitting
"Good luck to you, Peter. I'm sure this decision won't haunt you forever."
19. Kareem in Airplane
"I think you're the greatest, but my dad says you don't work hard enough on defense. And he says lots of times, you don't even run down the court, and that you don't really try, except during the playoffs."
This isn't a sports movie, but the scene is so hilarious it had to go on the list.
18. Allow Me the Pleasure of Introducing You to...
The quote starts at about the 30-second mark of this clip, as White Goodman introduces the American Gladiat...I mean, the GloboGym Purple Cobras.
17. Bob Costas in BASEketball
Anytime you can get a man as distinguished as Bob Costas to say, "You think you're excited? Feel these nipples!" you know you've got a magical movie on your hands.
16. Yo Adrian!
The sad part is, Sly Stallone talks like this even when he's not beaten to a bloody pulp.
15. Mind Bottling
This cracks me up. The sad part is, I've used this line on people and they don't get it. They think mind bottling is a real phrase.
14. Kurt Russell Inspires America
Tonight, we are the greatest hockey team in the world.
13. My Team Is on the Floor
This is the most badass moment of the movie, right here. Gene Hackman aspires to reach this pinnacle of badassery again, but he can't.
12. Nununununuh
"The philosopher Basho said a flute with no holes is not a flute, and a donut with no holes is a danish. Funny guy, that Basho."
11. There's No Crying in Baseball!
"Are you crying?! There's no crying in baseball!"
One of the better baseball movies out there, despite the presence of Madonna in the cast.
10. Wax On, Wax Off
"You can't learn karate by washing cars!"
That was the sentiment of the American people before Mr. Miyagi proved us wrong.
9. Averman!
It's hockey! There is no batter, idiot.
8. Putting on the Foil
To this day, I'm not sure why the Hansons put on the foil before every game. But I'm glad they do.
7. Don't Worry, Nobody's Listenin' Anyway
"You can't say that on the air!"
6. Hey Patches, What's with the Bag of Wrenches?
5. People Will Come, Ray
One of the greatest speeches in movie history. Everyone knows it, even though it's so long.
4. Big Ern's Outer Inner Monologue
"Do you mind?"
"Was I talking out loud? I'm sorry; good luck."
3. Crash Teaches Nuke About Fascist Strikeouts
"Try to throw more ground balls, they're more democratic."
Truer words have never been spoken by a minor-league catcher in a baseball movie.
2. Get in Your Home!
"Why won't you go home?! Are you too good for your home?!"
1. You're Killing Me, Smalls
This quote transcends the sports film genre and has entered into the mainstream lexicon more than any other one-liner, quote or phrase on this list. That makes it a worthy No. 1.
Keep Reading