UFC 122 Results: Yushin Okami Tops Nate Marquardt and 10 Shockers from Germany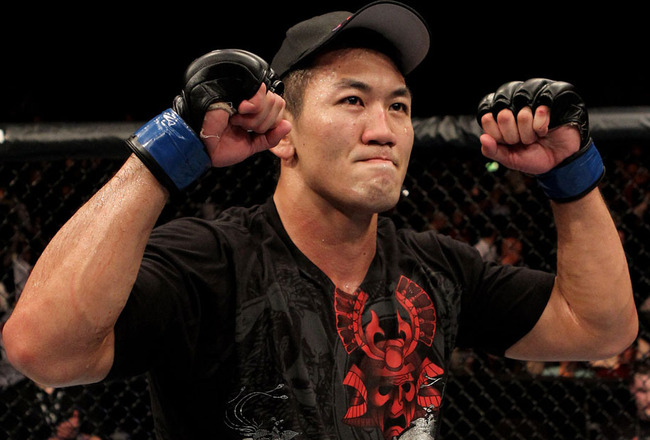 Yushin Okami and his upset of Nate Marquardt at UFC 122 won't go down in mixed martial arts lore as a monumental upset, but it definitely wasn't the way most observers saw the scrap panning out.
Marquardt entered the bout as the favorite and for good reason; he'd spent the last few years dispatching some of the brightest names in the 185-pound division. Meanwhile, his Japanese adversary hadn't been jaw-droppingly impressive since joining up with the organizational ranks.
But that, as they say, is why you play the game...or fight the fight.
With that old saw in mind, here are the top 10 shockers from all the action in Oberhausen.
No. 10—Vladimir Matyushenko Was on the Preliminary Card and Stayed There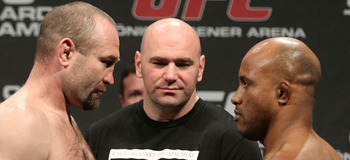 Seriously?
The Janitor is one of the sport's all-time legends, he's won two of this three bouts since rejoining the UFC and was tackling Jon Jones in his last trip to the Octagon. But in Germany, he was relegated to the untelevised undercard of a FREE event.
What's more, he stayed there despite the loss of Alessio Sakara and his meet-n-greet with Jorge Rivera due to illness. Instead, Duane Ludwig and Nick Oscipczak—who'd both lost two consecutive fights—got promoted to the big stage.
That ain't right.
No. 9—Arianny Celeste Still Has Yet To Return My Undignified Attention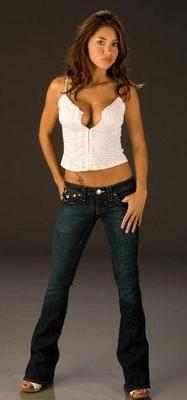 Really, this should be higher on the list.
Luckily, I've got a relatively sturdy ego.
No. 8—The Light Heavyweight Division Might Have a New Toy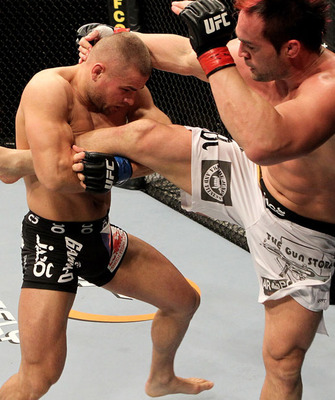 It's hard to imagine the light heavyweight class getting any deeper as far as talent goes, but it might've just found a dark horse contender in Czech strongman Karlos Vemola.
I'll try not to get ahead of myself considering the competition that's lurking behind the 205-pound shadows, but the 25-year-old looked like a dandy as he manhandled Seth Petruzelli for about four minutes inside the Konig Pilsener Arena.
The Terminator is still maturing, and he looked much more comfortable after dropping down from heavyweight. He looked fresh and spry without sacrificing any power. The Knockout of the Night winner will need time to improve upon a raw skill set and an 8-1 record that is missing top-notch competition.
But he made quite a splash across the Pond.
No. 6—Alessio Sakara's Last-Minute Exodus from the Proceedings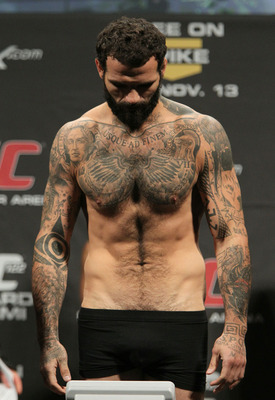 I'm not gonna lie, that doesn't look like a totally healthy hombre right there.
Early word filtering out of Oberhausen was that Legionarius suffers from lupus and experienced an inopportune flare up. If that's true, that's about the craziest fight-postponement injury/illness about which I've ever heard.
Or maybe George Costanza has scarred me for life.
Regardless, let's hope Sakara makes a quick and full recovery as the middleweight was threatening a nice run in a division that could use some extra pep.
No. 6—Amir Sadollah Is Not Content as a Television Personality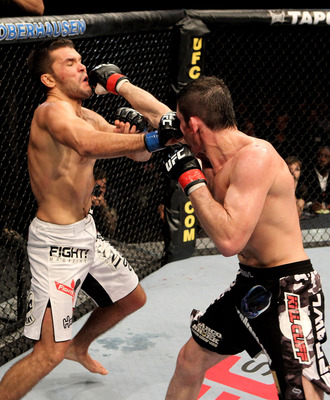 Sadollah has become a familiar face since his spin on The Ultimate Fighter but not necessarily because of his exploits in the cage. He's a glib, verbal guy who can talk about his sport as well as he practices it so he's been a natural fit on "Inside MMA" and the weekly TUF post-show digests or whatever you want to call them.
Consequently, questions as to his focus and dedication might've been legitimate had he authored another lackluster performance a la his unanimous decision loss to Dong Hyun Kim at UFC 114.
Happily, there is no need for such an inquiry.
Amir came out and looked splendid as he bludgeoned Peter Sobotta with kicks and jabs. The leg kicks were particularly impressive as his German prey was noticeably limping by the end of the 15 minutes, eviscerating the very power he needed to get back in the tussle.
With more turns in the Octagon, Amir Sadollah might prove to be a player in the welterweight division.
No. 5—Carlos Eduardo Rocha...Wow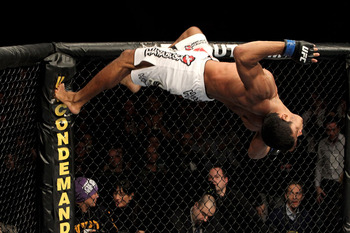 He even contributed a sparkling kneebar in less than 160 seconds for good measure.
I say again...whoa.
No. 4—Matt Hughes Still Sounds Like a Jackass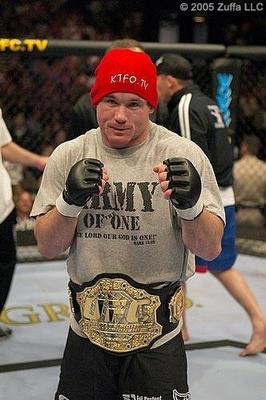 I've never had many soft spots for Matt Hughes.
That's not meant to discredit his career—the dude is an incredible warrior and athlete. He's the best welterweight the UFC has ever seen until Georges St-Pierre adds a few more notches to his bedpost and that's about the highest compliment I can pay him.
But he's always struck me as an individual who treats people as beneath him based simply on differing personal styles or beliefs. Maybe it was his spin on TUF where he seemed to condescendingly dismiss anyone who didn't lap up his Bible instruction or maybe it's an overreaction to his public persona.
Regardless, I'm not a fan.
During the interview building suspense for the upcoming finale to his trilogy with B.J. Penn, I figured Matty might've eased off all his disingenuous, matter-of-fact "nothing can bother me because I'm Matt Hughes and I'm above it all" facade. I mean, my man is a Hall of Famer, a living legend and he should be living the good life based on his successful career.
Instead, we got the same insecure schtick.
Hee haw, hee haw.
No. 3—Duane Ludwig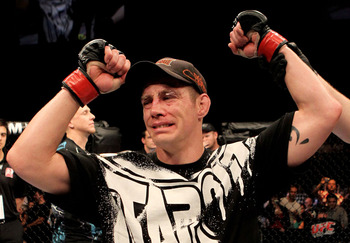 This might've been the biggest shock based on expectations formed as the action unfolded.
I've belabored the issue to the point of nausea so I'll be brief, but Duane Ludwig did NOT beat Nick Osipczak. Slick Nick took the first two rounds pretty clearly before wilting to Bang Ludwig's pressure in the third.
But the final round wasn't even close to a 10-8, which means the Brit should've come out on top.
He didn't.
Of course, the American just had his first son while he was in Germany for the card so I'll cut him some slack.
Starting...now.
No. 2—Dennis Siver Ran Right over Andre Winner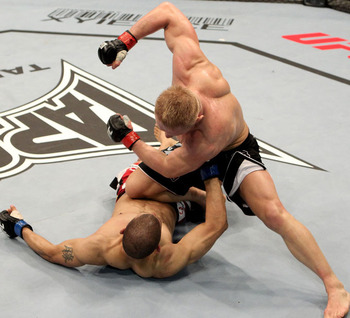 The fact that Dennis Siver beat Andre Winner was probably a mild upset in and of itself.
The British Winner was one of the hottest up-and-comers off the ninth season of The Ultimate Fighter and big things were expected from the 29-year-old despite a setback to the scorching Nik Lentz. Andre boasts some of the more precise striking and startling quicks in the lightweight division, no stranger to speed.
In other words, it seemed only a matter of time before the confident warrior put his considerable talents together.
So, though Siver is underrated, it was gonna be a jolt to see his arm raised.
But, to see the Russian-German maniac devour the younger Brit as easily as he did was stunning. The fireplug took a sweep or two of the big hand to get his bearings on his rangier antagonist, but once he found it, the end didn't take long.
Siver blasted Winner with a few standing bombs before crumpling his victim, taking his back and forcing the submission.
No. 1—Yushin Okami Gets the Unanimous Decision over Nate Marquardt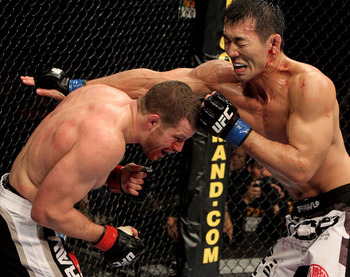 No disrespect to Thunder, but Nate the Great seemed like he was rolling.
Since getting blasted by UFC Middleweight Champion Anderson Silva back in 2007, the 31-year-old former Kind of Pancrase Middleweight Champion had done pretty much nothing but dominate. He thrashed Jeremy Horn before losing a split decision to Thales Leitas, a result made all the more difficult to swallow because of point deductions suffered by Marquardt during the second and third rounds.
Then, he took apart three perilous foes in Martin Kampmann (TKO), Wilson Gouveia (TKO) and Demian Maia (KO) in consecutive fights before running into Chael Sonnen on the wrong day.
After the second hiccup, Nate got right back to his devastating ways with a stoppage of Rousimar Palhares at 3:28 of the opening round. In other words, he'd been cruising, and Yushin didn't profile exactly like the couple of brawlers who'd given Marquardt what little trouble he'd experienced recently.
Yet Okami did enough to take one of the first two rounds before definitively grabbing the final stanza for the unanimous decision. He held his own on his feet, even scoring with strikes of his own and did the same on the ground.
In so doing, Yushin Okami slid next in line for a middleweight title shot and sent a minor shock through the MMA landscape.
**Click Here to Learn More About the Paralyzed Veterans of America**
Keep Reading