New Jersey Devils: Time To Hit the Panic Button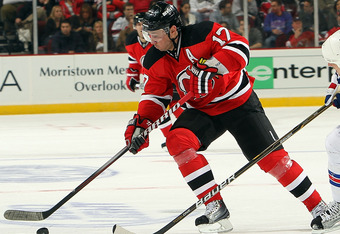 Nick Laham/Getty Images
When the New Jersey Devils blew a two-goal lead on opening night against Dallas and went on to lose in overtime, I simply said to myself, "it's only one game—this team is too good, and they'll come back like they always do."
Then when the Devils got a grand total of one win in their first six games, I said to myself, "it's early in the season; they'll have no problem getting it together."
Now, 16 games into the season, the Devils have amassed just four wins, and after a heartbreaking shootout against Buffalo tonight, I'm not even sure what to think.
One of the most complete players on the roster, Zach Parise, is out for three months due to a torn meniscus. The best goalie in NHL history (at least in my extremely biased opinion), Martin Brodeur, has missed the last two games due to an injury. Brian Rolston has been out for a month, and Anton Volchenkov, the Devils' prized defensive acquisition in the offseason, just returned from an injury on Friday.
Oh, and you know that guy, I think his name is Ilya Kovalchuk—the guy the Devils traded promising young players and draft picks last February? The player that the Devils went through a long, arduous summer trying to acquire when the league wouldn't approve his contract? The player the Devils are looking for to produce big time and lead them over the hump for the next 15 years?
Yes, that guy who routinely scores 40-50 goals per season has a grand total of three goals through 16 games. Right now, the $100 million man is on pace for just over 15 goals this season.
For anyone that has him on your fantasy team: my condolences.
He has been a complete non-factor for the Devils, and with all of the injuries and adversity this team has faced this season (especially with the loss of Parise), he hasn't stepped up like a player of his caliber should.
When the one player that you're investing your future in for the next 15 years is not producing, it's a sign that things have seriously gone south in New Jersey.
After a third consecutive first round exit in the playoffs, Devils fans wanted to see something change. They needed to see something change.
With Kovalchuk in the fold, along with the signings of Anton Volchenkov and Henrik Tallinder to add some defensive help, it was widely believed that the Devils would have a very successful season and would get over the hump in the playoffs—and maybe even contend for a Stanley Cup.
But so far, the 2010-2011 New Jersey Devils have been as big of a flop as Ryan Leaf's NFL career, the New York Knicks the last ten years, and Lindsay Lohan's acting career.
(Yes, I mentioned Lindsay Lohan. The Devils have indeed been THAT much of a disappointment.)
But here's the question: What exactly is the problem with the Devils? The team has scored the fewest goals in the NHL so far, and this is a team that is not short on offensive talent. Jason Arnott, a big summer acquisition by the Devils, has seemingly been the only offensive player that's shown up for the Devils on a regular basis (team-leading six goals and three assists).
This is a team that contains Captain America Jamie Langenbrunner, Patrik Elias, Dainus Zubrus, Travis Zajac, David Clarkson, along with Kovalchuk and the injured Parise. When you consider the age of Langenbrunner, Elias and Zubrus, is it possible that the team is just getting older and are seeing a steep drop in their play due to age?
Another thing to consider is the fact that head coach John Maclean is in his rookie season as an NHL head coach. I find it hard to believe that any of the Devils' problems are MacLean's fault, but here's something to consider: MacLean's had a legitimate shot at the last two Devils coaching vacancies, which went to both Brent Sutter and Jacques Lemaire respectively. Is it possible that maybe there was a reason that Lamoriello was so hesitant to give MacLean the job the last few years?
Whatever the exact problem is with the Devils, it needs to be fixed, and it needs to be done quickly. The Devils have the talent in place to be a contending team, but right now they're one of the worst teams in the NHL.
And if the Devils can't get their problems worked out soon, their streak of 13 consecutive playoff appearances and 19 appearances in 20 seasons will be in serious jeopardy.
This article is
What is the duplicate article?
Why is this article offensive?
Where is this article plagiarized from?
Why is this article poorly edited?

New Jersey Devils: Like this team?