Brad Keselowski Nationwide Champion: 10 Highlights of the Title Run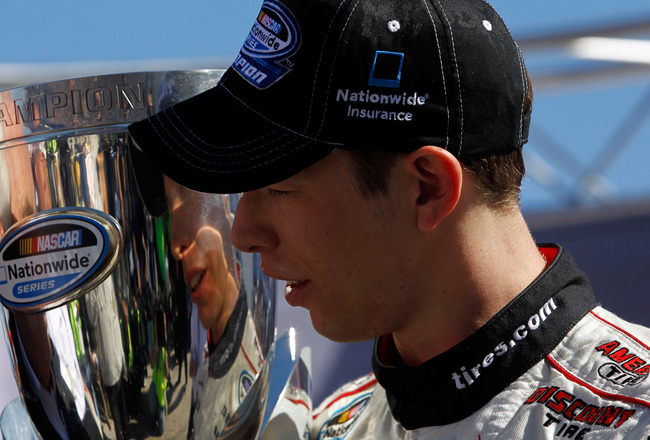 Brad Keselowski delivered Roger Penske his first NASCAR Championship.
Tom Pennington/Getty Images
Roger Penske rolled the dice and signed Brad Keselowski to drive his No. 12 NASCAR Sprint Cup car and his new second team in the Nationwide Series, the No. 22 Discount Tire team.
Penske Racing dominated the Nationwide Series, with Keselowski taking the top spot and the departing Justin Allgaier finishing fourth and first overall of the non-double-duty NASCAR drivers.
Keselowski Rattles Off Eight Consecutive Top Fives Including Two Wins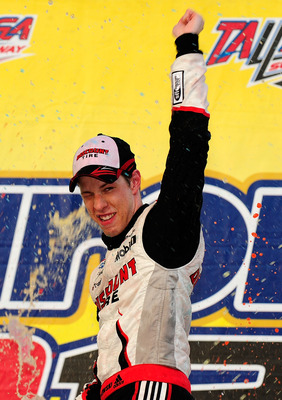 Keselowski's first win came for Roger Penske came at Talladega in April.
Rusty Jarrett/Getty Images
Brad Keselowski's first race was a 13th place at Daytona. After that disappointing start, the No. 22 Discount Tire team put together an amazing eight-race run that ended with two wins back-to-back at Talladega and Richmond. That run set in motion the championship run.
Keselowski Prevails with Two Key Seventh-Place Finishes on Bad Days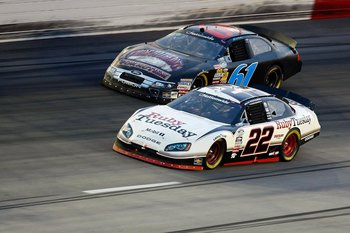 Keselowski struggled at Darlington in May but managed a seventh place finish.
Geoff Burke/Getty Images
Finishing in the top 10 when having a bad day is a key to winning championships. Keselowski and the Penkse Dodge team missed the setups badly at Dover and Darlington. They kept their heads up and, despite being off the lead most of the day at both tracks, they managed seventh-place finishes on both tracks.
Keselowski Knocks Out Six Top-Fives in a Row at the Heart of Schedule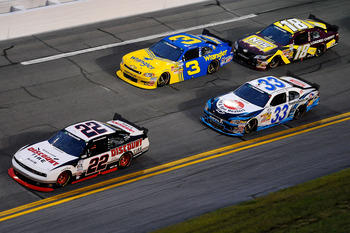 Keselowski ran well up front with the new Nationwide car at Daytona.
John Harrelson/Getty Images
Consistency wins championships and provides a cushion for possible trouble later in the year. The No. 22 Penske Dodge was solid for six consecutive races and it would pay off, with trouble waiting on the horizon in the form of Carl Edwards.
First Road Race of Year at Road America Sets Tone for Championship Season
Road America allowed Keselowski to break through the hole and take charge of title run.
Jonathan Daniel/Getty Images
Brad Keselowski learned his lessons for road racing, and although he was rough at times at Road America, he brought the No. 22 Penske Dodge home in fourth place. A remarkable accomplishment for a driver that has little road-racing experience.
Daytona In July: Dale Jr. Steals Show but Keselowski Pads Lead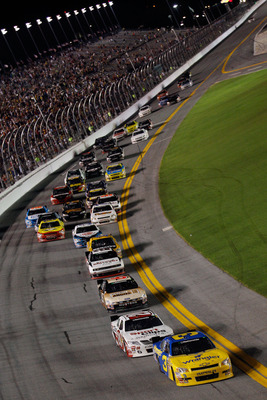 Keselowski was up front (here in fourth) but Dale Earnhardt Jr ran the show at Daytona.
Chris Graythen/Getty Images
The July race at Daytona was Dale Earnhardt Jr.'s world and everyone was just living in it. Learning when to go for it and when to lay back is one reason Brad Keselowski is the new Nationwide champion.
Gateway Crash Rings Keselowski's Bell but Strengthens His Resolve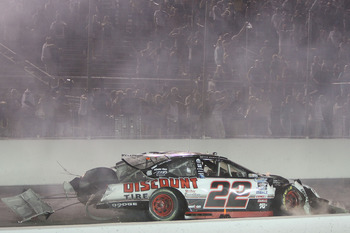 Keselowski suffered one of his worst finishes after Carl Edwards wrecked him in front of the field to win Gateway in July.
Dilip Vishwanat/Getty Images
One of Brad Keselowski's worst finishes of the 2010 Nationwide season occurred after he nudged Carl Edwards out of the way, then Edwards retaliated by turning his steering wheel dead right on the front stretch as the two came to the checkered flag. The resulting chaos saw Keselowski being bounced around the front stretch like a pinball.
Keselowski Tallies Two More Fourth-Place Finishes on Road Courses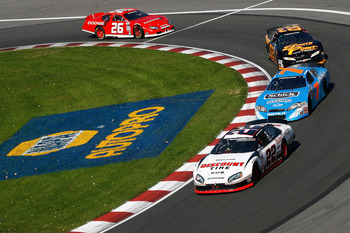 Keselowski was a master on the road courses finishing fourth in all three races.
Jason Smith/Getty Images
The Nationwide Series travels to three road circuits per year, and Keselowski finished fourth in each race. Consistency is the key to a championship season, and road races are meant to trip up title contenders. Keselowski came up through the short tracks of the upper Midwest and did not see many road courses, but has adapted well.
Keselowski Overcomes Adversity Late in the Season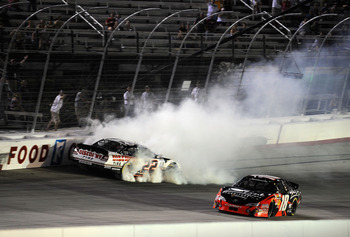 Keselowski suffered a poor finish at Bristol after tangling with Kyle Busch but kept his cool.
Jared C. Tilton /Getty Images
Kyle Busch and Brad Keselowski have had their dust-ups in the past, and their latest came at the Bristol August night race. Keselowski gave Busch the bump-and-run, then Busch repaid the favor with a less gentle nudge sending Keselowski hurtling towards the outside wall. Keselowski finished 14th in the Bristol race and would finish out of the top 10 in three of the next five races.
Keselowski Finishes Strong to Close In on His and Penske's First Title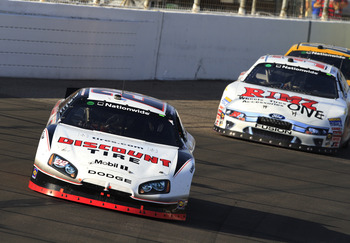 Keselowski dominated in his second visit to Gateway and NASCAR's last race on the short track.
John Sommers II/Getty Images
Brad Keselowski went back to the scene of the crime earlier in the year and he owned Gateway for the Nationwide Series' second visit. Instead of a headache delivered by Carl Edwards after a massive crash, Keselowski gave his competition a headache, leading 83 laps and bringing home the hardware. The win gave Keselowski the opportunity to wrap up the title with two or three races to go.
Keselowski Finishes Third in Texas and Gives Roger Penske His First Title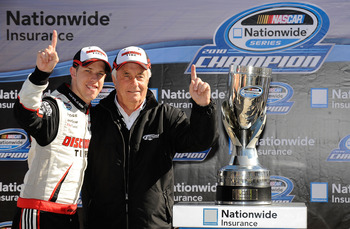 Roger Penske Wins First Title in NASCAR Courtesy of Brad Keselowski.
Rusty Jarrett/Getty Images
Brad Keselowski delivered Roger Penske, "The Captain," his first NASCAR title by finishing third in the Texas race last weekend. Ironically, Carl Edwards won the race but he deferred to the new champion and his recent nemesis, Keselowski. "We've had our differences and our battles, but today is his championship day, and he beat us. So that's the way it is."


Keep Reading