College Basketball Season Preview: Ranking The Top 30 Players In The Big East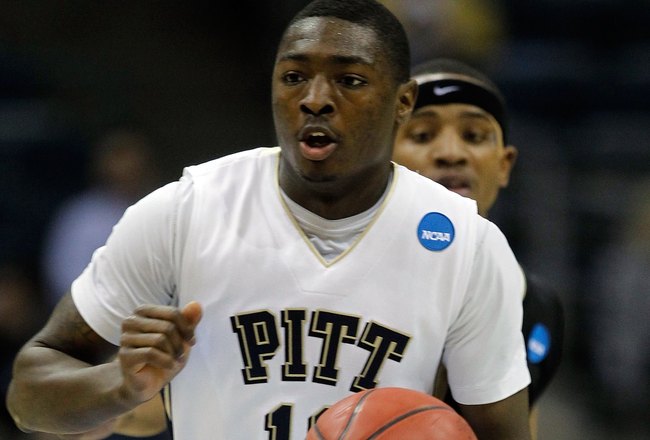 Jonathan Daniel/Getty Images
As the days grow closer to the beginning of what surely will be another great season of Big East Basketball, it's time to start diving into some season previews.
Today, it's not about the team, but instead it's all about the individual, as we take a look at the Top 30 players in the stacked Big East.
The Top 6 were very difficult to separate, as were the bottom few spots in the rankings. Most of these guys that got the spots are returning players. I will rank the freshmen at another time. I tried to represent each team in the conference, but a couple got left out.
So let's take a look at the Top 30 players in the Big East.
30. Jonathan Mitchell, Rutgers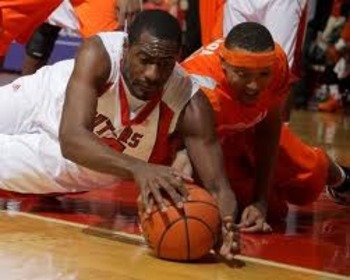 While Rutgers isn't among the best teams in the Big East, it doesn't mean they don't have some good talent. Mitchell is a solid forward that can play facing the basket, and you can run some offense through him in the high post.
Mitchell played at Florida for two years before transferring to Rutgers. He has a solid mid-range game and averaged 11.8 ppg last season. He needs to be a better force on the boards though.
29. Alex Oriakhi, Connecticut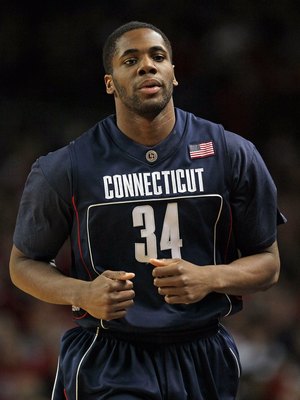 Andy Lyons/Getty Images
Oriakhi is blessed with tremendous physical tools. His skill level is very much a work in progress, and it showed last season. He flashed intriguing potential in some areas. His numbers would suggest that he will be a double digit rebounder and he's productive in his touches around the rim, but still has a long way to go to become a complete package offensively.
He makes the list because the raw talent is there. He's still developing, but for now, he can crash the glass and finish down low. He could be a big weapon for the Huskies if his game continues to grow.
28. Marshon Brooks, Providence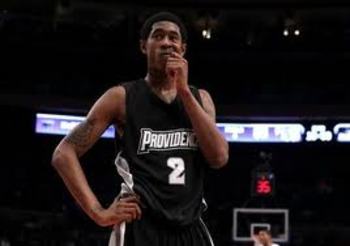 Brooks has seen his scoring average increase in each of his first three seasons at Providence, averaging a respectable 14.8 ppg last season. When Brooks gets going, he can fill it up. He scored over 20 points five times last season and if the trend continues, he should have a pretty solid season for the Friars.
27. Dante Taylor, Pittsburgh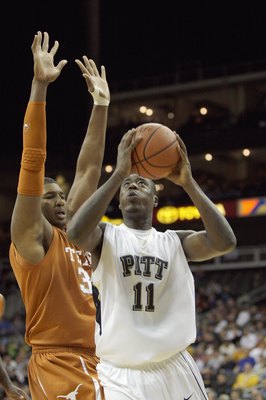 Jamie Squire/Getty Images
Taylor has the talent to be much higher on the list but needs to bring it out. Considering the build up surrounding the McDonald's All-American, you would have to say that his freshman season in Pittsburgh was a disappointment.
The natural comparison was DeJuan Blair, who Taylor replaced in the Pitt lineup. However, some scouts are now comparing Taylor to another former Panther—Chris Taft.
Taylor averaged only 4.1 ppg and 3.7 rpg last season. What bothered some people more was the lack of effort that Taylor seemed to give at times. As for Taylor's defense, the numbers could have been affected due to the fact that Taylor was playing out of position all season.
That's not an excuse this season. If anyone can get Taylor motivated and playing hard, it's Pitt head coach Jamie Dixon. I'd keep an eye on Taylor. He could end up being one of the most improved players in the nation. He has the talent to do so.
26. Jared Swoopshire, Louisville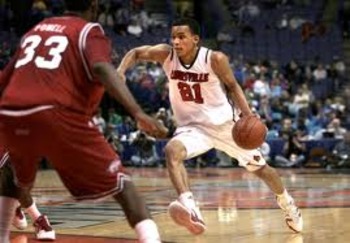 Swoopshire is very talented. He was slated to start at small forward for the Cardinals, after averaging 7.5 points and 6.1 rebounds last season, but has been slowed by a groin injury.
He's got a big frame, which is his strength. He can shoot the ball and has a pretty solid perimeter game. He needs to add some bulk, though. His body can't take the pounding of having to rebound in the Big East.
25. Darryl Bryant, West Virginia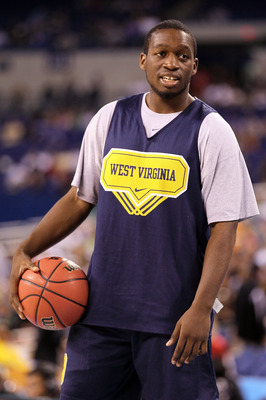 Andy Lyons/Getty Images
An injury to Bryant in last season's NCAA Tournament eventually slowed down the Mountaineers. The junior point guard should be headed for an improved season if he's healthy.
Bryant runs Bob Huggins' offense pretty well and does a solid job defensively. His numbers aren't anything special, averaging 9 ppg and only 3 apg, but we could see a spike in both numbers this season.
24. Rick Jackson, Syracuse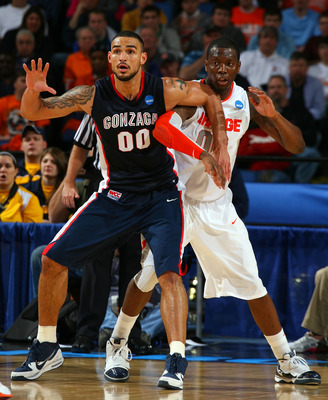 Rick Stewart/Getty Images
Jackson is a wide bodied post player, which is nice for the Syracuse offense. He is an excellent rebounder with a nice scoring touch near the basket. He is a high percentage guy, shooting close to 60 percent in back to back seasons.
Jackson would have been a double figures type scorer, but is one of the worst free throw shooters on the planet. I expect a big season from Jackson that should see him averaging a double-double.
23. Corey Stokes, Villanova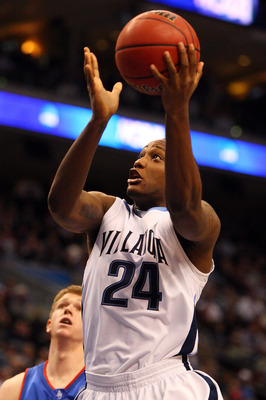 Jim McIsaac/Getty Images
Stokes started 27 games for the Wildcats last season and turned out to be a solid contributor, averaging nearly ten points per game.
Stokes brings a nice shooting touch with great range and moves very well without the ball. Expect him to be a big producer for Jay Wright this season.
22. Gilbert Brown, Pittsburgh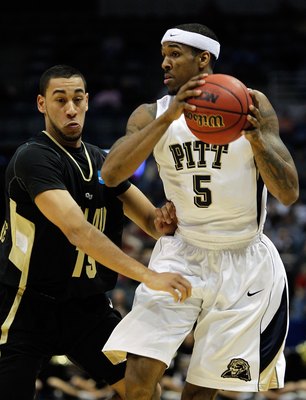 Jonathan Daniel/Getty Images
Brown has the talent to be in the Top 5 on this list, but he's just so inconsistent. Brown averaged double figures in scoring, but every time he had a game in double figures last season, he followed it with a bad game.
Brown has the talent to be one of the leading scorers in the conference. In Jamie Dixon's system, that's unlikely to happen, because Brown is asked to do so much at both ends of the floor, things that he does very well.
Brown likely will average over double figures again and be a big part of a Pitt team that has very high expectations. If he eventually puts everything together with some consistency, then Brown could be in for a great season.
21. Scoop Jardine, Syracuse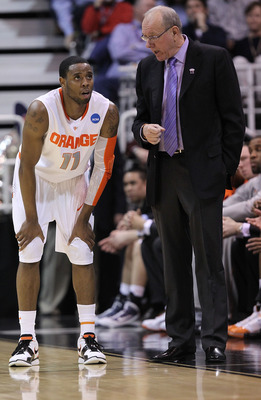 Jed Jacobsohn/Getty Images
Jardine is a former high school teammate of current teammate Rick Jackson. He had a solid season last year, averaging 9.1 ppg and 4.9 apg.
Syracuse head coach Jim Boeheim demands a lot from his point guards and Jardine fits the Syracuse system well. He is a solid passer with a keen ability to drive past defenders to get to the basket.
Another solid season from Jardine is a must for Syracuse.
20. Yancy Gates, Cincinnati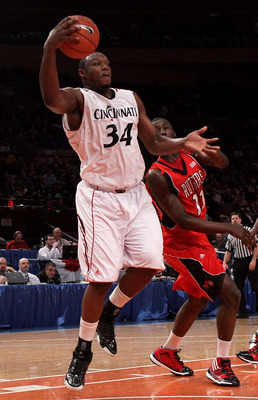 Jim McIsaac/Getty Images
Gates is a strong, physical specimen in the post with an NBA body and isn't afraid to get dirty. The problem with Gates is that he only brings it 75 percent of the time. Conditioning and effort question marks have lingered over Gates during his college career, but there's reason to believe the light bulb could go off as a junior.
With the questionable decision of Lance Stephenson to enter the NBA Draft, Gates has to be the guy to put up consistent numbers for the Bearcats in 2010-11.
19. Fab Melo, Syracuse
Melo is the only true freshman to make the list. The Brazilian import rated as the top center in ESPN's recruiting rankings and is the favorite to win freshman of the year in a veteran-laden conference. Melo is a low post scorer with moves advanced for his age and he's becoming much more reliable and consistent as his body matures.
The presence of both Melo and Rick Jackson patrolling the back end of the Syracuse zone should make it very difficult for opposing guards to penetrate. He has a chance to be an impact player for Jim Boeheim immediately.
18. Maalik Wayns, Villanova
Elsa/Getty Images
Looking for a player to have a breakout season? Look no further then Wayns.
Now that Scottie Reynolds is gone, Wayns will see a big increase in minutes. He has great court vision and will work his butt off on defense. He has the ability to create his own shots, so expect a big rise in his numbers.
17. Darius Johnson-Odom, Marquette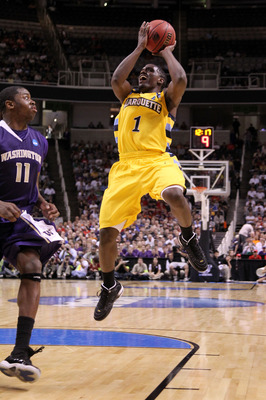 Jed Jacobsohn/Getty Images
He is a huge weapon from beyond the arc, shooting 47 percent in his first Big East season from 3-point range. That's not all he can do though. He is a deceptive athlete and can be explosive utilizing an effective pump fake when defenders respect his shooting range. He's undersized as a 6'2" shooting guard, but Marquette always seems undersized, yet always seem to fare very well.
16. Jason Clark, Georgetown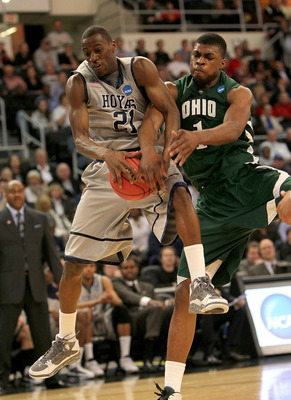 Jim Rogash/Getty Images
Clark had a fantastic sophomore season as the third option in the Georgetown perimeter attack, and with Clark, Austin Freeman and Chris Wright back for another campaign, Clark should continue to get open looks from deep.
Clark averaged just over double figures in points and grabbed nearly four boards per game in 2009-10. Clark's defense and versatility are two more strong qualities that could have the Hoyas contending for the Big East crown this season.
15. Antonio Pena, Villanova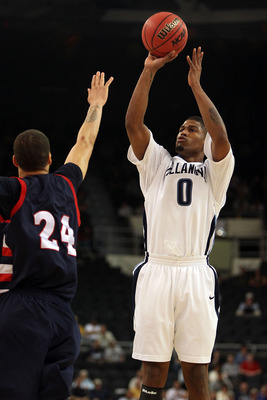 Elsa/Getty Images
Pena did an admirable job filling Dante Cunningham's shoes last season. Pena is the rock in Jay Wright's forward rotation. He ranked near the top of Big East big men in true shooting percentage and efficient FG percentage. Along with a propensity to get to the line, Pena can still be a very productive force as a senior in Philly.
There is a chance he could get passed up by Mouphtaou Yarou, but for now, I'd still expect solid contributions from Pena.
14. Jimmy Butler, Marquette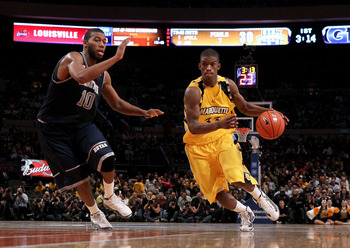 Jim McIsaac/Getty Images
In a year, Butler went from a solid bench contributor to the second best option in the Marquette offense. Butler became one of the most reliable and efficient players in the conference.
Butler played 35 mpg for Buzz Williams and chipped in with 15/6/2 on 53% FG. He also ranks first in the Big East and 11th in the nation, reaching the free throw line 244 times. He shot over 50% from the field and had respectable numbers that read 15 ppg, 6 rpg and 2 apg.
Now that Lazar Heyward left for the NBA, it's Butler who is Marquette's go to guy. He should respond with a big season.
13. Brad Wanamaker, Pittsburgh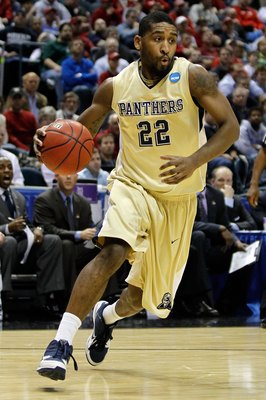 Jonathan Daniel/Getty Images
The improvement of Wanamaker was one of the big reasons Pitt overachieved last season. He was thrown into more of a scoring role after the departures of Sam Young, Levance Fields, and DeJuan Blair and had a pretty solid season.
Wanamaker doesn't wow anybody with any particular thing he does, he simply just does everything very well. He's the classic Jamie Dixon recruit, an under the radar type player with very good talent.
12. Herb Pope, Seton Hall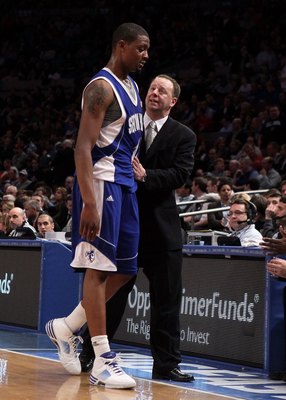 Jim McIsaac/Getty Images
Health issues surround Pope. If he's healthy, he should be higher on the list, but if he's not, he should likely be lower.
Pope is a phenomenal rebounder, ranking third in the Big East in both offensive and defensive rebounding percentage. He had 13 double-doubles during his sophomore season and a final average of 12 ppg and 11 rpg as the anchor in the post.
The Pirates should be very talented this season and Pope should be a huge part of that.
11. Gus Gilchrist, South Florida
An ankle injury in mid-December put an end to Gilchrist's sophomore season, but prior to the injury, there were few more productive big men in the conference. The inside force working alongside dynamite scorer Dominique Jones, Gilchrist scored 18 or more points and grabbed seven or more boards in six of the Bulls' first eight games.
None of the teams Gilchrist had big games against last season reached the NCAA Tournament, so it's far from certain that Gilchrist takes the Big East by storm.
He has the body and the potential, though. Great size, toughness and physicality in the paint all help Gilchrist, but it's rounding out his game that's the issue. He has consistently improved his shooting stroke. If he continues to improve, it could be a breakout season for Gilchrist.
10. Tim Abromaitis, Notre Dame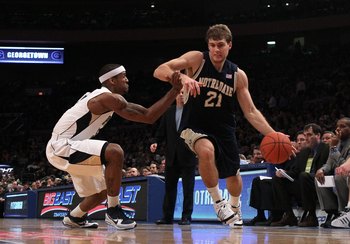 Jim McIsaac/Getty Images
Abromaitis was not only one of the best players on the Notre Dame roster last season, but also one of the most efficient players in the entire nation. He came out of no where and averaged a very impressive 16.1 PPG, 4.7 RPG, 50% FG, 87% FT, 43% 3pt.
He's very talented and will have to be even better, since Notre Dame will be without Luke Harangody, Ben Hansbrough and Tory Jackson.
He could be much higher on the list, but he's mainly a shooter and he could find a harder time producing with no Harangody around.
Either way though, Abromaitis should still have a solid season for the Irish.
9. Chris Wright, Georgetown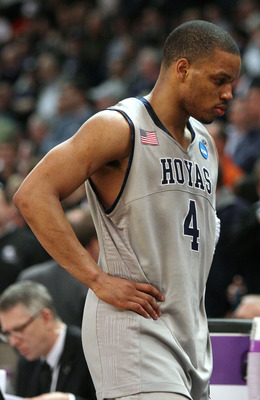 Elsa/Getty Images
Georgetown possesses the top back court duo in the Big East with Wright and Austin Freeman. Wright was up and down for most of the regular season last year, but was outstanding in March, scoring in double figures in every game the Hoyas played.
Wright does a lot of things very well. He's a good athlete with a very strong build. He plays excellent defense and is a great free throw shooter. The knock on him is that his jump shot is very inconsistent, but the Hoyas are banking on that he can carry his success shooting the ball in March into this season.
8. D.J. Kennedy, St. Johns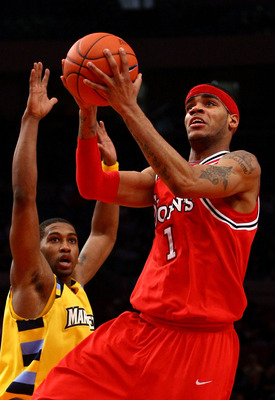 Chris McGrath/Getty Images
Kennedy is a very athletic 6'6" swing man that could be a big reason why St. Johns could be much better then people think. Kennedy averaged 15 ppg, 6 rpg and 3 apg last season.
He has a scorer's mentality and he's strong and aggressive on the wing. Kennedy has the chance to take his game to the next level this season.
7. Jeremy Hazell, Seton Hall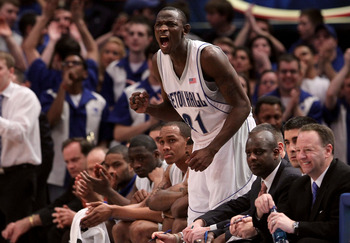 Jim McIsaac/Getty Images
Hazell could be the most talented player on this list. It was a difficult decision on where to rank him. At times, he looks like he's one of the best players in the nation with the ability to single handedly put his team on his back and carry them.
Then there are times when Hazell almost seems disinterested in what foes are on the floor.
He has to improve his defense where he often seems lazy. He also must get better at creating his own shot. Too often, Hazell is simply just a catch and shoot type of guy.
If Hazell is able to add some wrinkles to his game, there is no denying that he has the talent to be the best player in the conference.
6. Ashton Gibbs, Pittsburgh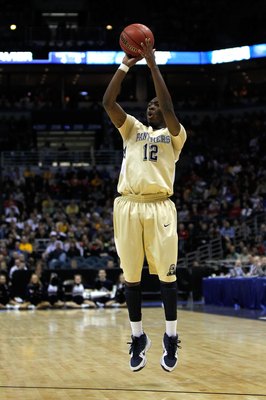 Jonathan Daniel/Getty Images
Few players in the country can get as hot as Gibbs. When his jumper is on, he can't miss at all. He has a lightning quick release and unlimited range.
Gibbs can do a lot of things well offensively, but if Pitt wants to finally reach the Final Four, Gibbs will have to become a better distributor of the ball and also must become a better on-ball defender.
He has the ability, though, to put up over 20 points every night. He will without a doubt be Pitt's number one scoring option.
5. Kris Joseph, Syracuse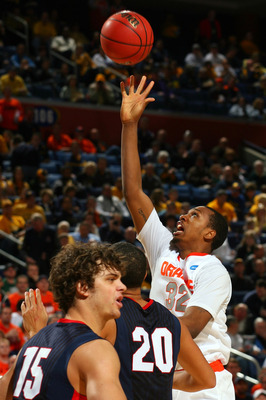 Rick Stewart/Getty Images
With Wes Johnson and Andy Rautins' departures, Joseph will have the opportunity to shine. Expect big things from him.
He's got tremendous physical tools and if he adds some muscle, he could become a weapon at both the 3 and 4.
Joseph loves to face up and beat his defender off the dribble or pull up for a reliable foul line extended jumper. He doesn't have much shooting range beyond that, but his athleticism will lead to a ton of chances from the free throw line.
He has the chance to average a double-double during his junior season in Syracuse.
4. Kevin Jones, West Virginia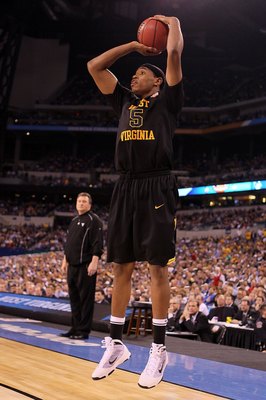 Andy Lyons/Getty Images
Jones continues to improve every season under coach Bob Huggins and will be looked at to be the Mountaineers' top scoring threat.
He's improved his scoring, shooting, rebounding and his range in each of his first two seasons. He values the basketball and plays the game smart.
He has limitations, so he likely will never be a big star. Jones doesn't handle the ball very well and has trouble creating his own shot. With two seasons left in Morgantown though, he has a chance to improve there as well.
The one thing the 6'8" Jones does though is bring energy to the West Virginia team and create match up problems for opposing coaches. Expect him to continue to get even better.
3. Kemba Walker, Connecticut
Jim Rogash/Getty Images
U Conn had a very down year in 2009-10. What was lost in all of that though was the tremendous improvement in Walker's overall game.
He now has a respectable jump shot to go with an ability to get to the basket at will.
Walker may be the quickest athlete in the conference. I haven't seen anyone faster from baseline to baseline. He sees the floor very well and is a great passer.
If he keeps improving, soon Walker's game could be without flaws (except his height).
2. Corey Fisher, Villanova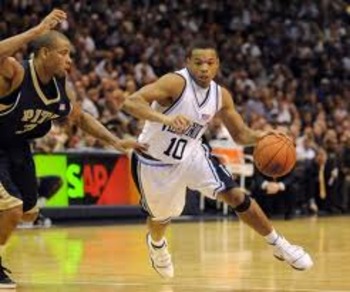 With Scottie Reynolds now gone, Villanova is now Fisher's team.
His floor skills and court vision are outstanding and he's proven he can score, despite his 6'1" frame. I don't know why that was ever in doubt since he did put up 105 points in a game in a NYC Summer League contest.
All of Fisher's shooting percentages continue to rise. His spot-up jump shooting is his biggest strength, along with being next to impossible to defend because of his pure quickness.
It's quite possible that because of Fisher, Villanova may not miss Reynolds after all.
1. Austin Freeman, Georgetown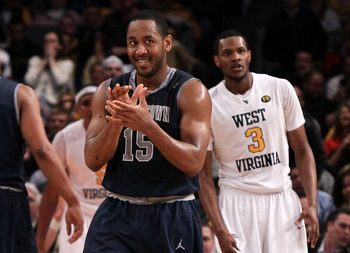 Jim McIsaac/Getty Images
After much debate, the Pre-Season Big East Player of the Year also claims the top spot in the Power Rankings.
Freeman possibly has the highest basketball IQ in the country to go along with an outstanding perimeter game. He's a flat out sharp shooter and a huge weapon for the Hoyas, or any other team for that matter.
He's strong, so getting around screens is no problem and he also takes tremendous care of the basketball. There are very few flaws in Freeman's game, so ultimately he gets the honors of claiming the top spot.
If there is anything to be critical about Freeman, it's the fact that he shot under 100 free throws last season. He could probably do a little bit better job of attacking the rim.
Other than that, Freeman is close to having it all and should have an outstanding 2010-11 season.
Keep Reading

Pitt Basketball: Like this team?