Why Mathieu Garon Should Be the Blue Jackets #1 Netminder Over Steve Mason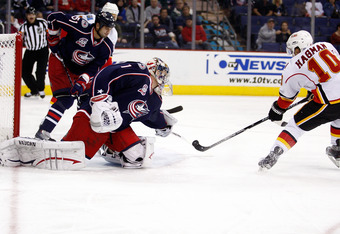 John Grieshop/Getty Images
Right around this time two years ago, a young 20 year old rookie net-minder by the name of Steve Mason was called up by the Columbus Blue Jackets.
The Jackets were in a tight squeeze in net when starting goaltender Pascal Leclaire went down with an ankle injury. Mason started his first game on November 5 against the Edmonton Oilers, and led Columbus to a 5-4 victory. He would go on to win rookie of the month for both November and December and was selected to represent the West in net for the Young Stars Game, though he declined.
Mason would end up getting a majority of the starts in net for the Jackets that season, having a record of 33-20-7, and leading Columbus to it's first playoff berth in franchise history.
But that was then, and this is now.
Steve Mason has not been the same since that time, and he has gotten off to a rocky start start this season. When the Blue Jackets opened in Stockholm, Mason was looked at as the #1 goaltender with Mathieu Garon serving as the backup. The Jackets lost the first game as Mason gave up three goals on 28 shots. However, the Jackets would not go back to the states empty handed as Mason was able to pick up the victory in game two.
Mason has gone 3-3, and he has played as mediocre as his record shows. Mason played well in the games that he won, putting up some monster saves against Anaheim on October 20th. However, in the games that Mason has lost, the flood gates were opened. Opposing teams outscored the Jackets 15-5 in those three games.
The worst came on October 30th when the Jackets suffered a 5-1 beat down to the Colorado Avalanche. Mason allowed four goals in 30 minutes and was later pulled in favor of Mathieu Garon. In that game, Mason looked slow moving from post to post. He was slow to react to the puck movement, none more apparent than the power play goal by Chris Stewart 50 seconds into the second period.
You could chalk the goal up to the Avalanche being on a 5-on-3 advantage or you could say that the defense wasn't doing a great job trying to get in the way of the passing lanes, but Mason just looked like he was a few seconds behind the puck.
When it comes to Mathieu Garon, one thing is clear, he needs more playing time. In the three games that Garon has started, the Blue Jackets have won.
He looked good against Minnesota and even better against the defending Eastern Conference Champion Philadelphia Flyers. The Flyers were stumped and could not find a way to get anything past Garon until late in the game when Villie Leino was able to lift one over the 32 year old netminder.
After two good starts, you would think that coach Scott Arniel would reward Garon with more playing time.
The next time Garon would play was when Steve Mason was pulled against the Avalanche. He stopped 11 of 12 shots and gave Columbus what little hope it had to try and make a comeback. Because of Mason's bad game, Garon was awarded the start last night against his former club, the always dangerous Montreal Canadiens, and boy did he make them feel sorry for letting him go. Garon shut out the Habs, stopping all 29 shots and the Blue Jackets rolled to a 3-0 victory.
In his three starts and the little time he played against Colorado, Mathieu Garon has only given up an average of 1.15 goals a game and accumulated a save percentage of .957. If the coaching staff picks a goalie based on statistics, then it is clear that Mathieu Garon needs more time in net, because he gives the Blue Jackets the best opportunity to win.
With the Blackhawks continuing their dominance from last year, the Blues surprising us all, and Detroit and Nashville putting up competitive teams, the Blue Jackets need to go with the more consistent goaltender if they want to have any chance at making the playoffs. Mason is still young at age 22, and needs to continue to develop his game.
In Garon We Trust!
This article is
What is the duplicate article?
Why is this article offensive?
Where is this article plagiarized from?
Why is this article poorly edited?

Columbus Blue Jackets: Like this team?