The 25 Dumbest Rules in Sports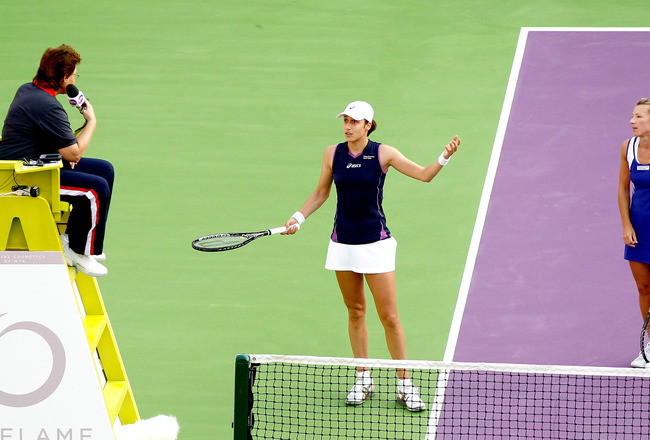 Matthew Stockman/Getty Images
How many times have you said, "Umm...what?" when it comes to weird plays and strange rulings in your favorite sport?
There are enough rules in sports to make your head spin, and most of them aren't going anywhere soon. These rules can sometimes change the outcome of games, and are downright silly. Here are 25 rules that just don't make sense.
Also check out my article on the 10 strangest rules in Major League Baseball.
Honorable Mention: Points For Overtime Losses in Hockey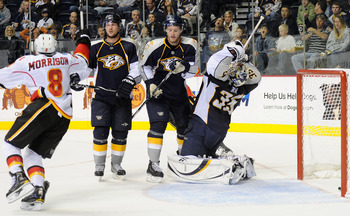 Frederick Breedon/Getty Images
There are far more effective ways to make this sport more exciting than giving the losing team a point towards their total season tally when they lose in overtime. There are now three different categories in hockey to count games (Wins, losses and overtime losses).
This is ludicrous, just make it a loss for one team and a win for the other!
25. Intentional Walks in Baseball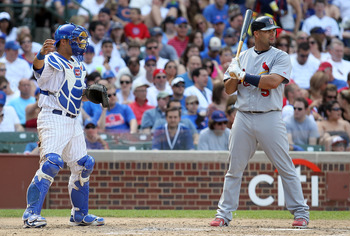 Jim McIsaac/Getty Images
Is there a better way to show fear than to walk the other team's best player rather than pitch to him? I understand there's a strategic angle to this, and it can make the difference between a winner and a loser, but wouldn't you rather be a champion because you beat the best of everyone on every other team?
Spectators and die hard fans paid a lot for their seats, give them what they want and pitch to the man!
24. Goaltender Trapezoid Behind the Net in the NHL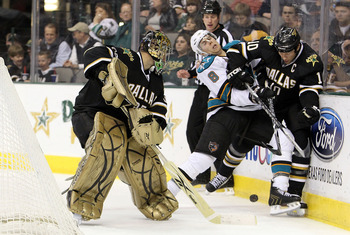 Ronald Martinez/Getty Images
It doesn't make sense to disallow the goaltender from touching the puck outside the little area behind the net. If the goalie wants to take a risk and play the puck, let him show off his skills. If he can't control the puck and yields an uncontested goal, he might just learn his lesson. Let the child touch the stove!
23. Down Without Contact in College Football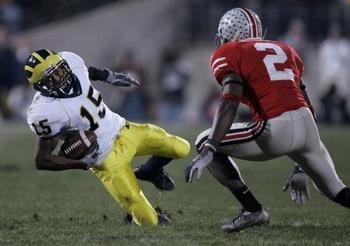 Give the fans what they want. If a college football player slips, falls and isn't touched, he should be allowed to continue. Make the other team tackle him. The game is already exciting, but would be even more so if the ball carrier were allowed to stand up and keep going.
22. Offsides in Hockey
Dave Sandford/Getty Images
Offsides in hockey is like disallowing a fast break in basketball. If the other team can get the puck across both blue lines and catch the defense off-guard, by all means they should get a chance at scoring. Have you ever heard the excitement in the crowd as their team mounts an attack on the opposing goal, only to hear the whistle blow and see the action stop due to another player getting ahead of the puck?
It just seems like something besides the fights in hockey would be very exciting if offsides was abolished.
21. Interference Discrepancy in the NFL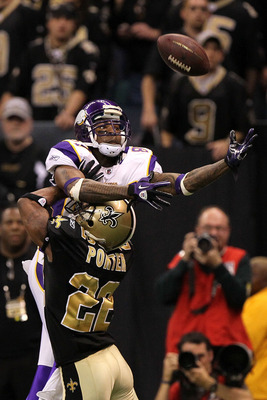 Jed Jacobsohn/Getty Images
In the NFL, if a defender impairs a receiver's ability to make a catch, it is a spot foul, meaning the offense gets a first down and the ball at the spot of the foul.
However, if a defender is impeded by a receiver while attempting to make an interception, there is just a 15-yard penalty for the offense and a replay of the down. This seems like a malfunctioning seesaw.
There may be no way to remedy this situation, but it still doesn't seem fair.
20. Full Timeouts in Final Minutes of NBA Games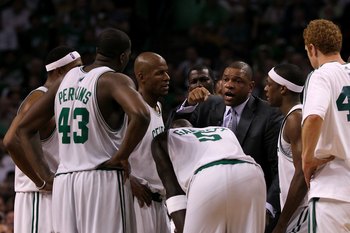 Jim Rogash/Getty Images
Nothing slows down the pace of an NBA game like a timeout in the closing minutes of a close game. Strategy isn't how to use your timeouts in the final minutes, but rather how you have trained the already highly-trained athletes on the floor.
The suspense is much greater when there is no stoppage of play in the final minutes.
19. Offsides in Soccer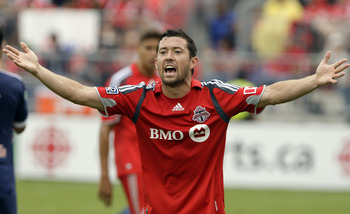 Abelimages/Getty Images
This rule is perhaps the biggest goal-blocking catastrophe in sports. Soccer may be big in other countries, but maybe the United States hasn't caught on because in their sports they expect to see scoring.
I think the players should be rewarded for running around on a huge field for two hours with an occasional goal.
Americans have short attention spans, so adding a goal here and there on a fast break without the hindrance of staying onside would be tremendous.
18. One Foot Inbounds Counts As Catch in College Football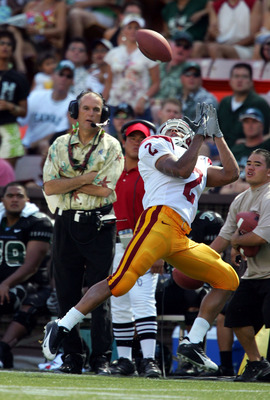 Harry How/Getty Images
The issue with this one isn't so much the number of feet it takes to count as a catch, but rather the ability to gain possession of the ball while going out of bounds in the short time it takes to get one foot down.
It's easy to drag your toe while the rest of your body is long gone, but controlling the ball in that split-second is difficult to do, and that's why two feet should be the only way to make it count. There are certainly exceptions, but this one just doesn't make sense.
17. The Second Serve in Tennis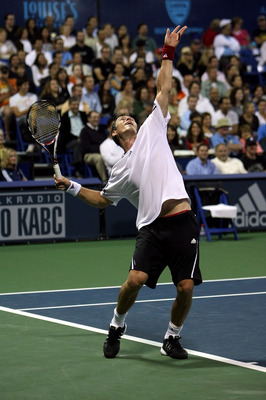 Stephen Dunn/Getty Images
As you can tell in this countdown, I'm not a fan of do-overs. Here is another example of a mulligan that should be disallowed. Professional tennis players have trained tirelessly for years to perfect their craft. They are some of the most in-shape athletes on the planet, with hand-eye coordination and physical endurance.
So when they miss a serve and it hits the net or goes wide, why do they get a second chance without a penalty? It doesn't slow the game down a great deal, but it should at least count for something to the man or woman that got faked out and embarrassingly lunged forward for nothing.
16. Quarterback's Headphone Helmet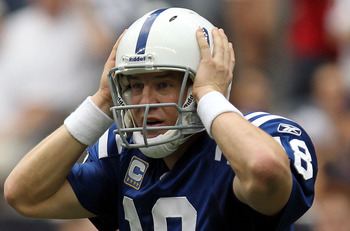 Ronald Martinez/Getty Images
The art of hand signals is all but dead in the NFL. Like some kind of military operation, the coach has a headset and relays the play to his quarterback sporting a helmet with a radio inside.
Just like a catcher's signs to the pitcher and a coach's signs to his base runner, signs are a sacred part of baseball, and so should the hand signals of an offensive coordinator to his quarterback.
15. Timeout While Falling Out of Bounds in Basketball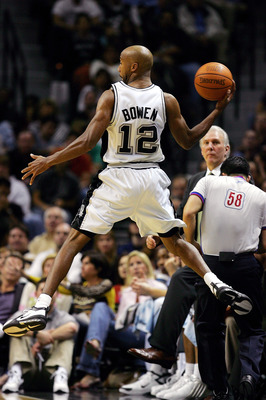 Ronald Martinez/Getty Images
A play where a basketball player is leaping out of bounds and calls timeout while holding the ball is not "heads up," it is a no-brainer. However, it shouldn't be allowed in basketball. The more impressive and exciting play is to gather the ball while falling out of bounds, and bouncing it off an opponent before falling over the courtside chairs.
Now the player has wasted a timeout for the sake of a single possession while copping out of attempting an athletic play.
14. Stroke and Distance Rule in Golf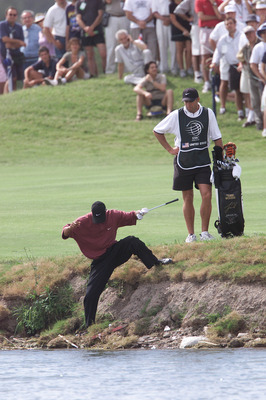 Jonathan Ferrey/Getty Images
There's no way in any other sport a player would be allowed to try again after a horrible shot, unless we are talking about receiving two free throws in basketball and air-balling the first one.
So in golf, why is it a player can shank one into the cabbage or lagoon and take a one-shot penalty to swing again? I think golfers should get out their SCUBA gear and pitch out.
13. Nearest Offensive Player Getting Credit for Basket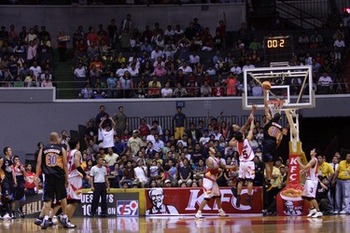 When a player accidentally tips the ball into his own basket, the closet player on the other team gets credit for the points. Why not just add the points to the overall score and why does it have to be accounted for?
Plus, why doesn't this happen in soccer? Most players are lucky to score a few goals in a season, why not boost the stats a little when the goaltender accidentally drops the ball and lets it cross the line? This seems backwards.
12. Interference in Hockey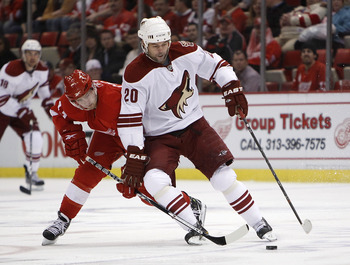 Gregory Shamus/Getty Images
This is another "non-call" irritant. Don't get me wrong: I love the physical play in hockey. I think it is great for the sport and makes the game far more exciting. However, I think another aspect of the game needs some cleaning up.
If a penalty was passed out for inhibiting a player on a fast break, there would be far more exciting moments in this sport, and a higher score would certainly draw more fans.
11. Back-To-Back Timeouts in Basketball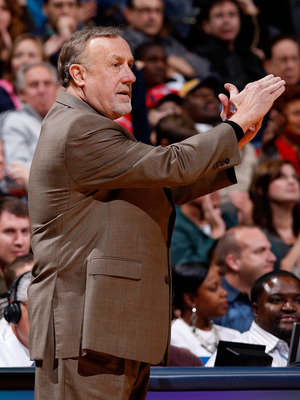 Kevin C. Cox/Getty Images
Here's another way to disrupt the flow of the game while disappointing fans. A coach has just finished giving the gameplan to his players, and before they can walk back onto the court, the coach again calls timeout.
The fans then have to start clapping and make noise all over again. It's just annoying.
10. College Basketball's Three-Point Line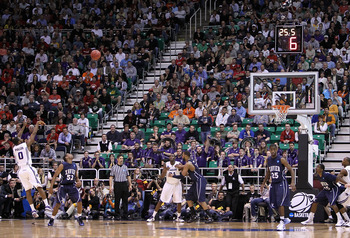 Christian Petersen/Getty Images
This line is way too close. Just because the players aren't getting paid to play doesn't mean the line should be closer to get them a larger contract in the NBA.
The line should be moved back at the beginning of college. These men are adults, and should be held responsible for more than just personal fouls.
Maybe college basketball isn't ready for a scoring dip, but the game would still be exciting without the short shots.
9. No Drug Testing in Every Other Sport But Baseball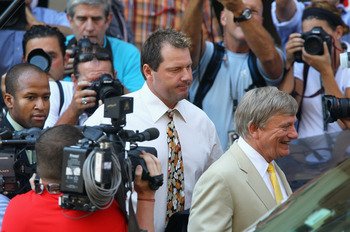 Alex Wong/Getty Images
This is actually a dumb "non-rule" of sorts. Baseball took the punch in the face on this one, and thus far no one has stepped up to get baseball's back. The Steroid Era marked a dark point in baseball's history, but it may not have been so severe had the rest of the professional sports leagues tagged along.
A quick crackdown would have made it go away much faster, or at least paved the way for regulation of steroids, which aren't going anywhere soon.
8. Baseball Managers Wearing Uniforms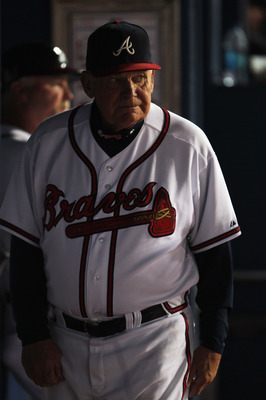 Jamie Squire/Getty Images
First of all, I would just like to say that Bobby Cox is a saint in the game of baseball, and his portrait being the photo for this slide has nothing to do with the memorable mark he has left on the game.
However, why do professional baseball coaches and managers wear the same uniforms as the players? It is perfectly acceptable for coaches to dress well and show a little authority over their team. After all, that's what they are paid for.
Maybe the uniforms ease the pain of realizing you can no longer play, so you have resorted to coaching. Maybe the league just forces them to do it and the coaches hate it.
7. No Game Clocks in Soccer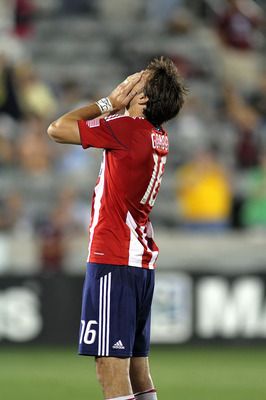 Marc Piscotty/Getty Images
I don't see the downside to having a visible clock near the field for players to see and know how much time is left in the game. Scrambling to score the game-winning goal might add more excitement to a sport with a huge field and ample time to not score.
6. Crowd Silence in Golf
Marco Garcia/Getty Images
Part of being a refined, professional athlete with great focus is the ability to drown out the crowd with your own thoughts during key moments of the game and/or match.
Only in golf is the crowd told to quiet down and hide their emotions for their favorite player about to tee off or sink a major putt. Being a golf fan on the course must be a roller coaster of emotions. First, you get excited to see your favorite golfer, then you have to hold it in because you aren't allowed to show your true feelings.
Then he or she crushes a drive, and you get to cheer for only a moment before walking to the next shot. Finally, rage ensues at that silly-looking man holding an absurd sign that is blocking your view. Whew, golf is exhausting!
5. Catch Stands If Pushed Out of Bounds in College Football
Doug Benc/Getty Images
A college football field is 53 yards and one foot. There's no way a catch should count if the receiver is pushed out of bounds while possessing the ball. It should be the defender's advantage to push him out before he gets a foot down.
This would save countless reviews and speculation if we would just call it an incomplete pass and move on.
4. Disqualification for Unsigned Scorecard in Golf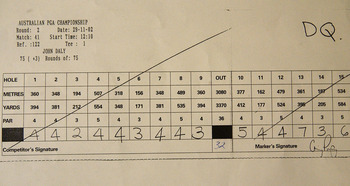 Chris McGrath/Getty Images
Does it make a difference whether the scorecard is signed or not? I think enough people were there to witness what actually happened. Anyone standing within 100 feet of the course should be allowed to sign that thing, or just abolish it altogether and come up with a more sophisticated way to keep score.
Oh wait...New technology in golf, that would be change and we're afraid of change in our sacred sport.
3. Ground Causes an Incompletion OUT of Bounds in NFL
Otto Greule Jr/Getty Images
If the ground can't cause a fumble, then the ground shouldn't be able to cause an incompletion when the player maintains possession of a pass while falling out of bounds.
It is hard enough to maintain a possession while getting two feet inbounds. When the receiver hits the ground out of bounds after getting two feet in and the ball pops out, it should be regarded the same way a catch is viewed on the field of play, a catch.
2. Tuck Rule for NFL Quarterbacks
A fumble is a fumble and an interception is a change of possession without the ball hitting the ground. There should not be any exceptions like a quarterback attempting to tuck the ball. Period.
1. Strike Three Wild Pitch/Passed Ball in MLB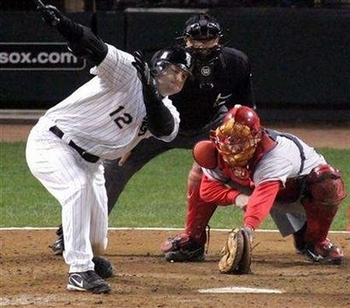 This is the strangest and dumbest rule in sports. If a batter swings and misses at the third strike, and it gets past the catcher, he is allowed to attempt reaching first base before the catcher throws the ball to the first baseman.
However, it gets more complicated. The batter doesn't have to swing at a pitch, but if it's called the third strike and the catcher drops it, the batter can run to first. Also, if first base is occupied and there are less than two outs, the batter is automatically out anyway.
If it's strike three, the batter is out. End of discussion. Stupid rule.
Keep Reading