Edgar Renteria's Ties To the World Series, the Color Orange and 'Real' Emotion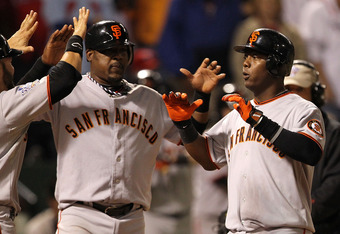 Ronald Martinez/Getty Images
I woke this morning to an unusual sight. Whereas normally it's the blurry, semiconscious vision of dirty laundry sprawled lazily on my floor (perpetually in need of being picked up), I was instead startled to my senses by one definitive color which dominated the sky outside my window: orange.
The entire morning horizon glowed orange, undoubtedly a characteristic of a sky waiting for the momentary sunrise. It wasn't a reddish-orange or a yellowish-orange, it was Halloween orange. Netherlands orange. And on this particular morning, there is no better orange, no more deliriously happy orange, than San Francisco Giant Orange.
Fresh off their triumphant return to a place in the sun (an orange one at that), Giants fans will probably wake up today pinching themselves to see if it was all a dream (that is of course if they've gone to bed at all).
They're the biggest long shots to win the World Series since Chicago in 2005. What's made the story that much better is the fact that most of their team has never experienced anything close to this kind of success.
This wasn't the Yankees or the Phillies with a group of players who celebrate postseason success with the same tired excuse for emotion. This was Tim Lincecum, noting that back at San Francisco there would be "a lot of beer flowing, smoke in the air." Or Brian Wilson (maybe the most aptly named San Francisco Giant ever), declaring that he was "feeling like I want to rage…right now."
Yet one man on the Giants is the exception to this narrative. He has his own story. And it's fascinating for the way it's been intertwined with determining the World Series roughly every six and a half years. He is, of course, Edgar Renteria (the 2010 World Series MVP).
Obviously my own thoughts on Edgar are skewed because his one season with the Red Sox was mediocre and he was in an impossible situation (being "the guy who followed World Series-winner Orlando Cabrera").
Yet make no mistake, "the guy" has had a remarkable career.
Born in Barranquilla, Columbia, Renteria was signed as a teenager in 1992 by the expansion Florida Marlins. Like so many successful people in history, Renteria profited off the sheer desperation of the Marlins who had to build an entire organization from scratch and were willing to go the extra mile in finding the raw but talented shortstop.
Making his debut in 1996, he almost won Rookie of the Year as he hit .309. When the Marlins made their improbable run to a championship in 1997, Renteria was at the forefront. He began his own story with the World Series, ripping a line drive up the middle off Indians pitcher Charles Nagy in the 11th inning of Game 7 to win the Series (in other words, he was the hero).
That alone would have etched him into World Series lore forever. A kid who was only years removed from obscurity in Columbia winning the World Series is a story interesting unto itself. Yet this was only the beginning.
Renteria, like so many other great players from that Marlins team, was hurriedly shipped off to cut payroll following the Series win. He wound up in St. Louis, entrenching himself in an organization primed for success.
By 2004, he was again in the World Series with a St. Louis squad that had the most wins in baseball. Yet the Cardinals were facing the most charismatic sports team of a generation, the "Idiot" Red Sox.
They never had a chance, yet Edgar again finagled a place in history, albeit on the wrong end. His slowly hit grounder back to Red Sox closer Keith Foulke was the final out in a World Series that ended 86 years of misery for New England.
And he again turned up in a World Series this season with the Giants, clubbing what proved the decisive home run in the seventh inning of the clinching game off Texas Rangers ace Cliff Lee. The three-run shot looked like it was destined for merely an outfield gap or maybe the glove of Rangers left fielder David Murphy.
Destiny though, is something that seems to have reserved a special place for the nonchalant shortstop. The ball carried and carried until it disappeared over the medium green fence, simultaneously taking with it the hopes of the Rangers as well as any doubt about Edgar Renteria being tied inexorably with the World Series trophy.
This article is
What is the duplicate article?
Why is this article offensive?
Where is this article plagiarized from?
Why is this article poorly edited?

San Francisco Giants: Like this team?