NASCAR Sprint Cup Series Live Blog: Amp Energy Juice 500 From Talladega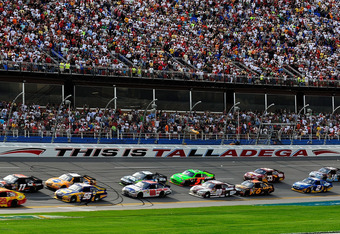 Rusty Jarrett/Getty Images
This Halloween, it's not about how scary the costumes are, or how ghoulish the pranks turn out. It's not about the amount of candy in a bag or how many times one hears the phrase "Trick or Treat".
No, for the stars of the NASCAR Sprint Cup Series, this Halloween is all about conquering the fear of the unknown. That will be evident when 43 drivers try to conquer the monster 2.66-mile tri-oval known as Talladega.
The fear of a huge wreck comes at every lap, every move, and every second. The entire field is within two seconds of each other, stuck together as if chains were attached to the bumpers.
The seventh race in the 2010 Chase for the Sprint Cup is going to be all about chance and avoiding disaster. For points leader Jimmie Johnson and second place Denny Hamlin, the focus will be on staying close to each other.
That leaves Kevin Harvick, who's in third, a chance to show his muscle. As the previous winner at Talladega, he's got the advantage. He also won two of the last three restrictor plate races and enters as the heavy favorite.
Yet, when it comes to Talladega, one name rolls off the tongue very easily...Earnhardt.
Dale Earnhardt Jr. made a lot of people stand in awe last week when he ran to the front, led 90 laps, and finished seventh at Martinsville. Now, he comes to a track that is all about him and his father. Junior has five wins at Talladega, and starts sixth in today's race. He could spoil everyone's fun and give "Junior Nation" something to cheer for.
At the same time, Jamie McMurray enters as the defending race winner and bears a car eerily similar to Earnhardt's from 1998. The Bass Pro Shops/Dale Earnhardt Tribute Chevrolet that McMurray drives will also be one to watch for. He nearly won in April, maybe the second time is where he gets the job done.
There's no telling what will happen when the green flag flies. Simply hang on and watch to see the chaos this Halloween.
Coverage begins at Noon ET with NASCAR Countdown on ESPN2, then switches over to ESPN at 1 p.m. ET for flag-to-flag coverage.
WINNER ANNOUNCED
After video and timing loops are viewed, CLINT BOWYER wins at Talladega. Kevin Harvick finishes second, Johnson credited with eighth, Hamlin ninth.
Points are closer than ever.
CHECKERED FLAG
Still waiting on the winner to be confirmed by NASCAR, no word as of yet. Loops, cameras still being checked.
LAP 188
WHITE FLAG/CAUTION: Allmendinger and others tip over...and NASCAR is checking the cameras. Harvick led at the line.
LAP 187
LEAD CHANGE-With a damaged race car, Harvick to the front, but the battle is still on.
LAP 186
Three to go, and Montoya is pushing Bowyer to the front. Johnson holds 3rd, but Harvick now dives below.
LAP 185
RESTART: Bowyer and Johnson at the front, bring the field to green.
LAP 183
It will be four to go at the line, but more importantly the adrenaline is up. Bowyer is the leader, Johnson in second, then Montoya and Hornish in 3rd and 4th.
LAP 181
Tony Stewart, who had a tire go down at the beginning of the race, now gets the lucky dog and goes back on the lead lap. Some cars talking about pitting, but others may stay out.
LAP 180
CAUTION-Debris is on the track, looks to be in turn 3.
LAP 180
LEAD CHANGE-Bowyer now to the front, but everyone is pushing..
LAP 179
LEAD CHANGE-Jimmie Johnson now out front, followed by Kenseth.
LAP 176
LEAD CHANGE-Gordon puts the National Guard Chevy to the lead, but suddenly announces "He's blowing up."
LAP 174
Gordon and Johnson hook up, and are going to the front.
Meanwhile, Biffle giving a shove to Paul Menard to take the lead.
LAP 173
Chad Knaus gets on the radio and tells Jimmie "Let's go. Do it now."
LAP 171
Everyone remains single-file, but question remains when will someone go to the front, or make a move.
LAP 169
Jeff Gordon and Greg Biffle hooked up and are trying to move to the front. Harvick said he's maintaining his spot because of the damage on the nose.
Crunch time is upon us.
LAP 165
Back from commercial and Kyle Busch is still out front. Meanwhile, McMurray on pit road after getting into the outside wall in turn 2.
No caution, but intensity is picking up.
LAP 159
LEAD CHANGE-Kyle Busch goes to the front, needing to get air to the radiator. Meanwhile, Johnson has found his teammate in Gordon and might be looking to get to the front.
LAP 158
LEAD CHANGE-With a push from a Halloween-themed teammate, Denny Hamlin now takes the lead.
LAP 156
LEAD CHANGE-Kenseth now to the lead.
LAP 155
RESTART: Truex and Montoya bring field to green, and it's Montoya getting the initial push. But, Kenseth gets a shove from Bowyer to the front.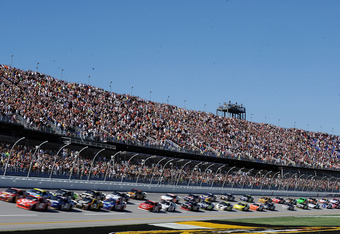 LAP 153
It's getting down to crunch time as there's 35 laps remaining, with Martin Truex Jr. leading in the NAPA Toyota.
But, there's lots of racing and lots of uncertainty left.
LAP 153
Some of the leaders come in, as is Johnson and Hamlin. Harvick stayed out with a severely damaged race car, currently listed in the fourth position.
LAP 152
CAUTION: Debris on the backstretch, looks like some of the tape came off one of the repaired cars.
LAP 150
Harvick is trying to make his way to the front, but Martin Truex Jr. is the current leader.
This article is
What is the duplicate article?
Why is this article offensive?
Where is this article plagiarized from?
Why is this article poorly edited?