Atlanta Falcons Midseason Report Card: Defensive Edition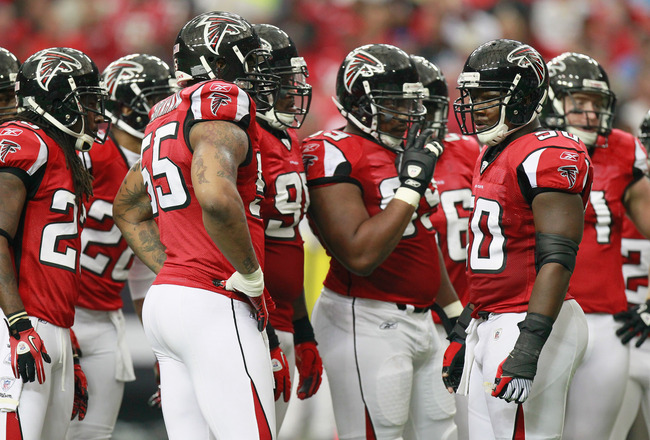 Kevin C. Cox/Getty Images
The Atlanta Falcons' defense has, for the most part, outplayed expectations as we are just about halfway through the season.
There are areas where the D can improve, but there are also some serious bright spots; both of which will be discussed in a little bit.
Three units make up the defense -- the line, the linebackers and the secondary -- and the players will be graded not as individuals, but based on how their units have performed, with standout players from each level receiving extra attention.
Let's waste no more time and get into a breakdown of this group.
Defensive Line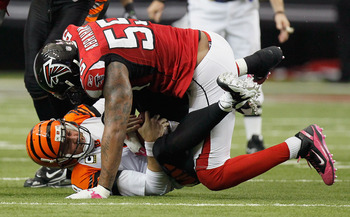 Kevin C. Cox/Getty Images
Let's start in the trenches, where it all begins.
Standout player: John Abraham
Biggest Strength: Getting penetration and taking up blockers
Area to Improve: Get more sacks
Honorable Mention: Jonathan Babineaux
The line has been led by Abraham, who, with six sacks already, is on pace for yet another double-digit season in that department after struggling a year ago.
It hasn't been that long since the Falcons defense was porous against the run, but they have made huge strides over the past few years in that regard. They currently rank eighth in the NFL, allowing 95.9 rushing yards-per-game.
Getting Babineaux back after a Week 1 suspension has been critical for the unit, as he has helped them create consistent penetration and take up blockers; allowing the linebackers to bring down ball carriers. Atlanta has 20 tackles for a loss this year, with the majority of them coming from members of the defensive line.
Using a heavy rotation of players, the Falcons D-line has been able to put pressure on opposing quarterbacks, but could stand to bring them down more often. Atlanta has a total of 15 sacks on the year, but, aside from Abraham, only one member of the line has multiple sacks.
If they can continue to stay strong against the run and are able to get to the quarterback just a little quicker, the defense will be that much better.
Overall Defensive Line Grade: A
Linebackers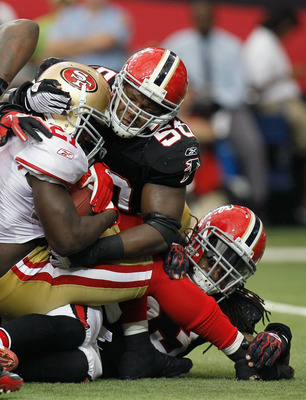 Kevin C. Cox/Getty Images
Next up are the linebackers. Let's see how they've fared.
Standout Player: Curtis Lofton
Biggest Strength: Stopping the run, swarming to ball carriers
Area to Improve: Consistency
Honorable Mention: Stephen Nicholas
It's hard to find too much wrong with the way the 'backers have played, but there have been times when they've allowed some big plays on the ground; Pittsburgh's overtime run being the most significant.
For the defense to take the next step, that type of play must be eliminated, and that responsibility falls largely on the linebackers.
On the positive side, Lofton leads all Falcons in tackles with 58 and also has two sacks, one interception and has forced two fumbles. He is the leader of the defense and is playing like it.
As mentioned earlier, Atlanta is much improved against the run. It's a team game and the linebackers have done a solid job of getting to whoever has the rock after the line has kept them free of blockers.
It's very common to see all three linebackers around the ball at the end of plays; a testament to their intensity and talent.
Rookie Sean Weatherspoon was the starter at the beginning of the season before going down with an injury. Stephen Nicholas has resumed the position he held before Weatherspoon arrived, racking up 36 tackles, including 13 in Week 4 against San Francisco.
The defense entered the season with the goal of becoming a top five unit, with the linebacking core knowing they had to step up.
Through seven games they have done that.
Overall Linebackers Grade: A-
Secondary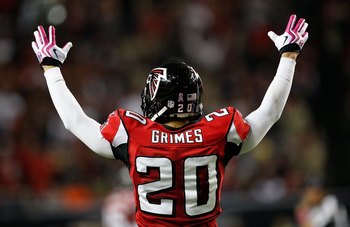 Kevin C. Cox/Getty Images
Once you get past the first two levels of the defense, you're into the secondary. That's where we are now.
Standout Player: Brent Grimes
Biggest Strength: Forcing turnovers
Area to Improve: Cut down on explosive plays
Honorable Mention: William Moore
The biggest weakness for the Falcons in the 2009-10 season as a whole, not just for the defense, was its play against the pass. They routinely allowed big passing plays and put an emphasis on that category in the offseason with the signing of Dunta Robinson.
Things have not gotten much better, though. The defense is still at the bottom of the league in passing yards allowed per game and have allowed a number of big plays.
They are, however, tied for the league lead in interceptions with 11, with seven of them coming from members of the secondary.
It's largely a young unit, and with the team in a bye week where they can work on improving their game, it will be about what this unit does going forward, not what they've done so far.
The most improved player in the secondary, if not on the defense as a whole, is Brent Grimes.
It was tough a year ago, seeing Grimes routinely in position in pass coverage, but not making plays on the ball. This year, he's making those plays, and has also shown that he's not afraid to get dirty. His 37 tackles are second on the team.
He also has an interception and six passes defensed.
KC Joyner of ESPN.com wrote an article (found here) in which he names Grimes as a sleeper for NFC Defensive Player of the Year. The third year pro is allowing just 4.6 yards-per-attempt on passes thrown in his direction, according to Joyner.
The benchmark for great cornerback play is generally 7.0 yards-per-attempt.
Moore, who battled injuries last year, was inserted into the starting lineup when Erik Coleman went down with an injury and has been solid with three interceptions, although he missed an open-field tackle against Cincinnati that led to a long touchdown.
If the secondary can put an end to these big passing plays, the defense could move up into an elite level.
Overall Secondary Grade: B
Overall Defensive Grade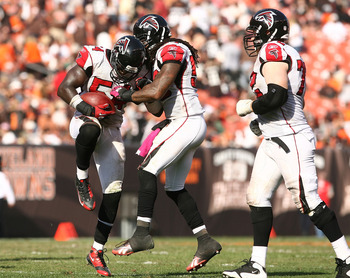 Matt Sullivan/Getty Images
Despite giving up a good amount of yards and allowing some big plays, the defense is still in the top-10 in terms of points allowed at 19 a game. They are also third in the NFL, behind Baltimore and the New York Giants, in total tackles with 543.
Again, the team is in a bye week, which will allow them to look at where they went wrong and how they can get better. The time off will also give guys like Robinson, Thomas DeCoud and Weatherspoon a chance to get healthy.
Fans can't be too upset with the defense, as the team would not be sitting at 5-2 without its play. They have been good at bailing out the offense when it struggled; the game against Philadelphia being the exception.
The defense has shown a lot of promise and gives every Falcon fan something to look forward to, as it seems the offense may be starting to click.
Atlanta has a legitimate shot at a one-seed in the playoffs and, as we all know, they have generally won their home games under Mike Smith.
If the defense can continue to play to its strenghts while improving some of its weaknesses, this could truly be a season to remember.
Overall Defensive Grade: B+
Keep Reading

Atlanta Falcons: Like this team?