Halloween Special: Top 20 Funniest Professional Athletes of Today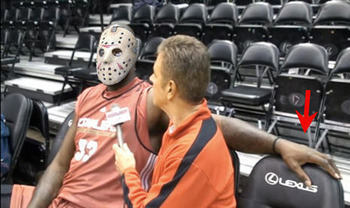 Halloween 2010 is almost here.
This time of year, there have been plenty of articles focusing on the scariest athletes around.
This list is about the funniest.
If you showed up to one of these athletes' doors Halloween night for "trick or treat," they may just trick you for the laughs.
Here are the 20 funniest professional athletes of today...
20. Steve Nash
He has no tolerance for messing around when it comes to basketball, just ask Shaq, but when it comes to being off the court...
19. Gilbert Arenas
Who else would try to get a laugh out of pulling a gun in the locker room?
18. Greg Oden
He could have possibly been the next Shaq in terms of making people laugh, but it's hard to be funny when you get no face time because you can't stay on the court.
16. Troy Polomalu
His Head and Shoulder commercials are priceless, but I can't be the only one who thinks it's hilarious to see him try to jump over the offensive line.
15. Chris Bosh
All those years in Toronto hiding his comedic talents...
13. Peyton Manning
He's all business when it comes to football, but who can keep a straight face during his commercials?
12. Dwight Howard
Dwight's been criticized for playing too loose, it's hard not to with that personality.
11. Brett Favre
One of the most notorious pranksters in the NFL.
10. Jared Allen
Ever listen to one of his mic'd-up clips? He makes small talk to the refs all game.
9. Donovan McNabb
His loose personality is one of the reasons Philly gave him the boot.
8. LeBron James
Sure he's probably the most hated athlete right now, but his pre-game antics are the definition of original.
7. Terrell Owens
T.O. is the cockiest dude ever, yet hilarious.
6. Rampage Jackson
Professional actor, professional trash talker.
Video Warning: Questionable Content
5. Clinton Portis
If the NFL had a best dressed award...
4. Shaquille O'Neal
Off the court, this guy's only goal in life is to get a laugh.
3. Chad Ochocinco
The king of the end zone celebration. The dude actually changed his last name to get a laugh.
2. Manny Ramirez
Who else gets an excuse for being crazy? Manny being Manny.
1. Ron Artest
The greatest interviewee of all-time.
Honorable Mention: Funniest Duo
Nate Robinson and Glen Davis
Shrek and Donkey: Best fitting nicknames ever.
Honorable Mention: Funniest Sound Bite
Kellen Winslow
I'm a ****** soldier!!
Video Warning: Questionable Content
Honorable Mention: Funniest Fake Athlete
Kenny Powers
The cleanest video you'll find.
Honorable Mention: Funniest "Wow"
LaDainian Tomlinson
What was he thinking?
Honorable Mention: Funniest Athlete Of All-Time
Charles Barkley
No explanation needed.
Video Warning: Questionable Content
Keep Reading