2010 World Series: Texas Rangers Go from Shock and Awe To Shockingly Awful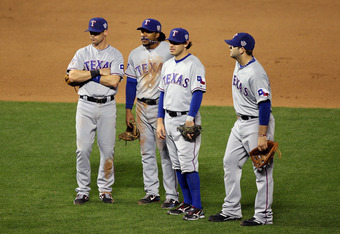 Jed Jacobsohn/Getty Images
When the Texas Rangers returned home from New York, having taken two out of three games at Yankee Stadium, the airport was packed with Ranger fans ready to cheer on their team, ready to see them wrap up the ALCS at the Ballpark at Arlington.
Last night, that same team returned home with absolutely no fanfare at all, and no lead. They were dejected, beaten and shell-shocked. This morning, the media members that were there were saying a few players that were coming off the plane had their heads down, quiet and without a single expression.
Living in the Dallas/Ft. Worth area, I got used to the media fanfare that came with the Rangers winning the ALCS. The excitement was evident and there was a feeling of excitement around the metroplex.
Instead of seeing Cowboy jerseys around town, they've been replaced by Ranger T-shirts, jerseys, hats, car flags and everything else you can imagine. Ranger nation has stood up strong and rooted for its team.
But, after the last two nights of watching their team get beaten like a drum, the excitement has died down, the excitement is almost gone, and a feeling of being dejected, shocked, and surprised has taken over this town.
This wasn't supposed to happen like this. The Rangers were supposed to be the favorites in this series. They had Cliff Lee and C.J. Wilson going in the first two games, yet their team returned home down two games to none.
Last night, my wife and I decided to go to a local restaurant to watch the game with a lot of other Ranger fans that were sure to show up, and show up they did.
They were in their red or blue claw and antler T-shirts, jerseys and hats, ready to cheer on their team.
The first four innings were uneventful, both C.J. Wilson and Matt Cain had thrown up zeros on the board. Then came the fifth inning, arguably the moment that could have been the turning point for the Texas Rangers.
Rangers second baseman Ian Kinsler led off the fifth inning and took a high fastball deep to center field. Most of us in the restaurant were already on our feet thinking that ball was on its way over the center-field wall.
The ball hit the padding on the very top of the wall and instead of bouncing over the wall, it came back in play, and Kinsler was held to a double.
He would be left on second as neither David Murphy, Matt Treanor or C.J. Wilson, after a walk to Mitch Moreland, could move or score Kinsler.
That moment, the ball hitting the padding and coming back in, changed the entire complexity of the game. Instead of the Rangers going up 1-0 and taking the momentum and bringing it to their side, the game stayed scoreless.
It was a moment the Rangers needed, it was a run they desperately wanted and it was a run they wish they would have gotten.
In the home half of the fifth, Wilson delivered a good high fastball to shortstop Edgar Renteria, a fastball that he jumped all over and hammered over the left field wall to give the Giants a 1-0 lead.
The Giants fans were in a frenzy and the momentum that could have gone the Rangers' way was gone.
As if things couldn't get worse, the Rangers imploded in the eighth inning, giving up seven runs, three of which were given up without a single hit.
Derek Holland was brought into the game and he couldn't throw a strike to save his life. In 13 pitches, Holland threw just one for a strike. While he was struggling on the mound, Rangers manager Ron Washington could only watch and apparently was so caught up in what was happening, he forgot to get anyone else warm in the bullpen.
By the time he did, it was too late. Holland had walked in two runs and the game had gotten away from them.
The most amazing part of all this was the Giants scored seven runs and all of those came with two outs in the inning. The Rangers needed one out, and it took three relievers, seven runs and three walked-in runs to get there.
Now, this team has put themselves in a hole they didn't expect to be in. They've dug themselves this hole with their own shovels and it's time to see what they're made of over the next three games.
Their attitudes need to get better, they need to start having confidence in themselves, and they need to find ways to win. Not only that, but they need to sweep the next three games.
Yes, you heard me right. The Texas Rangers need to sweep their next three games at their home ballpark. They don't want to see the Giants celebrate on their home field and they don't want to go back to San Francisco down three games to two.
They haven't won in San Francisco. In fact, they've been embarrassed in both games.
If the Rangers want fans to believe that they are the same team that knocked off the defending champion New York Yankees and if they want fans to show up next season, they need to prove that they are not the team that got it handed to them over the first two games.
Walk back into the ballpark, look around, imagine these fans filing in and imagine the expectations they had for this ball club coming into this series. Then imagine the disappointment they're feeling this morning.
They've watched their team struggle and they've been sickened watching the Giants fans celebrate, having a party at the Rangers' expense.
If they can't fix the problems that have plagued them over the first two games, this series will be over by the time the weekend is out.
If they can fix it, and actually start putting up a fight, then this series will become even more interesting than it already is.
The Rangers shocked everybody by putting a beating on the Yankees, but they've been shockingly awful through the first two games of arguably the most important series in franchise history.
So, it's up to this team to decide whether they want to make history or be known as part of one of the most lopsided World Series in baseball history.
This article is
What is the duplicate article?
Why is this article offensive?
Where is this article plagiarized from?
Why is this article poorly edited?

Texas Rangers: Like this team?