2011 Fantasy Baseball: 6 Strategies To Improve Your Team (Humor)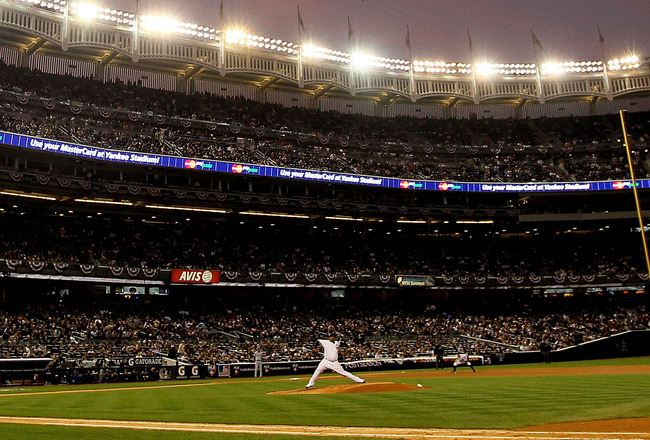 C. C. Sabathia isn't pitching any more, he's working on his fantasy team
Jim McIsaac/Getty Images
As the fantasy baseball season has mercifully drawn to a close, I thought it would be the perfect time to dispense some wisdom and advice for those who are hopelessly hooked on this game.
Call it the Goldilocks Guide, if you will.
Too early for next year, too late for this year.
Just right for those who are wallowing in self pity because they made the playoffs riding Josh Hamilton to that last playoff berth.
Only to watch him break a couple ribs on the eve of the finals.
Important Tip No. 1: Don't Try to Outsmart the League Rankings.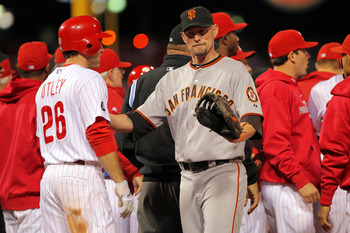 Chase Utley and Aubrey Huff discussing next seasons draft.
Doug Pensinger/Getty Images
The experts on Yahoo!, ESPN, CBS Sports, and everywhere else are being paid to rank players and they get to spend all day, every day, doing it. You are spending way too much time on it, ignoring things you should be doing.
And you're think you're better than these guys?
Get over yourself.
You're not trying to build a team for 2013, so all those gems in AA ball you've been studying for weeks won't do you a bit of good. Likewise, you're not trying to build a team for 2008, so forget about all your favorites that have treated you well in the past, especially if they are over 35 and have been spending more time on the disabled list than in the lineup.
Let the experts do the work for you. It'll free up some time AND you can always blame them if it doesn't work.
It's a win-win!
Important Tip No. 2: Don't Comment on the League Message Board.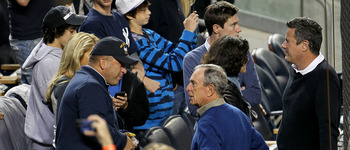 This is just like a message board. Not one person here is paying any attention to anyone else.
Chris McGrath/Getty Images
Nobody cares.
Nobody wants to know you're willing to trade your third catcher for a starting pitcher.
Nobody wants to know that you have a third catcher.
And if you misspell a word or use bad grammar, you'll be called out on it by somebody. Which brings us to Important Tip # 2A – If you insist on posting on the message board, make sure you DO use bad grammar and misspell a few words. This will accomplish two things. 1 - People are more likely to read what you write; and 2 – they will get a smug feeling of superiority about you which will put you in a position to outsmart them later on.
Important Tip No. 3: Never Make a Trade With Another Manager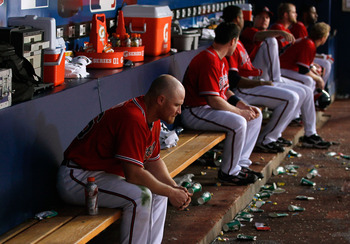 This is how you feel after you make a trade. Then it gets worse.
Kevin C. Cox/Getty Images
The player you trade will ALWAYS do better for his new team. The player you get in return will ALWAYS do worse.
Always.
Amazingly, this works both ways, just like when you walked to school barefoot in the snow when you were a kid. Technically, it shouldn't be uphill both ways, but it was.
Important Tip No. 4: Never Carry More Hitters Than Are in Your Starting Lineup
B.J. Upton wasn't in your lineup when he hit that double, was he?
Mike Ehrmann/Getty Images
Nothing is more sickening that when your carefully chosen lineup goes 2 for 25 with a couple of singles and a caught stealing.
Unless your bench players go 5 for 8 with 2 home runs and 9 RBI's.
Save yourself the agony by just carrying enough hitters to fill your starting lineup.
Important Tip No. 5: Do Not, I Repeat, DO NOT Check How You Did the Day Before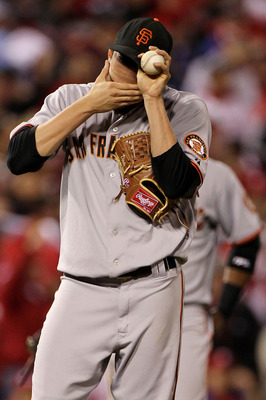 You don't want to have this look
Doug Pensinger/Getty Images
In the words of Mark McGwire, "I'm not here to talk about the past."
Nothing good can come of this. Particularly if you ignore Important Tip # 4. You've seen the standings or where you are in a head to head match-up.
It's time to move forward.
Do you think you'll feel better if you discover you forgot to start Tim Lincecum when he threw a 3 hit shutout with 14 K's? Of course not.
It's like those horror movies when somebody opens a door or something just for a peek. Don't peek. There's nothing there but bad news.
Important Tip No. 6: The Most Important Tip of All
Of course, taking advice from Moose isn't always the best idea!
Doug Pensinger/Getty Images
If your player is going to do well, make sure he's in the lineup.
If he's going to have a bad day, leave him out.
The Exciting Conclusion!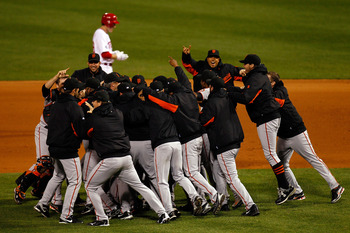 This is what you'll be doing when you win your league!
Jeff Zelevansky/Getty Images
So there you have it. I hope it helps.
It's made my life much easier and less stressful and it can do the same for you.
Well, that's not entirely true. I can't seem to follow my own advice.
And it gets me every time.
Keep Reading