Brock Lesnar: Why UFC Star Is Overrated and Loss Wasn't a Shock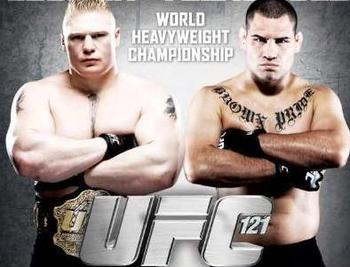 Brock Lesnar was knocked out by Cain Velasquez in the first round at UFC 121 on Saturday night, ending his reign as the undisputed UFC Heavyweight champion just a few months after it began.
For Velasquez, the win was obviously huge. He is still undefeated, he looks like the best in the business and now, he's the first champion of Mexican heritage in the history of the company.
For Lesnar, though, the loss was devastating. He had been riding high after his victory over Shane Carwin in July, but he was brought back down to earth on Saturday.
He was dominated, dismantled and destroyed by Velasquez inside the octagon.
But was the loss really that surprising, or is Lesnar simply not as good as people thought?
Here are the top 10 reasons why Lesnar is overrated and the loss to Velasquez shouldn't have come as a shock to UFC fans.
10. The Ground Game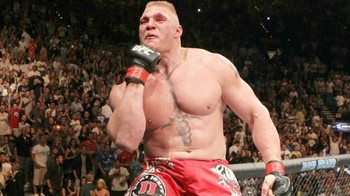 Prior to the collision at UFC 121, Brock Lesnar was believed to have the advantage over Cain Velasquez in a few technical areas, and the ground game was one of them.
But what most people failed to realize was that Velasquez, although a better stand-up striker, had spent a good portion of his fights—22:47 out of 35:06—on the ground prior to the Lesnar fight.
It was thought that taking the fight to the ground would be better for the bigger Lesnar as the fight progressed, but Velasquez showed that his experience in the ground game was overlooked.
And Lesnar paid for it.
9. Takedowns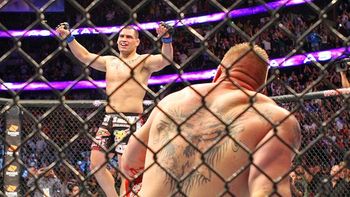 Entering the fight, Lesnar was known for his ability to execute perfect takedowns that set up the rest of his gameplan.
And less than 30 seconds into his fight with Velasquez, he got one. But Velasquez responded immediately, and the takedown had almost no effect.
Velasquez was then able to answer with a takedown of his own, and even though Lesnar wiggled out, the damage was done. Velasquez hit a couple of perfects blows that led to the victory.
What was supposed to be a major advantage for Lesnar wound up being his Achilles heel in the fight. He was outmaneuvered by Velasquez in the takedown game, and it ultimately cost him.
8. Punch Percentage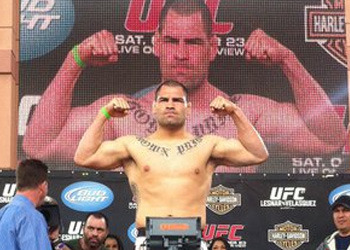 Unless you win by submission every fight, you're not going to win in mixed martial arts if you can't land punches.
And in his five career UFC fights prior to Saturday's bout, Lesnar landed just 30 percent of his punches in the standup game.
On the other hand, Velasquez had landed a majority of his punches. 53 percent to be exact.
Lesnar came into the fight packing the bigger punch, but Velasquez showed that a precise puncher can outlast a powerful one.
7. Velasquez = TKO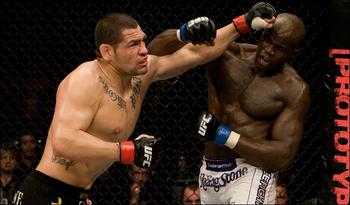 All you have to do is take a look at each fighter's history, and you'll realize that the knockout finish was far from surprising.
In fact, it almost should have been expected because Velasquez has proven to be a knockout machine throughout his young career.
Following the TKO win over Lesnar, he's now won eight of his nine career fights by technical knockout, while Lesnar has just two career TKOs.
6. Experience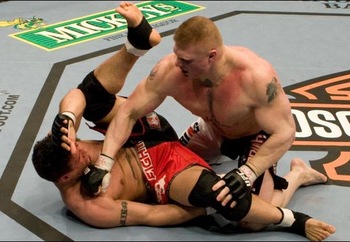 As with anything in life, there's things in mixed martial arts that you can only learn with experience.
You can simulate takedowns, strikes or submissions in training sessions thousands of times, but it doesn't mean much until you've done it over and over again in an actual fight.
Lesnar rose through the ranks about as quickly as anyone, but he's still green in several areas of mixed martial arts.
He's loaded with talent, physical ability and potential, but some more experience in the octagon would go a long way for Lesnar.
5. All-Around Game
Overall ability goes hand in hand with experience.
This isn't a knock on Lesnar. The guy's obviously incredibly gifted, but in his fight with Velasquez, it was clear that Lesnar needs to improve in several areas.
Velasquez was undoubtedly the most well-rounded fighter on Saturday, utilizing every aspect of his game to beat Lesnar, who relied on his physical tools rather than technique.
It's almost as if Lesnar's immense physical stature holds him back at times. He's so accustomed to relying on his size and strength that he forgets the little things that make the difference between winning and losing.
4. Taking Punches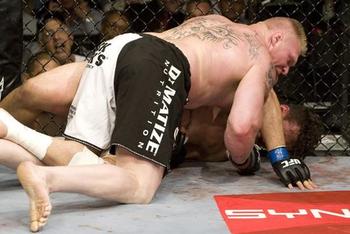 Mike Tyson once said, "Everyone has a plan 'til they get punched in the mouth."
Lesnar truly personifies that saying. Everything seems to be going good until he gets popped a few times and completely abandons his gameplan.
"It looks good when he's doing the punching. When he starts getting hit is when his hands start to fall apart," said UFC president Dana White.
And that isn't going to cut it in the UFC.
3. Quick Fights for Cain Velasquez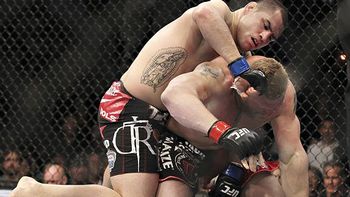 On Saturday, Brock Lesnar faced a fighter who doesn't like to go the distance.
In eight career MMA fights prior to UFC 121, Cain Velasquez had rarely seen the outside of Round One.
Five of his prior fights were stopped in the first round, and all five of them ended with a technical knockout by Velasquez.
And Velasquez's ability to leave his opponent laying lifeless on the floor probably shouldn't have been overlooked.
Following the TKO victory over Lesnar, Velasquez has now won 66 percent of his fights by way of first round knockouts.
2. Standing Strikes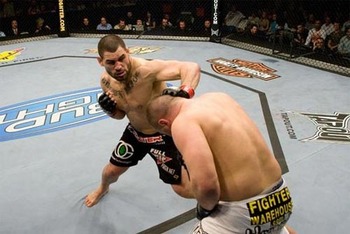 In Lesnar's five UFC fights prior to UFC 121, he connected on just 44 percent of his standup strikes, but that number is inflated by the fact that Lesnar connects on 66 percent of his kicks.
He lands only about 30 percent of his standup punches, which is mediocre at best and well below average at worst.
Velasquez, on the other hand, entered the fight landing roughly 62 percent of his standup strikes, including an astounding 83 percent of his kicks.
Lesnar really wasn't even in the same category as Velasquez in the standing strikes department.
1. Two First Round Losses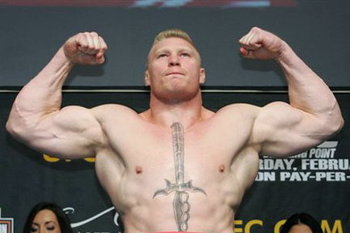 By MMA standards, 5-2 is a solid record inside the octagon.
But in his short UFC career, it's been win or lose early for Brock Lesnar.
Both of his losses came inside the first round, and outside of his fight against Heath Herring, he hasn't proven that he can go the distance if necessary.
For Lesnar, will there always only be two options: win or lose quickly?
Keep Reading