Green Bay Packers 28, Minnesota Vikings 24: How Sweet It Is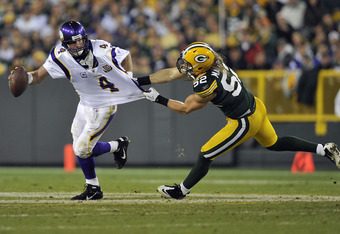 Jim Prisching/Getty Images
The Green Bay Packers defeated the Minnesota Vikings 28-24 last night to snap a two game losing streak and put themselves back on the road to Dallas for Super Bowl XLV.
And what a sweet, sweet victory it was.
Not only was it a big win over a division rival, but the Packers and quarterback Aaron Rodgers finally beat their former hero and current villain Vikings quarterback Brett Favre and finally were able to pull out a close a game.
Actually, "beating" may be too weak a term for what the Packers did to Favre. "Total embarrassment" and "payback is a (expletive)" may be much more appropriate.
In two games last year, the Packers were unable to sack or intercept Favre. Last night, Favre threw three interceptions, one of which was taken in for a touchdown by linebacker Desmond Bishop. Heck, even Favre himself admitted after the game that the loss was "devastating."
No. 4 is now uncertain as to whether or not he will be playing next week against the Patriots. Should Favre's iron man streak end this week after facing the team he played for for 16 years, that will be the cherry on top for the Packers.
For the Packers, this was a win that could end up catapulting them all the way to the Super Bowl. After an inconsistent start to the season which has been plagued by multiple season ending injuries and endless penalties, the Packers played much more disciplined football and showed they are still a force to be reckoned with in a weak NFC.
Throw in the fact that Vikings head coach Brad Childress publicly threw his quarterback under the bus, and this could quite possibly be the sweetest non-playoff victory for the Packers under the leadership of head coach Mike McCarthy. The Vikings got what they asked for in taking on the mercurial Favre, and the Packers coach secretly must laughing his head off.
Speaking of McCarthy, all week, his playcalling was much maligned by everyone (yours truly included). The Packers, in response, came out moving the ball against the Vikings up and down the field seemingly at will, and McCarthy seemed in a zone, successfully challenging one play that nullified a Vikings touchdown.
If McCarthy had one negative this game, it would have to be the fake field goal attempt. Still, even though the pass was incomplete, the attempt was a brilliant strategic call. A few more inches, and that play would have buried the Vikings early and undoubtedly would have widened the margin of victory.
This was also a big game for Rodgers. He finally gets the Favre monkey off his back, and he significantly improved in getting the ball out of his hands much quicker, as he was not sacked once in this game after being sacked a ridiculous 14 times in two games against Minnesota last year.
Even with all the wounded players on defense, the Packers held the Vikings offense in check relatively well. Percy Harvin was still a pain, and Adrian Peterson went over the 100 yard mark and some big plays were still given up. That said, the Packers were able to stop the Vikings when it counted, most notably on that final drive where what would have been the go-ahead touchdown to Harvin was nullified after he failed to get both his feet down in bounds.
Moving forward
Still, despite the victory, the Packers have many areas in which they can improve, and improve significantly.
Rodgers first off needs to get on the same page as his receivers. Last night, they were definitely off, and as NBC's Cris Collinsworth noted, it wasn't even close. When throws to the back shoulder of a receiver are off by what looked like 10 feet, there is an obvious communication error. The good news is that it should be easy to fix. Rodgers and his receivers have been together too long for this issue to linger.
Rodgers' decision making also has to improve. While no one should have expected him to duplicate his seven interception total from last year, Rodgers has shown some questionable decisions so far this season. His interception to Jared Allen in particular, Rodgers needs to make sure he is taking into account all members of the defense before releasing the ball, not just the secondary.
On defense, the injuries are obviously beginning to show. The Packers are able to stop short-to-intermediate plays but have been giving up a lot of big plays, and the game against the Vikings was no exception. The good news is that Al Harris and Atari Bigby will be returning sooner than later, and the young players in now will only improve with more playing time.
So, for now, it seems like the Packers have weathered the storm. While they still have some big challenges ahead and none bigger than this week's game against the Jets, they have righted the ship and are now tied with the struggling Chicago Bears at 4-3 atop the NFC North.
With an overall very weak NFC, the Packers remain in the hunt. Will this emotional victory springboard them to bigger and better things much like the victory over Dallas did last year?
Time will tell. But with the Packers exorcising another of their demons from last year, the sky may still be the limit for this team.
"Super Bowl or Die" was the team's motto coming into the season. Well, they're not dead yet.
In fact, they are very much alive.
Follow Kris Burke on Twitter @KBurkeNFL
This article is
What is the duplicate article?
Why is this article offensive?
Where is this article plagiarized from?
Why is this article poorly edited?

Green Bay Packers: Like this team?