Celebrating Wrestling: Forgotten Bad Wrestling Angles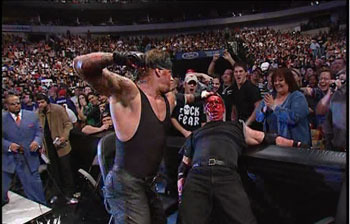 A wrestling angle is basically the storyline in wrestling. Its a very important ingredient in any wrestling show. It heightens a feud, builds a star and gives us classic matches.
Wrestling fans has seen a lot of memorable angles. WWE gave us Degeneration X, The Rock and Stone Cold Steve Austin which is to sum up the Attitude era. WCW came in with "The Outsider" angle and Hulk Hogan turning heel which is, of course, nWo that led the Monday night ratings war for weeks.
But sadly, not all angles work out.
Most of the time, the creative writers miscalculate fan reaction. They usually think it'll work but it gives us the opposite reaction. One good example of this was "The Gobbledy Gooker" angle of WWE or the "Goldberg Heel" angle of WCW.
Most of them are bad gimmicks by wrestlers. During the 90s, fans were rammed by thousands of gimmicks by WWE and WCW. One famous example is "The Goon" of WWE. He was a wrestler dressed up as a hockey player. The most famous of all is "The Shockmaster" which is the best worst gimmick ever.
Most of them are downright bad. Creative thought the angle was edgy but it was just plain offensive or disgusting to the fans. Dare I mention Katie Vick?
Lastly, most of them are stupid. WCW seems to be notorious with angles like this especially at the promotion's last run during the 2000. One good example is the "Viagra on a pole" match.
Here I am now featuring some of the bad attempts of creative to give us great storylines.
I feel that the following angles deserves to be mentioned again. Let's all remember them now and pay respect to how bad of an angle they were to wrestling.
1990: Battle Kat

Battle Kat!!!!!

We start the list with Dean Peters.
In 1989, Dean Peters was a jobber who wrestled as Brady Boone. Then in 1990, he was given the gimmick as Battle Kat. It was a character which saw him don a cat mask and utilize his gymnastics background to further emphasize him as a "cat." Battle Kat was suppose to be an agile wrestler.
Look at the video and tell me if he is agile. He was awkward and watching him feels awkward.
Battle Kat is not the worst gimmick ever formulated by WWF. Battle Kat's awesomeness was shadowed by the greatness of The Mountie, Papa Shango and Aldo Montoya. Oh yeah, those were the days.
RIP Dean Peters.
Battle Kat, good riddance.
1991: The Flair Protest
There are a lot of PPVs in wrestling history that was a major disappointment. The usual problem is lack of promotion like the 2006 bombshell of a pay per view that was December to Dismember where only two matches were highlighted.
Other times, it was because of over hyping. At least that is what I think happened to 2000's nWo Souled Out.
There are PPVs that was bad simply because of bad booking. In 1991, fans tuned in to The Great American Bash 91 for its main event. It was Ric Flair facing Lex Luger. It was then a fact that Lex Luger will win. That was the bad angle that people forgot thanks to its PPV bomb.
The story was that Flair will job to Luger then assume a manager role or something lower and his pay will reduce along with his status. Flair didn't want that. Oh no, The Nature Boy will not let him go down that road in his lifetime. Flair refused, so management fired him.
The events that happened was one for the history books. Flair went to WWF and took the belt with him. He took the only championship belt of WCW at that time because they have no other copy.
Fans was then wondering who will replace Flair at the main event. As you can see in the video, Lex Luger faced Barry Windham. He was a tag team wrestler at that time teaming up with Arn Anderson. Whatever speculation fans had about Lex winning the belt was quelled when he fought a tag team wrestler for the main event. It was like John Cena wrestling Tyson Kidd.
People eventually forgot about the incident after what WCW will deliver for the next years to come.
The lesson learned here is to not mess with Flair, your promotion's Champion.
1992: Max Moon
Max Moon was WWF's response to WCW's Glacier. Glacier is famous for being the angle about video game characters like those in Mortal Kombat fighting in the ring.
WCW bled money for it but it went nowhere thanks to nWo making a big impact. They created a custom made costume for Glacier to wear. His ring entranced drowned in blue lights and synthetic snow. During his match, the blue lights would be shining on the ring.
Max Moon is a gimmick from the future. Truly, it was a PG at its finest.
Konnan, the wrestler who wore the gimmick, actually created the character. He designed a cyborg who had a pyrotechnic gun. Fans were supposed to like the gimmick. Unfortunately, they didn't.
Konnan then left the company because he was being discriminated by WWF. The Max Moon gimmick was then given to another wrestler simply because the costume fit him.
Check out the video before I tell you that the gimmick cost $1,300.
1993: Cactus Jack Lost In Cleveland
There are a lot of bad promos in wrestling. One example was the DX segment where Hornswoggle, The Boogeyman and The Great Khali tries to join DX. It was plain stupid.
The most famous bad segment ever is no doubt the Mark Henry Sexual Chocolate gimmick where Mark impregnated Mae Young. Mae Young gave birth to a hand. It was a stupid promo.
In fact, WWE has a lot of them if you're patient enough to dig through YouTube.
WCW has one. It was funny and it was tasteless.
In 1993, Mick Foley had a match with Vader where Vader powerbombed Mick on the concrete floor. It gave Mick a legitimate concussion where he lost sensation in one of his feet.
WCW then decided to run a segment where Cactus Jack, as a result of the injury, lost his memory. The segment ran for weeks where a reporter was looking for Cactus Jack after he escaped from a mental institution.
The segments were funny if you have an open mind about things but fans would agree that it was unnecessary.
Mick Foley actually admitted that he wanted the segments to be serious highlighting his success from surviving the concussion. Oh no, it was better to bring in Mick's wife and son into the mix.
Thankfully, this little angle was forgotten because of Mick Foley's wonderful career.
Mick lost in Cleveland. A forgotten classic.
1994 Jim Duggan Vs Steve Austin
Hulk Hogan is infamous for being highly political. He craves the spotlight and always wanted to keep his status as the greatest wrestler of whatever promotion he is in.
Everybody remember the awful angle in Wrestlemania IX where Hulk Hogan damaged the career of both Bret Hart and Yokozuna. Hulk Hogan threatened WWF that he will not appear at Wrestlemania IX if he was not given the title. Childish, right?
The worst part is that he never defended the title once. So Vince had enough of this has-been wrestler not giving up his spotlight. He fired his ass.
WCW then took Hulk Hogan in. The morale of the locker room was not well as Hogan began playing the same political bull manure he pulled in WWF.
Hogan feuded with Flair for the championship. Flair, who was then face, was forced to turn heel. It was horrible. The funny thing is that he is in TNA now. He has reformed his way, right?
Lets focus on the Jim Duggan vs. Steve Austin match. People do not remember why Steve Austin defected to the WWE. It was all thanks to Hogan. Hulk Hogan took direction of the company in 1994 and he wanted things done his way.
Jim Duggan squashed Steve Austin in this match. It was a bad angle. It was what Hogan wanted. The funny thing is that Steve Austin rose through the ranks later on and outdid Hulk Hogan. Karma karma karma, my friend.
No one remembered this hog wash because of the better hog wash Hulk gave the fans. LIke The Giant, The Renegade and his World War 3 94 promo where he ranted on, who else, the IWC.
1995: King Of The Road
WWE decided to create themed PPVs where they placed popular matches in a fixed PPV. One of their least popular PPV is the Extreme Rules PPV that replaced One Night Stand. It was the Pay Per View where all matches are extreme.
WCW did the same when they created the Uncensored PPV. There was a lot of special matches held in this PPV. One of the famous matches here is the Tower of Doom Steel Cage match which is a disappointment. For some reason, WCW washed their hands off of this PPV and for good reason.
One of the most bizarre matches ever created in Uncensored is The King of the Road match.
The idea of this match from 1995 was that Barry Darsow and Dustin Rhodes would fight in the back of an 18-wheeler while the truck itself was driving down the road. The winner is the first person to honk the horn first, wins. Sounds fun, right?
The match is suppose to be filmed live, but the reality was it was pretaped. In the original take both competitors bladed themselves, which is cutting their foreheads so they could bleed to make the match more gruesome, which was a no-no by WCW standards at the time, so they needed to film it again at night. The two competitors were fired after this match because of their bloody performance.
Check out the fine editing done in the match. Truly brilliant.
1996: Pillman Has a Gun
Steve Austin and Brian Pillman once teamed up in WCW as The Hollywood Blondes. It was a bad gimmick where they taped together two singles wrestler whose career were dying in mid card.
The plan was to let their careers die together. Unfortunately, they clicked as a tag team and at their height WCW broke them up and they feud soon afterwards.
In 1996, both competitors found themselves employed in the WWF. Austin was in a hot feud with Bret Hart. Steve Austin then attacked Pillman to intensify the feud with Hart. So we had a segment which was simply dubbed "the incident."
Check the video out. Steve Austin broke into Pillman's house. He then saw PIllman with a gun and what happens next was just something WWF never want to talk about ever again. So it was forgotten.
The incident was so bad that WWF immediately issued an apology for the event. If Katie Vick didn't happen then I believe that this would be talked about. Though I believe nothing beats Katie Vick.
RIP Brian Pillman.
1997: Rockabilly
In 1997, Billy Gunn decided to be a singles wrestler and broke up the Smoking Gunns. He feuded with his tag partner like any old formula in wrestling. Billy Gunn entered the feud dropping the cowboy gimmick and becoming The Honky Tonk Man's protégé known as Rockabilly.
Billy Gunn had a lot of gimmicks before sticking with the badass gimmick. We have Billy Gunn as The One which was basically the same gimmick but no more badass in it.
The most memorable of all was Billy Gunn as one half of the tag team "Billy and Chuck". The gay tag team that held a gay wedding on Smackdown. You can't get more real than that.
The worst of his gimmick is Rockabilly. Check the video out and see Billy Gunn at his worst.
Billy Gunn's singles career never pan out. He was always stuck in tag team most of his career. So lets give it up for Rockabilly. The worst gimmick of Billy Gunn.
That is saying a lot since we all know what he did in TNA. How exactly did the creative think of this? More importantly, why would they think this gimmick would work?
I guess we should be thankful for this gimmick though since he met Road Dogg in a feud as Rockabilly where Dogg was Jesse James. They soon tagged up and became The New Age Outlaws.
Rockabilly, a bad bad gimmick.
1998: The Brawl For All
In 1998, WWF had a big roster. It was so big that not all of its wrestlers were used in TV. A lot of talented "tough guys" were not being used. So they decided to solve that problem by introducing the WWF Brawl For All.
The Brawl For All is a boxing tournament consisting of a one minute round match where the winner is decided by points. Landing a lot of punches gets you a lot of points.
The special thing about this match is that its not scripted. So we get a legitimate brawl between two legitimately tough superstar.
What's so bad about the angle?
Well since it is unscripted, a lot of superstars were legitimately injured throughout the course of the tournament.
It is also a way for WWF to push the legitimately tough Steve Williams "Dr. Death" who came to the WWF after his run in WCW. Things went horribly wrong for the WWF when Bart Gunn KO'd Dr. Death in the third round.
It was unscripted so they couldn't do a marvelous finish. The whole plan blew up in their face. Bart Gunn went on and surprised everyone by winning the tournament.
WWF would do a classless act by having Gunn fight Butterbean at Wrestlemania and Gunn was beaten in 30 seconds.
WWF never used Bart Gun's win in this tournament to further his career though he has found great success in Japan.
The Brawl For All. It was legitimately bad.
1999: Rey Unmasked
1999 was a goldmine for WCW. WCW had a lot of angles that was way out there. Some of their memorable bombs involved a lot of pole matches.
This is also the time fans were introduced to "Oklahoma". Remember Ed Ferrara mocking Jim Ross and his condition. This was the lowest of all the low blows given during the Monday Night War.
This was also the year we saw the classic jaw dropping angle that was "The Fingerpoke of Doom". In fact, I could make an entire article about the glorious angles in 1999 but let's not do that.
Lets focus on Rey Mysterio. In 1999, nWo feuded with the Latino World Order (LWO) where nWo ordered LWO to disband. This culminated in a hair vs mask match at Superbrawl IX. Rey Mysterio lost the match and he was unmasked.
WCW thought this was a good angle. Let's unmask Rey Mysterio and see how the crowd would react. As you all know, being unmasked is the biggest shame for a masked wrestler and Rey Mysterio was very disappointed with the unmasking.
Fans wanted Rey with the masked on but it was either the mask or his job.
The unmasking led to nowhere so when Rey Mysterio came back to the WWE he wore the mask again.
Surely a forgotten piece of bad wrestling moment though it was a treat to see Rey's face.
2000: Se7en
Some gimmicks are so bad that even the wrestlers hated it. That was the case for Se7en.
In 2000, Dustin Rhodes who was known in WWF as Goldust. Goldust himself is a horrible gimmick but it was so bad that it became good. When Rhodes came to WCW, they wanted him in another bizarre gimmick.
Check the video out and see Dustin Rhodes break out of character and do a shoot promo. Though I believe its a scripted segment since they could turn his mic off at any time. Still, it was one hell of a bad angle.
The new millennium is no doubt the baddest year for WCW. Thats why this short-lived gimmick is forgotten.
Se7en. A gimmick so bad, even Goldust hates it.
2001: Stephanie McMahon and 9-11
Stephanie McMahon was actually just saying that even though they destroyed a building, they can't destroy America's spirit.
Unfortunately, she compared this devastating event to her father's indictment back in '90s. It was the one about steroids that damaged WWE and its popularity.
People listened to her and once it sinks it, they were going "Wait, what did she say?"
2002: Flair Becomes Austin's Slave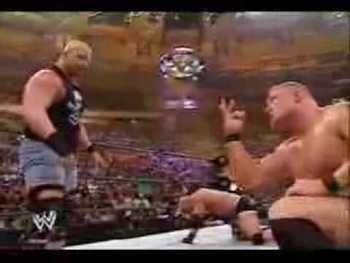 Yes 2002 is the time that WWE had no competition. So all eyes were on WWE. This was the glorious year that gave us Katie Vick, the most horrifying angle in wrestling history.
Fans were also introduced to a segment where Triple H pulled a sledge hammer, a hand (woooo, Mae Young!), and a lot of weird stuff that was called "The Enema from Hell."
In 2002, Steve Austin was unhappy with management. He believe that he is not being utilized well by the creative writers. At Backlash, he lost a match between him and The Undertaker even though his foot was on the bottom rope.
Steve was also booked to battle Brock Lesnar and he didn't want that. The plan was to job to Lesnar and Steve Austin does not want a newbie that has built no credibility in the company, at that time, to beat him.
The thing that made Austin unhappy was the creative team giving him bad storylines. In an edition of Raw, he won a match where Flair became his slave. He then no showed the next Raw event and it was just a bad moment of wrestling.
Who would've thought that Austin would be unhappy with WWE?
It was a bad angle simply because of Austin not getting his way. Steve Austin returned in WWE at 2003 to have his last match at Wrestlemania against The Rock.
2003 Mr. America
Keep in mind, this is not Hulk Hogan.
So WWE made this angle about Hulk Hogan being sit out of the remainder of his contract back in 2003. Fans then saw a promo about Mr. America.
He debuted using Hulk Hogan's "Real American" theme music and used all of Hogan's signature gestures, moves, and phrases but he's not Hogan. Or is he?
It was a stupid angle because even a deaf and blind guy would know that the guy is Hulk Hogan. This is also the last time we saw Hogan in WWE before his feud with Shawn Micheals at Summerslam in 2005. But wait, its not Hogan. Mr. America even passed a lie detector test.
This was really a bad angle. So bad that Hogan became unhappy about the creative team utilizing him and led to Hulk Hogan quitting the company. It was even more bad when Marvel Comics sued WWE for copying the Mr. America character claiming that it was Captain America.
I'll tell you a secret. Mr. America was freakin' Mr. Fuji.
2004: John Cena Stabbed In Bar Fight
There was time in 2004 when John Cena wanted to become a movie star and was absent from TV to shoot "The Marine". So when he returned creative found a wonderful way to bring him back. Put him in a feud with Carlito. It made sense since Carlito took the US belt from Cena at his debut.
Creative wanted a story to cover up Cena's absence. So they created a story where Cena was stabbed by Carlito's bodyguard in a bar fight. They never actually produced a segment where Cena was actually stabbed but it was still bad.
This is one of the reason I'm glad WWE is PG now. Though WWE doesn't need an excuse like being PG to vomit horrible storylines.
Plus a stab wound wouldn't be effective if you look at Cena now. He's superman.
2005: Kerwin White
2005 was the year that one of WWE's greatest performer died. Eddie Guerrero died in his sleep. It was a huge tragedy for the entire wrestling scene. It was also the time fans were in disgust when WWE used the death on many storylines. One that hits fans the most was when Rando Orton said "Eddie is in Hell".
2205 is also the year that we have a WWE draft where Smackdown was emptied of its top performers. This was when Chavo Guerrero was traded to Raw. He then decided to change his gimmick from a Mexican luchador to a, um, white guy.
Kerwin White is a gimmick where Chavo Guerrero denounced his hispanic heritage and embraced being "white." He changed his hair to blonde, drove a golf cart to the ring, wore a scarf, became a douche and had Dolph Ziggler as his caddie. It was a bad gimmick.
Kerwin didn't last long because weeks after his debut Eddie died. So in honor of his uncle, he reverted back to being Chavo and fans thank him for it.
RIP Eddie Guerrero
2006: December To Dismember
ECW One Night Stand was a huge success that in 2006 WWE decided to bring the ECW brand back. WWE was going to bring back extreme and fans were all over it.
Fans who were craving violence and blood created in the bingo hall finally get to see it again. Then in December of that year, WWE created December to Dismember. It was a PPV of the WWE's ECW.
What made this PPV fail? For one, it was not ECW. Even though they did have some of the original ECW performers in it, it was just not the same.
Fans who were amped up chanting "ECW ECW" died down because it was just a disappointing time in television. Another reason is that there was no time to build any good storylines for the PPV. Everybody was busy for Survivor Series so this PPV was kinda ignored for awhile.
Then the event came and fans saw the definition of crappy booking. ECW had a small roster and its main event had all its top talent competing in the Elimination Chamber. So the bottom cards were awful. Tommy Dreamer vs. Daivari. Nuff said.
The PPV failed miserably and Paul Heyman was fired by Vince the day after the pay per view. After this bomb, ECW never recovered and soon ECW was losing its superstars.
The Wrestlemania match was epic though. This PPV however, is not.
2007: Electrified Steel Cage Match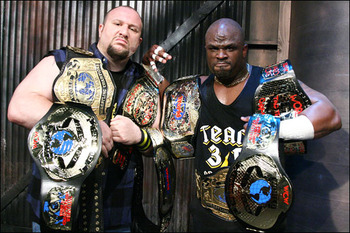 We now look back to Vince Russo but now he is in TNA. Lockdown is actually a genius pay per view because all matches are in cages. WWE messed up big time thinking of a theme pay per view because TNA had the best one yet.
In 2007 LAX and Team 3D feuded in an electrified steel cage match. Yes, fans will see a superstar get electrocuted. I can't find a video of the match in YouTube but you can use your imagination.
The match had sizzling sounds in the speakers while the lights where flickering on and off and the superstars acted like being electrocuted. Nice.
Fans weren't buying it so they chanted it out. Fire Russo. Members of Team 3D and LAX actually knew the Electric Steel Cage was not going to work at the Lockdown PPV when they saw how it was being setup hours before the PPV was to go on the air.
TNA management assured everyone that it would work. Did it? You tell me.
2008: Shark Boy Talks
This angle is so bad that its good. We have Shark Boy who hails from the deep blue sea waking up from a coma and thinking he was Stone Cold.
Check the video, its funny but dumb. TNA is just looking for any reaction from the crowd and this is one of their desperate attempt. TNA ripped off a lot of things from the WWE actually but trying to turn one of their characters into Stone Cold is just bad.
The sad thing is that this angle went nowhere since Shark Boy suddenly got injured. Plus where is he now? A road agent for TNA.
And that's the fishing line cause Shark Boy said so. Damn.
2009: The Abraham Washington Show
I believe the creative in 2009 had a meeting and it went like this:
Creative 1: Dude, ECW is failing we need to do something?
Creative 2: I know, Lets play a bad joke on all those hardcore ECW fans who are still tuning in. I bet that they are not that many.
Creative 1: How bout a talk show? Lets rip off Jay Leno. Lets get a wrestler, give him a 30 minute segment and let him just eat up any precious time that should be for wrestling.
Creative 2: Dude, thats genius! We are crushing it.
Ugh. This is possibly the worst segment in WWE and they even put Tony Atlas in it. He is not going to wrestle and Mark Henry doesn't want a manager anymore so they threw him in this bad crap. His role is by far the most annoying thing to tie the entire Abraham Show together.
What's the worst angle in 2009 you ask? I'll give you a hint. Its in TNA. It was a knockout match an it involved Booker T's wife.


End
Thank you for reading and taking a stroll down the past years. Lets all celebrate wrestling because remember, if there is no bad then we can't appreciate the good.
I leave you with a video of the early days of Kevin Nash.
What's your favorite worst angle?
Feel free to leave comment.
Keep Reading