WWE: Luke's Detailed Bragging Rights 2010 Predictions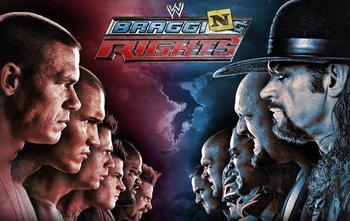 Copyright WWE
We are three weeks removed from the annual Hell In a Cell PPV and now we have the Bragging Rights PPV.
The Hell In a Cell PPV was rather disappointing in my view, quite simply because there is no 'hell' inside the cell anymore thanks to WWE's mollycoddling attitude. We had a pointless Paul Bearer heel turn and two substandard HIAC matches. Indeed, the only good things about the PPV really were the US title match, Edge vs. Swagger and Cena joining Nexus. Hence I gave it a 6/10 overall.
Now it's time for "Bragging Rights" once again, and WWE have put up a reasonable card for the event, though nothing really special.
The thing that amazed me was WWE making a Buried Alive match for the PPV. Let me get this straight, this is a PG company where chair shots to the head are history, blood is banned, swearing outlawed and, most importantly, being family-friendly is the most prominent part of the programming.
So can you see why I am really shocked at the sheer hypocrisy in making a Buried Alive match? That is about as anti-PG as it ever gets. Portraying a scene on television where one man is publicly buried alive is controversial in itself.
That being said, I am delighted it is happening. I have always enjoyed more adult-rated wrestling. It just annoys me how WWE continually contradict their own 'values, especially to this extreme.
Anyway, on to the predictions.
U.S. Champion Daniel Bryan Vs. Intercontinental Champion Dolph Ziggler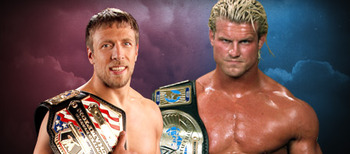 Copyright WWE
I am really pleased WWE added this match to the card because, quite frankly, it looks like it will steal the show.
This is the ultimate PPV opener. We have "the best wrestler in the world" (really?) Daniel Bryan going up against the man who has created show-stealing matches ever since he turned up on SmackDown!
This will be a terrific match, with possible interference from Kaitlyn and "the Cougar" Vickie Guerrero (Rrrrrr).
The question is very simple—will this interference cost Dolph the match or win him the match?
I'm guessing he will lose, which will keep the storyline between the pro and her rookie fresh. Personally, I want Ziggler to win the match simply because I like him, and I am getting sick of this Daniel Bryan love affair on the site. My word, nearly every prediction article has him winning at every PPV since he returned. I am no "Cole-miner," but I am with him on this.
Who I want to win: Dolph Ziggler.
Who will win: Daniel Bryan.
WWE Divas Championship: Co-Champion Layla Vs. Natalya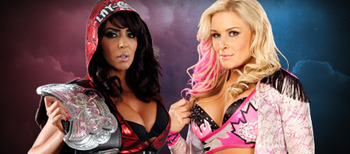 Copyright WWE
I simply love that "Lay-cool" hood in the picture! Come to think of it, I love Lay-cool as well; they are two of the only interesting things left in the diva's division.
Here is a question though: Why is Melina not in the match? Why not make it Triple Threat? I certainly would have; Melina is too good to waste. I think WWE really needs to start using its divas division properly now. The talent is there in the likes of Lay-cool, Gail Kim, Melina, Natalya, Maryse and Beth Phoenix.
Saying that, this match looks reasonable on paper. I think Lay-cool will win or get DQ'ed by cheating here. I just cannot see the belt changing hands to a diva who has hardly wrestled in two years. All I ask WWE is to give the match 10 minutes. I say this every time and every time you fail.
Winner: Layla (Lay-cool still champion(s))
WWE Championship: Randy Orton Vs. Wade Barrett (w/ John Cena)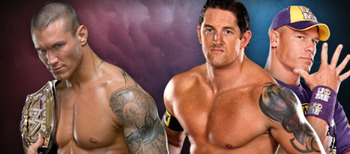 Copyright WWE
WWE did the right thing three weeks ago having Wade Barrett beat Cena and having Cena join Nexus, and WWE have created some really strong segments out of it.
My only annoyance is the time they take. We now have about 10 minutes of every Raw with Cena tease-hitting Barrett, or else looking at him with those sickening cow eyes.
As for this match, it comes off a very powerful segment on Monday's Raw in which Randy Orton was beaten to a pulp. I just wish Cena had been made to FU Orton, followed by "The Wasteland" from Barrett. That is my only criticism.
I think Orton has to retain here. It makes good booking sense to have Barrett lose by "unintentional" Cena interference. That means Cena cannot be fired (what a joke that is—Vince would sooner vote democrat), and it creates more friction.
It also gives all the little kiddies something to cheer about—they're not used to their hero being mocked and taunted every week. If it were me, I would continue doing that at the PPV for that reason alone.
Anyway, do not expect this to be a classic match (not that anyone would), because it isn't about the title really; it is based more around the CeNexus angle.
So, expect Cena to cost Barrett a victory one way or another.
Winner: Randy Orton (still Champion)
Team Raw Vs. Team SmackDown! (WWE Bragging Rights Tag Team Elimination Match)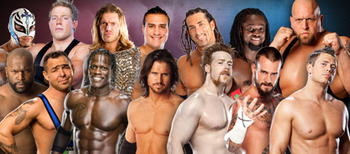 Copyright WWE
It amuses me how, three weeks ago, there was no animosity between Raw and SmackDown!, but now they are at each other's throats.
The feud that lives for three weeks of the year only. In fairness, WWE have done a good job of building the match, but who really cares who wins? The reason this gimmick-PPV exists is pretty much just to promote the new SmackDown! vs. Raw game.
Last year, Team SmackDown! won the "bragging rights" (even though there was no bragging afterwards, really) due to Big Show turning his back on the Raw team.
This year, Big Show is captain of Team SmackDown! accompanied by that horrible little troll, Hornswoggle. Just thinking about him with those horns on makes my blood boil—how can anyone take it remotely seriously?
According to Big Show's commentary last week, he turned on Team Raw because his blood is blue and white. However, if I recall correctly, he said at this time last year it was because Teddy Long promised him a title shot at the next PPV. Make your mind up, big man!
With Team SmackDown! winning last year, it makes sense to have Team Raw win this year. In fact, over the course of the last six years, Raw has had a very bad record against SmackDown! in inter-promotional matches.
I think it's time Raw got a win (even though it is the inferior show), and the reason I'm saying that is CM Punk. For those of you who do not know, I am a rather avid Punk fan, and I feel that it is about time he was given his spot back in the main event.
It makes sense to have the recently traded guy cost his old brand the match, and that is why I pick CM Punk as Raw's sole survivor. This would be the perfect time to put him back in the main event and create a feud between Orton and him for the title.
Order of elimination, I believe, will be as follows:
1) Santino Marella (Raw)
2) R-Truth (Raw)
3) Tyler Reks (SmackDown!)
4) John Morrison (Raw)
5) Jack Swagger (SmackDown!)
6) Kofi Kingston (SmackDown!—altercation with Swagger possibly)
7) Alberto Del Rio (SmackDown!)
8) Rey Mysterio (SmackDown!—attacked by Del Rio)
9) Ezekiel Jackson (Raw)
10) The Miz (Raw)
11) The Big Show (SmackDown!—victim of three-on-one beatdown by Punk, Miz and Sheamus)
12) Sheamus (Raw)
13) Edge (SmackDown!—eliminated by CM Punk)
This would create many twists and turns in the match, with both teams having advantages at different stages. As a reward for Punk's winning the match for Team Raw, the general manager gives him a title shot.
Winner: Team Raw (CM Punk sole survivor)
Buried Alive Match For the World Heavyweight Title: Kane Vs. Undertaker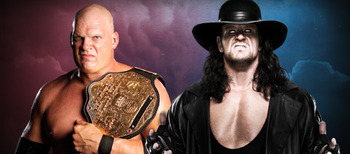 Copyright WWE
Well, this is the most anticipated match of the night for me.
I know Hell In a Cell was a letdown, but we all know these guys are perfectly capable of putting on a great match.
My first thought is, "Will someone actually be Buried Alive?" You may be thinking that's a stupid thought, but maybe that is how WWE will get away with this on its PG rating. Maybe one wrestler will be partially buried and the match will be over that way. That would suck, I think we all agree.
I hope WWE goes full steam ahead with this, no crappy finishes like at Hell In a Cell. There are strong cases for either man winning. For Undertaker, it is the fact that it is pretty much unknown territory to lose three PPV matches in a row, and he has never won a Buried Alive singles match before.
But to be honest, I just cannot see how he can win. Kane cannot be buried alive and come back like the Undertaker can and will. That is a trademark of the dead man character. I mean, if Kane loses, how can he come back? Will we have "dead Kane walking?" It would make no sense whatsoever.
So I see Kane getting the win here, simply because no other result makes sense, really. Kane may win by outside interference or by using Paul Bearer's urn.
I think that Kane will also bury Paul Bearer alongside the Undertaker. Kane has not officially welcomed Bearer back to his side, and Bearer was a thorn in Kane's side in 2004. I remember him saying to Bearer at Hell In a Cell, "You should have stayed buried." Was that a sign of things to come? I think so.
With Undertaker and Bearer buried, Kane will have at least a month feuding with someone else, and then the dongs will return. Every time Undertaker has been buried, we have seen a metamorphosis of his character. I hope this continues.
I will say this: I do not want the American Badass to return. I would, however, love to see the return of the pointed beard and the ministry attire. Undertaker will return with Paul Bearer at his side to finally take down Kane before or at Wrestlemania.
Winner: Kane (still Champion)
Keep Reading