UFC 121: Brock Lesnar vs. Cain Velasquez Weigh-in Photo Gallery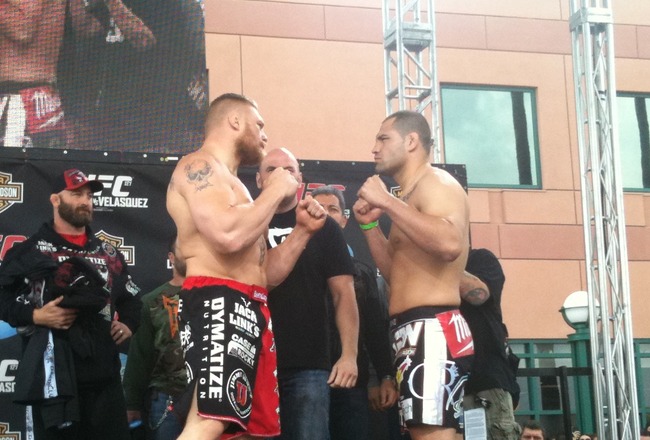 Brock Lesnar and Cain Velasquez weighed-in at the Honda Center in Anaheim, CA, for their upcoming UFC 121 bout.
All of the fighters weighed in under their the limits of their respective weight class, so none will be forced to give up any percentage of their purse.
Fans packed the Honda Center's eastern parking lot to watch the fighters step on the scales and show their support for the UFC.
They cheered and jeered all of the fighters who weighed in, but it was Tito Ortiz who drew the most attention.
Especially boos.
The crowd seemed anxious to see his opponent, Matt Hamill, hand "The Huntington Beach Bad Boy" his fourth loss in five fights.
Ortiz wore his traditional themed t-shirt, only this time it didn't say anything outright offensive. It said, simply, "Dana is my hero!"
The fight UFC fans clamored for most, however, was the main event: heavyweight champion Brock Lesnar versus Cain Velasquez.
The UFC tends to market its heavyweight title fights the same way every time: "This is the biggest heavyweight title fight in UFC history." Regardless of whether the public believes that about this upcoming fight or not, this fight, like all Lesnar title fights, is sure to garner a lot of attention. Every media outlet in the region was present for the weigh-in.
"There are a hell of a lot of people here!" said one fan, anxiously waiting to take pictures of UFC ring girl Arianny Celeste.
Lesnar, of course, drew the biggest reaction from the crowd--a giant mix of applause and hisses as he came to step on the scale.
Cain Velasquez, whom the UFC is marketing as the fighter most likely to become the first Mexican heavyweight champion, drew a great deal of support from the Southern California crowd.
Here is a photo slideshow of all the participants scheduled to fight on the Oct. 23 card.
Gilbert Yvel Weighs In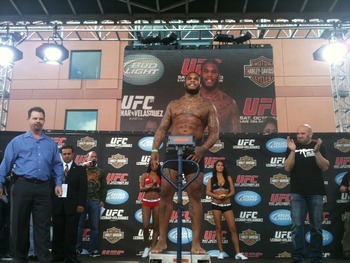 Yvel shows off his trademark tattoos for the Anaheim crowd.
Jon Madsen Weighs In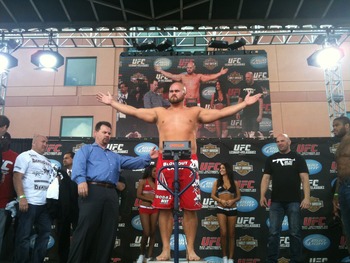 Madsen raises his hands to draw support from the weigh-in crowd.
Dong Yi Yang Weighs In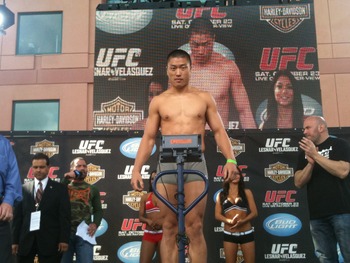 Dong Yi Yang stares the cameraman straight in the face. The cameraman then wets himself in fear.
Chris Camozzi Weighs In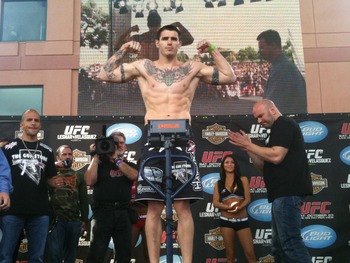 Camozzi's tattoo is in a prime location for a bicep flexing photograph.
Paul Taylor Weighs In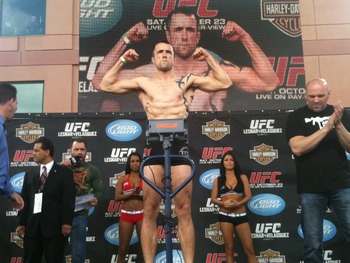 Paul Taylor gets in under the 155-pound weight limit.
Sam Stout Weighs In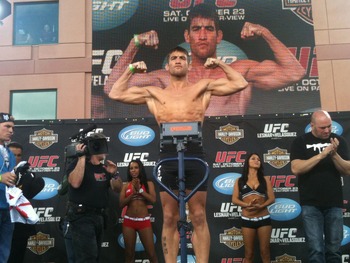 Sam Stout hits the scale for what one fan called the "fight of the night."
Daniel Roberts Weighs In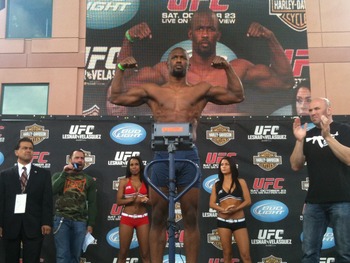 Daniel "Ninja" Roberts stepped on the scale looking focused for Saturday night.
Mike Guymon Weighs In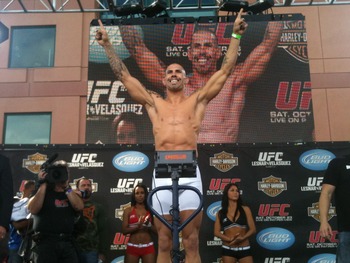 Guymon shows off his trademark smile. His nickname is "The Joker" for obvious reasons.
Art Jimmerson Weighs In?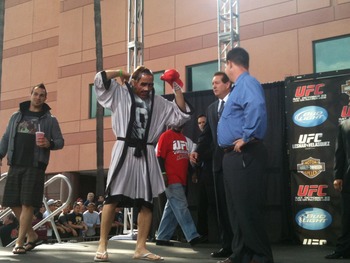 No, it's not really Art Jimmerson. It's...
...Tom Lawlor Weighing In
Oh, Lawlor. How you make us laugh with your quirky weigh-in antics.
Patrick Cote Weighs In
Cote wasn't laughing at Lawlor's antics.
Ryan Jensen Weighs In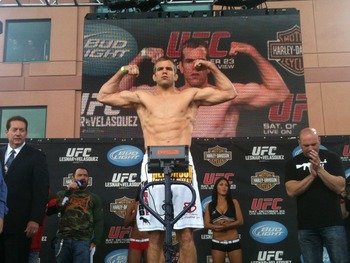 Ryan Jensen hit the scales for his Spike TV bout with Court McGee.
Court McGee Weighs In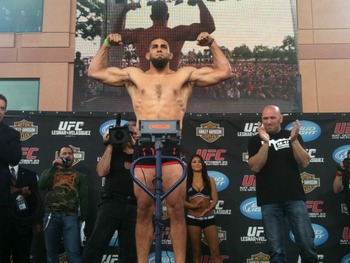 Ultimate Fighter Season 11 winner Court McGee looked in great shape for his Saturday night bout.
Paulo Thiago Weighs In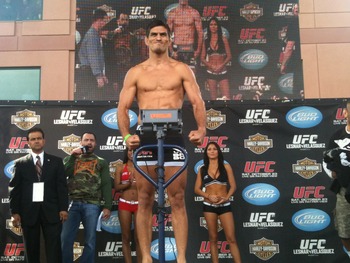 Paulo Thiago doing the full body flex, with the grrrr-face to cap it off.
Diego Sanchez Weighs In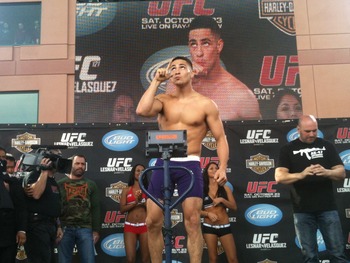 Look! Rain! This forecast has been brought to you by Diego Sanchez. YES!
Gabriel Gonzaga Weighs In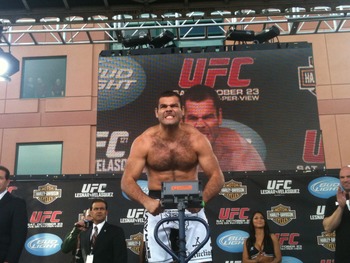 Gabe Gonzaga looks like a mean dude.
Brendan Schaub Weighs In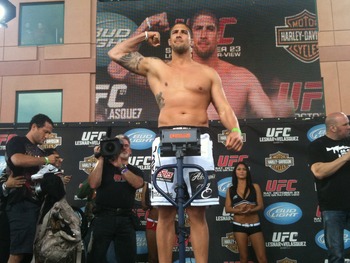 Schaub stepping away from the two-bicep flexing theme of this photo gallery and going for the one-bicep.
Matt Hamill Weighs In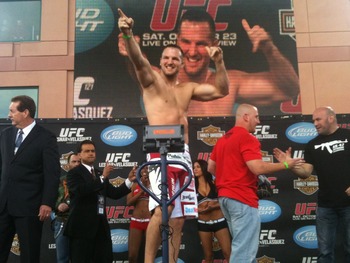 Best pose of the afternoon goes to Matt Hamill.
Tito Ortiz Weighs In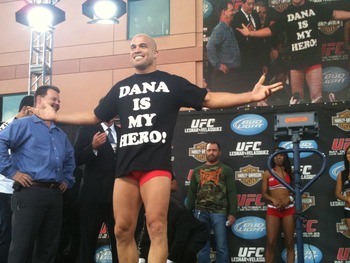 Dana is our hero too, Tito. Thank you for pointing that out.
Martin Kampmann Weighs In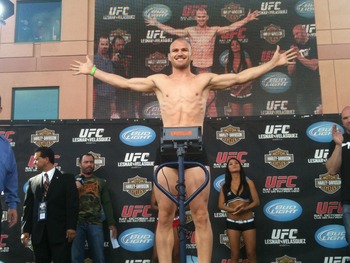 Kampmann raising his hands to cheering crowd.
Jake Shields Weighs In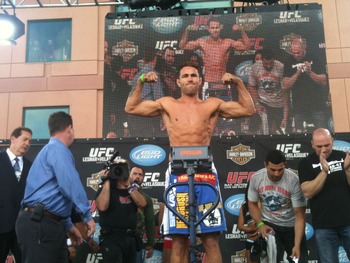 Jake Shields looked ready and willing to make his UFC debut.
Cain Velasquez Weighs In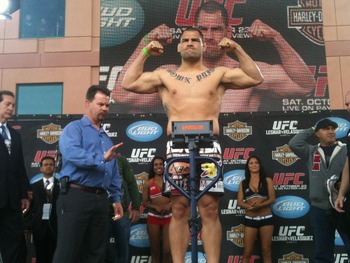 Cain Velasquez with the granite chin look. This man can hit hard.
Brock Lesnar Weighs In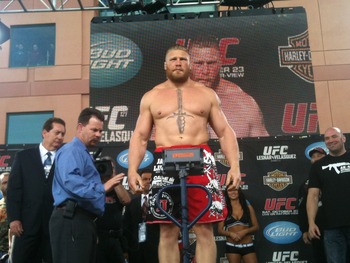 The biggest UFC heavyweight champion of all time, Brock Lesnar. Beard and all.
Keep Reading