Top 25 Sports-Related Photobombs on the Web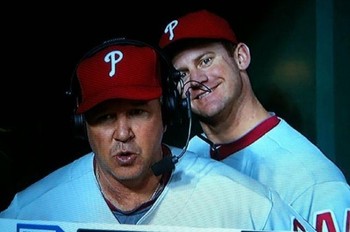 Sometimes it's nice to take a break from all the serious aspects of sports. Trade talks, rule changes and possible suspensions have cluttered our minds, and it's about time for a distraction.
I've brought you soccer fails, faceplants and player-on-fan attacks, and now it's time for another cultural phenomenon:
The Photobomb.
Urban Dictionary's definition of a photobomb: An otherwise normal photo that has been ruined or spoiled by someone who was not supposed to be in the photograph.
And yes.
There are plenty to be found in the sports world.
So join me as I explore the fine art of completely messing up a perfectly good picture.
25. I Was Supposed To Be Captain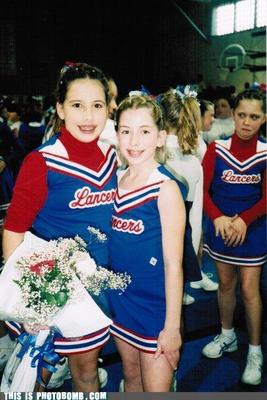 These little girls are trying to pose for a nice picture, but somebody feels a little left out...
24. Oh No She Didn't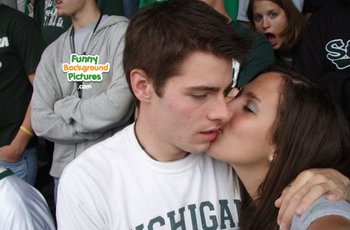 These cute Spartans fans share a kiss at the game, but I think he forgot to break up with his girlfriend before this date.
23. Roy Oswalt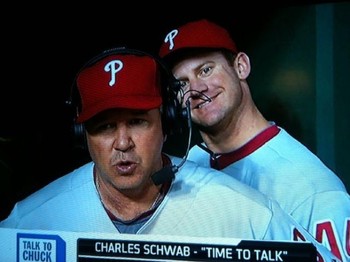 Aren't these guys supposed to be professionals?
22. I'm Comin To Getcha!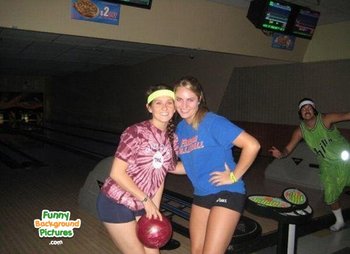 Note to self: Be careful when taking pictures next time I go bowling.
I want to meet that guy.
21. Second Base In Bowling?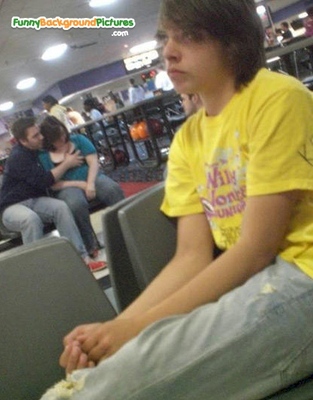 "Mom, did you really have to bring your new boyfriend to family bowling night?"
20. I Hope This Guy Is Someone's Grandpa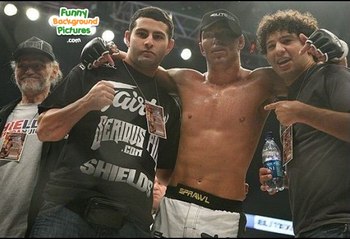 Otherwise, give the man a sandwich, and tell him to get out of the picture.
19. Come On Dude! I Was Sleeping!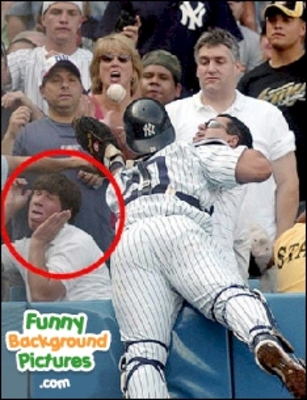 I know that baseball can be boring, but you don't have to be so cranky when you wake up from your nap.
18. Michael Vick?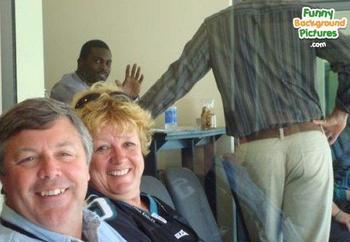 I'm not exactly sure if this guy is actually Michael Vick, but I'm going to go ahead and say he is.
17. Cigar Guy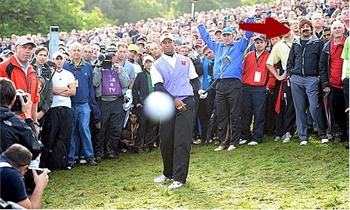 Come on! You knew this one was coming.
I couldn't do a sports photobomb slideshow without the Tiger Woods Cigar Guy.
16. Boys Gone Wild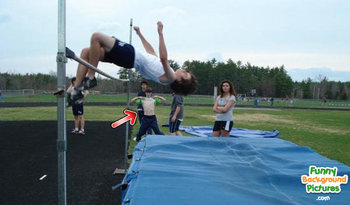 This shot could have been pretty cool...
But that kid just make it a million times better!
15. Between The Legs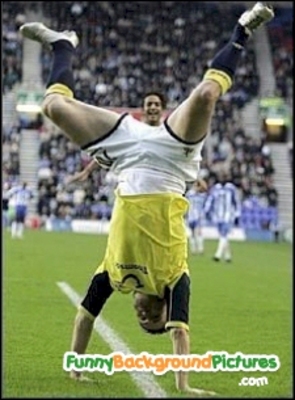 Props to whoever took this picture.
Priceless.
14. Inappropriate Touching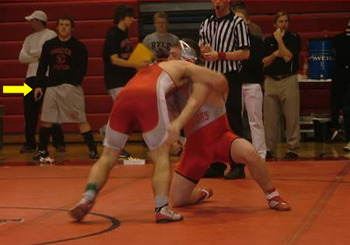 Don't get me started on the wrestling jokes.
13. Captions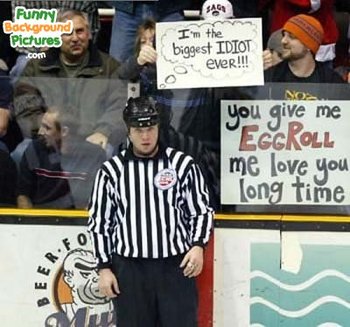 I know that when I'm getting ready to go to hockey game, I totally stop and think, "Oh crap! Where did I put that sign that I think is so clever..."
12. Ralph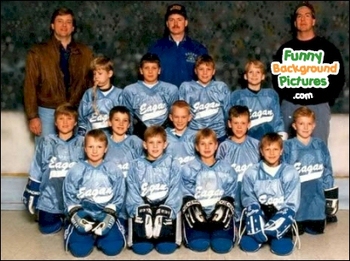 I don't know who I feel the most sorry for:
The kid throwing up...
Or the kid in front of him.
11. Frankie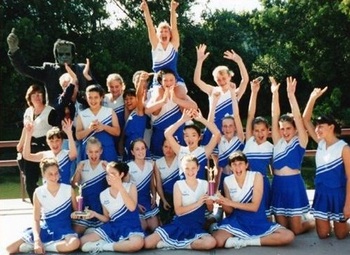 The best part:
Frankenstein's monster isn't the scariest person in this photo.
Look to the left...see the cheer mom?
Exactly.
10. Belly Shirts Aren't For Everyone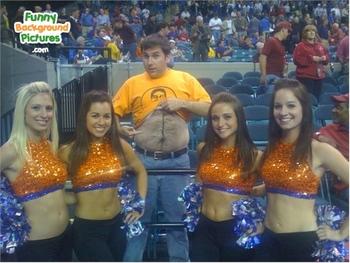 9. More Tiger Woods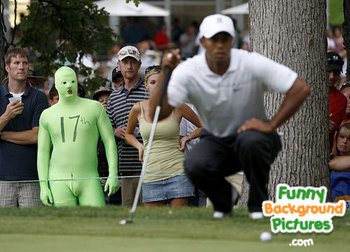 8. Way To Be Subtle, Boys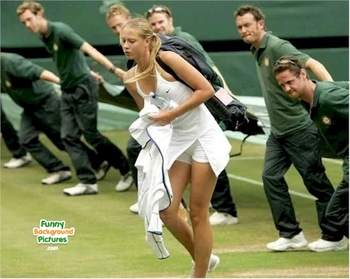 I would be more than a little creeped out.
7. Secret Lovers?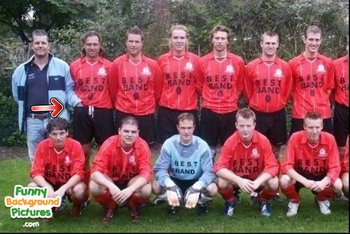 Brock: "Hey Johan, you know what would be funny? If I put my hand in your pants for this picture!"
Johan: "Oh yeah. That would be hilarious!"
10 minutes later...
Johan: "Hey Brock..."
Brock: "Yeah dude?"
Johan: "I think you can move your hand now."
6. Jay Leno?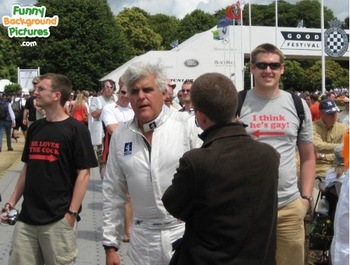 Okay, so I'm pretty sure these guys planned to wear the shirts together, but they totally lucked out with this picture!
5. Who Needs a Costume?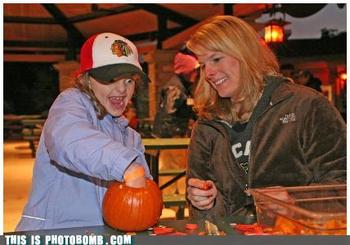 Just a little something to get you in the mood for Halloween.
Sorry in advance for the nightmares.
4. They Grow Up So Fast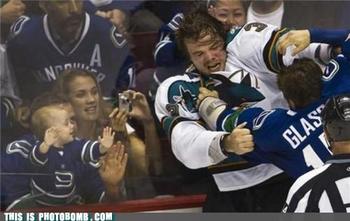 The borderline insanity that exists in hockey fans starts at a very young age.
3. Ravens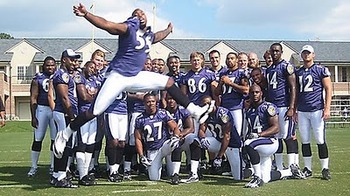 As a Steelers fan, I will be keeping this picture in my back pocket.
2. I Hope This Was On Purpose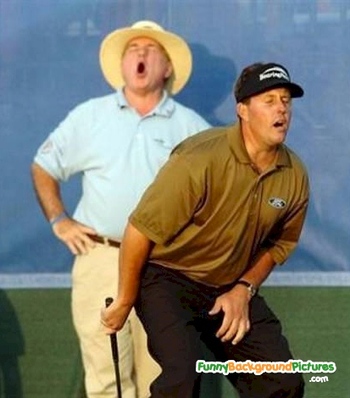 1. What The...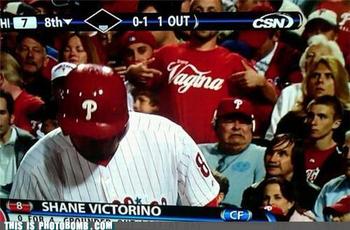 Keep Reading