Boxing Power Rankings: Rating the Current Top 10 Heavyweight Fighters
Robert Laberge/Getty Images
When you see heavyweight rankings, you know who the top three are.
There is no mystery in that, but who comes after them is up in the air.
You have a collection of up and comers who have yet to score a big marquee win, older fighters who are entering the twilights of their careers, and one former light heavyweight and cruiserweight champion.
How you put these fighters in order is based on your own personal preference. The top three can't be disputed, but 10 through four are very much disputed.
Do you like the older champions, or the young blood that is finally making a mark in the heavyweight rankings. You will see how I rank these fighters and what my preference is.
So let's go to the heavyweight power rankings.
No. 10: Alexander Dimitrenko 30-1 (20 KO)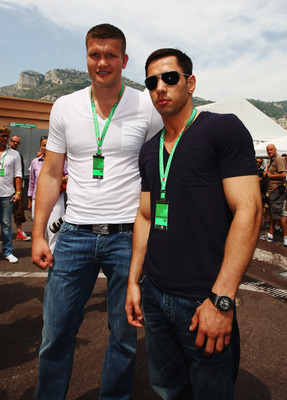 Alexander Dimitrenko (left)
Clive Mason/Getty Images
Dimitrenko was very close to moving up to the ninth spot, but for now he sits at No. 10.
He has beaten the typical journeymen fighters, and has beat a few fighters about that level.
His one loss is to Eddie Chambers, and there is no shame in that as Chambers is a top-five heavyweight. He has fought only one time since that loss and won the EBU title in that bout.
Dimitrenko has the size to be a threat in the heavyweight division, standing at 6'7" and sporting a 83" reach. He is young at 28, but the question with him is how bad he wants it.
His desire has been questioned, and rightfully so. If he can get the desire, he will be a force in the heavyweight division for years to come.
No. 9: Chris Arreola 29-2 (25 KO)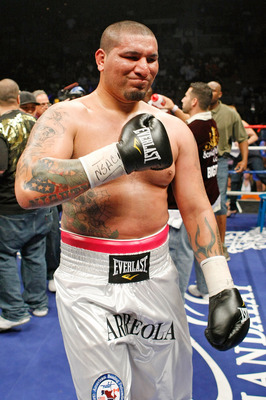 Ethan Miller/Getty Images
Arreola is trying to rebuild his career after losing a title bid against Vitali Klitschko and then losing to much smaller, but more talented, Tomasz Adamek.
Arreola is only 2-2 in his last four, and hasn't beaten any top-tier fighters yet in his young career. He took the undefeated record of Chazz Witherspoon, beat Travis Walker, retired Jameel McCline and beat Brian Minto down to cruiserweight.
All solid fighters, but no top-tier opponents on the resume. He sits at No. 9 because he has lost to two good fighters and has beaten a good mix of veterans and fellow younger fighters.
As everyone knows, he needs to get his weight under control if he wants to make a real run at the heavyweight title. He has a lot of talent, but needs discipline.
No. 8: Denis Boytsov 27-0 (22 KO)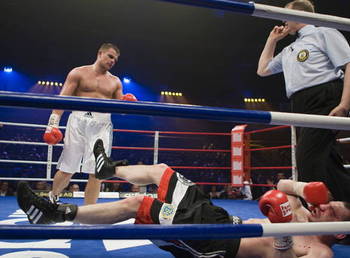 Boytsov is the most untested and one of only two undefeated fighters on this list.
But he is one that has a bright future.
The only thing that may hold him back from being a truly elite heavyweight is his size. He is only 6-foot-1, and that may hold him back from becoming the best heavyweight in all the land.
He has good pop, decent speed, and might be the best inside fighter in the heavyweight division. He has a couple good wins under his belt, but has been out of the ring due to injury.
If he can stay healthy and get some good wins, he should be ready to make some noise at the top of the division in middle to late 2011.
No. 7: Ruslan Chagaev 26-1-1 (17 KO)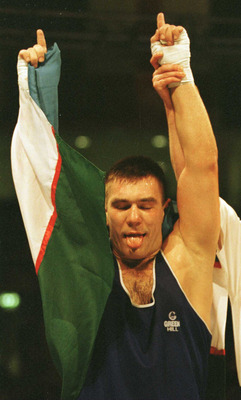 Jamie McDonald/Getty Images
This may seem a little low for a former titlist, but he has been inactive since 2009, having only three fights in that timespan.
He has a slew of quality wins over Michael Sprott, John Ruiz, Nikolay Valuev and Matt Skelton. His title reign wasn't impressive, and far from one that will be remembered, but it was still a title reign.
The loss to Wladimir Klitschko was a terrible performance, but Klitschko does that to everyone now, and he would beat almost any heavyweight outside of a Klitschko.
If he can get back and track and stay active, he will still factor into the heavyweight-title picture.
No. 6: Alexander Povetkin 20-0 (15 KO)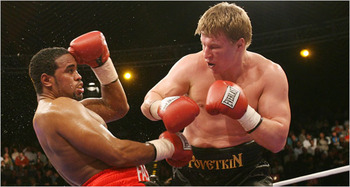 Povetkin is a very frustrating heavyweight, and one that may end up being the king of the division after The Brothers Grim call it a career.
He has the power and technique to beat almost anyone in the division, but refuses to fight the best. His best wins are Eddie Chambers and Chris Byrd.
He only fought them because he was part of a heavyweight tournament. Outside of that, he doesn't have many quality wins.
He has the talent to beat the B level fighters, and has showed that.
He has the talent to beat Chambers, who is a top-five heavyweight. But he refuses to face Wladimir Klitschko and lost his mandatory status because of it.
Reports also have said he didn't look good against Teke Oruh this weekend.
No. 5: Eddie Chambers 31-2 (18 KO)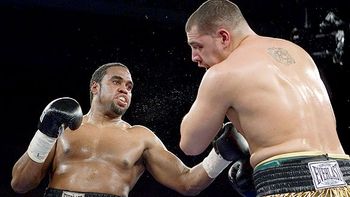 From one frustrating heavyweight to another. Chambers has a loss to Povetkin, wins over Dimitrenko and Samuel Peter.
In the Povetkin fight, he beat him up and busted his face up, but just didn't throw enough punches. In the wins over the much bigger Dimitrenko and harder hitting Peter, he threw enough punches and showed that he can be a top heavyweight.
When he finally got a chance to fight for the heavyweight title, he stood there and looked at Wladimir Klitschko until he was knocked silly late in round 12.
If Chambers wants to be a top heavyweight, he is going to need to be more consistent and find a way to fight on the inside effectively for a whole fight. His lack of power may also be something that holds him back.
No. 4: Tomasz Adamek 41-1 (27 KO)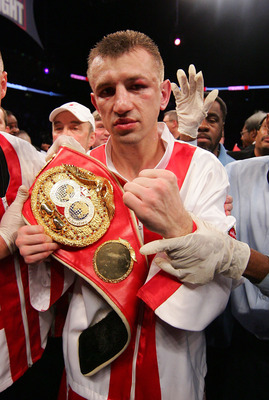 Al Bello/Getty Images
Adamek is far from a frustrating fighter.
He shows up in shape, isn't afraid to fight, and although he is usually much smaller, he takes the fight to his opponent.
Although he only has four fights at heavyweight, he is clearly one of the better fighters at the weight and is one of my personal favorites. He has evolved himself from a power puncher to a skilled fighter at heavyweight.
He already has a win over a good heavyweight in Chris Arreola, and is getting ready to make a run at Vitali Klitschko and his heavyweight title. Although he sits at No. 4, his chances of winning the title are slim.
He has a great chin, good speed at heavyweight, but his size and lack of power are going to be his undoing. He won't lay down for anyone, but the Klitschkos are going to be just a little too much for the Polish Power.
No. 3: David Haye 24-1 (22 KO)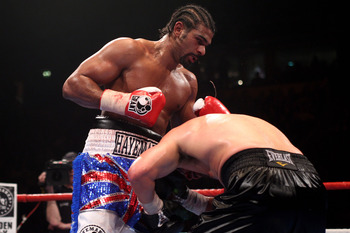 Michael Steele/Getty Images
Haye is yet another former cruiserweight titleholder to try his hand at the heavyweight limit, and has had a lot of success so far.
He has four wins at heavyweight. Although none are great wins, he has lifted the WBA title and defended it one time.
He prepares for yet another undeserving title defense, but has the talent to hang with almost anyone.
Outside of the Klitschkos, he is the best heavyweight in the world and has a great combination of speed and power. His size is the only thing that may limit him, but he isn't that much smaller than other heavyweights.
Hopefully he will look to fight either Klitschko soon, and we will find out exactly how good he is.
1b. Vitali Klitschko 41-2 (38 KO)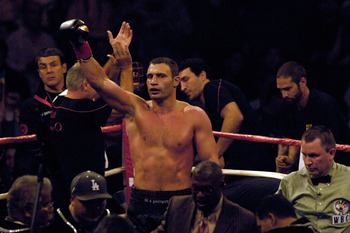 Jacob de Golish/Getty Images
There is no number one and two between The Brothers K.
Both are unbeatable at this point, and haven't been close to losing in a very long time.
Vitali falls as the 1b fighter, and after his beatdown of Shannon Briggs, some people may move him to the top spot. But I am not ready to do that.
He is still an amazing talent at 39, but he is going to slow down, and I saw signs of it in the Briggs fight. Although Briggs is one tough guy, the power on Vitali's punches seems to be getting less and less.
It is a joy to watch Vitali, and if you don't watch him, I suggest you pick up some DVD's because you're missing a very special talent.
1a. Wladimir Klitschko 55-3 (49 KO)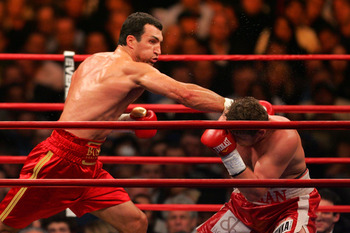 Chris Trotman/Getty Images
Wladimir is the best heavyweight in the world bar none.
And, if you ask me, is one of the best fighters pound for pound in the world.
He is also becoming one of the most avoided men in the world, as fighters aren't exactly lining up for a shot at him and his plethora of titles.
His next defense is nothing to get excited about, but he was turned down by Povetkin. Haye talked a lot about wanting to fight him, but he has yet to get in the ring with him.
If Wladimir gets his chance against Haye, he will prove that he is an all-time great talent and the best heavyweight of his era.
Keep Reading