Floyd Mayweather Jr., Mike Tyson and the Top 10 Showmen in Boxing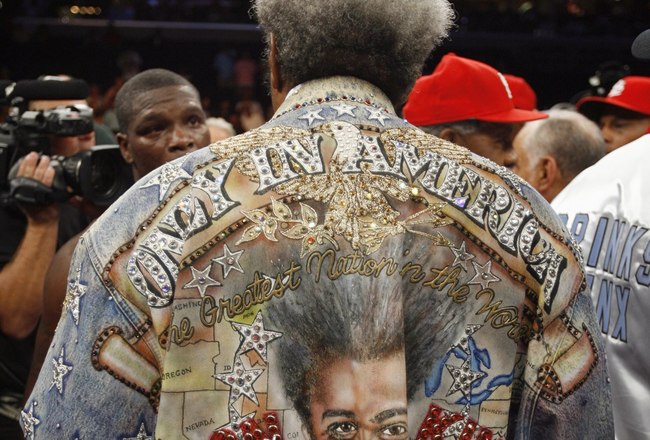 Joe Murphy/Getty Images
Boxing has a history that dates back to ancient Egypt, the sport then was a lot more brutal and almost unregulated. The United States didn't legalize boxing until 1896 with New York being the first state to set the trend. From the onset the need for a boxing promoters were in high demand. Because boxing didn't have any social relevance the public needed to be convinced paying for fights would be worth it.
Boxing promoters can be traced back to the early 1900's with Rex being the most famous. Promoters have always served as the representation and hype men for their respected fighters. It was the promoters job to build the suspense and sell fights as a must see event.
Although promoters are still being used by fighters in modern times some fighters have adopted a self promotional mentality. Fighters today are little more verbal and flamboyant and play a bigger role in promoting themselves. Almost every fighter today in some form does self promotion. Let's take at the best that ever showmen in the history of the sport.
This is not a greatest of all time list. Boxing is entertainment and these guys found ways to entertain us in and outside ring.
#10 Iron Mike Tyson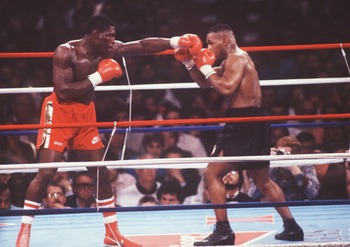 Holly Stein/Getty Images
Arguably one of the greatest boxers ever, but poor character issues and personal turmoil sidelined potentially the foremost impressive boxing career in recent history. Mike Tyson was known as a knockout artist but was one of the best at intimidating his opponent before ever stepping into the ring. Mike would show up at future opponents post fight interviews and challenge them .
Mike Tyson was pretty conservative on how he entered the ring never really had a theatrical entrances. But if you ever witnessed a promotional press conference for one of his fights its a experience you'll never forget. He always took the role as the villain being very explicit and sometimes vulgar on how he describe beating his opponents. Mike Tyson often times would short circuit interviews with the press with loud outburst and unexpected comments.
Until his decline it wasn't a question on if he would knock his competition out it was how fast.
# 9 Roberto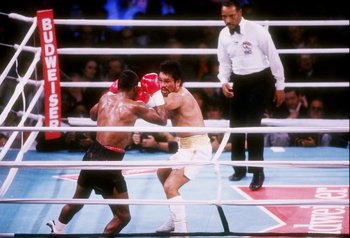 Holly Stein/Getty Images
Roberto Duran wasn't much of a show boater, but very much a showmen. It was clear he wanted to destroy anyone who opposed him. Duran had a career record of 103 wins 16 loses and 70 professional knockouts. He was known as a punisher his nick name was hands of stone. Roberto Duran is regarded as one of the all time greats. He is arguably the greatest light weight of all time fighting in five different decades and one time winning 30 straight fights.
Unlike most showmen Duran wasn't flashy or super quick. If I was to describe him in one word it would be violent. He would talk about your mama, sister, brother it didn't matter. He would make opponents feel he hated them even after winning fights he would continue to taunt them. When Sugar Ray Leonard rose to stardom Duran challenged him. During their press conference he cursed Leonard out talk about his wife, kick at him, he even tried to provoke a fight at the press conference.
His aim was to intimidate and destroy and beating you wasn't enough. Most fighters after winning the fight would finally acknowledge their opponent's ability. Not Duran, After defeating Sugar Leonard he shoved him away and told him, "you are no good you are nothing."
# 8 Sugar Ray Leonard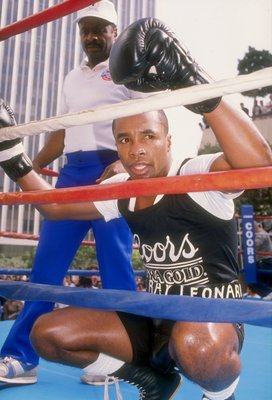 Mike Powell/Getty Images
Sugar Ray Leonard has victories against great fighters like Roberto Duran, Marvelous Marvin Hagler, and Thomas Hearns. Sugar Ray had a professional record of 40-3-1 he also was named fighter of the decade in the 80's. He also won a olympic gold medal 1976 and quickly rose to stardom after starting his professional career.
Ray Leonard's agility and quickness was a mirror of Sugar Ray Robinson. He also adopted Muhammad Ali's foot shuffle as a added measure to entertain fans. If he really got comfortable against his opponents he would unloaded 8-10 punch combinations at will. He was best known for his hand speed, but he was able finish off opponents with a consistent attack of accurate punches.
# 7 Naseem Hamed AKA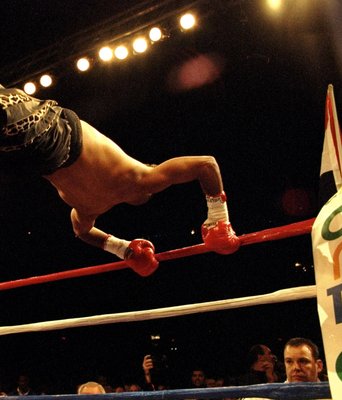 John Gichigi/Getty Images
Naseem Hamed (born 12 February 1974) is a retired British boxer and former Bantamweight and Featherweight champion. He was commonly known by the nickname Prince Naseem.
Hamed was known for his boxing antics and spectacular ring entrances that have included being deposited in the middle of the ring by an elevator, entering the ring in a low-rider Chevrolet Impala, entering on a flying carpet (Held up by strings), imitating the Video Thriller by Michael Jackson. Walking into the ring with a Halloween mask for his fight on Halloween night.
Prince Naseem would fight the with his hands down, catching opponents from unbelievable angles. Obviously a gifted athlete he would enter the ring by flipping over the top rope. If opponents would somehow land a punch he would act like his knees buckled to further frustrate the fighter.
# 6 Pernell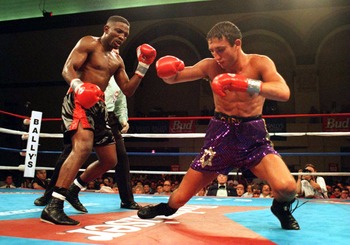 Simon Bruty/Getty Images
Pernell Whitaker was one of the most elusive unorthodox fighters to step into a boxing ring. Every boxing showman has a alter ego and his must have been sweet pea. Whitaker picked up the nickname "Sweet Pea" by mistake. His childhood nickname was Pete. During a hometown fight the crowd was chanting "Sweet Pete". A sportswriter thought the crowd was chanting "Sweet Pea." and for the rest of Whitaker's career that was his nickname.
Sweet Pea was the ultimate show boater he would slip punches and land violent body shots at will. When he felt like entertaining the crowd he would put on a defensive exhibition gracefully dancing around and underneath opponents punches. Most of the time if you were lucky to land a punch it was a glancing blow. He then we act like his knees buckled and if you took the bait would rip you with a quick punch.
Although he wasn't known for being much of a puncher he managed to win seven world titles. Pernell Whitaker show boating style wasn't always welcomed by judges. Against Jose Ramirez and Julio Cesar Chavez two great fighters he made a mockery of the judges awarded both fight gift decisions. Whitaker eventually avenged both fights with victories. His style and speed made a mockery of almost every fighter he fought Oscar De La Hoya also was a victim, but also recieved a gift from the judges.
# 5 Roy Jones Jr.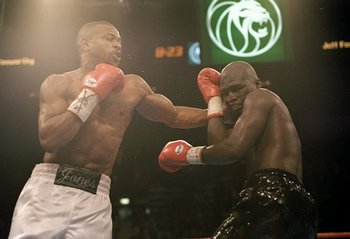 Holly Stein/Getty Images
Roy Jones Jr is one of the most gifted athletes i've ever seen in a boxing ring. In his prime if you stepped in the the ring he was going to embarass you. Jones remained undefeated for 10 years and at one time was 49-1 with the one loss a disqualification (hitting fighter while down). The very next fight he knocked the same fighter out in the first round.
Roy Jones wasn't wasn't much of a counter puncher or defensive expert. With lightning fast hand speed Jones just would beat you to the punch. He would put on a show dancing, twisting, rapid fast combinations and out of no where a knock out punch.
Roy Jones was the ultimate taunter fighting with his hands to his side. he would often poke his face out daring fighters to swing. Even if you didn't swing he would catch you we a unexpected blow.
# 4 Floyd Mayweather Jr AKA Pretty Boy Floyd AKA Money Mayweather!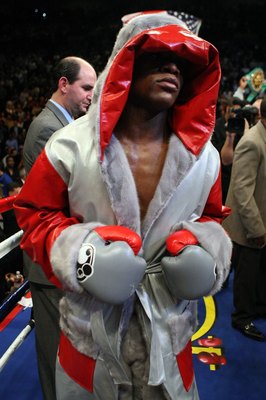 Al Bello/Getty Images
Floyd Mayweather Jr. is the biggest showman that generation has seen. There is no other boxing personality that can out talk Money Mayweather. I'm not talking about verbal gymnastics I'm talking about backing it up. He has the nick name "Pretty Boy Floyd", because he has never left the ring looking like he was just in a fight. Just like many other great welterweights Floyd has great hand speed. Along with quick hands he is as elusive as Whitaker as smart as Ali and as accurate as Sugar Ray.
He has mastered the sweet science of boxing and that's hit without being hit. His style may not be the preferred method for the casual boxing fans, but doesn't keep him from being in high demand. Floyd has made a lot of great fighters look like amateurs. Floyd also knows how to entertain the crowd often time looking into the audience while in the ring.
Mayweather has as many haters as fans but the bottom line is they all pay to see him fight. Floyd simply knows how to build a fight and he always ends up the master of ceremony. His pre-fight antics inspired HBO to start the fight promotional television special 24-7. He has some of the most memorable ring entrances in the history of the sport. In 2007 against Arturo Gatti he was carried to the ring on a chariot, and then destroyed him.
# 3 Sugar Ray Robinson
Sugar Ray Robinson may be the most impressive fighter in the history of boxing. In his first 12 years as a professional boxer he fought 130 fights. He was the reason sports writers created a pound for pound ranking. Robinson was named the greatest fighter of the 20th century by the Associated Press, and the greatest boxer in history by ESPN.com in 2007. The Ring magazine rated him the best "pound for pound" boxer of all-time in 1997, and its "Fighter of the Decade" for the 1950s. Muhammad Ali who repeatedly called himself "The Greatest" throughout his career, ranked Robinson as the greatest boxer of all time. Other Hall of Fame boxers such as Joe Louis and Sugar Leonard said the same.
By 1946, Robinson had fought 75 fights to a 73–1–1 record,[1] and beaten every top contender in the welterweight division. Sugar ray Robinson was 40-0 before losing to Jake Lamotta. Lamotta and Robinson fought a total of six times and Sugar Ray only loss one of them. Their sixth and final fight became known as The St. Valentine's Day Massacre. Robinson won the undisputed world middleweight title with a 13th round technical knockout. Robinson unleashed a series of savage combinations on LaMotta and for the first time in their legendary six-bout series received a tenth round knockout.
Sugar Ray Robinson was a complete fighter with power in both hands. No one had ever seen someone with hand speed and agility like that before. In my opinion he was the ultimate show man, before his career ended he had a astonishing record of 173 wins and 19 loses. Muhammad Ali, Sugar Ray Leonard, Floyd Mayweather, Pernell Whitaker, the list can go on and on; all these fighters will admit they have taken something from style and made it their own.
# 2 Jack Johnson
Jack Johnson started his professional career in 1897. He ended it with a record of 73 wins with 13 loses. Johnson's boxing style was very unique he would often start out defensive. The more he got comfortable in the ring the more aggressive he became. Johnson preferred punishing his opponents rather than knocking them out. He was boastful and arrogant verbally taunting men (both white and black) inside and outside the ring. He would knock you down and just stare into the crowd as if to say I told you so.
Johnson was an early example of the celebrity athlete in the modern era, appearing regularly in the press, radio, and in motion pictures. He earned considerable sums of money especially for a black man in the early 1900's. he also had a hobby as a automobile racer. He wore tailored made suits and purchased expensive jewelry.
Once he was pulled over by a police for speeding which was a $50 fine. He gave the officer a $100 bill; the officer said he didn't have change for that much, Johnson told him to keep the change, because that was for when he is speeding on the way back.
# 1 Muhammad Ali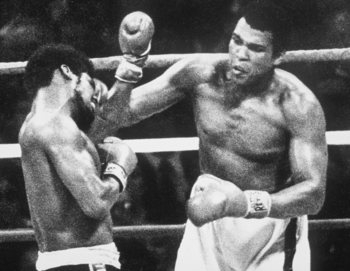 Getty Images/Getty Images
Muhammad Ali is another fighter that's always in the greatest of all time discussions. Gifted with incredible quickness and speed for a heavy weight, he was also gifted with the ability to express himself. Very much a eloquent speaker he would often make his phrases rhyme which caused his words to stick in the hearts of fight fans all over the world.
Ali built a reputation by predicting what round he would finish opponents, and most of the time he was correct. He was a genius at getting in opponents heads before fights, although Jack Johnson originated the boastful approach to fighting Ali perfected it.
Love him or hate him he was the most effective promoter in the history of boxing. His main client just happened to be himself. Muhammad Ali defeated every top heavyweight in his era, which has been called the golden age of heavyweight boxing. Some would call him a loud mouth black man, but actually he was a entertainer, a pioneer.
He had a way of making every moment leading up to a fight as important as the actual fight. If you thought he had no chance before the fight the time the fight started you were convinced otherwise.His fights wasn't just boxing it was artistry, entertaining, brilliant, the Ali shuffle, rope a dope, and the fake buckling of the knees were all originated by Ali.
Famous Ali quotes:
Float like a butterfly, sting like a bee.
I hated every minute of training, but I said, "Don't quit. Suffer now and live the rest of your life as a champion."
He who is not courageous enough to take risks will accomplish nothing in life.
I figured that if I said it enough, I would convince the world that I really was the greatest.


Keep Reading