UFC 120 Results: 11 Questions Heading Into UFC 121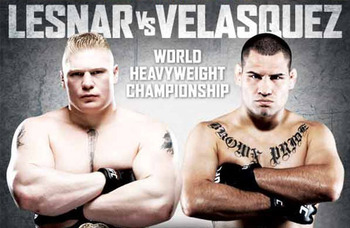 We're almost one week removed from UFC 120 in London and if you can believe it, only a little less than twenty-four hours away from UFC 121 in Anaheim.
Like many of you, the question of "Will Brock Lesnar dominate Cain Velasquez?" is far from the only question on my mind, so let's not waste too much time.
We all have questions of what's going to go down this Saturday, so from bottom to top, I present to you the 10 questions that I know I'll be asking before UFC 121 this Saturday.
As always, if you have a question you'd like to contribute to this piece, please put it in a comment and I'll add it to this slideshow.
Dale De Souza is a Man on Fire—or as the regulars of MMA writing call it, an "Analyst"—for Bleacher Report MMA, as well as a contributor to Sprawl-N-Brawl MMA, RealSportsNet, Sports Haze and Hit The Ropes MMA.
Become his buddy on Facebook or stalk him on Twitter
Also be sure to check out more of him on the official Agree To Disagree Facebook Page.
11. Isn't Cain Velasquez Just The First HW Champ In MMA And Not Combat Sports?

This is gonna be f**kin' insane.

"Can Cain Velasquez really be the first HW champ in combat sports if John Ruiz held a HW boxing strap?"
-- Jason Schielke.
Good one, Jason.
For those who don't know who John Ruiz is, Ruiz is a former two-time WBA Heavyweight Champion who is regarded as the sport's first Latino Heavyweight Champion.
In the hype leading up to UFC 121, Cain's been hyped up as the man who could be the first Mexican Heavyweight Champion, but is he really going to be the first Mexican Heavyweight Champion in MMA history?
Dale's Take: Yes, he will be the first Mexican American MMA Fighter heritage to win the UFC Heavyweight belt if he gets past Lesnar. I say he can and will find a way to beat Brock-- and if you have Time Warner Cable and therefore have gotten the early nine-minute preview of the Countdown, you've heard some of the trash talk Brock and Cain have been dishing out. Watch the nine-minute-and-something-seconds video of the Countdown preview on Youtube and you'll know what I'm talking about.
Hopefully Cain doesn't come into this fight too pissed off.

10. Will Hurricane Yvel Leave Jon Madsen's Record in Ruins?

A long time ago, Gilbert Yvel was able to stop a young Cheick Kongo. Can he do the same thing to the undefeated Jon Madsen?

Gilbert Yvel is in another "striker vs. wrestler" battle when he faces Jon Madsen in what will be the first fight of the night.
Madsen has had a reputation of being a takedown specialist, but his fights have yet to air on pay-per-view since his time on Season 10 of The Ultimate Fighter.
Can he take Yvel down and handle him the way Ben Rothwell was able to do to Yvel at UFC 115, or will Madsen's perfect record be left in ruins thanks to Hurricane Yvel?
Dale's pick: Yvel beats Madsen by TKO in R1.
9. How Will The Korean Ox Fare In The States?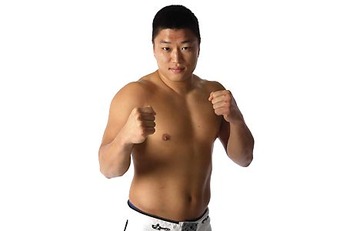 Undefeated Middleweight prospect Dongi "The Ox" Yang has not been seen by many fans in the US before, but this young warrior will bring his nine-fight unbeaten streak to Anaheim, California to face one Chris Camozzi of Ultimate Fighter 11 fame.
Camozzi has never been knocked out in his career, and he'll be bringing in a 13-3 record against the less experienced newcomer.
This should be an interesting fight, solely due to the fact that Yang will be debuting against a man who I have to see being a favorite to win.
Dale's pick: DAMNIT! I wish this fight was on the Spike TV prelims at least! LOL. At least there's a chance we see it on the Spike TV special anyway. Back to the point, I see this being a competitive fight, and I'd like to say Yang in round 1 by TKO, but I'll predict Camozzi wins by an arm bar late in round 1.
8. Do We Really Have To Ask Which Fight Is a Fight of the Night Candidate?
Seriously, are you really not sure which fight could be the "Fight of The Night" in Anaheim?
Let me help you out here:
Sam "Hands of Stone" Stout—one of the toughest guys in the Lightweight division, a dude who loves to scrap with the best of them and a dude who is good at a lot of things, but I'll put it in print:
The one thing he does suck at is being in a boring fight.
Good thing, too, because he's got a three-time Fight of The Night winner on his hands in a returning "Relentless" Paul Taylor.
Taylor loves to knock people out, submit them, control them and really get into some tough battles on the feet as well as on the ground.
Put these two fighterss together, and there ya go—Fight of the Night candidate right off the bat!
Now for the REAL Question: Can Taylor make a successful comeback at Stout's expense?
We'll wait and see.
Dale's Pick: You know a card is stacked when Sam Stout's fight is stuck on a prelim card. I do believe that this fight really will be a FOTN candidate, but I don't think Taylor will make a successful comeback. I see Stout delivering a shot that drops Taylor and then raining down on Taylor with some follow-ups in round three. I just think the layoff between UFC 105 and Saturday night has been too long of a layoff for Taylor, and it'll cost him in the end.
7. Will UFC 121 Be the Last Time We See a Badass Entrance from Tom Lawlor?

"Whatcha gonna do, Patrick Cote, when Lawlormania runs wild on YOU?!"

YOU KNOW SOMETHIN', MEAN BLEACHER REPORT!
I've heard everything that Dana White's been saying around here, dude, and it seems that Patrick Cote and Tom Lawlor are in quite the jam here!
You see, Filthy Tom and Patrick The Predator have been two of the baddest guys out there in the Middleweight division, but they've been posting up two losses in their last fight.
Well I can't say exactly what's going to go down, Bleachermaniacs, but I guarantee you it's going to elevate Anaheim through the roof, and WHATCHA GONNA DO?!
Dale's Pick: Hope y'all enjoy the brief touch of Hulk Hogan above :-) On a serious note, both guys do need a win here pretty badly. I don't know if a loss for either man will get them axed, but I know a draw probably won't unless the fight sucks. In a perfect world, this fight would go to a split draw, but I see this one ending in a split decision for Cote, if not a submission for Cote. It's going to be a tough fight on both men, but it should be a good Middleweight battle.
6. Can the Crusher Keep the Ball Rolling Against Ryan Jensen?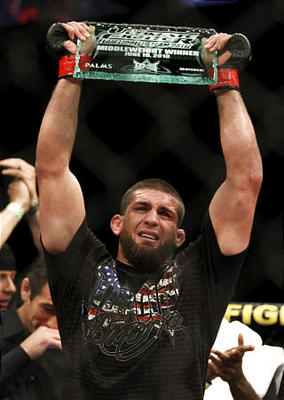 Seeing Court McGee's post fight interview with Joe Rogan after he beat Kris McCray at the TUF 11 Finale was a lot like the movie Inception:
If you didn't see it, you wouldn't understand what the big deal was, and if you saw it but couldn't find something compelling about it, there's something wrong with you.
Unquestionably, few moments in MMA ever made anyone want to just let out a few tears quite like McGee's post fight interview.
Fast forward to this Saturday, and Ryan Jensen.
Jensen isn't a name that anyone should get too familiar with, but that could change if he can spoil McGee's post-TUF debut in Anaheim.
Dale's Pick: With the ground game of McGee as well as the KO power he does possess, I don't see how Jensen walks away from this one, but you never know in this sport—which is basically why I love the damn thing. I pick McGee getting another second-round Rear naked Choke for the win. This kid is going to do some big things in the UFC, y'all.
Don't sleep on The Crusher.
5. Is the Hybrid Legit, Or Does Napao Have Another One Left in Him?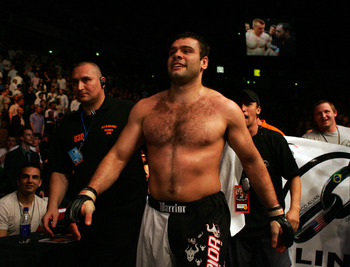 Gary M. Prior/Getty Images
It's JSF vs. Team Link.
The Hybrid vs. Napao.
Veteran vs. Prospect.
Gonzaga vs. Schaub.
Schaub will be taking this fight after beating Chris Tuchsherer at UFC 116 in Vegas, while Napao will be taking this fight as a comeback fight following a loss to Junior Dos Santos at the inaugural UFC Live on versus event.
Napao needs the "W" to prove he hasn't lost a step or relegated to gatekeeper status for good, while Schaub needs the win to prove that he might be ready for the upper echelon of 265.
Can Gonzaga get back on track, or is now Schaub's time?
Dale's pick: Schaub by TKO, R1. Gonzaga I believe won't be having an advantage in the movement or hand speed department, leaving him as easy pickings for Schaub.
4. The Student Vs. the Teacher: Who Gets Taught a Lesson in Anaheim?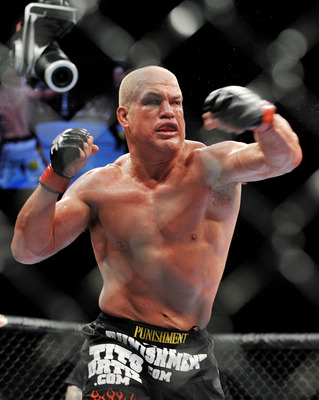 Jon Kopaloff/Getty Images
I still don't know if it's Tito Ortiz or Matt Hamill who asked for this, but it's gonna happen either way.
Both men are wrestlers, both men can finish from anywhere they wish and both are exciting to watch, but could Hamill's BJJ make a difference in this fight?
Maybe, or may Tito inflicts his own Punishment to Hamill and walks out a winner yet again.
Dale's pick: Hamill stuns Ortiz with a right hand and knocks him out in R2.
3. Is The Nightmare Over?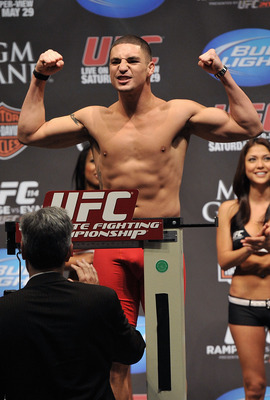 Jon Kopaloff/Getty Images
Diego Sanchez is coming off of a loss to formerly undefeated prospect John Hathaway, while Paulo Thiago is coming off of a loss to Martin Kampmann.
Sanchez has always been one of the sport's most well-rounded fighters, while Paulo Thiago has recently been one of the sport's most feared Brazilian prospects, but the main question surrounds Sanchez and whether the days of him being "The Nightmare" are finally over.
If so, it could be the launching pad Thiago needs to move towards Welterweight title contention.
Dale's pick. Sanchez needs the win and he needs to convince the world that he's still hungry. Thiago won't be a pushover, though, so this one won't be a TKO or submission win for Sanchez. I see this going the way Thiago hates it: a Unanimous Decision win for Sanchez who I think could outpoint the tough-to-finish Thiago. I won't rule out a submission or a (T)KO for Thiago, though...
2. How Will Jake Shields Do in the UFC?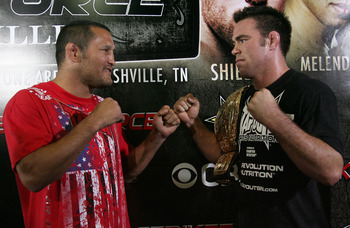 Valerie Macon/Getty Images
The former Strikeforce Middleweight Champ.
The perennial contender to the UFC Welterweight throne, better known as "The Hitman".
This is it.
Kampann's all-around-deadly game on the feet and on the ground get to meet Shields's Jiu Jitsu and Wrestling game at long last.
It'll be interesting to see if Shields can live up to the hype, or if he'll fall to The Hitman in Anaheim.
Dale's Pick: Shields is a good wrestler, a BJJ ace, and a former Strikeforce Middleweight Champion, while Kampann has had no titles to his credit. It's a tough one, but I say Kampmann wins by submission in Round 3.
1. Which Impossible Dream Comes True With the Gold on the Line?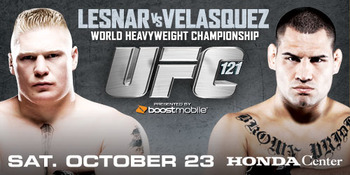 Brock Lesnar. Cain Velasquez. Enough said.
A comeback from a bacterial disease that could've taken a champion's life.
A destiny that has motivated a challenger since before anyone ever knew his name.
The stories behind the Brock Lesnar-Cain Velasquez run deeper than a simple "Brock-has-the-belt-Cain-wants-the-belt" hype quote.
Cain is the first Mexican-American fighter to challenge for the UFC Heavyweight belt, and if he can endure what Brock Lesnar dishes out in Anaheim, he'll go down as the first Mexican-American UFC Heavyweight Champion.
Brock is already proving himself to be one of the most dominant champions in UFC history with victories over Frank Mir and Shane Carwin, and he hopes to add Cain Velasquez to that list, but there's one factor that is as much a key as Cain's cardio and striking, or Lesnar's power and size:
This is Brock Lesnar's third title defense that he'll be making this Saturday, and in the long history of the UFC Heavyweight Championship, no champion has had more than two consecutive successful title defenses after winning the belt.
As a matter of fact, in the history of MMA, only one Heavyweight Champion has defended their title successfully three times, and that was back when Fedor Emelianenko held the PRIDE Heavyweight title.
Can Cain continue the tradition and stop Brock on his third title defense, or will Brock make history and become the first UFC Heavyweight Champion to have successfully defended the belt three times since winning the belt?
Dale's Pick: I like both guys as fighters, primarily because they both are never in boring fights and because I do favor wrestlers often times. Many of you know, however, where I stand on this. I say Velasquez will get the win by way of TKO in Round 3 over Lesnar, win the belt...and have the unenviable task of being the next opponent for Junior Dos Santos.
Keep Reading