5 Reasons To Watch WWE's Bragging Rights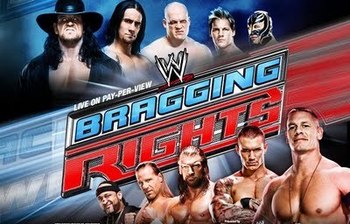 Haven't written anything for a while, but have decided to today, mainly due to boredom.
I have made a list of reasons why people should order WWE's second "Bragging Rights" PPV next sunday. I like the idea of this PPV, as it shows us which show is better, although the trophy was, in the end, meaningless as it has only been shown on tv twice (that I know of).
Anyway, let's get into the reasons!
The Buried Alive Match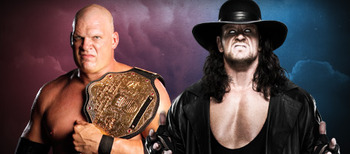 For the first time in ages, there will be a Buried Alive match!
That's right, people; the WWE has brought the Buried Alive match out of semi retirement, with The Undertaker facing his half-brother Kane for the World Heavyweight Championship.
This is a match no upstanding WWE fan will want to miss, as it will be a fantastic match!
Tyler Reks

Tyler's SD Debut

Kaval challenges SmackDown's team captain, The Big Show, to a match. Show accepts, telling Kaval that if he can go five minutes with the big man, then he gets a spot. Kaval does just that, only to be interrupted by.. Tyler Reks?!
This man was thought to have been gone from the WWE, doing a veritable Funaki and staying on the roster for ages without doing anything, but he made his SmackDown debut this past friday and shocked everyone. His mic skills need a little tuning, but his in ring does not from what we saw last week.
Tyler is back, he's in team SD, and no matter how many members of the IWC complain, that isn't going to change. The Reks factor has made a lot of people interested in what this newly gimmicked man can do in the ring. I honestly can't wait for the 7-on-7 just to see this man!
Cena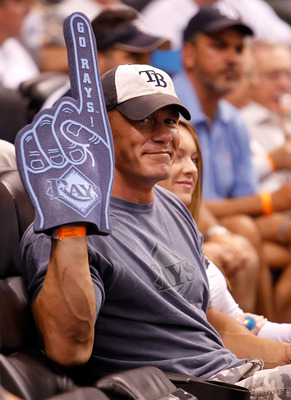 J. Meric/Getty Images
Not much explanation in the title, but I'm pretty sure you all know what I'm talking about. Cena is now a part of Nexus, and Nexus' leader Wade Barrett has a shot for the WWE Title against Randy Orton.
With Cena not in Team RAW thanks to Hennig and Harris, he's been forced to stand in Barrett's corner, possibly giving him the edge. If Cena doesn't obey Barrett, he's gone. If he does, possible heel turn. It's a win-win situation for the IWC.
Could Bragging Rights be the place Cena turns heel? Probably not, but we can at least watch his journey to the dark side.
The Cross Brand Matches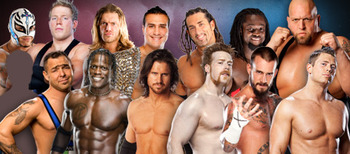 Last year's Bragging Rights gave us three interpromotional matches to decide what brand was best. Let's just say it left something to be desired.
With the Divas and Women's Championships joined, and with more attention being put on the tag team division now, we can only hope for a lot more from this year's Bragging Rights. The interpromotional matches also gives more chances for heel turns, people switching brands, or betraying their own.
(Ok, maybe I'm being a little harsh on last years BR. I did love the two non-interpromotional matches, with Cena vs Orton in a 60min Iron Man Match and Batista's heel turn in the Fatal 4-way for the WHC)
It's Free in the UK!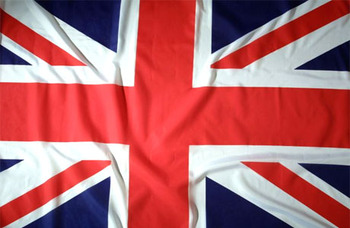 That's right, my fellow B/R Brits, we get this beaut of a PPV for free! You have very little reason to miss it, apart from having work a few hours after it finishes. Any person living in the UK with SkySports, turn to SkySports4 at 1am on Sunday night (Monday morning) to watch what could and should be a great PPV!
Keep Reading