Detroit Lions vs. New York Giants: Live Blog, Stats, and Analysis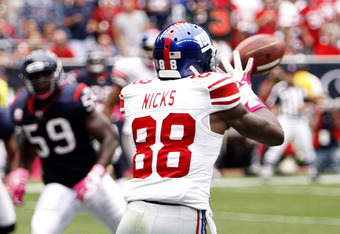 Bob Levey/Getty Images
Hey everybody, New York Giants Featured Columnist John Borgolini here to bring you everything you need for the week 6 matchup between the Detroit Lions and the New York Giants.
The Giants surprised everybody with their week 5 handling of the Houston Texans. It may have even been a surprise to some that the Giants even won the game, but nobody saw them winning in the dominant fashion that they did.
Hakeem Nicks has proven all Giants fans right with their preseason hype. Nicks showed flashes of brilliance last season, and this season he has been absolutely fantastic for the Giants.
The Lions are a team with a lot of potential talent that still has to find a comfort level. It is very possible that this team will surge late in the season, especially when Stafford comes back, but the playoffs are still out of the question for this season.
The Giants can't underestimate anyone, especially after their back-to-back losses to the Indianapolis Colts and the Tennessee Titans, and this game will be a perfect example of this. With the always dangerous Calvin Johnson and the up-and-coming Jahvid Best, the Lions have a chance to make this game interesting.
Thank you to everyone who followed the game. Be sure to look for my future blogs. And please feel free to post any thoughts you may have.
Stanton goes for Pettigrew, but it's off his hand and into Rolle's. The Giants win 28-20
Stanton gets too much free space and runs for the first down.
Thomas drops the pick. Should have had the INT.
Stanton hits Best short and he runs for the first down.
Stafford was on the field, but Stanton back in.
Stanton slow to get up after a hit by Tuck. He doesn't look good to go. Stafford might be called up before the Lions had hoped.
Another terrible call by Gilbride. A short pass on third and long.
Hanson hits the 50-yard field goal (his second of the game) to pull the Lions to within eight. No surprise to see the Lions play the Giants so well. They're not a bad team.
After an eight-yard gain to Pettigrew, the Lions have Johnson drop another pass on third down. Lions elect to kick.
Stanton with a pass going right through the hands of Bryant Johnson.
Grant with another big play getting the Lions returner Logan after a 58-yard return.
Jacobs with is second touchdown of the game. Giants up by 11 again.
Bradshaw with a huge gain on first down with a 46-yard carry just getting caught by Chris Houston.
Burleson with another first down against Ross. Burleson fumbles it right before his knee goes down. Grant recovers it for the Giants.
Phillips hits Johnson breaking up another big gain for Johnson.
Ross misses the tackle and Rolle is too hesitant allowing Burleson to get the first.
Thomas back in the game after missing one play.
Terrell Thomas is down after a big hit on Pettigrew.
Stanton held the ball too long.
Osi with ANOTHER strip sack. Lions recover it this time, though.
Lions stop the Giants again. Giants punt with the Lions starting at their own 13.
Bradshaw with a quiet 85-yard game. He's had some nice runs, but they've been far between. Still a solid game.
Pettigrew has the high pass go right off his hands. Just out of his reach, and he was hit by Thomas coming from the opposite direction. Lions punt.
Right now this is the only close game the Giants have been in. Disappointing that they haven't left fans anticipating every play so far this season.
This article is
What is the duplicate article?
Why is this article offensive?
Where is this article plagiarized from?
Why is this article poorly edited?

New York Giants: Like this team?