Gunners Greats and Goons: Rating Arsenal Captains of the Past Decade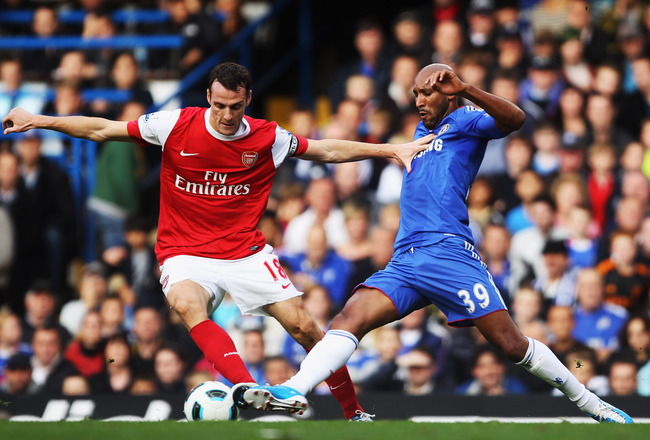 Bryn Lennon/Getty Images
On the afternoon of Sunday, 3 October the eloquently-named French defender Sebastien Squillaci (pictured) set a new record for Arsenal football club.
He captained the side after just six appearances. The journeyman hard man's feat is not as impressive as it seems, though, as the seemingly customary host of injured stars and a lack of standout starting leaders led to the new signing's captaincy.
But why is it that a 30-year-old ex-Sevilla centre-back is given the armband that such legends as Adams, Vieira and Henry have worn with such pride? In this slideshow I will rank every player who has captained the famous red and white, based on permanency of captaincy, success while captain, attitude and leadership and contribution to the team.
Failed Fill-Ins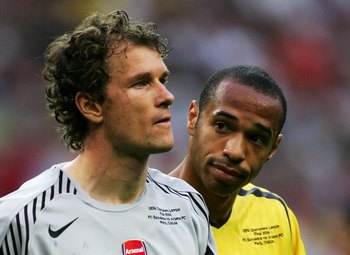 Alex Livesey/Getty Images
Jens Lehmann
The German should be remembered as the goalkeeper of the "Invincibles," a wonderful shot-stopper whose penalty save saw Arsenal reach their first Champions League Final, but is instead remembered for his eccentricity. Occasional high-profile blunders, time wasting, diving and a rift with colleagues Manuel Almunia and Oliver Kahn stain the memory of Lehmann's time at Arsenal almost as much as his sending off in the final in Paris in 2006 after just 17 minutes. 2.5/10
Manuel Almunia
Apparently nice on-and-off the pitch, Almunia (as well as Eduardo and Squillaci) is an example of Arsène Wenger's recently unsuccessful policy of appointing older but not necessarily more experienced players as stand-in captain. Despite his manager and teammates having said that he trains superbly, Almunia's perplexing nerves cost Arsenal big time in 09-10 through numerous schoolboy errors. Good on penalties and shot-stopping, but a top class 'keeper, and even moreso captain, should be able to organise his defence better and have more confidence than the Spaniard. 3.5/10
Eduardo da Silva
A superb finisher before his heartbreaking injury robbed him of a yard of pace and a lot more in confidence, Eduardo is quiet on-and-off the pitch and was never going to be the leader that Arsenal needed.3.5/10
Sebastien Squillaci
He may have only played one match as stand-in skipper, but if Squillaci's capitulation at the hands of Didier Drogba, et al. last week is anything to go by, the Frenchman may not be the dominant centre-back that Gooners have been longing for. However, his aerial ability and organisational skills seem to be top notch. 4.5/10
Gäel Clichy
One of the most experienced campaigners in the current Arsenal squad, Clichy's pace and attacking instincts are valuable assets on the left side of defence. However, even his good organising and frequent goal-line clearances cannot hide the fact that he rushes to pressure opponents and is caught out of position time and time again. 4.5/10
Robin van Persie
A magnificent player, one of the best in the world....when fit. Unfortunately that tag-on must be attached to the injury-prone Dutchman, but when he is on the pitch he adds another dimension to Arsenal's attack and is a good leader. That said, his petulant red card against Stoke in 2008 displayed an ability to lose his cool due to his passion for the game. 5.5/10
Andrey Arshavin
Has struggled to maintain the electric form he showed in his first few months at Ashburton Grove, and has cut a frustrated and disinterested figure at times, despite consistently scoring and creating goals. The Russian captain and a source of magic on the Gunners' left wing, Arshavin's few matches as captain have shown his honesty, since he denied a penalty that was given for him when there was no foul. 6/10
Tomas Rosicky
Captain of the Czech Republic when they were ranked as high as second in the world, Rosicky's injury nightmare seems to be over, and he is back in sparkling form. He leads by example on the pitch, but the experienced playmaker recently missed a crucial penalty against Sunderland when captain. 6/10
Successful Stop-Gaps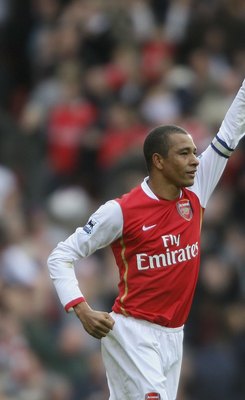 Stu Forster/Getty Images
Kolo Toure
Remembered for his surging runs from the back and vital challenges, the Ivorian was vice-captain to William Gallas and a regular in the "Invincibles" team. His passion and organisational skills were valuable, and he left the Emirates for Manchester City in 2009 with the love of all Gooners, despite his much-publicised rift with Gallas and dressing-room clique with Emmanuel Adebayor. 7.5/10
Sol Campbell
Signed on a controversial free transfer from Spurs, Campbell gave Arsenal his best years, and as demonstrated by such acts as instigating the post-match huddle following the traumatic injury-marred win against Stoke in his second spell with the club, his leadership skills and passion were a sight to behold. "Mercenary" title does him no good though. 7.5/10
Dennis Bergkamp
Not the most vocal stand-in captain, but a genius and quite possibly Arsenal's greatest ever player. A joy to behold, but not a regular skipper. 7.5/10
Ray Parlour
Nicknamed the "Romford Pelé," Arsenal born-and-bred Parlour was a hard-working team player who scored spectacular goals and drove the team on even when not required to fill in as captain. His most memorable match as captain is undoubtedly the 5-1 thrashing of Inter at the San Siro. 8/10
David Seaman
The calming bedrock of the "Famous Five" behind Dixon, Keown, Adams and Winterburn, he was solid and capable of incredible reflex stops. 8/10
Martin Keown
Another fired-up centre-back, Keown pushed the team on with tough tackling and superb tactical knowledge. 8.5/10
Gilberto Silva
"The Invisible Wall" was the unsung hero of the mid-noughties Gunners, and is remembered for his hard but fair play, flawless penalty-taking and charity work off the pitch. Was appointed captain following Thierry Henry's departure to Barcelona in 2007, but his Copa America participation meant that William Gallas took the position. A shame, because Gilberto was a true legend of the "Invincibles" and nice guy. 9/10
William Gallas
Captaincy
August 2007-November 2009
Captaincy Highlight(s)
Winning goal against former club Chelsea and last-minute equaliser against Manchester United in 07-08 season; scoring the last-gasp winner against Hull City in the FA Cup; instigating incredible rain-swept comeback from two goals and a man down at halftime against traditional bogeymen Bolton Wanderers with a goal
Captaincy Lowlight(s)
Angry strop at St Andrews in 2008 (pictured); removal as captain for revealing dressing room rifts to the press; being photographed smoking by the tabloids; injuries
Leadership Rating
4/10—A real warrior who wore his heart on his sleeve, but not a model professional
Contribution Rating
7.5/10—A superb defender on his day, and an asset going forward
Thierry Henry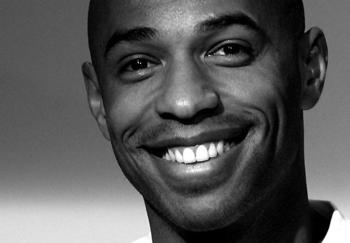 Captaincy
July 2005-June 2007
Captaincy Highlight(s)
Becoming Arsenal's all-time top goalscorer; reaching the Champions League Final in the 05-06 season (and THAT goal at the Bernabeu); scoring a hat-trick in the final match played at Highbury to snatch fourth spot from Spurs
Captaincy Lowlight(s)
Losing the 2006 Champions League Final 2-1 to Barcelona; injury-plagued final season at Arsenal; leaving Arsenal after eight years with the club
Leadership Rating
7.5/10—Led by example despite early scepticism over whether a forward should take the armband
Contribution Rating
9.5/10—A true legend, a magnificent player to watch and no doubt play with, but ever so slightly less effective than in the years before his captaincy
Cesc Fabregas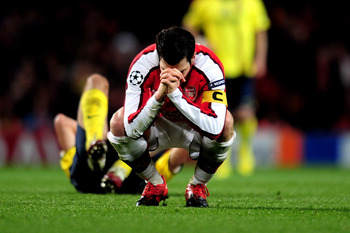 Shaun Botterill/Getty Images
Captaincy
November 2009 -
Captaincy Highlight(s)
Solo goal straight from a Tottenham kick-off in what is now becoming known as "The 11-Second Derby"; sealing the comeback against boyhood club FC Barcelona with a broken leg (pictured); inspirational cameo against Aston Villa in 09-10; instigating Arsenal's late defeat of bogey team Stoke City following the traumatic injury to Aaron Ramsey*
Captaincy Lowlight(s)
Witnessing a third horrific leg break at the Britannia, following Eduardo da Silva and Abou Diaby's nightmares; hamstring tears, knee ligament damage and a leg break in two seasons; a lack of trophies and pining for a return to Catalunya
Leadership Rating
9/10—A superb leader, especially for one so young. He drives the team forward and controls the tempo of Arsenal's play, whilst organising tactically and motivating his troops. His loyalty to the club and manager that turned him into the player that he is today is remarkable, even if a return to Barcelona seems inevitable. This season Fabregas will put that to one side though, as his supreme focus and effort will, as always, be for Arsenal.
Contribution Rating
8.5/10—The heartbeat of the new generation of Arsenal players, Fabregas' vision and passing used to be the outstanding qualities that made him so important to the Gunners. But now he has added goals to his game, with 19 and 19 assists in an injury-plagued 09-10 season, and is clearly one of the best midfielders in the world. Often it is the case that when Fabregas isabsent, Arsenal look rusty and one-dimensional—when he plays they are irresistible.
*Other highlights, such as the goal that sunk AC Milan at the San Siro, the "Dynamite" strike against Spurs and the comeback-sealing goal against Bolton came prior to Cesc's appointment as captain. Also won the 2010 FIFA World Cup with Spain during reign as skipper. The same applies for all of these captains.
Patrick Vieira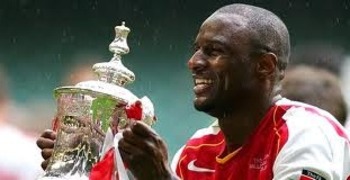 Captaincy
August 2003-July 2005
Captaincy Highlight(s)
Captaining "The Invincibles" to an unbeaten Premier League triumph; setting the unbeaten run record of 49 matches; scoring the winning penalty in the FA Cup Final victory over Manchester United; scoring in the epic 5-4 victory over Spurs*
Captaincy Lowlight(s)
Disciplinary issues, especially his red card for kicking Ruud van Nistlerooy in the 0-0 draw at Old Trafford in the 03-04 season; injuries and loss of first-team place to the emerging Cesc Fabregas in his final months as a Gunner
Leadership Rating
9/10—Drove the team on with inspirational play from the engine of the team, screaming at his players and leading by example
Contribution Rating
9/10—Tough tackling, immensely strong, with great ball skills and an eye for goal—what more could you want?
Tony Adams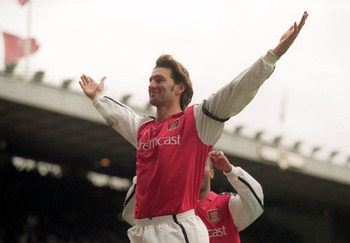 Mike Hewitt/Getty Images
Captaincy
January 1988-August 2002
Captaincy Highlight(s)
Winning Arsenal's first title in 18 years with the last kick of the season at Anfield in 1989, a further First Division triumph in 90-91, the 1993 League Cup and FA Cup double, UEFA Cup Winners' Cup victory in 1994, historic league and FA Cup doubles in 1998 and 2002, knocking out Spurs with the winning header in the 1993 FA Cup semi-final, scoring the last goal in the 01-02 double-winning league campaign with a searing volley
Captaincy Lowlight(s)
UEFA Cup Winners' Cup, FA Cup, League Cup and in particular UEFA Cup final losses, lengthy public battle with alcoholism spanning from mid-1980s to 1996
Leadership Rating
9.5/10—Adams both accepted foreign players and nurtured youth products, was a joker in the dressing room and ensured that discipline and order were maintained, was a rock at the back and a threat going forward. He was the best. The greatest captain in the modern English game.
Contribution Rating
9.5/10—When Adams didn't play, Arsenal weren't the same at the back. When he didn't go forward for corners, opposing defenders would breathe a sigh of relief. Rarely guilty of mistakes and inspirational in the tackle and aerially. Arsenal's second highest appearance maker, with 669, and the most successful in terms of honours. Arsenal born-and-bred, Tony Adams will be replaced by no one.
The Future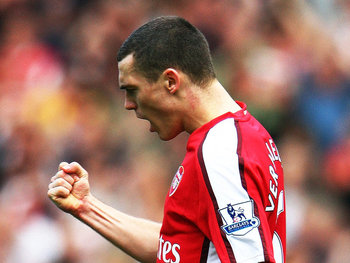 And when, not if, Cesc Fabregas departs the club, new leaders will emerge from the ashes. As well as the current supporting act (van Persie, Rosicky, Clichy, Arshavin, Squillaci etc.), here are my two picks for future captains.
Thomas Vermaelen
Already passionate about the club and a real winner, the Belgian may well become captain after Fabregas (or van Persie). He did actually captain the side against AC Milan in the 2010 Emirates Cup, but that was not a competitive fixture. Strong in the tackle, good in the air and a good reader of the game, Vermaelen (pictured) can also score goals and, at 24, looks to be a real bargain for the £10 million that Wenger splashed last summer.
Jack Wilshere
A leader by example, and still only 18. Having come to Arsenal aged nine, the boy has Gunner blood and will hopefully remain loyal to the cause. Cesc Fabregas has seemingly been given the task of moulding Wilshere into a complete player this season, and that must be a good thing. He is not yet overly vocal or organisationally prominent, but his quality is undeniable and he will almost certainly become a huge star. Unfortunately, as has been displayed with Henry, Fabregas, Steven Gerrard at Liverpool and many other talismanic figures, Wilshere may only be handed the captaincy to reward his contributions to the team and fend off rival clubs' interest.
Keep Reading

Arsenal: Like this team?