Fantasy Football: Week 6 Edition Of Start 'Em Up, Sit 'Em Down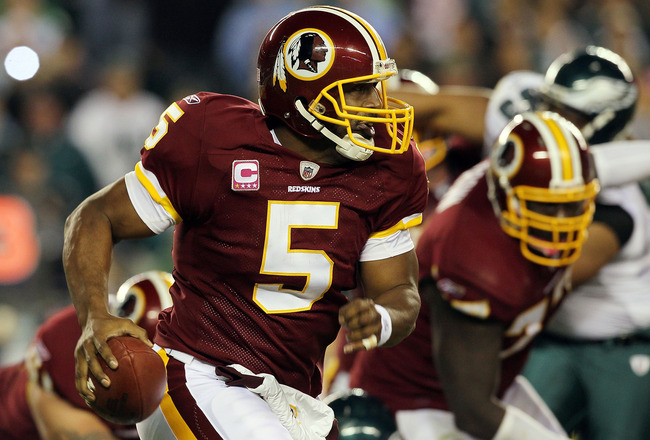 Jim McIsaac/Getty Images
Week 5 is behind us. With that said, they're new players entering into the NFL with tremendous impact. Moreover, we've seen players through out the league grow and mature into effective players.
I'm here this week to provide all fantasy owners with an inside look at some fundamental, yet tactical players that will involve themselves in week 6.
On behalf of myself and the B/R team, I want to thank all my followers for your support every week.
On the whole, I want to wish everyone a happy week 6. Please feel free to leave me a comment or reach me via email at johnmatheo@aol.com
10. Brandon Lloyd, WR, Denver Broncos: Start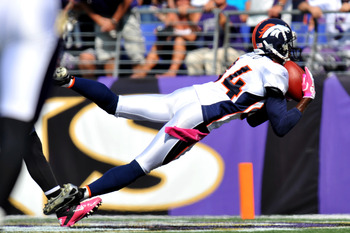 Larry French/Getty Images
Brandon Lloyd is having a career season. His stats on the fantasy chart have been astronomical. This week he goes up against a battered New York Jets Defense.
Lloyd is a number one receiver at this point. Please insert him into your lineup this week.
Lloyd's projections for week 6: 85 yards receiving, two touchdowns
9. Kyle Orton, QB, Denver Broncos, Start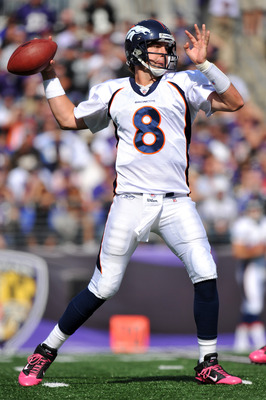 Larry French/Getty Images
Last week I told you to sit Kyle Orton. I want to apologize for that, especially to my followers that email me throughout the week.
Orton is the real thing. He may have a short career in Denver, but his services will be needed elsewhere in the years to come.
Orton is a definite start for week 6.
Orton`s projection for week 6: 300 plus yards passing, three touchdowns, one interception
8. Hakeem Nicks, WR, New York Giants: Start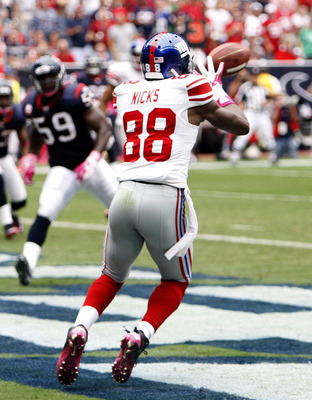 Bob Levey/Getty Images
Hakeem Nicks is coming off one of his best performances. Nicks played against a well prepared Houston Texans in week 5.
His stats were off the chart. This second year wide receiver is showing his stuff as the weeks progress.
Nicks reminds me a lot of Michael Irvin. He`s a definite star. In week 6 he plays against the Detroit Lions.
This means big things for Nicks.
My projection for Nicks in week 6: 100 yards receiving, two touchdowns.
7. Aaron Hernandez, TE, New England Patriots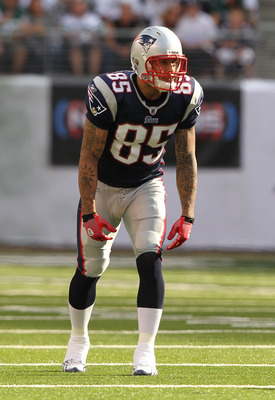 Al Bello/Getty Images
Just like the rest of us, I`m in shock when it comes to Aaron Hernandez. This kid has shocked everyone in New England.
With the departure of Randy Moss, Tom Brady will need to find Hernandez more often. This week Hernandez will have his hands full against a stingy Baltimore Ravens.
I still feel that Hernandez will come up big against the Ravens. His quick speed will allow him to deceive his defenders in this weeks match ups.
My projection for Hernandez in week 6: 75 yards receiving, one touchdown
6. Mike Hart, RB, Indianapolis Colts: Start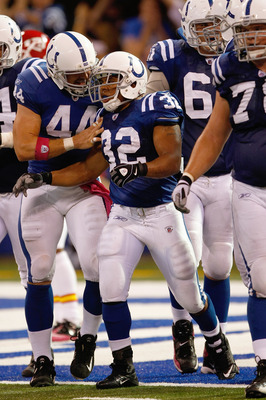 Scott Boehm/Getty Images
Mike Hart has finally reached his destination. With injuries to Donald Brown and Joseph Addai, Hart will have his opportunity to shine.
He had a touchdown and contributed with 50 yards rushing in week 5. If he gets the start this week, look for him to put up some decent numbers.
My bold projection for Hart: 75 yards rushing, one touchdown, 25 yards receiving
5. Michael Bush, RB, Oakland Raiders: Start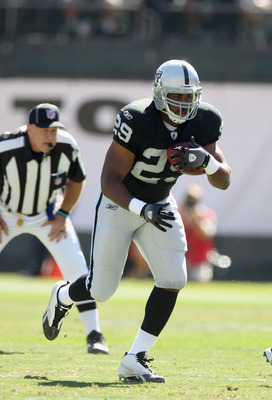 Ezra Shaw/Getty Images
Last week Michael Bush had 100 plus yards rushing with 26 carries as the Oakland Raiders defeated the San Diego Chargers in week 5 action.
This week Bush gets ready to play against the struggling San Francisco 49ers. Bush will have a field day against the 49ers.
For one, the 49ers defensive front line is struggling as of late. The offensive line of the Raiders will push the line all day.
Meaning, Bush will have a successful outing.
My projection for Bush in week 6: 100 yards rushing, one touchdown, 35 yards receiving
4. Justin Forsett, RB, Seattle Seahawks: Sit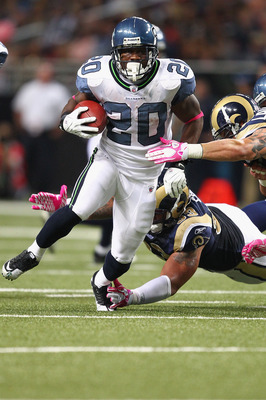 Dilip Vishwanat/Getty Images
Justin Forsett is slowly developing into a great running back. The Seattle Seahawks understand that in order to have a healthy running game you must have a substantial amount of depth at the running back position.
The Seahawks have acquired the services of Marshall Lynch which means Forsett's services will be shortly reduced.
If you can, please rest Forsett for this week. His touches maybe minimal.
My projection for Forsett in week 6: 45 yards rushing
3. Marion Barber, RB, Dallas Cowboys: Sit
Stephen Dunn/Getty Images
Marion Barber has had his success in the NFL the past few years. He's also gone through extensive injuries which have held him back.
His teammate Felix Jones had a great game last week versus the Tennessee Titans. Coach Wade Phillips is a fan favorite of Jones.
This means that Barber will have less touches from this point on.
Give Barber a rest this week.
My projection for Barber in week 6: 35 yards rushing
2. Kansas City Chiefs Defense: Sit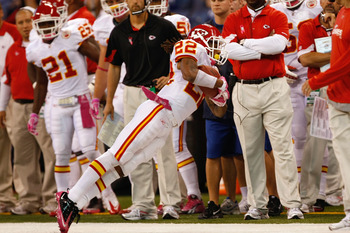 Scott Boehm/Getty Images
The Kansas City Chiefs have been having a stellar NFL season thus far. They were given a reality check last week when they played against the Indianapolis Colts.
Don't get me wrong, I truly believe that the Chiefs are on the right track. This week they play against the Houston Texans.
The Texans are looking to bounce back from a disappointing game versus the the Giants in week 5. The Chiefs are going to have problems versus the offensive weapons of the Texans.
Without further a do, please sit the Chiefs defense for week 6.
My projection for the Chiefs defense in week 6: 27 points allowed
1. Donovan McNabb, QB, Washington Redskins: Start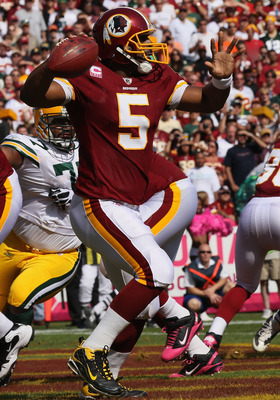 Win McNamee/Getty Images
It hurts me a lot to promote this individual. I'm religiously a true Philadelphia Eagles fan.
When the Eagles traded Donovan McNabb to the Washington Redskins, I had mixed emotions. Well I can finally say that McNabb looks good as a Redskin.
He's a true leader and mentor. McNabb has reshaped the face of the Redskins football team. Furthermore, McNabb has been extremely effective on the fantasy charts.
This week he plays against the Indianapolis Colts. It's gonna be an airshow. Look for McNabb to post some great numbers.
My projection for McNabb in week 6: 295 yards passing, two touchdowns, 25 yards rushing
Keep Reading