NFL Frankenstein, Building The Perfect Player: Offensive Line Edition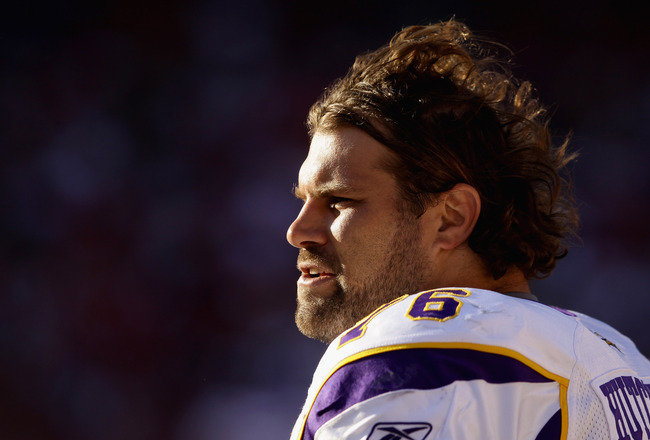 Ezra Shaw/Getty Images
Since my NBA version of the Frankenstein idea was fairly popular I thought I'd do a NFL version. However since the NFL has so many different positions I've decided to do a different position every day until Sunday, which should let me cover the important positions on the field. Since the most overlooked and probably important position is the offensive line that's where we'll start.
Brain: Steve Hutchinson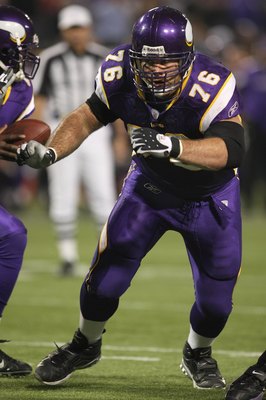 Jonathan Daniel/Getty Images
Hutch has been the best interior lineman in the league for quite some time so he's sure to have seen every thing a defense could throw at him. Therefore, it only makes sense to take his brain and put it in our player to give him one of the smartest veteran minds in the game. Plus, with Hutchinson's mind using the rest of the players body parts this monster will be ridiculously dominate.
Mouth: Jeff Saturday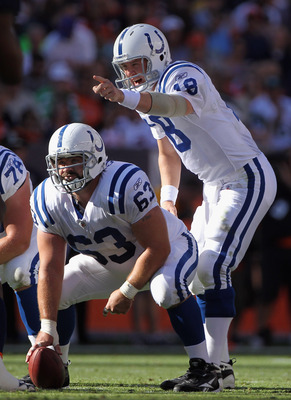 Doug Pensinger/Getty Images
When you watch a Colt's game the one thing you know you're going to see is Peyton Manning making audibles and checking blitzes, using the entire play clock to set up his team to succeed. What you might not notice is Saturday making similar checks for his offensive lineman. This guy is the Peyton Manning of the lineman, he's ability to recognize and communicate to his teammates and that's something our player will need to excel as a leader.
Heart: Richie Incognito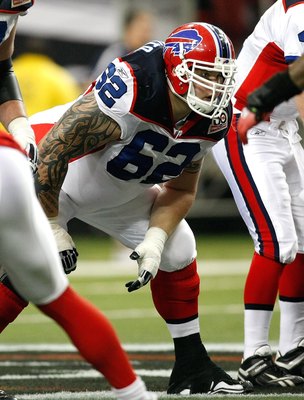 Kevin C. Cox/Getty Images
Nobody can say that Incognito doesn't try hard..it's just that sometimes he tries to hard and gets himself in trouble because he's so passionate. However, when his heart is combined with the veteran discipline of Steve Hutchinson's brain our player will be able to reel in that passion and use it to his advantage. With this lethal combination our player will dominate the league for year's to come.
Body: Ryan Clady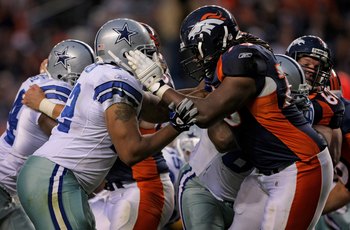 Doug Pensinger/Getty Images
At 6'7, 325 pounds Clady is a hoss. I mean, boys this big aren't made every day and we're going to need a huge body to house all the parts we're going to need. With that 325 pound frame we can rest safe knowing that our player is going to tower over almost every other player in the league.
Arms: Jake Long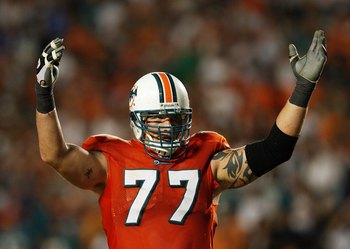 Doug Benc/Getty Images
Long might be the closest player in the league to the player we're building so you know we had to take something off him. With arms that come down to his knees and come in at 33 inches long each he can pretty much keep any defensive lineman away from his quarterback. With those puppies in tow our monster will be basically unbeatable at the point of attack.
Hands: Joe Thomas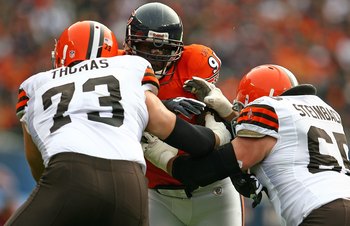 Jonathan Daniel/Getty Images
Even coming out of college Thomas was known for using his hands well and as he's grown as an NFL lineman that hasn't gone away. Since he plays in Cleveland he might not be the most recognizable on this list, but that doesn't make him any less dominant. Adding Thomas' hands to Long's arms will help make our monster of a player the best on the field.
Legs: D'Brickashaw Ferguson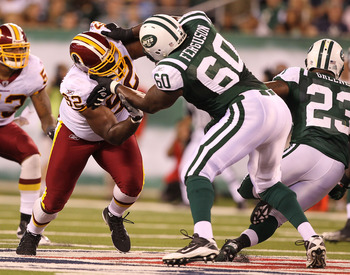 Al Bello/Getty Images
There might not be a more athletic lineman than Ferguson, who has improved his game every season. With his nimble legs our player will be able to keep any pass rusher in front of him and keep his quarterback upright. Combined with the arms and hands this monster already has he will be great in either the pass or the rush.
Feet- Jahri Evans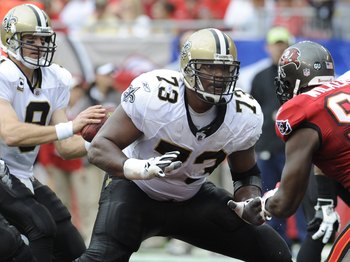 Al Messerschmidt/Getty Images
Evans has become one of the best in the league with all the hard work he's put in. As a solid veteran player you know he's worked on his footwork every year and he's done a great job of it. With his feet and Ferguson's legs our monster will never be beaten...even by blitzing cornerbacks. This final piece of the puzzle makes our player the best in the league. However, if you think I made any glaring mistakes feel free to say so in the comments and look for tomorrow's edition, defensive lineman.
Keep Reading