Bound For Glory: Five Things We Learned From Jeff Hardy's Win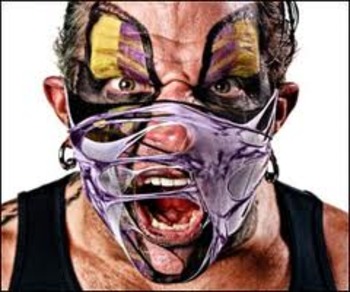 What's that I sound? Is that Jeff Hardy's fans in awe? Perhaps the most shocking move in TNA history, Jeff Hardy turned his back to all his loyal fans for the World Title. With a little assistance from Hulk Hogan and Eric Bischoff, Hardy cemented his heel status.
I know, we all have a thousand questions. This wouldn't have come as shocking to us if we would've payed attention to the signs the Icon left us.
Though the move was very bold it taught us many things about TNA Management like...
The End Is Near...For Kurt Angle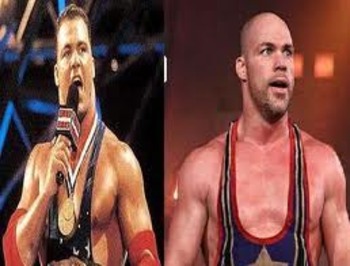 Kurt Angle said it hundreds of times before. He would retire if he lost this match. Kurt has run rampant through every member of the top 10. Everyone expected him to win the title tonight.
But TNA Management had other plans. I can't say I wanted him to win the TNA Title. He held it multiple times already. With TNA's recent boost in ratings, having Kurt win the Title again would be boring. Question is, will Kurt Angle live up to his word and retire?
Due to the controversy surrounding the finish, I don't know if the Wrestling Machine is going to leave on this note. He recently signed a new TNA Contract. Kurt is more than likely to be reinstated by Dixie Carter anyway.
All of these signs are pointing to the end of Kurt Angle's career. Like HBK before him, he can still put on one hell of a match. He is still better than almost everyone in pro wrestling today. But we all see the change in Kurt. He's getting older, and the bumps are getting to him.
He's even donning a beard. Like HBK before he retired.
I don't know how or when exactly, but Kurt Angle's retirement isn't that far down the line.
Sting, Kevin Nash, and The Pope Were Right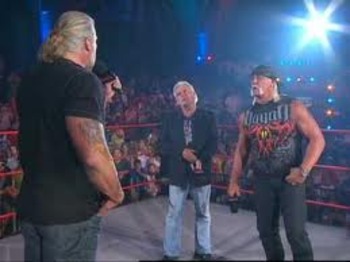 For months the Icon Sting said Hogan, Bischoff, and Jarrett were apart of a plan to take over TNA. That it was deception in TNA. He warned us, most didn't listen. He even beat the crap out of Hogan and Abyss to identify the culprits, but we ignored it all.
As a lifelong Sting fan, I knew it was something big coming. I don't think I've ever witnessed Sting give a beatdown of that magnitude for no apparent reason. I believed TNA was ruining the image of the Icon, but yet again, they surprised me.
When Nash joined Sting against Hogan and Bischoff it puzzled me. I didn't understand the pairing at all. But when they started verbally attacking Jarrett for his part, it made perfect sense to me. Carter is running TNA, Jarrett doesn't have the power he use to.
But Bischoff and Hulk did and with a little persuasion, Jarrett sided with them.
When the Pope was brought into the situation, TNA gave it away. One of their most popular Stars siding with Sting to get rid of Hogan and Bischoff.
The heel turn was imminent, but TNA Creative cleverly played it all out. Let's see if Sting get's the same ovation he had before this all started.
TNA No Longer Fears Hardy Being Imprisoned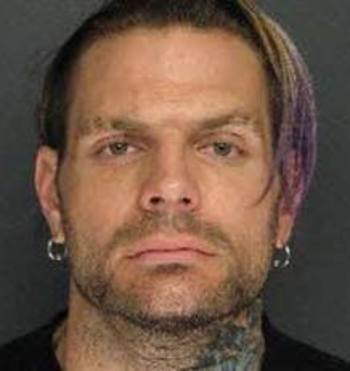 I'm pretty sure we all know the reason RVD won the TNA Title instead of Jeff Hardy was because of his pending trial on drug charges. I don't think TNA would've considered making Hardy the Champ because he could've been sentenced at any time.
Another swerve by TNA Management. With those factors and Hardy being faced with his whole career, I gave Angle the win, with Anderson having a small chance at winning.
Pretty much the same ending, BUT Anderson instead.
This is a bold move by management. Their ratings are bound to spike because of all that transpired. But adjusting change the World Title picture in case Hardy does go to jail would destroy the whole story line.
I guess we'll have to wait and see how this plays out.
NWO Is Back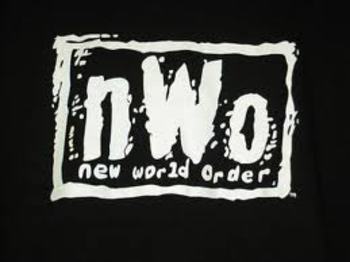 We'll not NWO exactly, but TNA will be split over the turn. Much like WCW in the 90s after Hogans turn. Some Superstars will side with Hogan and Bischoff. Others will remain loyal to TNA.
Honestly, I love the idea of a NWO Reincarnation
Here me out, if TNA Management executes the storyline to perfection, TNA will indeed become more interesting. I mean they've been building towards this for months now.
We've already got Ric Flair and the Four Horseman, and many loyal TNA Superstars. I expect Fortune to turn face because like EV2.0, AJ doesn't want anyone taking over the house he built. Guys like Ink Inc will side with Hardy and Hogan, while MCMG and Jay Lethal will join RVD and lead TNA against them.
This is pure brilliance on Russo's part.
TNA Booking Is Improving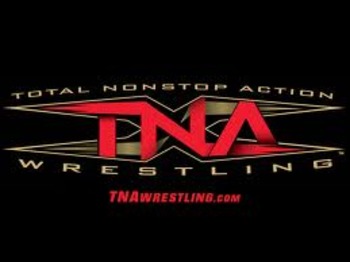 Besides the horrible Shore storyline, and atrocious ending to the Knockouts Title Match, TNA Management is vastly improving. I mean turning a star of Hardy's caliber heel was genius. They made us all believe that Kurt was going to reach the mountain top again, but had Hardy and Hogan stop him in his tracks.
It was a great idea to keep the already improving ratings.
Yeah, the WWE is already using the "hostile takeover" storyline. But TNA took it and perfected it. The Nexus storyline has gone stale, fast. The only reason we still payed attention was because of the possibility of a Cena heel turn.
Fact is, TNA wasn't afraid to have one of their top faces turn heel to keep fans interested.
It took a huge slump in ratings for the Vince McMahon to warm up to the idea of turning John Cena. I'm hearing they had Jeff set to turn heel for weeks.
TNA loves throwing us curve balls. Rob Van Dam was originally suppose to turn heel, but Van Dam loves the face role to much to take on heel responsibilities. Angle was booked to win the title a few weeks ago, and feud with Anderson.
But they're looking to begin this "turn around" for TNA. It's working.
Keep Reading