Michigan Vs Michigan State: The Top Ten Playmakers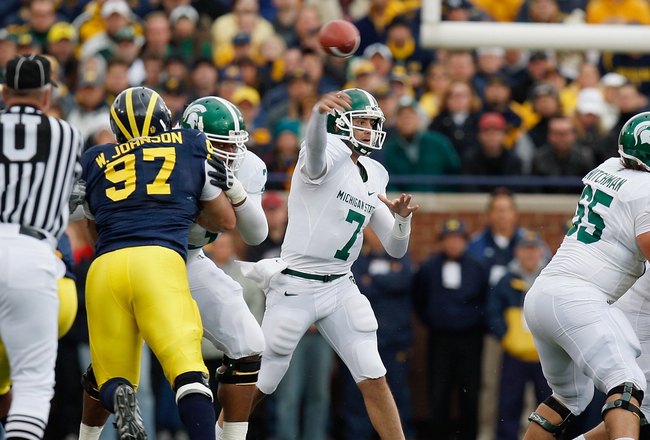 michigan wolverines michigan state spartans
Gregory Shamus/Getty Images
This Saturday's game of Michigan versus Michigan State will be one of the most watched games of the upcoming weekend.
This game has a lot riding on it for both teams. As the saying goes—great players live for the big games— and this is definitely a big game.
Here are the 10 names to tune in for at 3:30 PM ET on Saturday.
Follow Brandon on Twitter: @jeffeb91
Follow Brandon on Tumblr: http://i-w-r-i-t-e.tumblr.com/
10. Roy Roundtree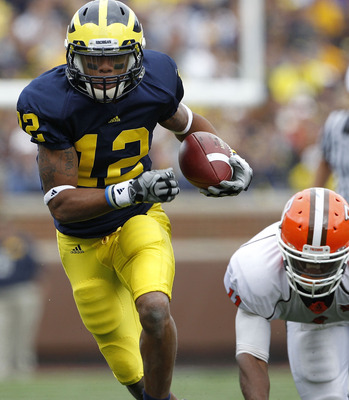 Leon Halip/Getty Images
The Michigan wide receiver is the favored target of Heisman hopeful QB Denard Robinson.
On the season Roundtree has 25 receptions for 337 yards and two touchdowns. Roundtree is a sophomore and has had a decent start to his career as a Wolverine.
In Saturday's game you will hear the name Roundtree be called numerous times. When Robinson needs to get rid of the ball his eyes drift towards number 12 in maize and blue.
Predicted Stats: 5 rec. 93 yds 2 TD
9. Dan Conroy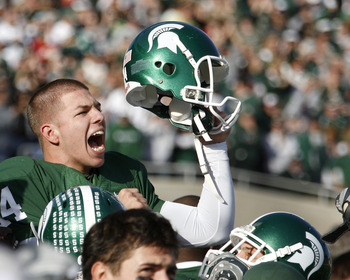 Gregory Shamus/Getty Images
Yes, kickers make plays too, especially this kicker. On the year Dan Conroy is 29/29 on all of his kicks.
Conroy is yet to miss this season, he's attempted and made seven field goals. Between 30-39 yards Conroy is 3/3, between 40-49 yards Conroy is 3/3 and between 50-59 yards he is 1/1.
Conroy's long for the season is 50 yards. Having a reliable kicker is something that all coaches would love to have and Mark Dantonio has one in Dan Conroy.
Conroy's foot could very well win the game for the Spartans.
Predicted Stats: 2/2 FG and 3/3 XP
8. Obi Ezeh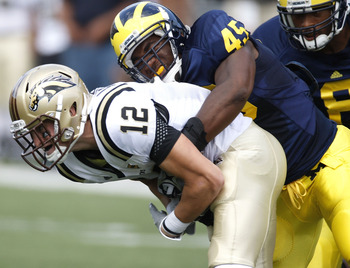 Gregory Shamus/Getty Images
Obi Ezeh is the senior leader on the Wolverine defense. At linebacker Ezeh can control the field in a variety of ways.
For the year Ezeh has 30 total tackles with 2.5 tackles for loss. He's also recovered a fumble this year as well.
Ezeh may not have the most gaudy of stats on the Michigan defense but he always finds a way to be around the play at the right time.
Predicted Stats: 8 total tackles, 2 sacks
7. Cameron Gordon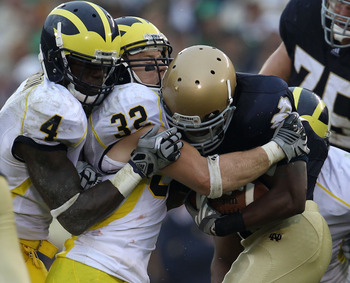 Jonathan Daniel/Getty Images
Cameron Gordon is a freshmen safety who has made an instant impact on Michigan's defense.
In his first year he already has 39 tackles (third best on the team) and two interceptions (tied for the team lead).
Gordon was a four star recruit and the 36th overall wide receiver according to Rivals.com. Gordon was a wide receiver in high school so he has the hands necessary to capitalize on errant balls thrown his direction.
Predicted Stats: 12 tackles, 1 Int
6. Jonas Mouton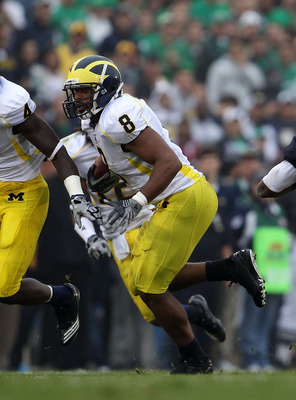 Jonathan Daniel/Getty Images
Jonas Mouton is probably the most prolific player on the Wolverine defense. For the year he has 47 total tackles (30 solo and 17 assisted), 3.5 tackles for loss, one sack, and two interceptions.
Mouton is all over the field for Michigan. After running into some trouble last season Mouton has came out this year with a vengeance.
Mouton will need to have a superb all around game to help the Wolverines stay undefeated on the year.
Predicted Stats: 12 tackles, 3 sacks
5. Michael Shaw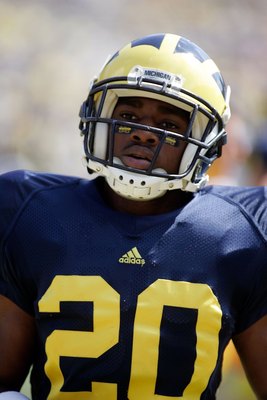 Domenic Centofanti/Getty Images
Michael Shaw is the thunder to Denard Robinson's lightning. Shaw may not be the prototypical smash mouth running back but speed wise I'd say Robinson has his number.
So on Saturday Shaw is going to have to get the tough yards, and make the tough plays and the third down conversions for Michigan.
Shaw for the year has 245 yards on 44 carries and five touchdowns. Shaw is averaging 5.6 yards per carry. If he can keep his average around that same total in the game the Spartans defense will be doing circles around the field trying to catch both him and Robinson.
Predicted Stats: 9 carries 77 yards 1 TD
4. Edwin Baker
Jonathan Daniel/Getty Images
Edwin Baker is the small physical back that Michigan State always seems to be able to produce. He knows when to break a run to the outside and when to put his shoulders down and put a defender on their back.
For the season Baker has 536 yards on 75 carries and five touchdowns. Baker also averages 7.1 yards per carry.
If Baker can control the pace and line of scrimmage for the Spartans than this game may turn out to be a bit more one-sided than originally expected.
Predicted Stats: 16 carries 98 yards 2 TD
3. Kirk Cousins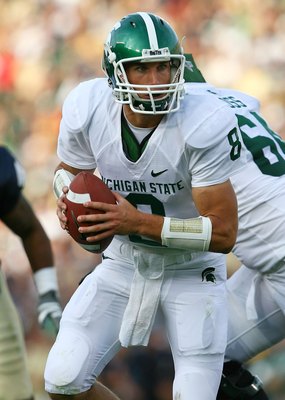 Jonathan Daniel/Getty Images
Kirk Cousins is having his best year to date as a junior. His QB rating (164.82) is up 22 points from last year and is 19 points higher than his career high (145.67).
On the year cousins has 1,132 yards with a 67.5 percent completion and nine touchdowns. However, he is coming off a game against Wisconsin where he threw two interceptions.
If Cousins can keep the interceptions below two the Spartans will keep the Paul Bunyan-Governor of Michigan Trophy for a third consecutive year.
Predicted Stats: 22-34 187 yards 2 TD 2 Int
2. Greg Jones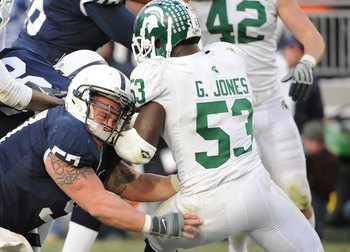 Joe Sargent/Getty Images
Greg Jones is everything to the Spartans defense that Jonas Mouton is for the Wolverines defense-all that and then some.
Jones is the essential part of Michigan State's defense, without him the Spartans defense would be a whole lot different.
Jones will have to do his best to keep Denard Robinson under control on Saturday.
For the year he has 40 total tackles (15 solo, 25 assisted), one sack, three forced fumbles, and two interceptions. Jones effects the game in many different ways and if he does all he's capable of the Spartans will be 6-0.
Predicted Stats: 15 tackles, two sacks, one forced fumble
1. Denard Robinson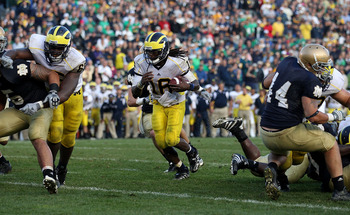 Jonathan Daniel/Getty Images
Denard "Shoelace" Robinson, the man who has been mentioned in just about every other slide so far. Robinson has been the ring leader of the high octane Wolverine offense.
Robinson is already being mentioned as a potential Heisman winner, not just contender, and the numbers do nothing to disprove that hype.
"Shoelace" has a QB rating of 179.97, 1,008 yards and seven touchdowns. On the ground he leads the FBS in rushing yards with 905 yards on 98 carries and eight touchdowns.
If Robinson can continue to amaze on the field than Big Blue fans have nothing to worry about this weekend.
Predicted Stats: 17-23 210 yards 1 TD 1 Int and 18 carries 113 yards 3 TD
Brandon Jefferson is a student at High Point University and a Bleacher Report Writing Intern. You can follow him on Twitter @Dotcom_2.


Keep Reading

Michigan Wolverines Football: Like this team?