Notre Dame Football, Independence "Getting Harder and Harder" Says Palm
October 26, 2011
Jonathan Daniel/Getty Images
BCS expert Jerry Palm owner and operator of the influential collegebcs.com in an interview in the Salt Lake Tribune regarding BYU's pending move to the Big East states that:
Palm added that life as an independent "is very difficult for just about anyone except Notre Dame, and it is getting harder and harder for them, too."
With the current BCS Deal ending in 2013 and a scenario unfolding that could include Notre Dame losing its one off BCS AQ status, the BCS doing away with AQ, or the NCAA growing some courage and taking the sport back away from the BCS and instituting a playoff, are Notre Dame's days as an independent numbered?  Only time will tell.
Are Notre Dame and the Big East fading into that place once described by Mike Tyson as "bolivion?"
The fate of Notre Dame Football and the Big East Conference are implicitly linked and both need each other in order to experience a resurrection.  It may take numerous Hail Mary's and some divine intervention from the Catholic Church, but with a little help they will all have something to cheer for again.  But they both need to make bold, decisive and against conventional wisdom choices right now.  Here's how they can exorcise the demons of conference realignment and the curse of mediocrity.
NOTRE DAME
Notre Dame's problems: 
To be clear, Notre Dame is not nearly in as precarious a situation as the Big East, but it is clearly a program in decline and the pace has a tendency to quicken if not met with overwhelming force.  Declining ratings on the Notre Dame Broadcasting Channel (NBC) and the challenge of playing a competitive independent schedule are two realities for Notre Dame in the 21st century. 
This one-two punch makes it difficult to reach a BCS Bowl Game despite their "Automatic Qualifying" status when they finish ranked eighth or higher.  Since the BCS was created at the beginning of the 1998 season, Notre Dame has played in three BCS Bowl games (two Fiesta, one Sugar) losing all three. 
I realize the Notre Dame alumni may have the patience of a saint, but with three BCS Bowl appearances in the past 13 years and no victories, that patience is wearing thin.  Additionally the mediocrity of the Notre Dame program over the past 20 years has seriously diminished the Irish's appeal, their drawing power and their ability to recruit.  Whether they like it or not, the time will come when they need a conference affiliation to maintain relevance in the upper echelon of college football.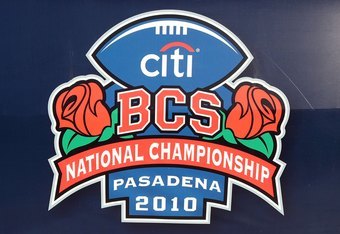 Stephen Dunn/Getty Images
Will it be enough, just ask Touchdown Jesus:
I believe that Brian Kelly will be able to turnaround the Notre Dame football program.  It is the degree of the turnaround that I am worried about.  Notre Dame's status as an independent rests solely on the lucrative television deal they have with NBC and their ability to land in a lucrative BCS bowl. 
In 2008 this TV deal was renewed for five years through 2015.  In 2010 which was the last year of the previous contract, it was reported to be worth $9mm.  The current contract extension is reported to be worth $15mm a year for Notre Dame.  Based on the relative futility of Irish football over the past 19 years of the NBC deal, any new contract talk is likely to be no more and potentially less than the $15mm figure on the 2011-2015 contract extension. 
How do you think Touchdown Jesus will react when NBC balks and offers a lower number?  I have a hard time believing he will turn the other cheek and I know Jack Swarbrick won't either.  That would set a bad precedent for Notre Dame because in essence it would confirm what most of us who don't bleed green already know. 
That the Irish are a program in a long-term secular decline.  Let's face it, the ranks of football (American not European style) loving Irish Catholics is not exactly growing despite the use of the rhythm method for birth control.  Most of the new Catholics in this country come from south of the border and they are soccer fans.  Can you say gooooooooal!  Notre Dame is at risk of creating a self fulfilling negative feedback loop.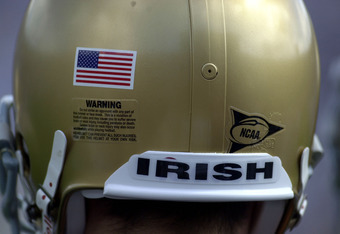 Jonathan Daniel/Getty Images
Over 19 years ND has finished in the Top 10 just three times!   The ratings are declining and without BCS Bowl appearances, Notre Dame's appeal is, heaven forbid, diminished, especially in light of their record nine straight bowl losses from 1995 through 2007. 
Here is a quick test, when was the last time Notre Dame had a player finish in the Top 4 of the Heisman vote?  The program is slowly withering and if their contract talks with NBC or any other network go the way their football program has gone, you can expect that conference affiliation will become a much more appealing concept.
Conference Affiliation the Holy Grail:
Why would a conference affiliation be more appealing?  There are two reasons.  A conference affiliation (BCS Conference) would increase Notre Dame's chances of playing in a BCS bowl every year.  BCS bowls equal a big payday.  With the ascendancy of the Non-AQ conferences (Mountain West, Conference USA and WAC) plus the depth of the SEC, Big 12 and Pac 12, what are the chances of a two-loss independent Notre Dame finishing in the Top 8 (thereby garnering them an automatic bid?) 
If you guessed very small you are probably correct.  Currently Notre Dame receives a $1.3mm payment from the BCS every year regardless of their record, and if they make a BCS bowl game they get an additional $4.5mm payout for a total of $5.8mm. 
Contrast Notre Dame's deal with what ACC champ Virginia Tech received last year.  BCS money in the ACC is split evenly with every school so Duke gets what Virginia Tech gets.  So a $17.7mm payout in 2010 was split 12 ways.  And it is pretty much the same in the other five BCS conferences.  Notre Dame splits its payment with no one. How much longer will this last?
Fade route:
In the BCS equation, both Notre Dame and any member of the ACC are essentially guaranteed the same minimum.  The difference is that Notre Dame has $4.5mm of upside that they don't have to share should they make a BCS bowl.  Any school that could get that deal would take it. 
But since the BCS is predicated on preferential treatment for the chosen six conferences (Big East, ACC, SEC, Big Ten, Big Twelve, Pac 12), and since the conferences exist because of the BCS money, it is unlikely that any single team could garner a Notre Dame-BCS deal in this day and age. 
With the emergence of the "super" conferences, how much longer do you think Notre Dame will have their preferential BCS arrangement?  Remember the BCS  will likely overhaul its structure in 2013 when the current deal ends.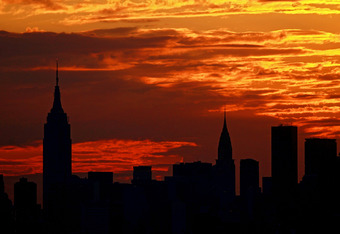 Nick Laham/Getty Images
If ND doesn't make a BCS bowl this year or next will they still be deemed relevant?  And if they are deemed relevant how much more relevant would they be than a Boise State program that will likely have three BCS appearances, probably a fourth this year, (without the benefit of an automatic bid) with at least two victories and a growing national following?
Somewhere to run, somewhere to hide:
In 14 years of BCS play, Notre Dame has appeared in just three BCS bowls.  How many BCS bowls would Notre Dame have made if they played all those years in say, the Big East?  I believe the answer would be more than three, as the Big East champion gets an automatic bid. 
Remember the 8-4 UConn Huskies getting smoked in the Fiesta Bowl last year?  Yes N.D.'s current arrangement is a better one than they would have if they were a member of a conference, but I think those days are numbered.  And what is the one conference that has the most to gain from the addition of Notre Dame and therefore the most to offer Notre Dame?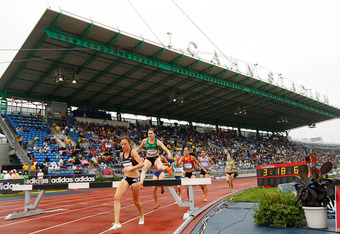 Mike Stobe/Getty Images
If you said the Big East, you guessed correctly.  If Notre Dame joins now they can dictate the terms and create a situation where they will be the odds on favorite for an automatic bid to the BCS nearly every year.
Static not on, but from NBC:
The second reason I believe Notre Dame may find conference affiliation more appealing is that negotiations for the renewal of their NBC contract would likely take place in 2013 (expires in 2015), which coincidentally is the same year the current BCS contract is up. Things may not go exactly the way they want.
Arguably Notre Dame's play since 2008 has been worse.
Even Dick Ebersol would have a hard time paying N.D. a lot of money for their television rights.  Well Ebersol no longer runs NBC sports and Comcast is the majority owner of NBC/Universal. There is no one in the TV business with more of a reputation for frugality than Comcast Chairman/CEO/President Brian Roberts.  So we can reasonably assume that whatever non legend is filling Ebersol's shoes, they will likely have a hard time selling Roberts on the merits of a money-losing deal.
Julian Finney/Getty Images
THE BIG EAST
The Big East's problems:
In theory, the Big East should be able to be, even in its current form, a decent conference.  This year I wouldn't rank them ahead of the Mountain West, and part of me is curious about how Conference USA  would fare against a Big East schedule,  particularly Houston, SMU, Tulsa and Southern Miss. 
In short, the Big East is pathetic this year and has been typically mediocre since losing Boston College, Virginia Tech and Miami in an ACC raid a few years back.  Given the recent rash of conference realignment, you have to think that the Big East is one decent program (they don't have any great programs) defecting away from implosion. 
With Pitt and Syracuse going to the ACC and if West Virginia goes to the Big 12, you can pretty much kiss the Big East good bye.  They will likely lose their BCS AQ status and will quickly become even more irrelevant.  Good luck with those TV contract negotiations as well.
Cultivation of fertile ground:
Chris McGrath/Getty Images
The Big East has done little to promote college football and football in general in their markets.  They have been asleep at the switch.  No conference has squandered as much opportunity as the Big East. 
Their geographic footprint could produce twice the number of Division 1-capable players, but they lose those athletes to other sports (think lacrosse, track & field and yes, even soccer) or indifference because there is no youth movement, there is no urban movement and there has been no effort that I can see to make Big East football culturally relevant in Boston, Hartford, New York and Philadelphia.
There are 19.5 million people in New York State, and in 2011 the state produced 29 FBS scholarship athletes.  Contrast that with the state of Michigan, which has about half that population and produced  59 FBS scholarship athletes.   
With the resources and population of New York State you would think it could produce another 30 FBS scholarship athletes to put it on par with a state half of its size.  Couldn't it?  Well if you want them to come you need to build it.  And don't talk to me about the lack of tradition because I will tell you that tradition too can be built (think Boise State, East Carolina, USF and UCF.)  But the Big East hasn't built it and in fact they are almost always late to the party.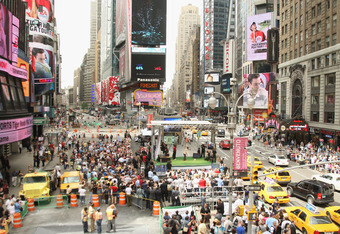 Stephen Lovekin/Getty Images
The Big East needs to get its head out of its hind aperture:
If the conference wants to survive they need to understand that in college sports, it is a football first world.  Basketball is nice but it is BCS football that drives the big television contracts.  And with a footprint that once included the east coast from Boston to Virginia, they had it in their grasp.  Perhaps the first misstep was not going absolutely crazy to woo Penn State when they decided to do the conference affiliation thing.  They fell down again when they let Boston College, Virginia Tech and Miami get away.
Change the culture:
The fastest way for the Big East to announce to the college world that they intend to be a player, is for them to move the conference headquarters from Providence, RI to New York City (no offense to RI as I went to Brown University, but Providence doesn't have the media stature that NYC does).  Why this wasn't done back in 1991 is a mystery to me.  The Big East needs to climb the Empire State building and pound its chest like King Kong to get people's attention.
The Big Apple:
The Big East needs to think bold.  How bold?  Very bold.  With New York as the new geographical center of the conference, they have an opportunity to dramatically increase the the conference's exposure.  And there is a great way that they can bring Big East football to NYC on select weekends. 
For those of you familiar with Manhattan, there is an island that you cross on the Triborough Bridge as you make your way from Manhattan to Queens on the way to LaGuardia Airport.  This is Randall's Island.  Home to a driving range, a tennis facility, numerous NYC Parks Department Athletic fields as well as Icahn Stadium.
While this facility would need substantial expansion to host college football contests, it is the perfect location to place a 50,000 seat football stadium with plenty of open space to support a traditional college pregame tailgating experience.  Imagine a Notre Dame vs. Syracuse game with the Manhattan skyline as the backdrop and thousands of alumni and fans reveling in the glow of the Big Apple. 
ESPN would probably poop itself for the opportunity to host College GameDay from this location.  Fans would arrive by ferry, by car and by bus (from satellite parking at either Yankee Stadium or Citi Field, both three miles away.)  This is how the Big East can create excitement, grab the media spotlight and create a new generation of footballers in the New York Metropolitan area.  If they build it, they will come.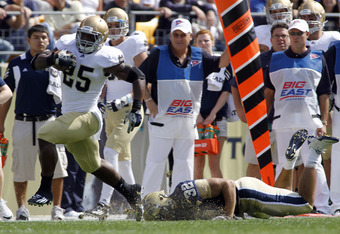 Justin K. Aller/Getty Images
Big East Hail Mary:
What can the Big East do to stem the onslaught of bad news?  Pray, and pray hard that Notre Dame gets some advice from a higher authority (the Vatican and the respective Arch Diocese of New York (Rutgers and St. Johns), Philadelphia (Villanova), Cincinnati, Louisville, Tampa (USF), Connecticut as well as pending departed Pittsburgh and Syracuse) and aligns their football program in the Big East with the rest of their sports teams.  Why would they you ask?  Let me explain.
Earlier I established that the Notre Dame mystique is in demise and how that will likely lead to them losing their sweetheart TV deal and BCS deal.  How could they address this?  By joining a BCS conference.  But Jack Swarbrick is no dummy, he knows he is not going to be able to strike a sweetheart deal with the Big 10, ACC or Big 12, they don't need him enough. 
The only conference that kind of needs them is the Big 12, but N.D. would demand the same sweetheart T.V. rights arrangement that Texas has (which has a lot to do with why Texas A&M left and Missouri may leave) and this would likely lead to more departures. 
Perhaps Oklahoma and Oklahoma State would flee to the SEC (gets them close to the 16-team "super conference") and Kansas would depart for the Big 10 (and perhaps Iowa State and Kansas State as well, getting them to 15 teams, one shy of the 16-team "super conference" format). 
The only BCS conference that needs N.D. more than N.D. needs it (kind of), is the Big East.  And N.D.'s other sports have been playing in the Big East for years.  Notre Dame joining the Big East would bring instant stability and would undoubtedly not only stop future defections, but also stop pending defections (Pitt, Syracuse and now likely West Virginia) and prior defections (Boston College).
Longshot? Maybe not:
I know what you are thinking, there is no way Notre Dame would do that.  I wouldn't be so sure about that.  For Notre Dame, independence is about money and prestige. Clearly to have that in this day and age, it takes winning BCS bowl games. 
Notre Dame has become increasingly unsuccessful at doing that and they are going to lose their leverage in television negotiations and BCS placement negotiations.  As a savior of the Big East, they get instant leverage in college football (especially a Big East that has congressional favorites Navy, Air Force and potentially Army).  They get a near lock on a BCS bid every year instead of  battling in the Big 10, Big 12 or even the ACC for that spot.  And as the glue that keeps the Big East together, Notre Dame would be able to negotiate a super sweetheart deal.
Turn the tide, maybe, just maybe:
Recall that Pitt, Syracuse and West Virginia (if/when) cannot leave for 27 months.  Certainly they would have to reassess their moves if Notre Dame joined the Big East.  And while this may be even more of a long shot, I think Boston College would absolutely consider rejoining the Big East if Notre Dame was there. 
There is a school of thought that the burden of travel on BC's Olympic sports programs is huge on student athletes and on the school's finances. Perhaps this is why the ACC went after Syracuse and Pitt.
No time like the present:
The Big East is kidding itself if they think that a hodgepodge of new teams joining the conference is going to save them.  They need a silver bullet and they need it now.  Notre Dame is the answer, and it is the only answer if there is going to be a Big East Football Conference three years from now. 
The Big East Commissioner and the Presidents and A.D.'s of the member schools need to beg and plead and give Notre Dame just about any deal they want.  Would it be a deal with the devil?  Perhaps, only time will tell as there are no other viable options out there. 
Now is the time for the Big East to pull the trigger and see what kind of metal that bullet is made of.  The Fighting Irish probably don't believe this, but they need to do this in order to restore the glory to their football program.  Notre Dame in the Big East is perhaps a fanciful notion, but it makes sense for all parties involved and it would save a Big East that is worth saving.