Top 10 Clemson Offensive Players of the Last 10 Years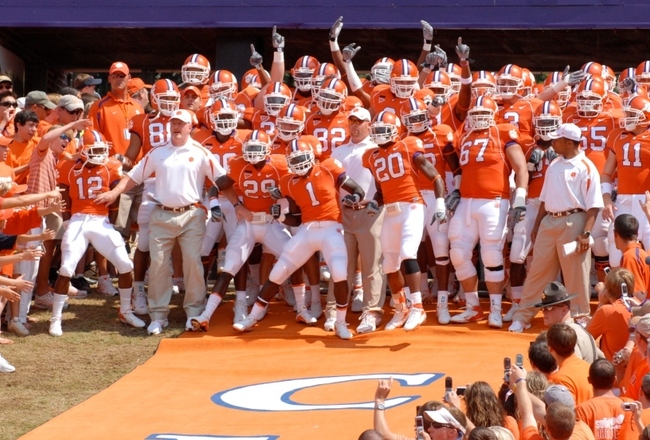 The Hill

Even with the departure of Clemson "omniback" C.J. Spiller the Clemson Tigers are in a great position to defend their title as ACC Atlantic division champions this year due in large part to the contribution of the running back duo of Andre Ellington and Jamie Harper and quarterback Kyle Parker. However, it will take some awe-inspiring performances to compete with C.J. Spiller, or even these other nine Clemson offensive weapons of the past decade.
Honorable Mentions

Chansi Stuckey Highlights

Compiling any type of player rankings is a momentous undertaking, notably considering the players who get left off of the list. Here are a few examples who didn't quite make the cut:

Chansi Stuckey: Stuckey was selected as the 25th pick in the 7th round of the 2007 NFL draft after four years at Clemson where he recorded 129 catches for 1751 yards and 7 TD's. This former Tiger started his career as backup QB to Charlie Whitehurst in 2003, when he threw two TD's and rushed for two more in limited playing time.

Airese Currie: This 140th pick in the 5th round of the 2005 NFL draft was well known for his breakaway speed and finished his Clemson career in the top ten in receiving yardage (2025 yards), catches (137 receptions) , and TD's (10).

Kyle Young: This two-time All-American Center started for in his final three years at Clemson from 1999-2001. He was a major factor upfront in the high octane offense run by offensive guru Rich Rodriguez.
The 2006 Offensive Line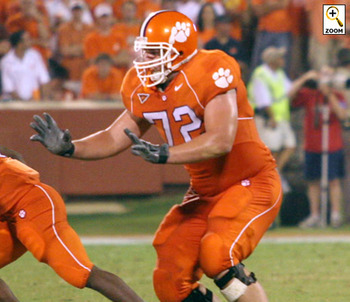 Clemson Guard Roman Fry
One of the best offensive lines in recent Clemson history, these five hogs started two full years together paving the way for the dynamic duo of James Davis and C.J. Spiller. It was anchored by two All-ACC selections in junior Barry Richardson at right tackle and senior Roman Fry at guard. Dustin Fry, Nathan Bennett, and Marion Dukes rounded out the group. These guys up front allowed the Clemson offense to average over 150 yards per game on the ground and 20 rushing TD's while scoring an average of 27 points per game.
Derrick Hamilton: 2001-2003

Derrick Hamilton - Highlight 7

Although he left Clemson early after only three years, Hamilton held the record for career all-purpose yards with 4775 yards and kickoff return yards in a season with his 696 in 2002. His real breakout year came in his third and final year at Clemson when he caught 62 passes for 1026 yards and 10 TD's. He finished his career with 167 receptions for 2313 yards and 19 total TD's which led to him being selected as the 14th pick of the 3rd round of the 2004 NFL draft.
Travis Zachery: 1998-2001
Travis Zachery
When Travis Zachery graduated from Clemson in 2001, he was the all-time leader in total TD's with 50 and receptions by a running back with 106 catches. During his four years at Clemson, he compiled over 3000 yards on the ground and over 750 receiving. Although his TD record and his receptions records have since been broken, he was a key component to the Tiger's spread option offense during the tenure of Rich Rodriguez. His performance led to his All-ACC selection in 2000 when he scored 18 TD's on his 1370 all purpose yards.
Aaron Kelly: 2005-2008

Aaron Kelly Highlights

Aaron Kelly may forever be remember as the man who dropped the pass that would have given the Tigers the lead over Boston College in the 2008 game that decided who would claim the ACC Atlantic Division crown, but his contributions to Clemson cannot be understated. When he graduated in 2008 he was the ACC's career receptions leader with 228 catches that netted him a total of 2697 receiving yards and 20 TD's. His junior year performance garnered him first team All-ACC honors when he snatched 88 balls for 1081 yards and 11 TD's.
Rod Gardner: 1997-2000

Rod Gardner's 2001 Catch against South Carolina

Gardner holds a permanent place in the hearts of Clemson fans everywhere after reeling in the 50 yard pass from Woody Dantzler at the 8 yard line with only 10 seconds left on the clock in the 2001 Clemson-South Carolina rivalry game. This led to the game-winning Aaron Hunt field goal as time expired to give the Tigers a 16-14 victory. In addition to his heroics against archrival South Carolina, Gardner finished his career with 166 catches for 2598 yards and 13 TD's. This 2000 first team All-ACC selection was selected by the Washington Redskins as the 15th overall pick in the 2001 NFL draft.
Jacoby Ford: 2006-2009

Jacoby Ford Highlights

When Ford came to Clemson from Fork Union Military Academy in Virginia, there were stories that he was simply a track star who played football. Throughout his four years at Clemson, however, he proved himself to be an invaluable piece of the Tiger offense. Not only did he demonstrate his ability as an elite receiver by finishing in the top ten in school history in receptions (143), receiving yards (1986), and receiving TD's (16), he also established himself as an elite all purpose threat. He finished his career 4086 all-purpose yards, including 494 rush yards at a clip of 8.5 yards per carry. The speedster had 8 total TD's of greater than 50 yards, which proved to be enough for Al Davis to select him with the Oakland Raiders 4th round pick of the 2010 NFL draft.
James Davis: 2005-2008

James Davis Highlights

The man known simply as "Thunder" was one of the greatest running backs in Clemson history. In his four years at Clemson he became the second leading rusher in school history with 3881 rush yards and also second in school history in total TD's with 49 despite being injured and playing behind Reggie Merriweather for much of his freshman year and splitting carries with C.J. Spiller in his final three years. Perhaps his most memorable performance was the 2006 ESPN College Gameday contest between Clemson and Georgia Tech when Davis rushed for 216 yards on national television. His sophomore season earned him all conference honors with his 1187 yards on the ground and 17 TD's. He is currently playing for the Cleveland Browns after being selected in the 6th round of the 2009 NFL draft.
Charlie Whitehurst: 2002-2005

Charlie Whitehurst Highlights

In a 2002 season where Willie Simmons was supposed to be the heir apparent to Woody Dantzler, it didn't take Whitehurst long to take the reins as the leader of the Clemson offense. In his first career start versus Duke, Whitehurst established a Clemson record with 420 yards passing and 4 TD's, including 3 TD's in the fourth quarter alone. During his nearly four years as the starting QB for the Tigers, he broke nearly every significant passing record in Clemson history. His 9665 pass yards and 49 TD's far surpass any other Tiger. His most notable accomplishments involve his 4-0 record versus in state rival South Carolina where he threw for four TD's and 302 yards in a 63-17 drubbing in 2003, and also his 3rd and 10 scramble for a first down in 2005, which led to the only TD of the game for a Clemson victory. Whitehurst was selected by the San Diego Chargers with the 81st pick of the 2006 NFL draft and is currently the backup QB for the
Seattle Seahawks.
Woodrow Dantzler: 1998-2001

Woody Dantzler Highlights

Dantzler just may be one of the most under-appreciated players in recent college football history. The first QB to ever rush for 1000 yards and pass for 2000 yards in a single season, his accomplishments were often overshadowed by Michael Vick even though Danztler rushed for more yards per game and more career yards than Vick. Not only was Woody a dynamic runner with his 2704 rush yards for 22 TD's, he was also a prolific passer accumulating 5819 career passing yards with 42 TD's. Perhaps his greatest game was his 2001 performance against NC State when he racked up 517 yards of total offense including 4 TD's passing and 2 TD's rushing. He's also remembered as the QB who threw the ball to Rod Gardner during the play that became known as "The Catch II" in Clemson folklore against South Carolina in 2001. When Dantzler finally graduated, he was just the third QB in NCAA history to throw for over 5000 yards and rush for 2500 yards.
C.J. Spiller: 2006-2009

CJ Spiller Highlights

Finally, we come to one of the most dynamic playmakers in the history of college football. C.J. "Lightning" Spiller has a highlight reel that could possibly make even Reggie Bush blush. When he left Lake Butler, FL for Clemson as the number one ranked running back in the nation in 2006 according to Rivals.com, Clemson fans knew he was destined for greatness. However, he outlived even the highest expectations. This orange blur accumulated an astounding 7588 career all-purpose yards leaving him second in NCAA history even though he only started at RB for one season. His 3457 rush yards and 32 rushing TD's are only a part of what this all-purpose threat brought to the table. He also proved to be an incredibly gifted receiver with his 1420 receiving yards and 11 receiving TD's. He currently holds the career NCAA record for kickoff return TD's with seven, and is one of only two players along with Reggie Bush to amass 3000 rush yards, 1500 kickoff return yards, 1000 receiving yards, and 500 punt return yards. His 2009 senior season was enough to earn him sixth place in the Heisman voting and a unanimous choice for All-American as a kick returner. This 2009 ACC player of the year also holds the Clemson record with 51 career TD's and holds the NCAA record for all-purpose yards for a duo along with teammate Jacoby Ford with 11,671 yards. His greatest performance came in the 2009 ACC Championship game against Georgia Tech when he rushed for 233 yards and 4 TD's on only 20 carries. His accomplishments paid off when he was selected ninth overall by the Buffalo Bills in the 2010 NFL draft.
Keep Reading

Clemson Football: Like this team?