SEC Football: One Sentence Summaries of All 12 Teams through Five Games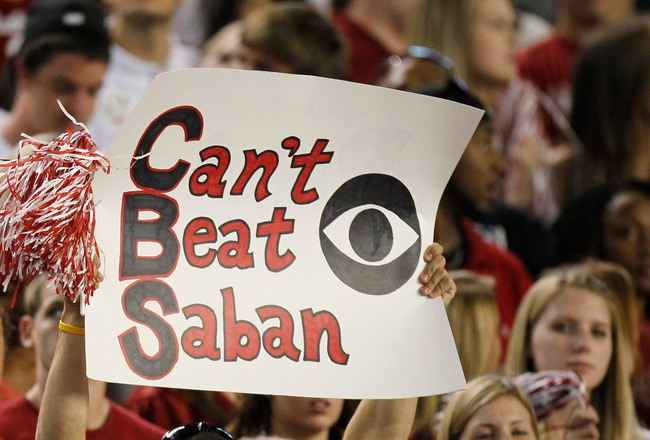 At least not in 2010....
Kevin C. Cox/Getty Images
Mark Richt and UGA Are What We Thought They Were: Overrated

Here's one game they've won in 2010.

Back in early April 2010, I wrote an article that named Coach Mark Richt the most overpaid head coach in college football: http://bleacherreport.com/articles/374617-the-ten-most-over-paid-college-football-head-coaches.
No, I'm not patting myself on the back, but many disagreed with Richt's No. 1 ranking. Richt is now proving me right, UGA fan.
After starting the season 1-0 with a 55-7 victory against Louisiana-Lafayette, the Bulldogs have gone into a complete downward spiral. Seriously, Georgia lost to Colorado this past Saturday.
That's pathetic.
Richt should not survive the remainder of the 2010 season, but since Georgia's AD is out getting DUIs, who knows who is making the decisions in Athens these days.
Robbie Caldwell May Be a Hoot, but Vanderbilt Is Still Terrible
When Bobby Johnson announced his retirement prior to the start of the 2010 season, Robbie Caldwell was named interim head coach before he was given the reigns permanently—well, for the time being—of the Vanderbilt Commodores.
Unfortunately, though there may be a new head coach, the Commodores are still cellar dwellers in the SEC Eastern Division.
To start the season, the Commodores had the chance to defend the honor of the SEC but failed by losing to Big-10 losers Northwestern. Then LSU slapped them around before they faced and defeated Ole Miss.
After taking a week off to celebrate their rare victory, Vanderbilt traveled to Uconn and gave the Big East only their second victory over an FBS team this season by losing 40-21.
They get Eastern Michigan and Georgia in the next two weeks, two teams that may actually be worse than they are. You never know: Vandy may surprise all of us.
The SEC's Box Of Chocolates—The Ole Miss Rebels

Three words never to be spoken in Oxford—Jacksonville State Gamecocks.

Houston Nutt is a compelling head coach that's for sure. He fought hard to get the NCAA to allow former Oregon Duck, Jeremiah Masoli, to play this season; perhaps too hard. He may have lost focus on the first game of the season against FCS powerhouse, Jacksonville State.
The Grove was eerily quiet that evening. Instead of red and blue, The Grove was black and blue.
Then Ole Miss went on the road and took down mighty Tulane. After gaining some self-respect, they lost to lowly Vanderbilt.
Talk about a roller-coaster ride.
Fresno State came a-calling, and the mighty Mountain West clans felt they had a shot at SEC supremacy only to be sent packing with egg on their faces. Then Kentucky was on the slate, and after getting destroyed in Gainesville, the Wildcats got slapped around by the Rebels.
Have Ole Miss found their identity or just their favorite piece of chocolate in that big box of Godiva?
Dan Mullen and Mississippi State Are Building a Strong Program in Starkville
Now 3-2 with a very close loss to Auburn, the Bulldogs of Mississippi State are a respectable program moving in the right direction.
Dan Mullen, the former offensive coordinator of the Florida Gators, has brought a new level of excitement and passion to the faithful in Starkville. Think about it: a few plays go differently and the Bulldogs may be 4-1 this season.
Coach Mullen takes his Bulldogs on the road for the next two weeks, first to Houston, and then back to his old stomping grounds, The Swamp, to face the Gators.
Don't be surprised if Mississippi State is 5-2 when those two games are over.
The Tennessee Volunteers Are The Thinnest Team in Entire FBS

Peyton gives Coach Dooley his stamp of approval.

Derek Dooley and Vol Nation are suffering from a severe case of heartbreak after the Mad Hatter (i.e. Les Miles) and the LSU Tigers ripped victory from the jaws of the Volunteers.
That being said, Tennessee has been in many games this season, but due to a lack of depth the Volunteers have simply run out of gas in the second half of each game.
Volunteer fans need to be patient and realize that Boy Blunder, Lane Kiffin, did far worse than insult their intelligence and pride by leaving after one season. Dooley will need a couple of seasons to bring in the players necessary to build a respectable program once again.
The Kentucky Wildcats Have a Joker, but Their Hand Is Still Weak

Coach Joker discusses their victory over Akron.

Everyone heard the words being used prior to the Kentucky-Florida game: "Florida's on upset alert." Then they played the game. That is—Kentucky got a wake-up call.
Basketball season for Kentucky is not too far away.
Kentucky left Gainesville licking their wounds, and then this past week they met a rejuvenated Ole Miss.
Coming up for Kentucky: Auburn and South Carolina. In other words, a record of 3-4 is forthcoming.
The Arkansas Razorbacks Are All Pass Offense and Very Little Else

A little slight-of-hand courtesy of Ryan Mallett.

When the Crimson Tide came calling on the Arkansas Razorbacks in Fayetteville, quarterback Ryan Mallett lit up the Tide's secondary for three quarters. Then the fourth quarter started. Mallett made some bad throws, and Alabama rolled.
Coach Bobby Petrino is an offensive genius—there is no doubt. He is beginning to remind me of the OBC when he was at Florida; you may be able to put points on the board, but if your defense let's the other team score at will, then eventually you will lose a few important ball games.
Ryan Mallett is a serious Heisman candidate in 2010, and most likely will leave for the 2011 NFL Draft when this season ends. However, if for some reason he gets hurt and cannot play, then Arkansas can kiss its season goodbye. Mallett is the Arkansas offense.
LSU's Les Miles Is by Far the Luckiest Head Coach in the World

Les Miles explains the meltdown against North Carolina.

"Welcome to another day in the SEC," said head coach Les Miles immediately after LSU's victory over the Tennessee Volunteers. No, Les—you should thank God that the other team screwed up,again, so you could remain undefeated.
To start the season, Coach Miles almost allowed a North Carolina team to pull off a huge comeback in Atlanta after starting the fourth quarter 30-7. That game went down to the last few seconds before the Tiger faithful could start breathing again.
Then, against the Volunteers, on a third-and-goal, LSU snapped the ball with one second left in the game. A mishandled snap, a la Florida Gators style, seemed to end the game.
But wait for it—the Volunteers had 13 players on the field. The game cannot end on a defensive penalty. With the clock sitting on zero, LSU's Stevan Ridley ran it in for a score to win the game, 16-14.
The "Mad-Hatter" has more lives than any cat in the history of the world.
South Carolina's Steve Spurrier Still Plays Head Games with His Quarterb
The OBC should have majored in psychology when he played at Florida because he has a knack for getting into his quarterbacks' heads.
Against Auburn, Spurrier's Gamecocks were 4-0 going into the game and played great football through three quarters against the Tigers. Then Stephen Garcia fumbled twice, giving Auburn's Cameron Newton a chance to throw two touchdown passes, which got Auburn back into the game.
Then the OBC went brain-dead: out went Garcia, and in came freshman Connor Shaw.
Shaw drove the Gamecocks down the field twice and threw interceptions on each.
Game, set, and match for the Auburn Tigers.
Not only did Spurrier lose the opportunity to break a South Carolina five-game road loss record, but also the chance to win No. 107 and move into sole possession of second place behind Paul "Bear" Bryant for SEC victories.
The Florida Gators Are Now Officially Looking Up at the Alabama Crimson

Did Tebow shed a tear last night in Denver?

Everyone remembers the 2009 SEC Championship game when Alabama pummeled the Florida Gators and sent Tebow back to Gainesville in tears. Last night in Tuscaloosa the Tide took sole possession of this heavyweight rivalry.
This time around, the Florida Gators played with a new quarterback (John Brantley), a hobbled running back (Jeff Demps), a new center (Mike Pouncey), and a new defensive coordinator (Teryl Austin). A lot of new faces, but the same result.
Florida fans can relax, even though the power has now shifted completely to Tuscaloosa. The SEC Eastern Division is very weak, and the only challenge for Florida in the way of another trip to Atlanta in early December is the South Carolina Gamecocks.
The loss to Alabama was expected and rather harmless in the grand scheme of things.
The Auburn Tigers Can Thank Urban Meyer for Suspending Cameron Newton in
Do you think Urban Meyer is rethinking his decision to suspend former Florida Gator Cameron Newton?
Perhaps he needed different shades of orange and blue.
Seriously, the Auburn Tigers should thank their lucky stars for Cameron Newton. After a brief stop in Texas at a junior college, Binn College, Newton has made a home down on the plains. The parties at the Auburn War Eagle Supper Club must be pretty good these days.
The 2010 Iron Bowl is setting up to be legendary. Maybe Cameron Newton can do his former team a favor and beat the Crimson Tide.
You just never know.
The Alabama Crimson Tide Have a Straight Shot at Atlanta and Glendale, Arizona

The one and only, Nick Saban.

The Tide started off without their Heisman-winner, Mark Ingram, and didn't even blink. Trent Richardson did just fine, thank you. Then Ingram returned with a warm-up against Duke. After nine rushes, he took the rest of the game off.
Then a brief scare against Arkansas and the dismantling of the Florida Gators at home in front of 100,000 plus fans, and now the Tide can shift into cruise control all the way to Atlanta.
Yes, they have the Iron Bowl at the end of the season, but sorry Tiger fans: Unless McElroy, Ingram, or Richardson fall upon hard times, you don't have a chance. Cam Newton is good, but he's not enough to carry Auburn past Alabama.
Keep Reading

Alabama Crimson Tide Football: Like this team?