WWE Hell In A Cell Preview: Which Matches Should Be Added?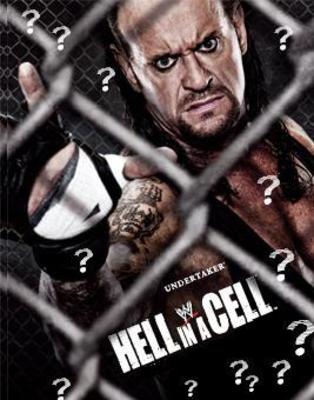 As I write this, there are only five matches on the Hell In A Cell card. This is very few matches for a pay-per-view, particularly at $45 and more.
There are two bouts scheduled to take place in the Cell. Kane will defend the World Heavyweight Title against The Undertaker. Sheamus is the contender to Randy Orton's WWE Championship.
Also, John Cena will face Wade Barrett; if Cena wins, The Nexus must disband but if he loses he must join the group.
There will also be a triple-threat submission counts anywhere encounter among The Miz, John Morrison, and the defending U.S. Champion, Daniel Bryan.
Finally, they have added a last-minute Divas match with the new Unified Title on the line (Michelle McCool vs. Natalya).
Obviously, there will be a couple of bouts added Sunday with no previous announcement. There will be probably one or two last-minute additions to make it to a total of at least six or seven.
I thought about some suggestions and possibilities according to the last week's events on Raw and Smackdown!
1. Drew McIntyre and Cody Rhodes vs. a Random Team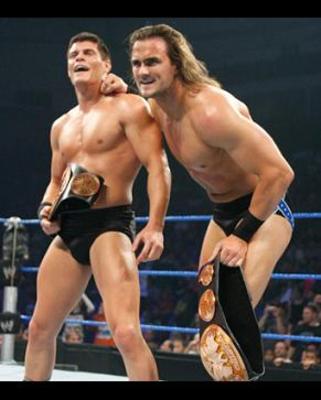 Hopefully, they won't come with another match between McIntyre and Rhodes and The Hart Dynasty. Honestly, both teams don't work very well together and the crowd reaction was not great the last time they faced in a re-match on the other week episode of Smackdown.
From the Raw roster, there is always Santino Marella and Vladimir Kozlov who can pull out something interesting. Otherwise, there are not many faces who can team up; some random duos can be formed with any combination of Evan Bourne, Goldust, Yoshi Tatsu and R-Truth.
On the Smackdown roster, there are even fewer possibilities, but why not Kaval with Luke Gallows?
That would be obviously a filling or a dark match, but there must be something added on the card.
Big Show and Mark Henry vs. Nexus Redux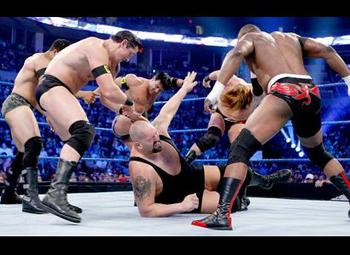 With Barrett booked for the evening, David Otunga, Heath Slater, Justin Gabriel and Michael Tarver could face Big Show and Mark Henry.
Mark Henry was the target of many attacks from The Nexus in the last few months on Raw.
The strongest man in the world would certainly enjoy to beat up his aggressors with an equalizer and who could fill that role better than Big Show?
The largest athlete in the world was the victim of the group this last Friday on Smackdown!
Make it a no -disqualification match and the two big guys can give The Nexus a good battle with the help of some chair shots on the wannabe superstars.
They could also put Darren Young and Evan Bourne in to make it a regular four-on-four match.
Dolph Ziggler vs. MVP
With their Intercontinental Championship match interrupted by The Nexus on the last episode of Smackdown, the two grapplers could go in a re-match at Hell In A Cell.
It would make sense since they had a decent match until the interruption. It would not be a stellar match, but it would be a good filler on the card.
Ziggler is probably not set to lose the Title, but both men can deliver an interesting 10 minutes or more bout.
Edge vs. an Alien, a Bear and/or a Robot
After he beaten down the Raw anonymous general manager disguised in a laptop and a mascot on Smackdown, what's next for Edge?
A ladder match against a robot? A Texas bull rope match against an alien? A last man standing match against a bear?
Who knows what WWE has in store for the Rated-R Superstar?
Seriously, Edge is currently the most misused wrestler in WWE. He is a top card performer and all they have for him is a feud with a laptop and a mascot. I hope it won't turn into a Charlie Haas impersonation-type gimmick.
Rey Mysterio vs. Alberto Del Rio

Mysterio came back last Friday and attacked Del Rio, who ran away.
The coming pay-per-view would be the perfect stage to re-start for good their feud. It should end in a no-contest with a double countout or a disqualification.
There is even no need for a buildup because it would be naturally inserted as the continuity of their rivalry started some weeks ago.
Conclusion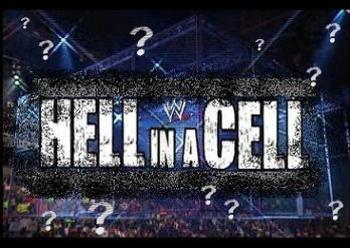 In conclusion, there are some other possibilities, but the five above are the first that came to my mind.
If they add nothing on the card, that means the current matches must last longer than usual to fill the two hours and half time slot.
What do you all think about the current card?
Do you like the booking?
Should they add some matches and how many?
Do you have any other match suggestions?
The comment section is wide open and your comments are more than welcome.
Keep Reading