Let The Conference Seperation Commence: Week 5 WAC Power Rankings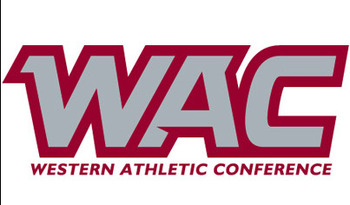 No, it hasn't happened all at one time, but gradually conference expectations begin to come around full circle about now.
Third ranked Boise State didn't disappoint when College Gameday invaded the Smurf Turf handling Oregon State 37-24; but nipping at the Broncos' heels are the Nevada Wolf Pack led by quarterback Colin Kaepernick.
Furthermore, Nevada's win has finally landed them in the top 25 for the first time this season. Expect the Wolf Pack to climb the rankings as the season moves along.
On the other side of the spectrum, Fresno State fell hard at Oxford when the home-standing Ole' Miss Rebels toppled the Bulldogs 55-38.
As for Hawaii, Utah State and Idaho, chances of them playing musical WAC rankings are looking good about now and possibly for the rest to the season.
9) New Mexico State Aggies: (0-3)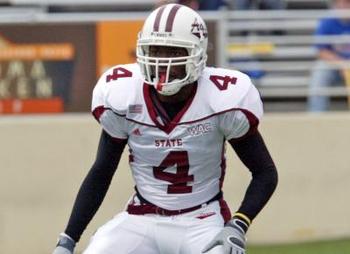 New Mexico State's trip to Lawrence wasn't so bad until the Jayhawks broke a 7-7 tie.
Enter D.J. Beshears.
Beshears snapped a 7-7 tie in breaking off a 96 yard kickoff return for a touchdown followed by a 7 yard touchdown run less than four minutes later.
Aggies quarterback Matt Christian completed 12 of 20 pass attempts for 147 yards and one touchdown aiding New Mexico State to a hard fought effort at Kansas Saturday night.
Running back Seth Smith carried the ball 16 times for 52 yards including the one yard touchdown run that tied the game at seven all in the first quarter. Other than that, the Aggies managed only 257 yards of total offense sinking to 0-3 on the young season.
Unfortunately the schedule does no favors at all for New Mexico State. Next week the Aggies do have the luxury of playing at home, but against the No.3 Boise State Broncos. For Aggies' fans, one can only hope.
8) San Jose State Spartans: (1-3)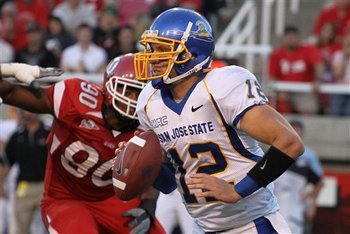 This past Saturday didn't do any justice to the San Jose State Spartans in Salt Lake City.
The home standing Utah Utes stampeded the Spartans in a laugher 56-3 over the weekend. If someone would compare their loss to that of New Mexico State, then by far and away, the Spartans slip down to the ninth spot of the WAC power rankings.
As usual, quarterback Jordan La Secla carried the brunt load offensively for the Spartans going 8-12 for 67 yards. La Secla also doubled as the team punter for a few possessions limiting Utah's returner from any reasonable gain after fielding the punt.
This weekend, San Jose State returns hoping to rebound against UC Davis at Spartan Stadium. UC Davis dropped last week's game 20-9 at Weber State.
7) Louisiana Tech Bulldogs: (1-3)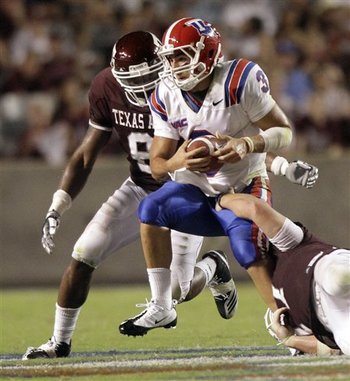 Home field didn't help the Bulldogs over the weekend falling just short in a come from behind effort to Southern Miss 13-12.
Louisiana Tech pulled to within 13-12 with 10:01 left in the fourth quarter by way of a safety, but that is all the further the Bulldogs would come to completing upset bid against Southern Miss.
Tarik Hakmi went hit on 22 of 35 passes for 262 yards, one touchdown but two costly interceptions. However, Hakmi provided the rest of the offense as well running the ball for an additional 26 yards in a once again stagnant offense for the Bulldogs.
Louisiana Tech will gear up this weekend for a venture to visit the Hawaii Warriors in WAC play.
6) Idaho Vandals: (2-2)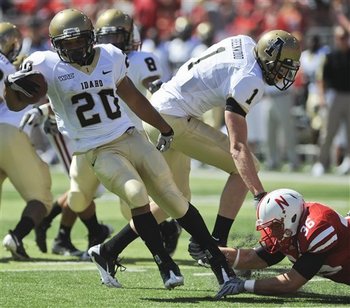 Struggles away from the Kibbie Dome continue to plague the Idaho Vandals during the 2010 season.
Colorado State defeated the Idaho Vandals 36-34 in a wild shootout in Fort Collins, Colorado over the weekend. Ben LeDine drilled a 35 yard field goal as time expired lifting the Colorado State Rams to their first win of the year.
Nathan Enderle picked his way through the Rams defense completing an amazing 25-30 passes for 347, three touchdowns and refrained from tossing a single interception.
Deonte' Jackson pitched in another 77 rushing yards for the Vandals, but the stab at Colorado State didn't penetrate deep enough to affect the Rams from folding completely.
5) Utah State Aggies: (1-3) (0-1)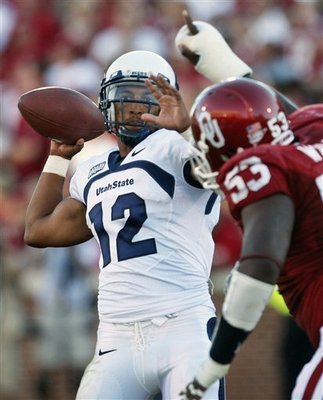 A preseason favorite to contest the likes of Boise, Fresno and Nevada can't seem to catch a break.
Is it time for Utah State to hit the panic button?
Over the weekend, Utah State's road test to San Diego erupted into a giant nightmare when the Aztecs nailed 21 points on the board in the first quarter. From there, San Diego didn't bother to look back in the rear view mirror to measure safe driving distance.
Typically potent offensively, the Aggies didn't hang a single point on the board until the under ten minute mark of the third quarter.
Diondre Borel clawed without much avail to stay at 50% passing as he went 14-31 with 130 yards and one interception while running back Derrvin Speight rushed for 51 yards and the only Utah State touchdown.
Coming up, Utah State will play host to the BYU Cougars at Romney Stadium Saturday night.
4) Hawaii Warriors: (2-2)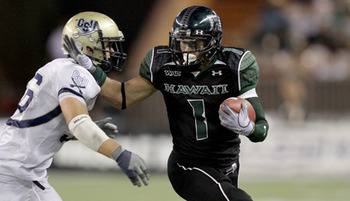 Hawaii's complete 66-7 demolition over Charleston Southern provided the chance to reconnect with their high flying offensive roots.
Totaling 583 total yards, the Warrior defense was equally as impressive holding Charleston Southern to just 227 yards.
Quarterback Bryant Moniz slashed the Buccaneers for 395 yards on 19 of 27 with 6 touchdowns and two interceptions. Receivers Greg Salas and Alex Green grabbed 9 catches gaining 228 yards and three touchdowns.
Hawaii remains at home awaiting the company of the Louisiana Tech Bulldogs this Saturday as the Warriors look to move to 3-2 on the season.
3) Fresno State Bulldogs: (2-1) (1-0)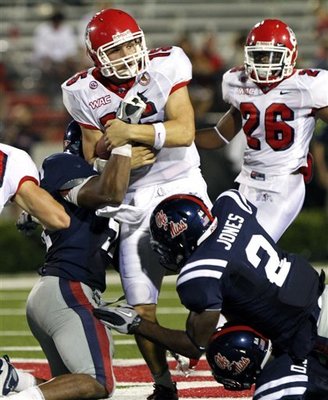 Blindsided before they even blink, the Ole' Miss Rebels hammered Fresno State 55-38 in Oxford on Saturday night.
The loss is the only blemish on the Bulldogs resume so far, but surely Pat Hill didn't imagine the ambush waiting for them against a team yet to find an identity.
Fresno State quarterback Ryan Colburn owned 390 of the 420 total yards as he completed 32 out of 42 pass attempts for 4 touchdowns without throwing an interception.
For the Bulldogs, Jamel Hamler hauled in 8 receptions for 130 yards along with a touchdown. Matt Lindsay joined Jamel Hamler by catching another six passes for 102 yards. However, Fresno's hole had been too deeply excavated to climb out of on their own power.
This Saturday, Fresno State looks to redeem themselves as they host the Cal Poly Mustangs at home. Kickoff is at 10 PM ET.
2) No.25 Nevada Wolf Pack: (4-0)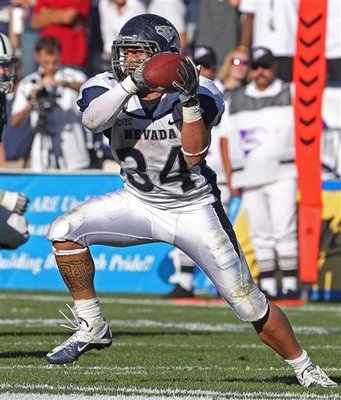 Jumping Fresno State shortly after week four came to a close; the Nevada Wolf Pack continued to impress beating the BYU Cougars on their home field 27-13.
Colin Kaepernick's overall performance didn't quite match that of his previous showcase games leading into last Saturday's game with BYU. Kaepernick went 16-25 for 196 yards, one touchdown and one interception. Besides his 196 passing yards, Kaepernick raked up another 82 rushing yards as he maintained his solid skill set.
Running back Vai Taua tacked on an extra 133 yards on the ground on 29 grinding touches. Currently, this is the best start any Nevada team has had since the 1991 season.
Saturday Nevada hits the road a short distance taking on in state rival UNLV. Kickoff is at 10:00 PM ET from Sam Boyd Stadium.
1) No.3 Boise State Broncos: (3-0)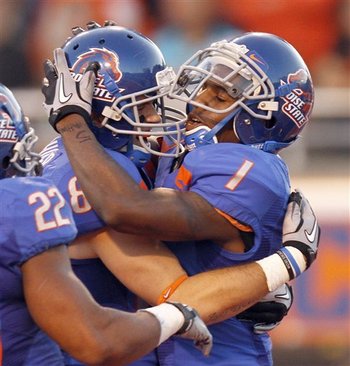 The Broncos took advantage of ESPN's College Gameday setting up shop on the blue grass as they kept the Oregon State Beavers at bay winning 37-24.
Boise State wasted no time on their first scoring drive by way of the infamous Chris Petersen gimmick playbook.
Kellen Moore continues to shred the opposing defense hitting 19 of 27 pass attempts for 288 yards and three touchdowns. Moore left little doubt why he is considered a favorite to claim this year's Heisman Trophy Award.
Doug Martin bulled his way gaining 138 yards off of 19 carries as he constantly made defenders pay for impeding his forward progress. If Boise can sustain their running attack throughout the rest of the season, the opposing defenses will have more to worry about than Kellen Moore.
This weekend, Boise State head down south to New Mexico State for a Saturday showdown with the Aggies at Aggie Memorial Stadium.
Keep Reading

Boise State Football: Like this team?