College Football: Mark Ingram, Cameron Newton and the 10 Best SEC Players
After four weeks into the 2010 season the college football landscape is still owned by the Southeastern Conference. In both AP and USA Today polls, the SEC has three teams in the top 10—more than any other conference.
What is new are the players atop the power rankings in the SEC. After Tim Tebow of Florida topping the list for three straight seasons, a former Florida Gator is now on top.
Here are the top 10 players year-to-date in the SEC.
No. 10: Randall Cobb (Kentucky Wildcats)

Randall Cobb after the loss to Florida.

Florida Gators head coach Urban Meyer has nothing but great things to say about Kentucky's Randall Cobb. Perhaps the nicest compliment of all was when Meyer told Cobb that he couldn't wait for him to leave college football and go play in the NFL.
Cobb is one of those special players that does it all: Quarterback, Wide Receiver, Running Back—whatever is asked of him.
In 2010, the junior wide receiver has rushed for 111 yards and caught 19 passes for 227 yards. He also has four touchdowns: one receiving, two rushing, and one punt return.
No. 9: Drake Nevis (LSU Tigers)

Drake Nevis grabs an INT against Mississippi State.

The LSU Tigers need to thank their defense for keeping them undefeated so far this season, and Drake Nevis is a major cog in the LSU defensive machine.
Nevis leads all defensive tackles in the SEC with 21.5 tackles, and has 3.5 sacks.
Next time you watch an LSU football game and they're on defense look in the middle and watch Nevis in action.
No. 8: Ahmad Black (Florida Gators)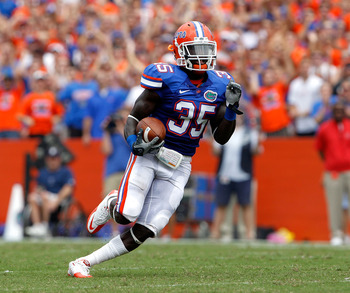 Sam Greenwood/Getty Images
Ahmad Black has been called a "football player" by Coach Urban Meyer. Ask anyone that is or was intimately involved with the game of football, and they will tell you that is the best compliment you can pay a player.
So far this season, Black has led the Florida Gator's defense and helped keep Florida undefeated as the offense finds its way post-Tebow. While Mike Pouncey and John Brantley learn the Center-Quarterback exchange, Black leads the secondary to lock down opponents' offenses.
Year-to-date, Black has three interceptions returned for 42 yards, 21 solo and nine assisted tackles.
No. 7: Robert Lester (Alabama Crimson Tide)

Robert Lester's second INT against Penn State

Robert Lester, a sophomore safety new to the Alabama secondary, leads the SEC with four interceptions.
So much for worrying about an inexperienced secondary.
Two of those interceptions were against last week's game against Arkansas, the last returned for 33 yards to the Arkansas 12-yard line. This was the nail in the Razorback's coffin.
No. 6: Janoris Jenkins (Florida Gators)

Janoris Jenkins with his first pick six against Miami of Ohio.

Janoris Jenkins has the unenviable task of replacing former Florida Gator Joe Haden, the Cleveland Brown's first round draft pick. So far, Haden's absence hasn't been noticed.
Jenkins, a junior and now starter in the Florida secondary, has two interceptions in which one was returned 67 yards for a touchdown. He also has 12 solo tackles. Opponents want nothing to do with him.
No. 5: Patrick Peterson (LSU Tigers)

Patrick Peterson striking a premature pose.

Patrick Peterson must be a Madonna fan. "Strike a pose, there's nothing to it...." On returning a punt for a touchdown against West Virginia, he showed the world that he thinks he is a front-runner for the Heisman Trophy.
Les Miles was not impressed.
Peterson, a junior defensive back, has two interceptions, nine punt returns for 253 yards and two touchdowns, and six kickoff returns for 190 yards.
Another reason why LSU is still undefeated for the time being.
No. 4: Ryan Mallett (Arkansas Razorbacks)

Mallett pulls off an awesome play-action on Georgia.

Ryan Mallett leads the nation in Total Offense, and for three quarters last week against Alabama, it showed.
Unfortunately for Mallett, last week's game had four quarters, and Robert Lester picked him off twice that cost Arkansas the game.
So far this season, Mallett has thrown for 1,438 yards on 95 of 138 and 10 touchdowns. He has thrown five interceptions.
He is still a leading candidate for the Heisman Trophy, and most certainly will be a first round draft pick in the 2011 NFL Draft if he chooses to come out early.
No. 3: Nick Fairley (Auburn Tigers)

Nick Fairley against Mississippi State

Nick Fairley, a junior defensive tackle for the Auburn Tigers, has become an incredible force in the middle. He could easily be the SEC's Defensive Player of the Year is he continues to play like he has.
To date, Fairley leads the SEC with four sacks and 8.5 tackles for losses. He also has 12 quarterback hurries and one interception—all in four games.
No. 2: Mark Ingram (Alabama Crimson Tide)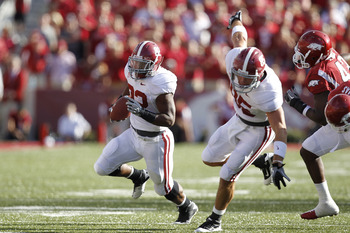 Joe Robbins/Getty Images
The defending Heisman Trophy winner watched his teammate Trent Richardson start the season while he recuperated from knee surgery. When he returned against Duke, he rushed nine times for 151 yards and two touchdowns.
Welcome back, Mark.
Ingram is now averaging 9.3 yards/carry on 33 attempts for 308 yards and four touchdowns. This week his faces the Florida Gators, and if he runs like he did in the 2009 SEC Championship game, he'll have no problem continuing on his trek to win two Heisman's in a row.
No. 1: Cameron Newton (Auburn Tigers)
Cameron Newton, the former Florida Gator before buying a stolen laptop and getting suspended by Urban Meyer, is now leading the Auburn Tigers after a brief stay at Binn College in Texas.
Boy, is he leading the Tigers, too.
Frankly, if it weren't for Newton, Auburn wouldn't be where they are right now.
So far, Newton has passed for 683 yards on 43 of 68 and nine touchdowns and three interceptions.
Oh yeah, he has legs, too. He has 75 rushes for 533 yards and five touchdowns.
He has also caught a pass for 22 yards.
Remember this: He was the backup to Tim Tebow, and ahead of current Florida Gator quarterback John Brantley before he got into trouble.
Keep Reading