TCU To the Big East Makes Sense (and Dollars) and an Easy Path To The BCS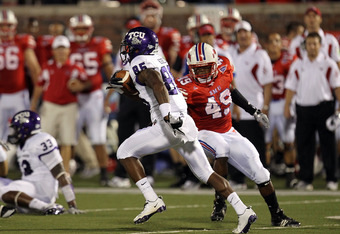 Ronald Martinez/Getty Images
Could the Cowtown Frogs be heading east?
A recent story out of the New York Post reported that the Big East, currently being mocked around the country by fans and college football pundits alike for its weak play, could be looking to invite TCU as part of its effort to maintain BCS Automatic Qualifier status (AQ) and expand its TV value and market share.
While at first glance this seems rather ridiculous for both TCU and the Big East, a closer look makes this a reasonable solution for both parties.
The Big East is under significant pressure and turmoil and has being a leading candidate for conference death pool for some time.
Designed as the nation's best basketball conference, its football counterpart has always struggled for respect. In its early years, the conference was essentially a convenient place for Miami to rack up some easy wins.
Of course, the Big East also had Virginia Tech and West Virginia and a still good Syracuse team, so Miami did miss a total of three conference championship between 1991 and 2003.
With the ACC raid, the Big East restocked with three Conference USA teams, along with bringing UConn up from FCS in place of kicked out Temple.
The Big East also expanded on the basketball side, making the conference into eight football schools and eight non-football schools.
Initially, the new schools added to the prestige of the conference, as Louisville went to the BCS finished in the final top 25 in its first two years in the conference, South Florida raced up the polls in 2007 and 2008, and Cincinnati almost made the BCS title game in 2009. The Big East won its BCS bowl games in 2005, 2006, and 2007.
Unfortunately, now the conference is largely a joke among college football fans and its AQ status is constantly questioned.
The Big East is also the only conference that gets more money from basketball than football, partially because it is one of the premier basketball conferences, but also because of the questionable nature of its football product.
Moreover, the Big East is in severe danger of losing three or four teams to the Big Ten if and when the Big Ten expands to 16 teams. If the Big Ten expands to 16, then other AQ conferences will also likely expand to 16 and Big East teams will be prime targets for the ACC, especially if the SEC expands and raids the ACC.
In order to maintain its AQ status and market value, the Big East needs to proactive and add teams and markets. Expanding prior to any raids will help the conference maintain its status and improve its position with regards to TV deals. With the coming of the Big East Network (largely supported by basketball, of course), the Big East can effectively offer substantial financial rewards to teams that stay in the conference.
Adding TCU would effectively end the derision of Big East football, as well as add substantial market value to TV.
And while it seems absurd for a Texas team to be in the Big East, it has work really well for the NFC East for years.
But TCU? Isn't it in Texas?
TCU appears to be a little out of the way for the Big East at first glance. After all, the nearest teams are Louisville, Cincinnati, and South Florida, all a considerable distance from Fort Worth, but all former conference members for TCU back in Conference USA.
And while TCU was too far away from the Big East when it had to replenish following the ACC raid, but such would no longer be a problem given the changing college football world where Texas and Oklahoma almost ended up in the Pac-16. Distance no longer matters in the coming super-conference world.
Of course, TCU is located in Fort Worth, nicknamed Cowtown and whose slogan is "Where the West Begins". Fort Worth has long prided itself on its Western heritage and uses it to differentiate itself from Dallas, called in Fort Worth as the place where the East ends.
Being associated with a conference focused in northeast urban centers seems completely contrary to everything about Fort Worth.
But TCU's current conference membership already requires travel to distant locations all over the western United States, including in some obscure locations such as Laramie, Boise, Fresno, Colorado Springs, and Fort Collins.
Going instead to Tampa, Louisville, Cincinnati, and Pittsburgh seems to be a real improvement.
And as TCU coach Gary Patterson recently noted, the travel would not be much different.
On the issue of competition, TCU would not face an upgrade in competition by joining the Big East. Instead of playing Boise, Air Force, Fresno, and Nevada, TCU would play West Virginia, Pittsburgh, South Florida, and Cincinnati.
TCU's path to a BCS bowl would be easier given that one loss would not prevent TCU from getting the Big East's bid. The Big East bowl tie-ins, while weak for an AQ conference, are better than those of the MWC.
TCU would avoid playing at high altitude, where TCU has struggled at times.
Ultimately, with Utah and BYU gone from the Mountain West Conference, the conference is less appealing for TCU and is less likely to gain AQ status. In the revamped MWC, TCU would have the largest average attendance of any school in the conference.
For TCU, the Frogs would greatly benefit from exposure to the Eastern media. Instead of being that obscure team in with purple uniforms and a Frog mascot, TCU would garner substantial attention in some of the top markets in the country, plus have all the coverage that comes from being in what is ESPN's home conference.
TCU would also be greatly assisted in basketball, being able to entice many of the Big 12 recruits with the possibility of playing teams such as Syracuse, Louisville, Cincinnati, UConn, and Georgetown. And while TCU would unlikely leap to the top of Big East basketball, it would still be better than its current situation at the bottom of the Mountain West Conference.
And while the Frogs would rather be in the SEC or Big 12, the Big East is very small step up that would yield huge dividends for TCU.
Ultimately, the nuts and bolts of this possible relationship make too much sense for both sides not to go forward.
This article is
What is the duplicate article?
Why is this article offensive?
Where is this article plagiarized from?
Why is this article poorly edited?

TCU Football: Like this team?