The Ewing Index: Why Barcelona's David Villa Is The Best Forward In Europe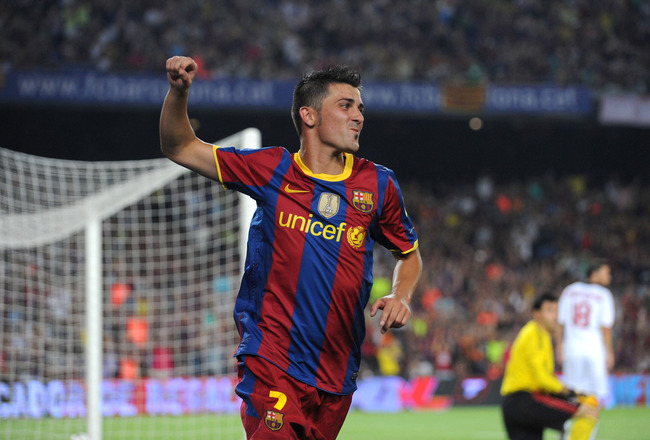 David Villa scores his first goal for Barcelona on August 25th.
Denis Doyle/Getty Images
The Ewing Index:
I have seen a couple of "Top 10" lists over the past few weeks relating to football players. It can be very difficult to compare the scoring ability of players who play different positions, play in different leagues, or have great supporting casts vs those who don't. I decided it's time to throw the gauntlet down and use my own statistical analysis to determine who has been the most successful forward in Europe over the past three seasons. This is my way of trying to include as many top scorers as possible and see who has done the most over three years.
The Contenders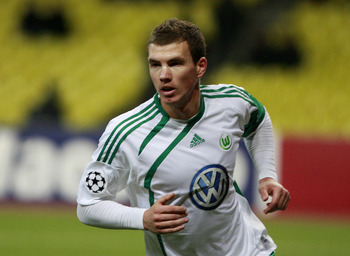 Edin Dzeko of VFL Wolfsburg
Dima Korotayev/Getty Images
Here are the players we are considering:
La Liga: Lionel Messi, Gonzalo Higuain, Cristiano Ronaldo, David Villa, Luis Fabiano, Sergio Aguero, and Diego Forlan.
Serie A: Diego Milito, Zlatan Ibrahimovic, Samuel Eto'o, Antonio Di Natale, Giampaolo Pazzini, Fabrizio Miccoli, Alberto Gilardino and Francesco Totti.
Premier League: Fernando Torres, Nicolas Anelka, Didier Drogba, Wayne Rooney, Darren Bent, Carlos Tevez and Jermain Defoe.
Bundesliga: Edin Dzeko, Stefan Kiebling, and Kevin Kuranyi.
Ligue 1: Karim Benzema.
Eredivisie: Luis Suarez.
How About Staying on The Pitch??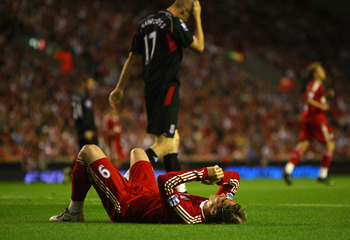 Fernando Torres in a rare on field appearance.
Clive Brunskill/Getty Images
I don't find the GPM (goals per match) statistic as relevant as others do. It is sometimes appealing to try and level the playing field in terms of who is the most effective goal scorer by using the "goals per match" calculation but I just don't buy it. I don't care what Fernando Torres GPM rating is, he is too injury prone and misses too many games to be considered an elite scorer. I like to reward players who actually.........wait for it..........play! You have to play in at least 75% of your teams league games to be considered here so say goodbye to Fernando Torres (69%), Luis Fabiano (69%), Didier Drogba (66%), and Francesco Totti (62%). That's right Torres, you're done.
Size Matters, Whose Goal Scoring Sheet Is Bigger?? (Ronaldo? Messi? Rooney?)
Luis Suarez has scored 76 league goal for Ajax over the past three years.
Valerio Pennicino/Getty Images
To be considered a top scorer over the past three seasons I want to see consistency, not just one great season. I think averaging 16 league goals per season is a reasonable request. Say goodbye to Kevin Kuranyi (46), Karim Benzema (46), Sergio Aguero (45), Darren Bent (42), Carlos Tevez (42), Stefan Kiebling (42), Nicolas Anelka (41), Fabrizio Miccoli (41), Alberto Gilardino (41), Jermain Defoe (40), and Giampaolo Pazzini (39). It's interesting to see that Torres, Tevez, and Drogba are already gone.
Whose Left Standing and How Many Goals Have They Scored?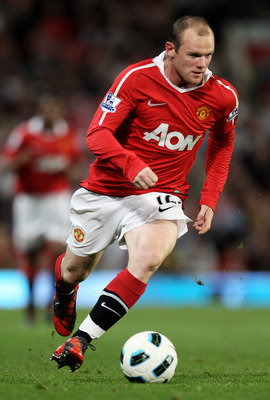 Wayne Rooney's 50 goals were just enough to keep him on the list.
Alex Livesey/Getty Images
Here is who we are still considering:
Luis Suarez - 76 goals, Cristiano Ronaldo - 75 goals, Lionel Messi - 67 goals, David Villa - 67 goals, Diego Forlan - 66 goals, Diego Milito - 61 goals, Samuel Eto'o - 58 goals, Zlatan Ibrahimovic - 58 goals, Antonio Di Natale 58 goals, Gonzalo Higuain - 57 goals, Edin Dzeko - 56 goals, Wayne Rooney - 50 goals.
We have 12 players left. Five from La Liga, four from Serie A, one from the Bundesliga, one from the Eredivisie, and one from the front page of every football tabloid on the planet.
Time to Look Outside Domestic Competition and Focus on European Play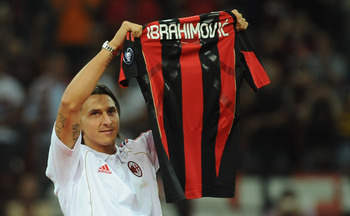 Zlatan Ibrahimovic finds a new home.
Valerio Pennicino/Getty Images
Que the Champions League Music and grab a Heineken.
Thus far we have used domestic competition to narrow the field to 12 players. While that was effective in getting us to this point how can we not take the UEFA Champions League into consideration? I am giving an automatic bye to any players on this list who have actually won the UEFA Champions League. That means Cristiano Ronaldo, Lionel Messi, Diego Milito, Samuel Eto'o, and Wayne Rooney will advance. Lets look at whose left:
Zlatan Ibrahimovic- 10 goals in 25 games
Edin Dzeko- 4 goals in 6 games
David Villa- 3 goals in 7 games
Gonzalo Higuain- 2 goals in 19 games
Diego Forlan- 1 goal in 13 games
Luis Suarez- N/A
Antonio Di Natale- N/A
I know this might seem a bit unfair, but there is no way I can consider someone the top forward in Europe if they have not performed in the Champions League. I am sure there are those of you who might feel that it's unfair to penalize Suarez and Di Natale since they have not even been given the chance to show their stuff on Europe's biggest stage but for all the goals they score domestically they have not had success against the top teams on the continent, so they are eliminated. I am also cutting Gonzalo Higuain and Diego Forlan for being major under-performers in the CL, posting numbers that pale in comparison to their domestic form. Those of you still reading are probably wondering what random form of analysis I will choose next. We are going to look at each players performance in the 2010 World Cup.
Final Showdown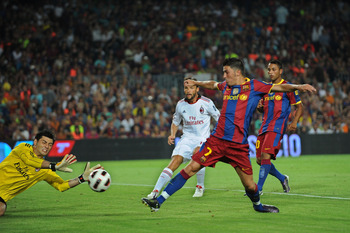 Denis Doyle/Getty Images
We are searching for the top forward in Europe over the last three years and we have narrowed the field down to Cristiano Ronaldo, Lionel Messi, Diego Milito, Samuel Eto'o, Wayne Rooney, Zlatan Ibrahimovic, Edin Dzeko, and David Villa. These are the top eight forwards in Europe in my opinion. Now that we have looked at their club form on a domestic and continental level, let's see how they have fair when representing their county. We might as well cut to the chase and look at the 2010 World Cup. There is no way I am calling someone the top forward in Europe if they didn't show me something this summer in South Africa.
David Villa 5 goals in 7 matches
Samuel Eto'o 2 goals in 3 matches
Cristiano Ronaldo 1 goal in 4 matches
Lionel Messi 0 goals in 4 matches
Diego Milito 0 goals in 4 matches
Wayne Rooney 0 goals in 4 matches
Zlatan Ibrahimovic N/A
Edin Dzeko N/A
Not playing in the World Cup is going to get you axed from this list. I realize this might be harsh but I think we can all agree that to be a top player, and to be recognized as such, you need some luck along the way. If your club team doesn't qualify for the Champions League and your national team doesn't qualify for the World Cup you are just plain unlucky. Using the list above I have no qualms about taking Dzeko, Ibrahimovic, Rooney, Milito, Messi, and Ronaldo off the list. I this might seem crazy but to be the best you must perform at the highest level.
That leaves us with David Villa and Samuel Eto'o. The Ewing Index is proud to announce that the best forward in Europe over the past 3 years has been.......
DAVID VILLA!!!!!!
Sergio Ramos and David Villa clutch the World Cup Trophy
Jasper Juinen/Getty Images
David Villa has absolutely torched La Liga opposition while playing for Valencia over the past three seasons. He is a clinical finisher who has no weakness in his game. He stays healthy, scores goals at an alarming rate in Spain, continues to score when playing in the Champions League, and was a top player at the 2010 World Cup. The clincher for me in selecting Villa is that Spain won the World Cup. Spain only scored eight goals in the tournament and Villa had five of them. Throw in the fact that Spain also won the 2008 European Championships with Villa scoring four goals in four games and this is a solid choice.
Didn't like my choice of David Villa as the best forward? Didn't like the criteria I used in making the selection? I had a lot of fun writing this and I would love to hear how some of you would have gone about this differently.
Keep Reading

FC Barcelona: Like this team?