Ferocious Flash: Dwyane Wade's Top 10 Poster Dunks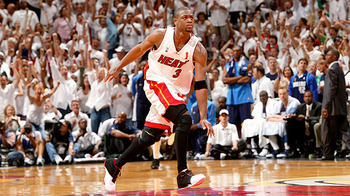 When the name Dwyane Wade arises in a conversation, a number of thoughts run through your mind. Champion, clutch, and finesse just to name a few, but the one thought that gets us on our feet and realize just how amazing of a player Wade is: dunker.
At only 6'4", Wade has a lot to make up for when going up for a dunk against the power forward's and center's of the league and needs to use every inch of his vertical leap and all of his speed to rise up and embarrass another victim that was willing enough to attempt to stop the near impossible.
Wade has put many opposing defenders on his list of posters over the course of his seven years with plenty more to come, but for now we will remember the ten that stunned and entertained us and gave us reasons to watch one of the most electric players in NBA history.
Testing Wade at the rim is a valiant effort, but it usually ends in a failure that gives defenders headaches and a team demoralized.
10. Dwyane Wade Isn't Letting Rodney Carney Get Off That Easy
Dwyane Wade is known to be an exceptional shot blocker and has blocked numerous dunks by center's and forwards alike. Unfortunately for Wade, he was bested by a 6'7" Rodney Carney who was able to throw a rare dunk on Dwyane.
Unfortunately for Carney, he should have known that Wade wasn't going to get dunked on and then let him get away with it. Instead of walking it off, later in the game Wade decided to slam one on Carney and do him one better in the process.
You know you got it bad after a dunk when you're on the ground getting stared down by Dwyane Wade.
9. Dwyane Wade Tells Luis Scola To Go Big or Go Home
Dwyane Wade exhibited his defensive skills on this dunk by anticipating and intercepting a wayward pass from Chase Budinger, that was meant for Shane Battier leaving only Luis Scola between himself and the rim.
The trailing Scola had no chance as Luis had to fast a charging Wade who only had one goal in mind: getting the easy two points. T
The poster was only the icing on the cake for Dwyane who made Scola look foolish for even attempting to jump and contest the dunk before eventually backing off.
Either go for the block or get out of the way, Luis.
8. Dwyane Wade Takes a Slap and Then Gives a Punch to Zaza Pachulia.
The Miami Heat and Atlanta Hawks playoff series from the 2008-'09 campaign was a forgetful one as each of the seven games was decided by double digits.
The series might have been awful, but Dwyane Wade was nothing short of magnificent as always, and showed off with a huge dunk on the Hawks seven footer Zaza Pachulia.
If you look closely, you'll see the foul was called because Wade took a slap in the face by Pachulia. Wade responded with a legal punch by dunking right over the top of Zaza.
The happiness that fan has when he catches Wade after the dunk is a happiness I've never witnessed before either.
7. Dwyane Wade's Back and Mike Dunleavy Is The First to Know.
According to Wade's injuries, he shouldn't be nearly playing at the level he's playing at right now, let alone be in the league at all.
For the first seasons of his career, Dwyane put his body to the test and it eventually caught up to him with a debilitating dislocated shoulder on top of another injuries that forced him to miss the latter part of the 2006-'07 and 2007-'08 season.
Wade came back late in the 2006-'07 campaign in a game against the Indiana Pacers. It appeared he hadn't missed a step as he led the team to a victory capped off with a huge tomahawk on top of Mike Dunleavy, Jr, his first poster since his return about an hour before.
I think it's safe to say Wade has recovered from his injuries and is doing well for himself.
6. Dwyane Wade Doesn't Care For Future Hall of Famers, That Means You Tim Duncan
Dwyane Wade doesn't discriminate when it comes to dunking. Rookie or hall of famer, you are just as vulnerable as anyone else when Wade's slashing through the lane, and lining up for a dunk on another unsuspecting victim.
On this drive, Wade cut through a double team and only had Tim Duncan in his way. Duncan shied away from this one as he thought a swipe would have been enough to keep Wade from dunking on him.
Dwyane responded by throwing one down on the four time champion and two time MVP.
It wasn't exactly the meanest of posters, but dunking on a player of Duncan's caliber is nothing short of amazing.
5. Message To Maurice Evans: Keep Your Eyes On Dwyane Wade.
Poor Al Horford. He never saw this coming and it could have been avoided if Maurice Evans had focused his undivided attention on Dwyane Wade instead of letting him get a wide open lane for Jermaine O'Neal to find him.
Dwyane got the crowd fired up by taking advantage of Evans' carelessness and throwing one down on Horford plus the foul.
This play perfectly shows off Wade's speed as it only took him a split second to get from the three-point line to going to the foul line for an and one opportunity.
His hang time was put on display as well as it appeared he hung in the air longer than Michael Jordan at the end of Space Jam.
4. Dwyane Wade Has Made His Point to Kevin Garnett Before.
Remember the dunk Dwyane Wade had against Kevin Garnett in game four of this past postseason?
It was a nice dunk, but Garnett shied away and didn't give too much effort in trying to stop Wade unlike a few years ago when he was still a Timberwolf and faced the same situation then with Wade coming full steam into the lane.
A Garnett in his prime gave much more of an effort this time, but ended up on the receiving end of a poster with Wade practically moving KG in mid-air.
On the recent dunk that happened, it appeared that Garnett remembered halfway through the poster that Wade had done this before and decided to shy away.
Old or new KG, Wade still got the best of him on both occasions.
3. Dwyane Wade To Emeka Okafor: Get Out Of The Way.
Dwyane Wade used his plethora of offensive moves on this dunk by showing off his skill of splitting double teams, using his speed, and then finishing it off with a powerful dunk on the 6'11", shot blocking specialist Emeka Okafor.
Okafor was too slow for Wade as he showed off why he was giving the name 'Flash' with an agile slam right on the top of Emeka. This was as true a poster as you can get from Dwyane who exhibited why he is the most electric player in the league.
Not even three Bobcats could put a stop to a determined Wade.
2. Jermaine O'Neal: Welcome Dwyane Wade to The NBA.
This was as good a dunk as you will see from any rookie on a player in their prime.
In Wade's first postseason, he managed to lead the team to the second round as a fourth seed to take on the 61 win Indiana Pacers. What many believed to be an easy sweep for the Pacers turned into a hard fought series that went six games.
Even though Indiana would win the series, it was most remembered for Wade's ferocious slam on Jermaine O'Neal, who was in the middle of his prime and had led the team to a number one seed.
Wade shocked the world with this slam and hasn't stopped making posters since.
As for number one, sadly I think you knew that at the beginning of the slide show.
1. Dwyane Wade Presents: The Poster to End All Posters.
This is the poster dunk to end all poster dunks.
It not only features LeBron James getting his dunk attempt blocked by Jermaine O'Neal on one end, but it is ended when Dwyane Wade takes the ball coast to coast and throws down a ferocious jam on Anderson Varejao and knocking him head over heels in the process.
The dunk had it all; the dunk, the drive, the stare down, the step over, the crowd reaction, and the foul. It was the most complete and one of the greatest poster dunks in NBA history. The ferocity Wade instilled in this dunk won't be seen by anyone for a long time.
For someone seven inches shorter than Varejao, Wade made it look too easy.
Keep Reading

Miami Heat: Like this team?